To Be the Best, Learn from the best
Start your CSE Journey with 6 Prelims and 4 Mains Qualified Santosh Sir
A Message From Santosh Sir
Hi There,
 I am Santosh I have the unique distinction of clearing all 6 UPSC CSE Prelims with huge margins.
I mastered the art of clearing UPSC CSE Prelims and in the process devised an unbeatable strategy to ace Prelims which many students struggle to do.
am not your average coaching class teacher. But who wants average anyway?
"Socrates mentored Plato, Plato mentored Aristotle, Aristotle mentored the Great Alexander and we all know that Alexander the Great almost conquered the entire world"
This quote signifies the role of an able guide and mentor behind every success story. Since I have cracked all 6 CSE Prelims you can rely on my guidance.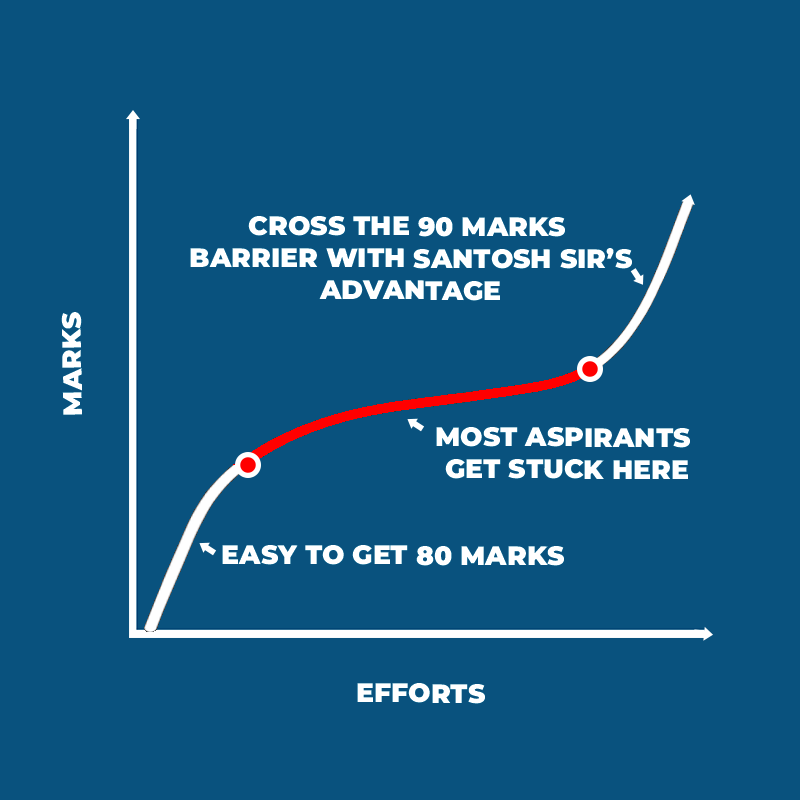 Crossing the 80 marks barrier.
Most of the UPSC aspirants with some knowledge and preparation are able to hit the 80 marks plateau. But going beyond it is a bit tougher and you need personal mentorship and the able guidance of an expert.
Reaching The cutoff line.
Scoring above 105 is easier if you are in able guidance of an experienced mentor like Santosh Sir who has the unique distinction of clearing all 6 CSE prelims.
But How is the question ?
Santosh Sir , who has already six prelims in a row and attended 4 UPSC interview with vast experience in teaching will not leave any stone unturned to ensure your success.
Santosh Sir's Unique Approach To CSE
Many think CSE Prelims is an unpredictable and tough nut to crack. But with my proven strategy which helped me to clear all 6 CSE Prelims with a huge margin, clearing Prelim is assured.
Clearing CSE Mains 4 times, I can tell with all humility, that mains is about
Conceptual clarity
Perfect answer structuring  strategy
Time management
Understanding and meeting the demand of the questions
Substantiating your arguments with relevant facts
CSE Personality test is not the test of knowledge and communication skill. It is a test of your character and suitability for administrative leadership .

With my huge experience of 4 CSE Interviews (196 to 275)  I know what works and what doesn't. I can help you fine tune yourself to meet their expectation.
What Topper Say My Mentorship