Daily Prelims Notes 1 January 2022
January 1, 2022

Posted by:

admin1

Category:

DPN

Daily Prelims Notes
1 January 2022
Table Of Contents
1. Breakthrough in battery technology
Subject – Science and Tech
Context – Shareholders of California-based Quantum Scape Corp, a battery startup backed by Volkswagen AG, have approved a multibillion-dollar pay package for Chief Executive Officer Jagdeep Singh, who could receive stock options potentially valued at $2.3 billion, subject to the company meeting some performance milestones.
Concept –
QuantumScape's solid-state battery — lithium metal with a solid electrolyte separating the two electrodes — is seen as an exceptionally bright prospect in an increasingly crowded space.
Earlier efforts to build a solid-state separator (electrolyte) capable of working with lithium metal had to compromise on aspects such as the cycle life and operating temperature of the battery, and the issue of excess lithium deposits on the anode.

QuantumScape claims to have circumvented this: its use of a solid state separator technology eliminates the side reaction between the liquid electrolyte and the carbon/graphite in the anode of conventional lithium-ion cells.

Volkswagen plans to have production running for solid-state batteries by 2025 via the partnership with QuantumScape.
Solid-state batteries
The energy density of lithium-ion cells used in today's mobile phones and electric vehicles is nearly four times higher than that of older-generation nickel-cadmium batteries.
Lithium-ion batteries use aqueous electrolyte solutions, where ions transfer to and fro between the anode (negative electrode generally made of graphite) and cathode (positive electrode made of lithium), triggering the recharge and discharge of electrons.
Despite improvements in technology over the last decade, issues such as long charging times and weak energy density persist.
While lithium-ion batteries are seen as sufficiently efficient for phones and laptops, they still lack the range that would make EVs a viable alternative to internal combustion engines.
One major problem is that lithium metal is extremely reactive.
The main form of lithium corrosion are dendrites, which are branched lithium structures that grow out from the electrode and can potentially pierce through the separator and on to the other end, short-circuiting the cell.
In current lithium-ion batteries, in which the electrolyte is a flammable liquid, dendrite formation can trigger a fire.
QuantumScape says its solid-state lithium-metal battery replaces the polymer separator used in conventional lithium-ion batteries with a solid-state separator.

The replacement of the separator enables the use of a lithium-metal anode in place of the traditionalcarbon/graphite anode.

The lithium metal anode is more energy-dense than conventional anodes, which allows the battery to store more energy in the same volume, according to the company.
The QuantumScape design is supposed to be 'anode-free' in that the battery is manufactured in a discharged state, and the negative electrode forms in situ on the first charge.
Key advantages
The advantages of the solid-state battery technology include
higher cell energy density (by eliminating the carbon anode),
lower charge time (by eliminating the need to have lithium diffuse into the carbon particles in conventional lithium-ion cells),
ability to undertake more charging cycles and thereby a longer life,
improved safety
Lower cost could be a game-changer, given that at 30 per cent of the total cost, battery expenses are a key driver of the vehicle costs.
2. Ladakh bridge on the world's highest road
Subject – Geography
Context – Defence Minister Rajnath Singh inaugurated 27 projects built by the Border Roads Organisation (BRO), which included 24 bridges and three roads, most of which are in the border areas.
Concept –
One of the 24 bridges is on what has now become the world's highest motorable road, passing through a pass situated at an elevation of 19,000 feet.
The road is in south Ladakh, connecting Chisumle and Demchok. It passes through a pass known as Umling La, which is at a height of over 19,000 feet.

Umling La is a mountain pass in Ladakh, India.

The height of the pass makes it the highest motorable road in the world, and was recently recognised as such by Guinness World Records.
The 52-km road 'black-top' tarmac road from Chisumle to Demchok betters the previous record of a road in Bolivia, which connects the volcano Uturuncu at 18,953 feet.
The project to build the road through the pass — a part of BRO's Project Himank — had been completed in 2017, after which vehicles had started plying on the route. However, the road has been black-topped only this year.
Top of the world
At the pass, the road is higher than both the base camps for the climb to Mount Everest, the world's highest mountain.
The South Base Camp in Nepal is at a height of 17,598 ft, while North Base Camp in Tibet is at 16,900 ft.
The Chisumle-Demchok road is also higher than the Siachen Glacier, which is situated at 17,700 feet.
Khardung La in Leh, which at one time was among the highest roads in the world, is at an altitude of 17,582 feet.
Why Demchok matters?
Demchok has been an India-China flashpoint earlier, the site of a standoff between the two armies in 2016.
In the current standoff in eastern Ladakh, which began in May 2020, Demchok has come up as a point of contention.
3. GST Council reconsidering rates on textiles
Subject – Economy
Context – GST Council defers tax rate increase on textiles
Concept –
The GST Council in its 45th meeting in September had recommended making certain rate changes for footwear and textiles to correct the inverted duty structure.
An inverted duty structure arises when the taxes on output or final product is lower than the taxes on inputs, creating an inverse accumulation of input tax credit which in most cases has to be refunded.
Inverted duty structure has implied a stream of revenue outflow for the government prompting the government to relook the duty structure. For footwear, the government refunds around Rs 2,000 crore in a year.
In November, the Finance Ministry notified a uniform 12% rate for manmade fibre (MMF), yarn, fabrics and apparels, along with a 12% uniform rate for footwear. The rate hike was notified to be made effective from January 1.
At present, tax rate on manmade fibre, yarn and fabrics is 18%, 12% and 5%, respectively.

Apparel and clothing up to Rs 1,000 per piece currently attracts 5% GST.
Synthetic and artificial yarn have been changed to 12% but natural yarn like cotton, silk, wool yarn are still in 5% slab.
Subject – Science and Tech
Context – States/UTs directed to ramp up rapid antigen tests
Concept –
The test is done on swabbed nasal samples that detect antigens that are found on or within the SARS-CoV-2 virus.

Antigens are foreign substances that induce an immune response in the body.

It is a point-of-care test, performed outside the conventional laboratory setting, and is used to quickly obtain a diagnostic result.
RT-PCR vs Rapid antigen test:
RT-PCR is currently the gold standard frontline test for the diagnosis of Covid-19.
Like RT-PCR, the rapid antigen detection test too seeks to detect the virus rather than the antibodies produced by the body.
While the mechanism is different, the most significant difference between the two is time. RT-PCR test takes a minimum of 2-5 hours including the time taken for sample transportation. In a reliable rapid antigen detection test, the maximum duration for interpreting a positive or negative test is 30 minutes.
Limitations of an antigen test's results –
These tests are very specific for the virus, but are not as sensitive as molecular PCR tests. This means that positive results from antigen tests are highly accurate, but there is a higher chance of false negatives, so negative results do not rule out infection.
Negative results from an antigen test may need to be confirmed with a PCR test prior to making treatment decisions or to prevent the possible spread of the virus due to a false negative.
Once the sample is collected in the extraction buffer, it is stable only for one hour. Therefore, the antigen test needs to be conducted at the site of sample collection in the healthcare setting.
5. Directorate General of GST Intelligence (DGGI)
Subject – Economy
Context – Directorate General of GST Intelligence (DGGI) said it recovered a total cash of ₹197.49 crore, 23 kg of gold and offending goods of high value after searches on a perfume-compound company
Concept –
Erstwhile Directorate General of Central Excise Intelligence (DGCEI), now renamed as Directorate General of GST Intelligence (DGGI), is an apex intelligence organization functioning under the Central Board of Indirect Taxes & Customs, Department of Revenue, Ministry of Finance.
It is entrusted with the task of collection, collation and dissemination of intelligence relating to evasion of Goods and Services Tax (GST) and duties of Central Excise and Service Tax on an all India basis.
It was founded in 1979 as the Directorate General of Anti-Evasion and was later renamed the Directorate General of Central Excise Intelligence.
The agency was renamed as Directorate General of GST Intelligence (DGGI) after the introduction of the Goods and Services Tax.
The agency is part of NATGRID.
The organisation is staffed by officers of Central Board of Indirect Taxes and Customs.
Role of DGGI
The role of the Directorate General in tackling the menace of duty evasion is manifolds.
It develops intelligence, especially in new areas of tax evasion through its intelligence network across the country and disseminates such information, by issuing Modus Operandi Circulars and Alert Circulars to sensitize the field formations about the latest trends in duty evasion.
Wherever found necessary, this Directorate General, on its own or in co-ordination with field formations, organizes operations to unearth evasion of GST, Central Excise Duty and Service Tax.
6. Immovable Property Returns for IAS, IPS, IFS officials
Subject – Economy
Context – By Jan 31, IAS, IPS, IFS officials have to file returns on immovable property
Concept –
The Centre has prescribed a timeline in pay rules for filing current and pending Immovable Property Returns for Indian Administrative Service, Indian Police Service and Indian Forest Service to get empanelment or appointment to next level.
Serving and retired bureaucrats say that filing immovable property returns is one of the necessary conditions for empanelment; however, it was not in 'formal rules' creating a lot of miscommunication and litigations.
According to a notification by the Department of Personnel and Training, a note has been added to the IAS, IPS and IFS pay rules of 2016, and the new rules have been notified.

The note says members of the three all India services will have to file the returns for the previous year before January 31, for being considered for appointment in the next level of pay in the pay matrix.

An all-India service officer must file IPR in their cadre State if they are posted there. If they are on Central deputation, their filing is to be done there.

An officer must send a copy to Centre, in case of State files and to the State, if Centre files.
However, the process will be completed only when the State concerned sends it to Centre or vice versa.
Such an act is noted in ACR and also during the time of empanelment appointment to next level of pay in the pay matrix.
Subject – Geography
Context – Chennai deluge likely handiwork of winter weather system over North India
Concept –
Chennai deluge is because of the resetting of the seasonal anticyclone over Rajasthan and its neighbourhood bringing its southern flanks to bear on the South Peninsula.
The anticyclone with its clockwise movement of air establishes over North India to preside over the winter.
The clockwise motion forces the air to sink to the ground level, and along with it, the chill that north-westerly winds from across the international border with Pakistan fetch.
The recent spurt in western disturbance activity had forced this anticyclone to move south of its normal position – down to the latitude of Maharashtra, Telangana and North Karnataka.
Its eastern flanks bore down heavy on the Bay of Bengal, suddenly altering the wind flows therein.
The clockwise winds of the anticyclone worked up on the easterly to north-easterly flows of the North-East monsoon across the Bay.
Late December also represents the fag-end of the North-East monsoon, but the overwhelming influence of the anticyclone on easterlies suddenly added a sting in its tail.
8. Whole Genome Sequencing (WGS)
Subject – Science and Tech
Context – More Omicron cases detected in TN; fresh curbs imposed
Concept –
Whole genome sequencing is the process of determining the complete DNA sequence of an organism's genome at a single time.
This entails sequencing all of an organism's chromosomal DNA as well as DNA contained in the mitochondria and, for plants, in the chloroplast.
In practice, genome sequences that are nearly complete are also called whole genome sequences.
The whole genome sequencing relies on new technologies that allow rapid sequencing of the entire genome in a matter of a few days.
Genome Sequencing:
Genome Sequencing means deciphering the exact order of base pairs in an individual.
In this particular piece of DNA, an adenine (A) is followed by a guanine (G), which is followed by a thymine (T), which in turn is followed by a cytosine (C), another cytosine (C), and so on.
Subject – Economy
Context – RBI rejects all bids for 10-year G-Sec, FRB
Concept –
A floating rate bond is a debt instrument that does not have a fixed coupon rate, but its interest rate fluctuates based on the benchmark the bond is drawn.
Benchmarks are market instruments that influence the overall economy.
For example, repo rate or reverse repo rate can be set as benchmarks for a floating rate bond.
FRBs were first issued in September 1995 in India.
The rate of interest of a floating rate bond is linked to a benchmark rate and is reset at a regular interval.
Interest rate risk is largely mitigated as these bonds will pay higher return when prevailing rates are high.
There is no certainty of the future stream of income when investing in a floating rate bond.
The best time to buy floating rate bonds is when rates are low and are expected to rise.
To know about G-Sec, please refer September 2021 DPN.
To know about G-Secs to floating rate bonds, please refer October 2021 DPN.
Subject – Agriculture
Context – 8-member panel to prepare syllabus for natural farming
Concept –
To know about Zero Budget Natural Farming, please refer October 2021 DPN.
Subject – Agriculture
Context – Agri exports surge 22% in April-November
Concept –
Exports of agricultural and processed food products, promoted by Agricultural and Processed Food Products Export Development Authority (APEDA), and increased 22.1 per cent to $15.03 billion during the April-November period of the current fiscal.
Agricultural and Processed Food Products Export Development Authority (APEDA)
The Agricultural and Processed Food Products Export Development Authority (APEDA) was established by the Government of India under the Agricultural and Processed Food Products Export Development Authority Act passed by the Parliament in December, 1985.
The Authority replaced the Processed Food Export Promotion Council (PFEPC).
It is an apex body that promotes export trade of agricultural products in India.
Set-up by the ministry of Commerce and Industry, Government of India.
Functions of APEDA –
APEDA is responsible for export promotion of Fresh Fruits & Vegetables, Processed Food products, Livestock products and Cereals.
It provides the crucial interface between farmers, storehouses, packers, exporters, surface transport, ports, Railways, Airways, all others engaged in export trade and finally to the international market.

Directly or indirectly, it offers services that support farmers and exporters from different states in the country.

It bridges the gap between agricultural and processed food producers to reach to the exporters in international markets.
APEDA has been entrusted with the responsibility to monitor import of sugar.
It looks after the development of industries relating to the scheduled products for export by way of providing financial assistance or otherwise for undertaking surveys and feasibility studies, participating through subsidy schemes.
Registration of persons as exporters of the scheduled products and fixing of standards and specifications for the scheduled products for the purpose of exports.
Carrying out inspection of meat and meat products in slaughterhouses, processing plants, storage premises and improving packaging of the scheduled products.
Administrative set up of APEDA –
Chairman – Appointed by the Central Government
Director – Appointed by APEDA
Secretary – Appointed by the Central Government
Other Officers and Staff – Appointed by the Authority.
12. Current Account Deficit (CAD)
Subject – Economy
Context – Current account posts deficit, at 1.3% of GDP
Concept –
To know about CAD, please refer November 2021 DPN.
13. "Controlled Flight into Terrain" (CFIT)
Subject – Defence and Security
Context – Disorientation of crew in poor weather likely cause of crash
Concept –
CFIT means that the pilot is in full control of the aircraft but due to faulty situational awareness, the aircraft strikes the terrain.
A CFIT means the helicopter was fully serviceable and instruments are in order.
The U.S. Federal Aviation Administration (FAA) defines CFIT as an unintentional collision with terrain (the ground, a mountain, a body of water, or an obstacle) while an aircraft is under positive control.
Most often, the pilot or crew is unaware of the looming disaster until it is too late. CFIT most commonly occurs in the approach or landing phase of flight.
Accidents where the aircraft is out of control at the time of impact, because of mechanical failure or pilot error, are not considered CFIT (they are known as uncontrolled flight into terrain or UFIT), nor are incidents resulting from the deliberate action of the person at the controls, such as acts of terrorism or suicide by pilot.
14. National Centre for Disease Control (NCDC)
Subject – Governance
Context – NCDC, a Union Health Ministry laboratory and a key lab in India's genome sequencing network, has asked States to temporarily pause sending COVID¬19 positive samples to it
Concept –
To know about NCDC, please refer August 2021 DPN.
Subject – Agriculture
Context – Farmers can save ₹180 crore through zero tillage
Concept –
Zero tillage is the process where the crop seed will be sown through drillers without prior land preparation and disturbing the soil where previous crop stubbles are present.
Zero tillage not only reduce the cost of cultivation it also reduces the soil erosion, crop duration and irrigation requirement and weed effect which is better than tillage.
Zero Tillage (ZT) also called No Tillage or Nil Tillage.
No Till approach started from 1960s by farmers in India.
Advantages of zero tillage
Reduction in the crop duration and thereby early cropping can be obtained to get higher yields.
Reduction in the cost of inputs for land preparation and therefore a saving of around 80%.
Residual moisture can be effectively utilized and number of irrigations can be reduced.
Dry matter and organic matter get added to the soil.
Environmentally safe – Greenhouse effect will get reduced due to carbon sequestration.
No tillage reduces the compaction of the soil and reduces the water loss by runoff and prevent soil erosion.
As the soil is intact and no disturbance is done, No Till lands have more useful flora and fauna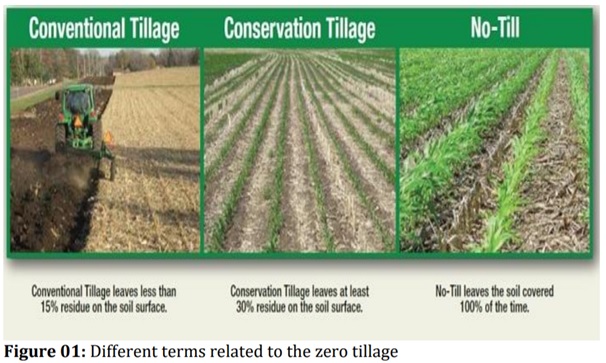 Subject – Geography
Context – Winter of lively tourism warms Kashmir's cockles
Concept –
The Z-Morh Tunnel is a currently under-construction 6.5 km long road tunnel that will provide connection throughout all weather conditions between Gagangair and Sonamarg in the district Ganderbal of Union Territory of Jammu and Kashmir, India.
It is named for the Z-shaped stretch of road between Sonamarg and Gagangir that the tunnel will replace.
The tunnel is hoped to increase social and economic development throughout the region and boost tourism in Sonamarg, which boasts attractions including the Thajiwas Glacier and activities such as whitewater rafting on the Sind River.