Daily Prelims Notes 11 January 2022
January 11, 2022

Posted by:

admin1

Category:

DPN

Daily Prelims Notes
11 January 2022
Table Of Contents
1. Implications of rising bond yields in India
Subject – Economy
Context – Bond yield rises nearly 6 basis points to a 24-month high of 6.52%
Concept –
What are bonds?
A bond is a fixed income instrument that represents a loan made by an investor to a borrower (typically corporate or governmental).
In the case of companies, just like they share their equities with investors via stocks, they share the debt with investors via bonds. So bonds are units of debt issued by the companies and traded like stocks.
A company issues bonds to raise money and they pay regular fixed interest to the bondholder. This interest rate is called the coupon rate. It is declared on the face value of the bond and remains fixed until maturity.
However, since bonds are tradeable, they also give returns. These returns are called bond yields.
What are bond yields?
Bond yields are returns you get when you buy a bond from the secondary market.
Bond yields and prices move in opposite fashion — when bond prices rise, yields fall, and vice versa.
But when the returns are higher, you would want to drop equities and flock to bonds.
Reasons for rise in bond yields –
The sharp rise in bond yields has been driven by a variety of triggers.
Firstly, is the inflation which has been on a constant uptrend since June last year and has only started tapering in the last couple of months! The inflation rate is still above the RBI comfort level and inflation expectations continue to be elevated.
Secondly, the Fed has already hinted at 3 rate hikes this year and the strong economic data hints at possibly 4 rate hikes. That has also kept Indian yields elevated in tune with global trends.
Lastly, the markets are also factoring in a situation where the RBI may be forced to hike rates by 25-50 basis points this year to keep the yield differential attractive to global investors.
Implications of higher bond yields –
Higher bond yields will create a problem for bank bond portfolios

Indian banks, especially PSU banks are among the largest holders of the government of India bonds. That is because banks are required to maintain statutory liquidity ratio (SLR) with the RBI as a safety net to protect their solvency. The SLR predominantly consists of government bonds and the RBI also uses this to meet the government's borrowing program.
Bond losses are a major problem for banks as a rise in yields leads to a fall in bond prices and therefore these losses have to be booked by the banks. This could depress profits of banks and make any fund raising plans difficult.
Rising inflation pushes bond prices lower, thereby pushing yields higher.

Rising bond yields is not great news for NAVs (Net Asset Value)of debt funds

Just like banks lose out on their bond holdings, debt funds holding on to these government bonds also see erosion in their NAV values.
This problem is more acute in case of mutual funds that are holding long-dated government bonds as these bonds are most vulnerable to a rise in bond yields.
The bottom line is that fall in NAVs reduces the wealth of investors, both retail and institutional.

Indian corporates may be forced to borrow at higher rates of interest

As bond yields rise, the banks will have to raise the rates paid out on deposits to keep them attractive. But to compensate for that they are also forced to raise the lending rates to maintain their spread.

Government borrowing programs will be impacted negatively

Higher bond yields will mean that the government will have to borrow at much higher rates, something it will not be prepared to do as it will sharply increase its borrowing cost.

It could also have a negative impact on equity valuations

Equity valuations are done based on the discounted cash flow (DCF) method. Here the future cash flows are discounted to the current year by using the cost of capital as the denominator. The cost of capital is a weighted average of the cost of equity and the cost of debt.
If the bond yields go up then it means the cost of capital goes up and therefore current valuations are more depressed. That is one of the key reasons why markets have been down in the past 2 months.
How rising bond yields impact stock markets
The yield of 10-year G-Sec is considered a benchmark and it reflects the overall interest rate scenario.
In theory, a rising bond yield should be negative for equity prices because higher yields would make equity investments unattractive.

In other words, higher bond yields will make investing in bonds more attractive as compared to equities.

Bond yields reflect the growth and inflation of an economy. When the growth is strong, yields would rise. It shows the economy is recovering or improving.

Due to growth: When growth is strong, cash flows and future earnings estimates improve. These improvements offset the negative impact of the rise in the discount factor that higher yields cause (more on this later). So the overall impact of equities is positive.
Due to inflation: But when yields rise and the growth is not strong enough, there is no factor to offset the impact of the high discount factor. This impacts the equity prices negatively.
What do rising bond yields mean?
Bond yields are one of the metrics available for economists to judge the health of an economy, among others.
When investors sell bonds, prices drop, and their yields rise. A higher yield spells greater risk. If the yield of 10-year bonds is higher than what it was when it was issued, then there would be a possibility that the government is financially stressed and may not be able to repay the capital. That said, g-secs are relatively stable.
2. 'Developing' Country Status at WTO
Subject – Economy
Context – China's status as a 'developing country' at the World Trade Organization (WTO) has become a contentious issue with a number of countries raising concerns over the upper middle-income nation deriving benefits reserved for developing countries under WTO norms.
Concept –
What are the benefits of 'developing country' tag?
Certain WTO agreements give developing countries special rights through 'special and differential treatment' (S&DT) provisions, which can grant developing countries longer timeframes to implement the agreements and even commitments to raise trading opportunities for such countries.
WTO pacts are often aimed at reduction in government support to certain industries over time and set more lenient target for developing nations and grant them more time to achieve these targets compared to developed ones.
The classification also allows other countries to offer preferential treatment.
How is a 'developing country' decided?
The WTO has not defined 'developed' and 'developing' countries and therefore member countries are free to announce whether they are 'developed' or 'developing'.
Why are some countries against China being classified as 'developing country'?
Given the rise in China's per capita income to become an upper middle-income country according to the World Bank and the country's alleged use of unfair trade practices such as preferential treatment for state enterprises, data restrictions and inadequate enforcement of intellectual property rights, a number of nations have called on China to either refrain from seeking benefits available to developing countries or forego its classification as a developing country altogether.
What are the benefits of LDC classification?
The WTO recognises LDCs relying on a classification by the UN based on criteria that is reviewed every three years.
LDCs are often exempted from certain provisions of WTO pacts.

Bangladesh, currently classified as an LDC, receives zero duty, zero quota access for almost all exports to the EU. It is, however, set to graduate from the LDC status in 2026 as its per capita GDP has risen sharply surpassing that of India in FY21.
3. The valour of the Chhote Sahibzaade
Subject – Art and Culture
Context – The nation would henceforth observe December 26 as 'Veer Baal Diwas', Prime Minister Narendra Modi announced on Sunday (December 9), the ParkashPurab (birth anniversary) of the tenth Sikh Guru Gobind Singh.
Concept –
Veer Baal Diwas — a tribute to the bravery of children — is dedicated to the ChhoteSahibzaade, Zorawar Singh and Fateh Singh, the two youngest sons of Guru Gobind Singh, who were bricked alive on the orders of Wazir Khan, the Mughal faujdar of Sirhind, for refusing to renounce their faith and become Muslim.
Zorawar Singh was 9 years old at the time, and Fateh Singh only 7. Soon after they were walled up alive, their grandmother Mata Gujri (Guru Gobind Singh's mother) died of shock.
Today, Gurdwara Sri Fatehgarh Sahib stands on the site where the two Sahibzaadas were executed on December 12, 1705, which translates to December 26 as per the current calendar.
It is believed that after no one in Sirhind town agreed to spare land to cremate them, a rich Hindu trader named DiwanTodar Mal purchased a small piece of land by covering it with at least 7,800 gold coins, and performed the last rites after getting the Sahibzaadas' bodies released from the Mughals. Later, Gurdwara JyotiSarup was built on this site in Fatehgarh Sahib.
Guru Gobind Singh had four sons, the ChaarSahibzaade, all of whom four sacrificed their lives to uphold the identity and dignity of KhalsaPanth against the Mughals. The two elder ones, Ajit Singh and Jujhar Singh, died in the battle of Chamkaur Sahib.
But the bravery and sacrifice of Zorawar Singh and Fateh Singh is considered unparalleled not just because of the tender age at which they chose death, but also for the cruel and barbaric conditions that the Mughals had created for the children and their grandmother before their execution.
JorMela, a religious fair, is organised from December 25-28 every year in memory of the children and their grandmother at Sri Fatehgarh Sahib, which is attended by lakhs of devotees, not just from Punjab but also from other states.
4. Employment Survey by the Labour Ministry
Subject – Economy
Context – Total employment in 9 select sectors rises to 3.10 cr in July-Sep 2021
Concept –
Total employment generated by nine select sectors stood at 3.10 crore in the July-September 2021 quarter, which is 2 lakh more than that of the April-June period, according to a quarterly employment survey by the labour ministry.
The rise shows improvement in economic activities after lifting of lockdown restrictions by states to curb the spread of deadly virus after the second wave of the COVID-19 pandemic hit the country in April 2021.
These nine sectors are Manufacturing, Construction, Trade, Transport, Education, Health, Accommodation and Restaurant, IT/ BPO and Financial Services, accounting for a majority of the total employment in the non-farm establishments.
The study covers establishment with 10 or more employees.
To know more about Unemployment, please refer September 2021 DPN.
Subject – Economy
Context – Suit filed against Fortis Healthcare, others in US District Court for copyright infringement
Concept –
Copyright infringement is the use or production of copyright-protected material without the permission of the copyright holder.
Copyright infringement means that the rights afforded to the copyright holder, such as the exclusive use of a work for a set period of time, are being breached by a third party.

Music and movies are two of the most well-known forms of entertainment that suffer from significant amounts of copyright infringement.

Individuals and companies who develop new works register for copyright protection to ensure that they can profit from their efforts.

Other parties may be granted permission to use those works through licensing arrangements or buy the works from the copyright holder.

Infringement cases may lead to contingent liabilities, which are amounts set aside in case of a possible lawsuit.
To know about Intellectual Property and its types, please refer July 2021 DPN.
Subject – Geography
Context – Unseasonal rains, hailstorms damage Maharashtra rabi crops
Concept –
A hailstorm is a thunderstorm that produces ice as precipitation. Hailstorms can cause serious damage to crops and property.
In India, hailstorms mostly affect the northeast and western Himalayas, with the maximum strikes in March and April.
Unlike other forms of water ice precipitation, such as graupel (which is made of rime ice), ice pellets (which are smaller and translucent), and snow (which consists of tiny, delicately-crystalline flakes or needles), hailstones usually measure between 5 mm (0.2 in) and 15 cm (6 in) in diameter.
Hail is possible within most thunderstorms (as it is produced by cumulonimbus), as well as within 2 nmi (3.7 km) of the parent storm.
Hail formation requires environments of strong, upward motion of air with the parent thunderstorm (similar to tornadoes) and lowered heights of the freezing level.
In the mid-latitudes, hail forms near the interiors of continents, while, in the tropics, it tends to be confined to high elevations.
Hailstones generally fall at higher speeds as they grow in size, though complicating factors such as melting, friction with air, wind, and interaction with rain and other hailstones can slow their descent through Earth's atmosphere.
Favourable conditions for a hailstorm
Hail forms in the strong updraft region of a thunderstorm. Atmospheric conditions favourable for the formation hail bearing thunderstorm are:
High degree of instability,
High moisture content,
Low freezing level,
High vertical wind shear.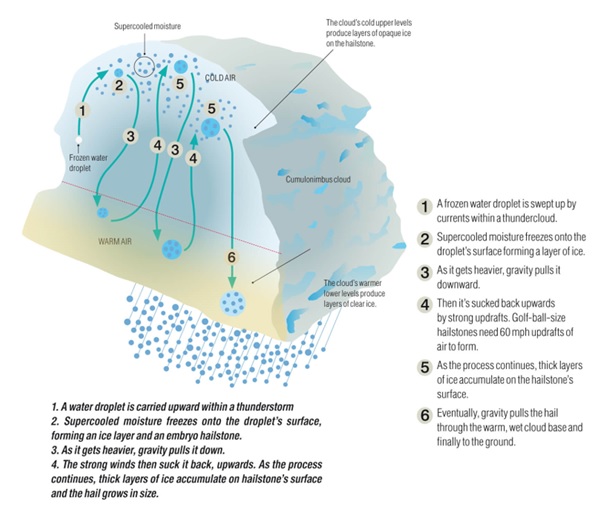 Subject – Geography
Context – Coal prices may rise until Indonesia clears the air on export ban
Concept –
Import of Coal
As per the present Import policy, coal can be freely imported (under Open General Licence) by the consumers themselves considering their needs based on their commercial prudence.
Coking Coal is being imported by Steel Authority of India Limited (SAIL) and other Steel manufacturing units mainly to bridge the gap between the requirement and indigenous availability and to improve the quality.
Coal based power plants, cement plants, captive power plants, sponge iron plants, industrial consumers and coal traders are importing non-coking coal.
Coke is imported mainly by Pig-Iron manufacturers and Iron & Steel sector consumers using mini-blast furnace.
India imports around 300-400 million tonnes of coal, primarily from Indonesia, Australia and South Africa.
Coal India produces over 600 million tonnes of coal for domestic consumption.
China is the biggest producer and consumer of coal.
Export of Coal
Despite India being among largest importers of coal, India exports coal to its neighbouring countries mainly Nepal, Bangladesh and Bhutan.
The latest India export data shows India exported coal to the world worth USD 54 million in Q1 and USD 35.9 million in Q2 of 2021. Nepal had the largest share of 80%, Bangladesh of 12.5% and Bhutan of 6.9% in 2020.
To know about Coal, please refer September 2021 DPN.
To know about Coal Crisis in India, please refer October 2021 DPN.
8. Securities Appellate Tribunal (SAT)
Subject – Economy
Context – Securities Appellate Tribunal pulls up SEBI for 'judicial indiscipline'
Concept –
SAT is a statutory body established under the provisions of Section 15K of the SEBI Act, 1992.
Located at Mumbai.
Composition:
SAT consists of a Presiding Officer and Two other members.
The Presiding officer of SAT shall be appointed by the Central Government in consultation with the Chief Justice of India or his nominee.
Powers & Functions:
It has the same powers as vested in a civil court. Further, if any person feels aggrieved by SAT's decision or order can appeal to the Supreme Court.
To hear and dispose of appeals against orders passed by the SEBI or by an adjudicating officer under the SEBI Act,1992.
To hear and dispose of appeals against orders passed by the Pension Fund Regulatory and Development Authority (PFRDA).
To hear and dispose of appeals against orders passed by the Insurance Regulatory Development Authority of India (IRDAI).
To know about Securities and Exchange Board of India (SEBI), please refer January 2022 DPN.
Subject – Agriculture
Context – Animals are susceptible to several diseases such as foot-and mouth disease (FMD), brucellosis, or Black Quarter
Concept –
Foot and mouth disease (FMD)
Foot and mouth disease (FMD) is a severe, highly contagious viral disease of livestock that has a significant economic impact.
The disease affects cattle, swine, sheep, goats and other cloven-hoofed ruminants.
It is a transboundary animal disease (TAD) that deeply affect the production of livestock and disrupting regional and international trade in animals and animal products.
The disease is estimated to circulate in 77% of the global livestock population, in Africa, the Middle East and Asia, as well as in a limited area of South America.
FMD virus belongs to (risk group 4 as per World Organization for Animal Health (OIE)) Aphtho virus genus of the picornaviridae family.
FMD can spread when infected animals bring the virus into physical contact with susceptible animals.
Symptoms: The virus causes a high fever for two or three days, followed by blisters inside the mouth and on the feet that may rupture and cause lameness.
In rare cases, humans are also susceptible.
FMD is the first disease for which the OIE established an official list of disease-free countries which can be officially recognised as free of the disease either in their entirety or in defined zones and compartments..
Brucellosis
Brucellosis is a bacterial disease caused by various Brucella species, which mainly infect cattle, swine, goats, sheep and dogs.
Humans generally acquire the disease through direct contact with infected animals, by eating or drinking contaminated animal products, or by inhaling airborne agents.
The majority of cases are caused by ingesting unpasteurized milk or cheese from infected goats or sheep.
Person to person transmission is rare.
The disease causes flu-like symptoms, including fever, weakness, malaise and weight loss.
It is also known as Malta fever or Mediterranean fever.
It is usually treated with antibiotics, including rifampin and doxycycline.
Other preventive measures include cooking meat properly, vaccinating domestic animals, etc.
National Animal Disease Control Programme for Foot and Mouth Disease.
It is a 100% centrally funded programme, with a total outlay of Rs.12,652 crore from 2019 to 2024.
It aims to control Foot and Mouth Disease and Brucellosis by 2025 with vaccination and eventual eradication by 2030.
Black Quarter
Blackleg, black quarter, quarter evil, or quarter ill is an infectious bacterial disease most commonly caused by Clostridium chauvoei, a Gram-positive bacterial species.
It is an acute disease of cattle characterized by emphysematous swelling usually in heavy muscles.
It is seen in livestock all over the world, usually affecting cattle, sheep, and goats. It has been seen occasionally in farmed bison and deer.
The acute nature of the disease makes successful treatment difficult, and the efficacy of the commonly used vaccine is disputed.
Healthy animals in the age group 6 months to 2 years are generally affected.
Symptoms- Sudden high fever (107ºF-108ºF) and the animal stops eating and ruminating.
Subject – Economy
Context – Anchor investor exits, Paytm shares spiral to hit all-time low
Concept –
Anchor investors are institutional investors who are allotted shares just before an IPO opens for subscription.
All anchor investors are bound by a lock-in period since they get a confirmed allotment of a company's shares.
Who are Anchor Investors?
Institutional investors, like retail investors, have the option to start bidding for an IPO-bound company's shares when it opens for subscription.
In addition, institutional investors also have an option to bid for shares at a pre-determined price band a day before the IPO opens for subscription.
In such a scenario, these institutional investors are termed as anchor investors.
What is lock-in period for anchor investors?
Anchor investors are guaranteed an allotment of shares a day before the IPO subscription process starts.
Since they already acquire shares before the IPO subscription process, they are bound to hold the shares during the lock-in period and are not allowed to sell them before that.
At present, the shares issued to anchor investors are locked in for a period of 30 days from the date of allotment. While market regulator Securities and Exchange Board of India (Sebi) has proposed a longer lock-in period of 30 days, the present duration continues to be 30 days.
The lock-in period disallows anchor investors from suddenly selling shares, preventing fluctuations in share value for a limited period of time after a company is listed in the primary markets.
11. Registration of Births and Deaths Act 1969 (RBD Act)
Subject – Governance
Context – The Central government had invited comments on the proposed amendments to the Registration of Births and Deaths Act, 1969 (RBD Act).
Concept –
Under the RBD Act, it is the responsibility of the States to register births and deaths. State governments have set up facilities for registering births and deaths and keeping records.
A Chief Registrar appointed in every State is the executive authority for implementation of the Act.
A hierarchy of officials at the district and lower levels do the work. The Registrar General of India (RGI), appointed under this Act, is responsible for coordinating and unifying the implementation of the RBD Act.
To know more about the Act, please refer October 2021 DPN.
To know about Civil Registration System, please refer December 2021 DPN.
12. Krishna River Water Dispute
Subject – Polity
Context – Two SC judges pull out of Krishna water case
Concept –
To know about the dispute, please refer August 2021 DPN.
Krishna River –
The Krishna River is the second biggest river in peninsular India after the Godavari River.
It originates near Mahabaleshwar (Satara) in Maharashtra.
It runs from four states Maharashtra (303 km), North Karnataka (480 km) and the rest of its 1300 km journey in Telangana and Andhra Pradesh before it empties into the Bay of Bengal.
Tributaries: Tungabhadra, Mallaprabha, Koyna, Bhima, Ghataprabha, Yerla, Warna, Dindi, Musi and Dudhganga.
Pattiseema Lift Irrigation project is the first river-linking project in India, connecting Godavari with Krishna through the Polavaram right canal. It will divert surplus Godavari water to Krishna river.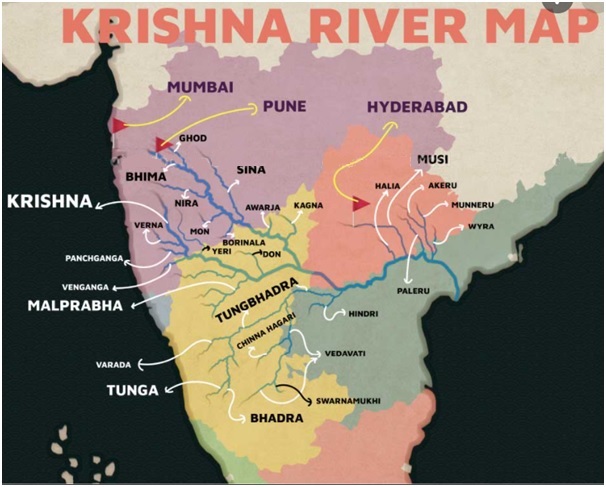 13. Political Parties & Election Symbol
Subject – Polity
Context – Amarinder's party gets poll symbol
Concept –
The Election Symbols (Reservation and Allotment) Order, 1968 empowers the Election Commission to recognise political parties and allot symbols.
An electoral or election symbol is a standardized symbol allocated to a political party.
They are used by the parties during their campaigning and are shown on Electronic Voting Machines (EVMs), where the voter chooses the symbol and votes for the associated party.
They were introduced to facilitate voting by illiterate people, who can't read the name of the party while casting their votes.
In the 1960s, it was proposed that the regulation, reservation and allotment of electoral symbols should be done through a law of Parliament, i.e. Symbol Order.
In a response to this proposal, the ECI stated that the recognition of political parties is supervised by the provisions of Election Symbols (Reservation and Allotment) Order, 1968 and so will the allotment of symbols.
The Election Commission registers political parties for the purpose of elections and grants them recognition as national or state parties on the basis of their poll performance. The other parties are simply declared as registered-unrecognised parties.
The recognition determines their right to certain privileges like allocation of the party symbols, provision of time for political broadcasts on television and radio stations and access to electoral rolls.
Every national party and every state party is allotted a symbol exclusively reserved for its use throughout the country and the states respectively.
Election Symbols (Reservation and Allotment) Order, 1968:
Under Paragraph 15 of the Order, EC can decide disputes among rival groups or sections of a recognised political party staking claim to its name and symbol.
The EC is the only authority to decide issues on a dispute or a merger under the order. The Supreme Court (SC) upheld its validity in Sadiq Ali and another vs. ECI in 1971.
This applies to disputes in recognised national and state parties.
For splits in registered but unrecognised parties, the EC usually advises the warring factions to resolve their differences internally or to approach the court.
In almost all disputes decided by the EC so far, a clear majority of party delegates/office bearers, MPs and MLAs have supported one of the factions.
Before 1968, the EC issued notifications and executive orders under the Conduct of Election Rules, 1961.
The splinter group of the party – other than the group that got the party symbol – had to register itself as a separate party.
They could lay claim to national or state party status only on the basis of its performance in state or central elections after registration.
How many types of symbols are there?
As per the Election Symbols (Reservation and Allotment) (Amendment) Order, 2017, party symbols are either:
Reserved: Eight national parties and 64 state parties across the country have "reserved" symbols.
Free: The Election Commission also has a pool of nearly 200 "free" symbols that are allotted to the thousands of unrecognised regional parties that pop up before elections.
Subject – Governance
Context – Keep daily watch on COVID situation, Centre tells States
Concept –
National Teleconsultation Service of Ministry of Health and Family Welfare is first of its kind online OPD service offered by a country government to its citizens. National Teleconsultation Service aims to provide healthcare services to patients in their homes. Safe & structured video based clinical consultations between a doctor in a hospital and a patient in the confines of his home are being enabled.
eSanjeevani – a doctor to patient telemedicine system has been deployed nationally for the Miinistry of Health & Family Welfare under Ayushman Bharat Scheme of Government of India.
The scheme is particularly useful during times of pandemic Coivd-19 as it helps people avoid going out to consult a doctor or visit a hospital. Through eSanjeevani OPD, anyone can seek medical advice and medication through audio and video.
With the introduction of this service, people living in the remotest areas will also be able to get their health related consultation.
Process to book an appointment