Daily Prelims Notes 11 September 2021
September 11, 2021

Posted by:

admin1

Category:

DPN

Daily Prelims Notes
11 September 2021
Table Of Contents
1. Autonomous District Council
Subject – Polity
Context – Lone BJP member left in Mizoram's tribal Chakma Autonomous District Council.
Concept –
The Sixth Schedule of the Constitution of India allows for the formation of autonomous administrative divisions which have been given autonomy within their respective states.
Most of these autonomous district councils are located in North East India but two are in Ladakh, a region administered by India as a union territory.
Presently, 10 Autonomous Councils in Assam, Meghalaya, Mizoram and Tripura are formed by virtue of the Sixth Schedulewith the rest being formed as a result of other legislation.
The governor is empowered to organise and re-organise the autonomousdistricts. Thus, he can increase or decrease their areas or change theirnames or define their boundaries and so on.
If there are different tribes in an autonomous district, the governor candivide the district into several autonomous regions.
Each autonomous district has a district council consisting of 30 members, of whom four are nominated by the governor and the remaining 26 are elected on the basis of adult franchise.
The elected members hold office for a term of five years (unless the council is dissolved earlier) and nominated members hold office during the pleasure of the governor.
Each autonomous region also has a separate regional council.
The district and regional councils administer the areas under their jurisdiction. They can make laws on certain specified matters like land, forests, canal water, shifting cultivation, village administration, inheritance of property, marriage and divorce, social customs and so on.
But all such laws require the assent of the governnor.
The district and regional councils within their territorial jurisdictions can constitute village councils or courts for trial of suits and cases between the tribes. They hear appeals from them.
The jurisdiction of high court over these suits and cases is specified by the governor.
The district council can establish, construct or manage primary schools, dispensaries, markets, ferries, fisheries, roads and so on in the district. It can also make regulations for the control of money lending and trading bynon-tribals. But such regulations require the assent of the governor.
The district and regional councils are empowered to assess and collect land revenue and to impose certain specified taxes.
The acts of Parliament or the state legislature do not apply to autonomous districts and autonomous regions or apply with specified modifications and exceptions.
Subject – Science and Tech
Context – The paper presented at the ACM SIGCOMM 2021 Conference last month noted that a powerful solar storm can cause a disruption of the internet, damage submarine cables and communication satellites.
Concept –
A solar storm or a Coronal Mass Ejection as astronomers call it, is an ejection of highly magnetised particles from the sun.
These particles can travel several million km per hour and can take about 13 hours to five days to reach Earth.
Earth's atmosphere protects us humans from these particles. But the particles can interact with our Earth's magnetic field, induce strong electric currents on the surface and affect man-made structures.
The first recorded solar storm occurred in 1859 and it reached Earth in about 17 hours. It affected the telegraph network and many operators experienced electric shocks. A solar storm that occurred in 1921 impacted New York telegraph and railroad systems and another small-scale storm collapsed the power grid in Quebec, Canada in 1989.
A 2013 report noted that if a solar storm similar to the 1859 one hit the US today, about 20-40 million people could be without power for 1-2 years, and the total economic cost will be $0.6-2.6 trillion.
The Sun goes through an 11-year cycle – cycles of high and low activity. It also has a longer 100-year cycle. During the last three decades, when the internet infrastructure was booming, it was a low period. And very soon, either in this cycle or the next cycle, we are going towards the peaks of the 100-year cycle. So it is highly likely that we might see one powerful solar storm during our lifetime.
Independent solar observations show that solar superstorms capable of such large-scale damage may occur only a few times in a century.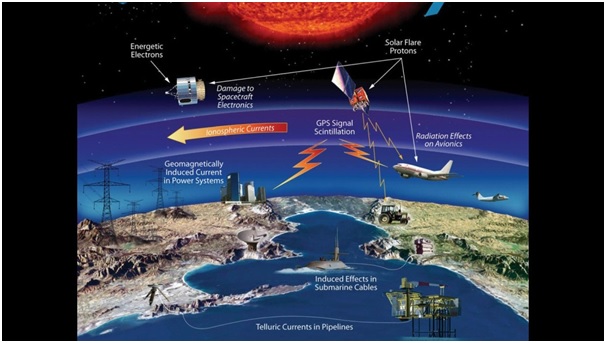 Subject – IR
Context – India-Australia hold 2+2 dialogue
Concept –
A 2+2 dialogue refers to a mechanism between two nations where two appointed ministers from each country met up to discuss their strategic and security interests.
The goal is to enhance high-level engagements on bilateral, regional, and global issues.
It is a format of dialogue where the defence/foreign ministers or secretaries meet with their counterparts from another country.
India holds such talks with Australia, Japan and the USA.
4. Climate Action and Finance Mobilisation Dialogue
Subject – IR
Context – India and U.S. to launch Climate Action and Finance Mobilisation Dialogue
Concept –
America's Special Presidential Envoy for Climate John Kerry would travel to India next week, during which the two countries would launch the Climate Action and Finance Mobilisation Dialogue, the state department said on September 10.
The state department said Mr. Kerry will meet with Indian counterparts and private sector leaders to discuss efforts to raise global climate ambition and speed up India's clean energy transition.
It is one of the two main tracks of the S.-India Agenda 2030 Partnership that President Biden and Prime Minister Modi announced at the Leaders Summit on Climate in April 2021.
The S.-India Climate and Clean Energy Agenda 2030 Partnership envisages bilateral cooperation on strong actions in the current decade to meet the goals of the Paris Agreement.
As a part of the Paris Agreement, India plans to reduce its carbon footprint by 33-35% from its 2005 levels and have 40% of its total installed power generation capacity from renewables, by 2030.
Subject – Environment
Context – The world's coral reefs have suffered terribly in 30 years, but are resilient.
Concept –
Coral reefs have suffered terribly in the past three decades. Yet, they are resilient and would be able to withstand challenges posed by a warming world, a recent study by the Government of Australia has said.
The study also said reducing local pressures on coral reefs to maintain their resilience would be critical in the years to come.
Status of Coral Reefs of the World: 2020 was prepared by the Global Coral Reef Monitoring Network, along with the Australian government.
There were many shocking aspects noted in the report as well. For instance, the 1998 coral bleaching event killed eight per cent of the world's coral.
Subsequent events between 2009 and 2018 killed 14 per cent of the world's coral.
Most declines in global coral cover were associated with either rapid increase in sea surface temperature (SST) anomaly or sustained high SST anomaly.
There were 20 per cent more algae on the world's coral reefs in 2019 than in 2010. The increase in the amount of algae, was associated with declines in the amount of hard coral, the study said.
The study noted that since 2010, almost all regions had exhibited a decline in average coral cover. According to estimates, coral reefs would experience further declines in the coming decades as sea temperatures arose.
However, the increases in global coral cover between 2002 and 2009 and in 2019 offered hope. It showed that coral reefs globally remained resilient and could recover if conditions permitted.
For instance, coral reefs in East Asia, which has 30 per cent of the world's coral reefs, had more coral on average in 2019 than they did in 1983. This, despite the area being affected by large-scale coral bleaching events during the last decade.
About Coral Reefs –
Coral reefs are one of the most biologically diverse marine ecosystems on the Earth.
Coral reefs play an important role in marine ecosystems and support the habitats of flora and fauna in the sea.
They are the underwater structures that are formed of coral polyps that are held together by calcium carbonate.
Coral reefs are also regarded as the tropical rainforest of the sea and occupy just 0.1% of the ocean's surface but are home to 25% of marine species.
They are usually found in shallow areas at a depth less than 150 feet. However, some coral reefs extend even deeper, up to about 450 feet.
Coral polyps are the individual corals that are found on the calcium carbonate exoskeletons of their ancestors.
Corals can be found in all the oceans but the biggest coral reefs are mostly found in the clear, shallow waters of the tropics and subtropics.
The largest of these coral reef systems, The Great Barrier Reef in Australia, the largest coral reef is more than 1,500 miles long.
Coral Reefs in India –
Coral reefs are present in the areas of Gulf of Kutch, Gulf of Mannar, Andaman & Nicobar, Lakshadweep Islands and Malvan.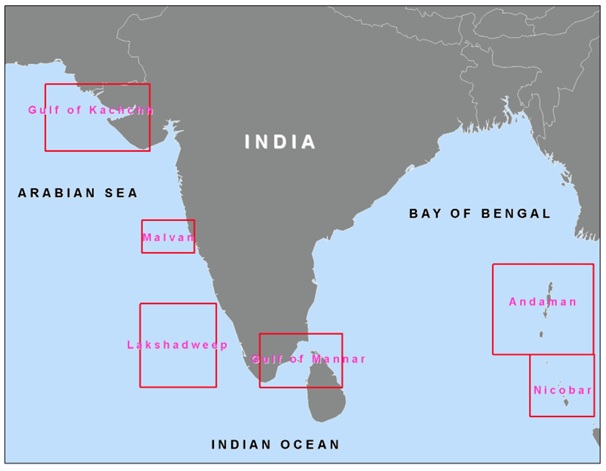 Largest Coral Reef Area:

Indonesia has the largest coral reef area in the world.
India, Maldives, Sri Lanka and Chagos have the maximum coral reefs in South Asia.
Great Barrier Reef of the Queensland coast of Australia is the largest aggregation of coral reefs.
Major threats for the corals
Natural: Environmental-Temperature, Sediment Deposition, Salinity, pH, etc
Anthropogenic: Mining, Bottom Fishing, Tourism, pollution, etc.
Types of Coral Reefs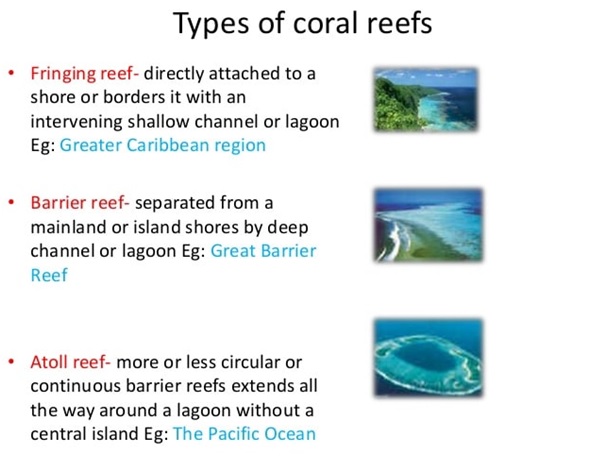 Coral Bleaching –
The coral and the zooxanthellae share a symbiotic relationship and 90% of the nutrients that are produced by the algae are transferred to the coral hosts.
But this relationship gets affected under severe environmental stress which causes the loss of symbiotic algae (zooxanthellae).
As a result, the white calcium-carbonate exoskeleton is visible through its transparent tissue leading to a condition known as Coral Bleaching.
The corals become vulnerable in the absence of the algae and begin to die if the temperature of the sea remains high for weeks.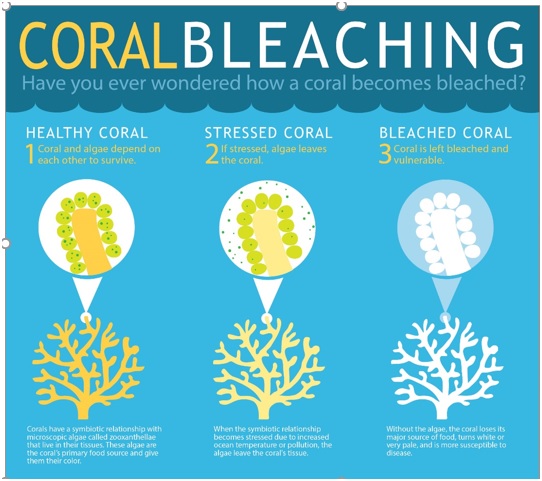 Subject – Economy
Context – Govt allows disinvested PSUs to set off previous losses
Concept –
Disinvestment means sale or liquidation of assets by the government, usually Central and state public sector enterprises, projects, or other fixed assets.
The government undertakes disinvestment to reduce the fiscal burden on the exchequer, or to raise money for meeting specific needs, such as to bridge the revenue shortfall from other regular sources. In some cases, disinvestment may be done to privatise assets.
However, not all disinvestment is privatisation.
Some of the benefits of disinvestment are that it can be helpful in the long-term growth of the country; it allows the government and even the company to reduce debt. Disinvestment allows a larger share of PSU ownership in the open market, which in turn allows for the development of a strong capital market in India.
There is a separate department under the Ministry of Finance which handles all disinvestment-related works for the government.
On 10 December 1999, the Department of Disinvestment was set up as a separate department and later renamed as Department of Investment and Public Asset Management.
Disinvestment targets are set under each Union Budget, and every year the targets change. The government takes the final decision on whether to raise the divestment target or not.
As per the latest policy, disinvestment now covers two types: (1) disinvestment through minority stake sale and (2) strategic disinvestment.
Public Sector Undertakings are the wealth of the Nation and to ensure this wealth rests in the hands of the people, promote public ownership of CPSEs;
In the case of disinvestment through minority stake (share) sale in listed CPSEs, the Government will retain majority shareholding, i.e. at least 51 per cent of the shareholding and management control of the Public Sector Undertakings;
Strategic disinvestment is by way of sale of substantial portion of Government shareholding in identified CPSEs up to 50 per cent or more, along with transfer of management control.
To know more about DIPAM, kindly click here.
Subject – Science and Tech
Context – Jio Phone Next delayed: Challenges ahead for Jio to manage component supply shortage and price, say industry experts
Concept –
Semiconductors are the materials which have a conductivity between conductors (generally metals) and non-conductors or insulators (such as ceramics).
Semiconductors can be compounds such as gallium arsenide or pure elements, such as germanium or silicon. .
Semiconductors like Gallium arsenide, germanium, and silicon are some of the most commonly used semiconductors.
Silicon is used in electronic circuit fabrication and gallium arsenide is used in solar cells, laser diodes, etc.
Properties of Semiconductors:
Semiconductor acts like an insulator at Zero Kelvin. On increasing the temperature, it works as a conductor.
Due to their exceptional electrical properties, semiconductors can be modified by doping to make semiconductor devices suitable for energy conversion, switches, and amplifiers.
Lesser power losses.
Semiconductors are smaller in size and possess less weight.
Their resistivity is higher than conductors but lesser than insulators.
The resistance of semiconductor materials decreases with the increase in temperature and vice-versa.
Uses of Semiconductors
Temperature sensors are made with semiconductor devices.
They are used in 3D printing machines
Used in microchips and self-driving cars
Used in calculators, solar plates, computers and other electronic devices.
Transistor and MOSFET used as a switch in Electrical Circuits are manufactured using the semiconductors.
The physical and chemical properties of semiconductors make them capable of designing technological wonders like microchips, transistors, LEDs, solar cells, etc.
The microprocessor used for controlling the operation of space vehicles, trains, robots, etc is made up of transistors and other controlling devices which are manufactured by semiconductor materials.
To know about the applications and advantages of Semi-conductors, please click here.
8. Transport and Marketing Assistance (TMA) scheme
Subject – Agriculture
Context – Govt enhances scope of MTA scheme for agri exports
Concept –
Department of Commerce of the Ministry of Commerce & Industry has notified a scheme for Transport and Marketing Assistance (TMA) for Specified Agriculture Products.
In 2019, the government announced the scheme for providing financial assistance for transport and marketing of agricultural products to boost exports of such commodities to certain countries in Europe and North America.
Under the TMA plan, it reimburses a certain portion of freight charges and provides assistance for marketing of agricultural produce.
Scheme would be suitably included in the Foreign Trade Policy (2015-20).
The scheme will help in increasing farm export from India.
The scheme shall be admissible for exports made through EDI (Electronic Data Interchange) ports only.
The scheme covers freight and marketing assistance for export by air as well as by sea.
The scheme was introduced to provide assistance for the international component of freight, to mitigate disadvantage of higher freight costs faced by the Indian exporters of agriculture products.
Coverage –
All exporters, duly registered with relevant Export Promotion Council as per Foreign Trade Policy, of eligible agriculture products shall be covered under this scheme.
The Scheme would be applicable for a period as specified from time to time. Presently the Scheme would be available for exports from 1.3.2019 to 31.03.2020.
The assistance, at notified rates, will be available for export of eligible agriculture products to the permissible countries, as specified from time to time.
Enhanced Scope –
The government on Friday enhanced the scope of Transport and Marketing Assistance (TMA) scheme for specified agriculture products by including dairy products under its purview and increasing the rates of assistance.
The scheme has been extended till March 31, 2022.
Enhanced assistance under the revised scheme is expected to help Indian exporters of agricultural products to meet rising freight and logistics costs.
Dairy products, which were not covered under the earlier scheme, will now be eligible for assistance, it said adding that rates of assistance have been increased, by 50 per cent for exports by sea and 100 per cent through air.