Daily Prelims Notes 13 March 2022
March 13, 2022

Posted by:

admin1

Category:

DPN

Daily Prelims Notes
13 March 2022
Table Of Contents
TOPIC: IR
Context- Geneva Conventions and the Russia-Ukraine war.
Concept-
What are the Geneva Conventions guidelines during wartime?
The Geneva Conventions are a set of four treaties, formalised in 1949, and three additional protocols, which codify widely accepted ethical and legal international standards for humanitarian treatment of those impacted by war.
The focus of the Conventions is the treatment of non-combatants and prisoners of war, and not the use of conventional or biological and chemical weapons, the use of which is governed respectively by the Hague Conventions and the Geneva Protocol.
The First Geneva Convention protects wounded and sick soldiers on land during war.
The Second Geneva Convention protects wounded, sick and shipwrecked military personnel at sea during war.
The Third Geneva Convention applies to prisoners of war, including a wide range of general protections such as humane treatment, maintenance and equality across prisoners, conditions of captivity, questioning and evacuation of prisoners, transit camps, food, clothing, medicines, hygiene and right to religious, intellectual, and physical activities of prisoners.
The Fourth Geneva Convention protects civilians, including those in occupied territory. The other Geneva Conventions were concerned mainly with combatants rather than civilians.
Two Protocols of 1977: Additional to the four 1949 Geneva Conventions were adopted in 1977. They strengthen the protection of victims of international (Protocol I) and non-international (Protocol II) armed conflicts and place limits on the way wars are fought.
In 2005, a third Additional Protocol was adopted creating an additional emblem, the Red Crystal, which has the same international status as the Red Cross and Red Crescent emblems.
Which countries are signatories?
The Geneva Conventions have been ratified by 196 states, including all UN member states.
The four conventions and first two protocols of the Geneva Conventions were ratified by the Soviet Union, not Russia.
What would be the steps for potential prosecution under the Conventions?
Under Article 8 of the Rome Statute of the ICC, it is the ICC that has jurisdiction in respect of war crimes, in particular.
Under the statute, 'war crimes' refers to Grave breaches of the Geneva Conventions including

wilful killing, torture or inhuman treatment, including biological experiments;
wilfully causing great suffering, or serious injury to body or health;
extensive destruction and appropriation of property, not justified by military necessity and carried out unlawfully and wantonly;
compelling a prisoner of war or other protected person to serve in the forces of a hostile Power;
wilfully depriving a prisoner of war or other protected person of the rights of fair and regular trial;
unlawful deportation or transfer or unlawful confinement; taking of hostages.
TOPIC: Science & Tech
Context- The RRI group made an updated version of SARAS, called SARAS-3 to detect radio wave signal from Cosmic Dawn.
Concept-
Background:
In 2018 a team of researchers from Arizona State University (ASU) and MIT in the US detected a signal from stars emerging in the early universe using data from the EDGES radio telescope.
ASU/MIT team had claimed the discovery of a radio wave signalling the birth of the First Stars.
However Utilizing the indigenously invented and built SARAS 3 radio telescope, researchers from Raman Research Institute, an autonomous institute of the Department of Science & Technology, Govt. of India has refuted this claim.
SARAS-3 radio telescope:
SARAS is a niche high-risk high-gain experimental effort of RRI initiated and led by Prof. Ravi Subrahmanyan, along with Prof. N. Udaya Shankar.
SARAS is a correlation spectrometer designed for precision measurements of the cosmic radio background and faint features in the sky spectrum at long wavelengths.
It was built to deploy in India a precision radio telescope to detect extremely faint radio wave signals from the depths of time, from our "Cosmic Dawn" when the first stars and galaxies formed in the early Universe.
SARAS-3 is the first telescope worldwide to reach the required sensitivity and cross-verify the claim of the signal detection.
Detecting a faint signal from such an early period of the Universe is extremely difficult.
The celestial signal is exceptionally faint – buried in sky radio waves that come to us from the gas in our own Galaxy, the Milky Way, which are a million times brighter.
Besides, this cosmic signal is in a radio wavelength band used by numerous terrestrial communications equipment and TV and FM radio stations, which makes detecting the extra-terrestrial signal extremely difficult.
However, RRI scientists and engineers have risen to the challenge and designed and calibrated the SARAS radio telescope to discern signals from Cosmic Dawn.
The telescope was first deployed in rural Timbaktu Collective in Anantapur district in Andhra Pradesh.
The subsequent deployment took place in trans-Himalayan Ladakh and further RRI astronomers came up with the idea of floating the radio telescope on a raft on water, which had never been conceived of in the world.
This helped provide a homogenous medium of high dielectric constant below the antenna improving sensitivity and reducing confusing radio waves emitted by the very ground beneath radio telescopes.
In 2020, the radio telescope was deployed in lakes in Northern Karnataka, on Dandiganahalli Lake and Sharavati backwaters.
After a rigorous statistical analysis SARAS 3 did not find any evidence of the signal claimed by the EDGES experiment.
The presence of the signal is decisively rejected after a careful assessment of the measurement uncertainties.
TOPIC: Economy
Context- The return on workers' retirement savings parked with the Employees' EPFO has been slashed to 8.1% for 2021-22 from the 8.5% rate credited to members' accounts in the past two years.
Concept-
The cut in the EPF rate, at a time when inflation is resurging, attracted criticism from the central trade union representatives on the Board who called for the 8.5% return to be retained.
Employee representatives had also opposed the last rate cut on EPF savings from 8.65% in 2018-19 to 8.5% in 2019-20.
About EPFO:
Employees' Provident Fund Organisation is a government organization that manages provident fund and pension accounts of member employees and implements the Employees' Provident Fund and Miscellaneous Provisions Act, 1952.
It is administered by the Ministry of Labour & Employment, Government of India.
It is one of the World's largest Social Security Organisations in terms of clientele and the volume of financial transactions undertaken.
It operates three schemes –

EPF Scheme 1952,
Pension Scheme 1995 (EPS) and
Insurance Scheme 1976 (EDLI).
Employees Pension Scheme (EPS):
It is a social security scheme that was launched in 1995.
The scheme, provided by EPFO, makes provisions for pensions for the employees in the organized sector after the retirement at the age of 58 years.
Employees who are members of EPF automatically become members of EPS.
Both employer and employee contribute 12% of employee's monthly salary (basic wages plus dearness allowance) to the Employees' Provident Fund (EPF) scheme.
EPF scheme is mandatory for employees who draw a basic wage of Rs. 15,000 per month.
***For further Reading Refer to DPN 21 November 2021.
TOPIC: Science & Tech
Context- A small study found that compared with adults, a higher proportion of chil­dren did not produce antibo­dies in response to SARS­ CoV­2 infection (seroconversion).
Concept-
Antibody:
Antibody, also called immunoglobulin, is a Y shaped protective protein produced by the immune system in response to the presence of a foreign substance, called an antigen.
A wide range of substances are regarded by the body as antigens, including disease-causing organisms and toxic materials.
Antibodies recognize and attack onto antigens in order to remove them from the body.
Each tip of the "Y" of an antibody contains a paratope (analogous to a lock) that is specific for one particular epitope (analogous to a key) on an antigen, allowing these two structures to bind together with precision.
Using this binding mechanism, an antibody can tag a microbe or an infected cell and can neutralize it directly.
The main types of antibodies (immunoglobulins) include:

IgG. These are the most abundant types of antibodies in your plasma. They detoxify harmful substances and provide long-term protection.
IgM. These are the first antibodies made by B cells in response to antigens.
IgA. These antibodies collect antigens and remove them from your body in your mucus or other body fluids.
IgE. These antibodies trigger allergies and protect against parasites. Small amounts are in your skin, lungs, and mucosal membranes.
IgD. These antibodies bind to B cells and signal them to release IgM antibodies.
Antigen vs Antibodies: 
| | |
| --- | --- |
| Antigen | Antibodies |
| also known as Immunogens | also known as Immunoglobulins |
| Antigens are usually lipids. However, they can also be proteins, carbohydrates, and nucleic acids | All antibodies are proteins |
| Antigens have origins outside the body | Antibodies always originate within the body |
| Antigens cause allergic reactions or even illnesses | Protects against the effects of the antigen either by lysis or immobilization of the particle |
| Epitopes are regions of the antigen where interacts with the antibodies | Paratopes are variable regions of an antibody that binds to an epitope. |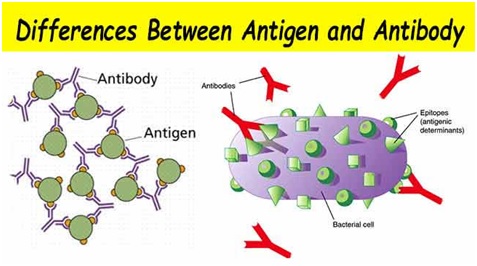 TOPIC: Science & Tech
Context- The U.S. patent office has awarded key patent rights related to the CRISPR–Cas9 gene editing tool to the Broad Institute team led by molecular biologist Feng Zhang. It had been locked in a battle with another team that includes biochemist Jennifer Doudna and microbiologist Emmanuelle Charpentier who shared a Nobel Prize for the discovery in 2020.
Concept-
About CRISPR Cas-9
CRISPR (an acronym for clustered regularly interspaced short palindromic repeats) is a family of DNA sequences found in the genomes of prokaryotic organisms such as bacteria and archaea.
These sequences are derived from DNA fragments of bacteriophages that had previously infected the prokaryote.
They are used to detect and destroy DNA from similar bacteriophages during subsequent infections.
Hence these sequences play a key role in the antiviral (i.e. anti-phage) defense system of prokaryotes and provide a form of acquired immunity.
CRISPR are found in approximately 50% of sequenced bacterial genomes and nearly 90% of sequenced archaea.
Cas9 (or "CRISPR-associated protein 9") is an enzyme that uses CRISPR sequences as a guide to recognize and cleave specific strands of DNA that are complementary to the CRISPR sequence.
Cas9 enzymes together with CRISPR sequences form the basis of a technology known as CRISPR-Cas9 that can be used to edit genes within organisms.
CRISPR-CAS9 is a technology that allows scientists to essentially cut-and-paste DNA, raising hope of genetic fixes for disease.
The development of the CRISPR-Cas9 genome editing technique was recognized by the Nobel Prize in Chemistry in 2020 which was awarded to Emmanuelle Charpentier and Jennifer Doudna.
TOPIC: Science & Tech
Context- Radiocarbon dating has unmasked two forged paintings in France. The paintings were supposedly impressionist and pointillist works from around the early twentieth century.
Heritage scientists clipped tiny threads from canvases and plucked what appeared to be a paintbrush bristle trapped in the paint — all were dated to within the past 70 years.
Concept-
About Radiocarbon Dating:
Radiocarbon dating (also referred to as carbon dating or carbon-14 dating) is a method that provides objective age estimates for carbon-based materials (Organic materials) that originated from living organisms.
An age could be estimated by measuring the amount of carbon-14 present in the sample and comparing this against an internationally used reference standard.
The method was developed in the late 1940s at the University of Chicago by Willard Libby.
Basic Principles of Carbon Dating:
Radiocarbon (carbon 14) is an isotope of the element carbon that is unstable and weakly radioactive.

The stable isotopes are carbon 12 and carbon 13.

Carbon 14 is continually being formed in the upper atmosphere by the effect of cosmic ray neutrons on nitrogen 14 atoms. It is rapidly oxidized in air to form carbon dioxide and enters the global carbon cycle.
Plants and animals assimilate carbon 14 from carbon dioxide throughout their lifetimes. When they die, they stop exchanging carbon with the biosphere and their carbon 14 content then starts to decrease at a rate determined by the law of radioactive decay.
Radiocarbon dating is essentially a method designed to measure residual radioactivity.
How Does Carbon Dating Work:
Carbon-14 is a weakly radioactive isotope of Carbon; also known as radiocarbon, it is an isotopic chronometer.
C-14 dating is only applicable to organic and some inorganic materials (not applicable to metals).
Gas proportional counting, liquid scintillation counting and accelerator mass spectrometry are the three principal radiocarbon dating methods.