Daily Prelims Notes 14 September 2021
September 14, 2021

Posted by:

admin1

Category:

DPN

Daily Prelims Notes
14 September 2021
Table Of Contents
Subject – Environment
Context – Thawing permafrost cause another pandemic
Concept –
The latest IPCC report has warned that increasing global warming will result in reductions in Arctic permafrost and the thawing of the ground is expected to release greenhouse gases like methane and carbon dioxide.
Defined as ground (soil, rock and any included ice or organic material) that remains at or below zero degree Celsius for at least two consecutive years, permafrost is spread across an area of over 23 million square kilometers, covering about 15% of the land area of the globe.
These permanently frozen grounds are most common in regions with high mountains and in Earth's higher latitudes—near the North and South Poles.
Permafrost covers large regions of the Earth. Almost a quarter of the land area in the Northern Hemisphere has permafrost underneath. Although the ground is frozen, permafrost regions are not always covered in snow.
Permafrost is composed of rock, sediments, sand, dead plant and animal matter, soil, and varying degrees of ice and is believed to have formed during glacial periods dating several millennia.
Its thickness reduces progressively towards the south and is affected by a number of other factors, including the Earth's interior heat, snow and vegetation cover, presence of water bodies, and topography.
Immediate effects as permafrost melts due to increasing global temperatures –
The first impacts that are very rapid will affect countries where roads or buildings were constructed on permafrost. The Russian railways are an example.
But the biggest international problem is to do with the potential for organic material, which is now entombed and frozen in the ground. If the ground begins to thaw, this material will become available for microbiota to break down. In some environments, the biota will release carbon dioxide, and in others release methane which is about 25 to 30 times more potent as a greenhouse gas than carbon dioxide.
The total quantity of carbon that is now buried in the permafrost is estimated at about 1500 billion tonnes and the top three meters of the ground has about 1000 billion tonnes.
The world currently emits into the atmosphere, approximately 10 billion tonnes of carbon a year. So, if the permafrost thaws and releases even only one per cent of the frozen carbon in any one year, it can nullify anything that we do about industrial emissions.
Usually, after a forest fire, you expect the forest to grow back in the next 50 years to 60 years. This restores the carbon stock in the ecosystem. But in the tundra, the peat is where the organic material is and this takes a very long time to accumulate. So if we burn peat and release it into the atmosphere, then it will take centuries to restore that carbon stock at ground level.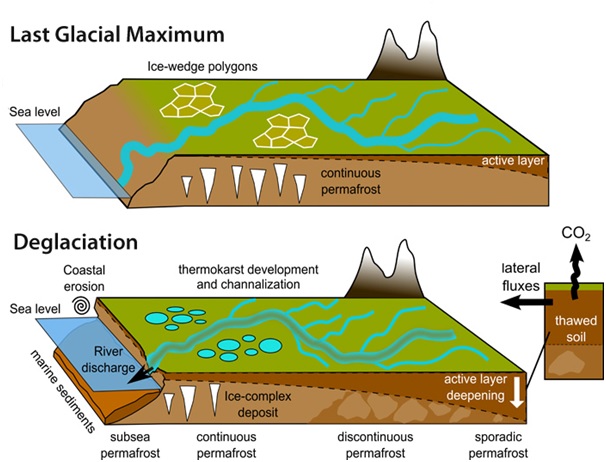 Can thawing permafrost can release new bacteria or viruses?
Permafrost has many secrets. Recently mammoths were found in the permafrost in Russia. And some of these mammoth carcasses when they begin to degrade again may reveal bacteria that were frozen thousands of years ago.
When the permafrost was formed thousands of years ago, there weren't many humans who lived in that region which was necessarily very cold.
The number of diseases that you can find in India is much greater than the number of diseases you find in Greenland. The environment now is so much more suitable than during the Ice Age for not just human life, but also the evolution or development of viruses and bacteria.
2. Software as a Service (SaaS)
Subject – Science and Tech
Context – Recently there was news that Freshworks — a Chennai- and Silicon Valley-based Software as a Service (SaaS) provider has filed for IPO in the US.
Concept –
SaaS is a way of delivering software applications over the internet when a customer requires them.
Earlier, companies would have to install software in their clients' localised hardware for them to use their applications. So, this required customers to pay for use of the software upfront, and also for the hardware on which the software would run.
SaaS, which started as a concept during the dotcom boom, began to flourish as a business model after the financial crisis of 2007 as companies looked to save costs.
At a personal level, the Microsoft Office 365 suite of products is a good example of SaaS. Instead of purchasing multiple one-time licences at a hefty cost, users can opt for a more affordable monthly subscription of the entire suite based on requirements. Users can also make do with basic hardware, while saving data on the cloud.
One can view SaaS as a subset of cloud computing. Cloud or cloud computing is a broader concept that involves not just delivering software over the internet, but also providing computing and data storage services from a different location (owned or third party).
Why is it important?
The biggest advantage that SaaS enables is innovation.
It has basically converted fixed costs of companies into variable costs. When capital is scarce, the SaaS model frees up capital for more high priority requirements.
The payment model for SaaS is typically a per seat, per month charge based on usage. This ensures more efficient allocation of capital, especially for early-stage companies.
This also implies that the threat for established companies is higher today. If they are not alert, it's just a matter of time before SaaS-using start-up will outwit them.
3. Electricity usage by Bitcoin
Subject – Science and Tech
Context – Bitcoin uses more electricity than many countries.
Concept –
Cryptocurrencies have emerged as one of the most captivating, yet head-scratching, investments in the world. They soar in value. They crash. They'll change the world by displacing traditional currencies like the dollar, rupee or ruble.
And in the process of simply existing, cryptocurrencies like Bitcoin, one of the most popular, use astonishing amounts of electricity.
The process of creating Bitcoin consumes around 96 terawatt-hours of electricity annually, more than is used by the Philippines, a nation of about 110 million.
That usage, which is close to half-a-percent of all the electricity consumed in the world, has increased about tenfold in just the past five years.
The Bitcoin network uses about the same amount of electricity as Washington state does in a year.
And more than one-third of what residential cooling in the United States uses up.
More than seven times as much electricity as all of Google's global operations.
So why is it so energy intensive?
The Bitcoin network is designed to make the guessing game more and more difficult as more miners participate, further putting a premium on speedy, power-hungry computers. Specifically, it's designed so that it always takes an average of 10 minutes for someone to win a round.
The competition for newly created Bitcoin is called "mining."
That's why Bitcoin miners now have warehouses packed with powerful computers, racing at top speed to guess big numbers and using tremendous quantities of energy in the process.
Today you need highly specialised machines, a lot of money, a big space and enough cooling power to keep the constantly running hardware from overheating. That's why mining now happens in giant data centers owned by companies or groups of people.
In fact, operations have consolidated so much that now, only seven mining groups own nearly 80% of all computing power on the network.
Mining happens all over the world, often wherever there's an abundance of cheap energy. For years, much of the Bitcoin mining has been in China, although recently, the country has started cracking down.
Bitcoin mining means more than just emissions. Hardware piles up, too. Everyone wants the newest, fastest machinery, which causes high turnover and a new e-waste problem.
Could It Be Greener?
Globally, estimates of Bitcoin's use of renewables range from about 40% to almost 75%. But in general, experts say, using renewable energy to power Bitcoin mining means it won't be available to power a home, a factory or an electric car.
A handful of miners are starting to experiment with harnessing excess natural gas from oil and gas drilling sites, but examples like that are still sparse and difficult to quantify. Also, that practice could eventually spur more drilling.
Miners have also claimed to tap the surplus hydropower generated during the rainy season in places like southwest China. But if those miners operate through the dry season, they would primarily be drawing on fossil fuels.
 To know more about bitcoin please click here.
Subject – IR
Context – New California Bill trying to add Stealthing in sexual battery
Concept –
California State Legislature has passed a bill that makes stealthing — the act of removing a condom during intercourse without consent — a crime.
If passed, California would be the first state to criminalise the act of stealthing.
Stealthing is an act of removing a condom during intercourse without a partner's knowledge or consent. It is considered a form of condom use resistance.
Stealthing has been widely criticised for the possibility of contracting sexually transmissible diseases and pregnancy that can occur due to this non-consensual practice of condom removal.
5. Input Tax Credit and Inverted Tax Structure in GST
Subject – Economy
Context – Inverted duty refund only for inputs, not input services: SC
Concept –
The Supreme Court held that inverted duty refund is admissible only with respect to inputs and not for input services.
A fundamental feature of GST is the free flow of input credit from the manufacturer to the consumer.
Input Tax Credit is a mechanism to avoid cascading of tax (tax on tax). For instance, at the time of paying the tax on output, one can reduce the tax they have already paid on the inputs.
Exceptions: A business under composition scheme cannot avail of input tax credit. ITC cannot be claimed for personal use or for goods that are exempt.
Inverted duty structure means higher taxes on input and lower tax on output or final product. In simple terms, businesses face higher GST rates on raw materials than on finished products. The GST Council has addressed the issue of inverted duty structure for many industries, however it still persists for footwear, textiles, pharmaceuticals and fertilizers.
Refund of the unutilized ITC under inverted duty structure of GST has been a long-pending issue for businesses because of higher levies on raw materials compared to the finished goods.
Rule 89(5) of the CGST Rules provides for the computation of the refund of ITC on account of an inverted duty structure.
Section 54(3) of CGST Act prescribes refund of unutilized input tax credit based on a formula provided in rule 89(5) of CGST Rules. The revised formula has excluded input services from the scope of 'net input tax credit' for computation of refund.
This rule was amended on April 18, 2018, with prospective effect, to ensure that refund of unutilised ITC can only be availed on input goods and not on input service.
Subject – Economy
Context – At 5.3%, retail inflation softens further in Aug on cheaper food
Concept –
To know about retail inflation, please click here.
To know about retail vs WPI inflation, please click here.
Subject – Agriculture
Context – India may get exclusive rights to sell Basmati in EU
Concept –
It is one of the best known varieties of rice all across the globe.
It is long grain rice which has its origin from India and some parts of Pakistan.
Basmati rice has a unique fragrance and flavour caused due to the presence of a chemical called 2-acetyl-1-pyrroline.
This chemical is found in basmati rice at about 90 parts per million (ppm) which is 12 times more than non-basmati rice varieties.
Basmati rice needs specific climatic conditions to grow which is why it is cultivated in selected regions of India.
Basmati vs Non-Basmati Rice
Basmati is long grain The non-basmati rice comes in all different shapes and sizes – long, slender, short and thick, bead and round.
Basmati has a characteristic fragrance and flavor while non-basmati varieties, do not have an aroma.
Basmati is also available in white and brown versions depending on the extent of the milling process. Like wine and cheese, the older basmati gets the better its flavor and aroma. Hence the aged Basmati costs higher than the recent productions.
Basmati rice becomes almost double its size on cooking. Such a significant increase in size cannot be seen in non-basmati varieties. This makes basmati variety one of the highly demanded rice in the world.
Yield of Basmati rice from the agricultural land is almost half the non-basmati varieties. This is also one of the reasons for Basmati's higher costs.
Production of Basmati Rice in India
India is the largest producer of Basmati rice with about 70 per cent share in global production.
Basmati rice constitutes one of India's significant exports both in terms of soft power and hard money.
It is cultivated in the states of Himachal Pradesh, Punjab, Haryana, Delhi, Uttarakhand, Madhya Pradesh, Jammu and Kashmir and western Uttar Pradesh.
In May 2010, GI status was given to basmati grown only in Punjab, Haryana, Delhi, Himachal Pradesh, Uttarakhand and parts of western Uttar Pradesh and Jammu & Kashmir.
Major chunk of India's basmati rice is exported to Gulf countries viz. Saudi Arabia, Iran, United Arab Emirates, Iraq and Kuwait.
In News –
India will likely walk away with the sole right to the Geographical Indication (GI) tag for Basmati rice in the European Union (EU) after the deadline for settling the issue with Pakistan expired on September 10.
It will give New Delhi exclusive rights to market the fragrant rice in the EU as "Basmati" rice and deter other countries, mainly Pakistan, from selling the food grain as "Basmati".
Pakistan opposed giving exclusive rights to India, contending that its farmers are also growing the variety. The Rice Exporters Association of Pakistan filed its objection to giving exclusive rights to India for selling Basmati in the EU.
GI Tag
It is an insignia on products having a unique geographical origin and evolution over centuries with regard to its special quality or reputed attributes.
It is a mark of authenticity and ensures that registered authorized users or at least those residing inside the geographic territory are allowed to use the popular product names.
GI tag in India is governed by Geographical Indications of Goods (Registration & Protection) Act, 1999. It is issued by the Geographical Indications Registry (Chennai).
Benefits of GI Tag

It provides legal protection to Indian Geographical Indications thus preventing unauthorized use of the registered GIs by others.
It promotes economic prosperity of producers of goods produced in a geographical territory.
The GI protection in India leads to recognition of the product in other countries thus boosting exports.
8. Suryamitra Skill Development Programme
Subject – Government Schemes and Programs
Context – Vice President urges States to promote PV cells, solar module making
Concept –
The National Institute of Solar Energy (NISE), an autonomous institution of Ministry of New and Renewable Energy (MNRE), is the apex National R&D institution in the field of Solar Energy.
NISE is organizing "Suryamitra" skill development programmes in collaboration with State Nodal Agencies, at various locations across the country.
The programme aims to develop the skills of youth, considering the opportunities for employment in the growing Solar Energy Power project's installation, operation & maintenance in India and abroad.
The Suryamitra Programme is also designed to prepare the candidates to become new entrepreneurs in Solar Energy sector. The Suryamitra Skill Development Programmes are sponsored by Ministry of New & Renewable Energy, Government of India.
Essential qualification – The candidate should be 10th pass and ITI in Electrician /Wireman/Electronics Mechanic/Fitter/ Sheet Metal, not below 18 years.
Preferable Qualification: The candidates with Diploma in Electrical, Mechanical and Electronics branches will be preferred. Candidates with electrician certificate and experience shall also be preferred. The Engineering Graduates and persons with other higher qualification are not eligible to apply.
Subject – Environment
Context – Not just groundwater, flouride has poisoned agricultural soil, crops in Bengal.
Concept –
West Bengal has been grappling with groundwater contamination for decades. About 12 per cent of the population in eight of the state's 23 districts is impacted by water contaminated by fluoride.
Groundwater in Purulia and Bankura is already known to be fluoride-contaminated, as it crosses the desirable limit of 1.5 milligram per litres of concentration as per the World Health Organization standards.
The study investigated the magnitude of fluoride contamination in agricultural land soil and food crops in these two districts as well as its adverse impact on the health of locals.
The concentration of fluoride in groundwater above the permissible level is, therefore, a factor that contributes to the accumulation of fluoride in agricultural soil and crops, the study stated.
There are three stages to fluoride toxicity: "First, the groundwater used for agricultural purposes deposits a good amount of fluoride in the soil. Then this fluoride is absorbed by crops, and it enters the food chain system, causing harm to the human body."
The study found that the accumulation of fluoride was higher in leafy and non-leafy vegetables than in pulses and cereals from both districts. The maximum accumulation was found in onion, while being minimum in rice.
It also found that children were the most vulnerable to fluoride contamination due to their low body weight.
Fluoride Contamination
Endemic skeletal fluorosis was reported from India in the 1930s, according to a WHO report. "It was observed first in bullocks in Andhra Pradesh. The bullocks could not walk, apparently due to painful and stiff joints," the WHO report stated.
Fluoride is an essential micronutrient and has both beneficial and detrimental effects on human health. However, exposure to high levels of fluoride causes dental fluorosis, skeletal fluorosis and non-skeletal fluorosis.
Ligaments calcification, liver and kidney dysfunction, nerve weakness, developmental disorder, organ tissue damage, bending of legs, weakness, anemia, depression, gastrointestinal problems, loss of appetite, and brittle bone problems in children are some of the commonly seen health issues.
It takes several years for skeletal fluorosis to show prominently. Children mostly suffer from dental fluorosis, a condition that is largely irreversible. Severe skeletal and non-skeletal issues become more prominent only after several years of continuous consumption of fluoride-contaminated food.
Fluoride contamination is a chronic toxicity. It is the result of long-term exposure to a toxicant. But it does not cause an acute effect, so it gets neglected often.
Groundwater
Ground water is the water that seeps through rocks and soil and is stored below the ground.
Subject – Environment
Context – NCBS study of 'black tigers' has shed light on genetic mystery.
Concept –
Black tigers — the tigers whose stripes are almost fused together in patches threatening to obliterate parts of their burnished orange coats.
An estimated 37% of Panthera tigris in the Similipal Tiger Reserve (in eastern India) are pseudomelanistic, characterised by wide, merged stripes.
This is the result of a rare mutation in one gene, Transmembrane Aminopeptidase Q or Taqpep, recessively inherited variants of which are responsible for the marks in domestic cats and king cheetahs.
The mutation is rarely seen in tigers outside Similipal.
Two factors are probably driving this change in appearance caused by the rare Taqpep p.H454Y: a founder bottleneck effect when a small subset of a large population, in this case tigers, establishes a new population, and the resulting genetic drift, where chance, more than natural selection, changes how common or rare genetic variants are.
With shrinking habitats, the tiger population becomes increasingly isolated. This causes inbreeding, resulting in a lack of genetic variation, making them prone to extinction.
Simplipal Tiger Reserve
Similipal National Park is a national park and a tiger reserve in the Mayurbhanj district in the Indian state of Odisha covering 2,750 km2 (1,060 sq mi).
It is part of the Mayurbhanj Elephant Reserve, which includes three protected areas — Similipal Tiger Reserve, Hadgarh Wildlife Sanctuary and Kuldiha Wildlife Sanctuary.
Simlipal National Park derives its name from the abundance of red silk cotton trees growing in the area.
The park is home to Bengal tiger, Asian elephant, gaur, and chausingha.
This protected area is part of the UNESCO World Network of Biosphere Reserves since 2009.
Simlipal Elephant Reserve is an ecosystem complete with forest vegetation (mainly sal trees), fauna and the adjoining Ho / Santhal tribal settlements.
Two tribes, the ErengaKharias and the Mankirdias, inhabit the reserve's forests and practise traditional agricultural activities (the collection of seeds and timber).
11. Foreign Contribution (Regulation) Act (FCRA) 2010
Subject – Governance
Context – Govt. curbs funding for 10 climate change, child labour NGOs
Concept –
To know about FCRA, please click here.
Subject: Polity
Context: Manipur special status
The term asymmetrical federalism refers to "differences in the status of legislative or executive powers assigned by the constitution to different regional units".
It is a flexible type of union of states which allows the government to cut different deals with different states in special matters pertaining to them.
This method allows the government to grant special status to some units providing them with special powers not enjoyed by other states. Asymmetry involves providing greater autonomy to some states when compared with others.
It permits particular states to have greater executive, legislative, and at times, judicial powers than other states.
Why asymmetric federalism?
To address specific local, historical and geographical contexts.
Besides the Centre and the States, the country has Union Territories with a legislature, and Union Territories without a legislature.
How does it plays out in India?
Case Study 1 : UTs
Puducherry and Delhi have legislatures, while the other territories under the Centre do not have legislatures or a ministerial council to advise the administrator. Even between Puducherry and Delhi, there is a notable difference.
Puducherry has legislative powers on any matter mentioned in the State List or the Concurrent List, insofar as it applies to the Union Territory. Delhi, which has the same field, has three further exceptions: police, land and public order are outside its purview. However, Parliament has overriding powers over any law made by the Assembly in the Union Territories.
Puducherry has one more unique feature. Despite being a single administrative unit, the Union Territory is 'non-contiguous'. That is, its territory is not limited to one extent of land. Besides Puducherry and its adjoining areas, it has enclaves located within other States: Karaikal (within Tamil Nadu) Yanam (within Andhra Pradesh) and Mahe (within Kerala).
Case Study 2: Article 370 (Now amended)
The foremost example of asymmetry among Centre-State ties was in the way J&K related to India until August 6, 2019, the day the President declared that its special status ceased to be operative. Under Article 370, the State was allowed to have its own Constitution, its own definition of 'permanent residents', the right to bar outsiders from holding property, and the privilege of not having any Indian law automatically applicable to its territory. Indian laws had to be specifically permitted by its Assembly before it could operate there. It was allowed to have its own Penal and Criminal Procedure Codes. The President was empowered to notify, from time to time, the provisions of the Constitution that could be extended to the State, with or without modifications
Case Study 3: Article 371
The 'special provisions' applicable to some other States are mainly in the form of empowering the Governors to discharge some special responsibilities. These States are Maharashtra, Gujarat, Manipur, Nagaland, Sikkim and Arunachal Pradesh. The common feature is that wherever Governors have been asked to discharge special responsibilities, their discretionary power overrides the process of consultation with the respective Council of Ministers.
Article 371 says the Governor of Maharashtra has a special responsibility to establish separate development boards for Vidarbha, Marathwada, and the rest of the State, while the Governor of Gujarat has a similar responsibility towards Saurashtra, Kutch and the rest of Gujarat. The responsibilities cover equitable allocation of funds for development expenditure, and providing facilities for technical education and vocational training.
Article 371A confers special status on Nagaland. Under this provision, no law made by Parliament in relation to Naga customary law and procedure, including civil and criminal justice matters, and ownership or transfer of land and resources will apply to Nagaland, unless the Legislative Assembly of Nagaland decides so. The protection of Naga laws and customs was written into the Constitution following the July 1960 agreement between the Centre and the Naga People's Convention, under which the State was later created. Further, the Governor of Nagaland has a 'special responsibility' regarding law and order in the State.
Article 371B contained a special provision for Assam under which a committee of legislators from the tribal areas was formed to look after their interest. The tribal areas later became Meghalaya State.
Under Article 371C, the Hill Areas of Manipur ought to have a committee of legislators. The Governor has a special responsibility to make an annual report to the President on the administration of the Hill Areas. The Centre is empowered to give directions to the State as far as these areas were concerned.
Article 371D is a detailed provision under which the President can pass an order to provide equitable opportunities and facilities to people belonging to different parts of Andhra Pradesh in public employment and education. In particular, the President can create local cadres in various classes of employment and allot civil posts to specified local cadres only. The President can specify any part of the State as a 'local area' for this purpose. To give effect to this arrangement, an Administrative Tribunal has been set up. No court, other than the Supreme Court, has any power of superintendence over this tribunal.
Article 371F incorporated special provisions after the addition of Sikkim to India. One major objective was to grant protection to existing laws in Sikkim so that they are not declared unconstitutional after being brought under the Constitution of India.
Article 371G contains special provisions to preserve the religious and social practices of Mizos in Mizoram and their customary law and procedure and administration of criminal and civil justice, besides ownership of land.
Article 371H vests a special responsibility on the Governor of Arunachal Pradesh with respect to law and order. It makes clear that the Governor shall discharge this function after consulting the Council of Ministers, but exercise his individual judgment as to the action taken.
Case Study 4: Sixth Schedule
There is another significant tier of administration under the larger framework of asymmetric federalism.
The Sixth Schedule to the Constitution contains provisions for the administration of tribal areas in Assam, Meghalaya, Tripura and Mizoram. These create autonomous districts and autonomous regions.
Any autonomous district with different Scheduled Tribes will be divided into autonomous regions. These will be administered by District Councils and Regional Councils. These Councils can make laws with respect to allotment, occupation and use of land, management of forests other than reserve forests and water courses. Besides they can regulate social customs, marriage and divorce and property issues.
In Assam, the Karbi-Anglong Autonomous Council, Dima Hasao Autonomous District Council and the Bodoland Territorial Council have been set up under the Sixth Schedule. Another six autonomous councils have been formed by Acts of the legislature.
Ladakh has two autonomous hill development councils (Leh and Kargil). The Darjeeling Gorkha Hill Council is in West Bengal.