Daily Prelims Notes 18 July 2022
July 18, 2022

Posted by:

OptimizeIAS Team

Category:

DPN

Daily Prelims Notes
18 July 2022
Table Of Contents
Subject: Geography
Section: Economic Geography
Context: While overall crop coverage has risen since last year that of rice is down
Concept:
Rice Cultivation:
It is India's largest agricultural crop (accounting for over 40% of the total food grain output)
India is the world's biggest exporter of rice
Rice is both a kharif (monsoon) and rabi (winter-spring) season crop
India is the 2nd largest rice producer
Rice crop requires hot and humid climatic conditions for its cultivation
It is suited for the regions where abundant water supply, high humid and prolonged sunshine is available
The ideal temperature required throughout the life period of the crop ranges from 20 degree to 40 degree Celsius
West Bengal is the largest rice producer followed by Uttar Pradesh and Punjab
Puddled transplantation method
In the traditional method, young paddy plants are raised by farmers in nurseries first and then these plants are uprooted and transplanted in a puddled field.
In the traditional puddled transplantation method, fields are flooded at the time of transplantation and for 30-35 days after that, and the stagnant water prevents the growth of weeds to a large extent
'Sanda' double-transplanting method
In eastern UP, farmers with access to basic irrigation under conditions of delayed rainfall practice this method of cultivation
In this ,the seedlings are uprooted after 25 days in the nursery and replanted in a puddled field that is only about twice the former's area
The plants after establishment begin tillering and are, thus, rejuvenated for the next 10-15 days. When the rains come, they are again uprooted and replanted in the main field 10 times the size of the original nursery
Paddy yields under this method is better than regular one-step transplanting
The reason for it is that the Sanda plants have already tillered and their establishment in the main field would be near 100% with little mortality.
Yields are 15-20% more, but that is offset by higher costs because of transplanting labour having to be paid twice
2. Irdai in favour of insurers in SLBC- proposes steep hike in premium target
Subject: Economy
Section: Banking
The insurance regulator has proposed the involvement of insurance companies at the state level and a big hike in the premium collection target in the next five years to deepen insurance penetration in the country insurance companies should become members of the State Level Bankers Committee (SLBC) and boost the growth of the sector
State Level Bankers' Committee
State Level Bankers' Committee, set-up as per the Lead Bank Scheme of the Reserve Bank of India, is the highest body of bankers in the state.
The committee meets once a quarter. In addition to reviewing the activities of the institutional lending, the quarterly meetings discuss various issues concerning the economic development of the state, where banks play a pivotal role.
The meetings aim at finding solution to the various problems confronting the state. The forum takes the lead in initiating, streamlining and accelerating the process of development in close co-ordination with various government departments, Reserve Bank of India, NABARD and other developmental agencies.
The quarterly meetings are attended by top-level functionaries of member institutions of SLBC, thereby enabling them for meaningful and purposeful discussions on various matters aimed at solving the various issues.
3. 5 things learned from the Webb Telescope's first images
Subject: Science and Technology
Section: Space
Context: NASA released five images from the early work of the James Webb Space Telescope. The pictures highlighted the great potential of the telescope to plumb the secrets of deep space
What Webb Telescope's find?
Astronomers hailed the image made by the Webb telescope as one of the deepest images yet taken of the cosmos
The image of a distant star cluster called SMACS 0723 revealed the presence of still more-distant galaxies spilled across the sky
The light from those galaxies, magnified into visibility by the gravitational field of the cluster, originated more than 13 billion years ago.
Earliest stars may be unlike the stars we see today. The first stars were composed of pure hydrogen and helium left over from the Big Bang.
They could grow far more massive than the sun  and then collapse quickly and violently into supermassive black holes of the kind that now populate the centers of most galaxies
The spectra for the Jupiter-size exoplanet WASP-96b was not the most impressive image.
WASP-96b is highly unlikely to be home to anything living, using the same techniques could reveal whether smaller, rocky worlds orbiting other stars are habitable.
The relatively small size of these exoplanets has made them extremely difficult to study, until now. The Webb telescope will let astronomers look more closely at these worlds
The space telescope "is the first big space observatory to take the study of exoplanet atmospheres into account in its design
The Webb presentation gave us gasp-inducing images of the Southern Ring Nebula, a sphere of gas and dust belched by a dying star, and Stephan's Quintet, a grouping of galaxies millions of light-years away.
But the most striking image was of the Carina Nebula, a vast, swirling cloud of dust that is both a star nursery and home to some of the most luminous and explosive stars in the Milky Way
Concept:
What is Nebula?
A nebula is a giant cloud of dust and gas in space. Some nebulae (more than one nebula) come from the gas and dust thrown out by the explosion of a dying star, such as a supernova. Other nebulae are regions where new stars are beginning to form.
James Webb Space Telescope (JWST):
It has long been touted as the successor to the long-serving Hubble Space Telescope (HST)
It is designed specifically for infrared astronomy, allowing it to spot these incredibly distant objects.
JWST to peer deeper into the history of the universe and glean insights into the formation of star systems a mere 100 million to 250 million years after the Big Bang
4. Pre-packed labelled pulses and flour to attract 5% GST from tomorrow- clarifies govt
Subject :Economy
Section: Fiscal Policy
Context: The Central Board of Indirect Taxes and Customs said single packages of food items like cereals, pulses and flour weighing up to 25 kg will be considered as 'prepackaged and labelled', and liable to five per cent GST from July 18.
Concept:
Pre-packaged commodity would mean a commodity which, without the purchaser being present, is placed in a package of whatever nature, whether sealed or not, so that the product contained therein has a pre- determined quantity
In the context of food items (such as pulses, cereals like rice, wheat, flour etc), the supply of specified pre-packaged food articles would fall within the purview of the definition of 'pre-packaged commodity' under the Legal Metrology Act, 2009, if such pre-packaged and labelled packages contained a quantity up to 25 kilogram (or 25 litres).
Single package of these items (cereals, pulses, flour etc.) containing a quantity of more than 25 Kg/25 litre would not fall in the category of pre-packaged and labelled commodity for the purposes of GST and would therefore not attract GST
What is the GST Council?
The Goods and Services Tax regime came into force after the Constitutional (122nd Amendment) Bill was passed by both Houses of Parliament in 2016
The GST Council is a joint forum of the Centre and the states. It was set up by the President as per Article 279A (1) of the amended Constitution
The members of the Council include the Union Finance Minister (chairperson), the Union Minister of State (Finance) from the Centre. Each state can nominate a minister in-charge of finance or taxation or any other minister as a member
It is meant to "make recommendations to the Union and the states on important issues related to GST, like the goods and services that may be subjected or exempted from GST, model GST Laws
It also decides on various rate slabs of GST
Article 246A of the Constitution gives both Parliament and state legislatures "simultaneous" power to legislate on GST and recommendations of the Council
Legal Metrology Act, 2009
The Act aims to establish and enforce standards of weights and measures, regulate trade and commerce in weights, measures and other goods which are sold or distributed by weight, measure or number and for matters connected therewith or incidental thereto.
The Acts is regulated and administered by the Ministry of Consumer Affairs, Food and Public
The Legal Metrology (Packaged Commodities), Rules 2011 are primarily intended to ensure that the consumers are able to make informed choices by being informed of essential declarations on the pre-packed commodities.
Subject: Geography
Section: Economic Geography
In India, refined copper production has been gradually
From a high of 799,000 tonnes in 2016-17, output has gradually fallen to 364,000 tonnes in 2020-21, as per government data. Worse, from being the net exporter (333,000 tonnes) in 2017-18, we have slipped to become a net importer of copper (-31,000 tonnes) in 2020-21.
One critical reason for this serious slippage is that the Sterlite copper smelting plant in Tuticorin (Tamil Nadu) with production capacity of 400,000 tonnes a year has remained closed for the last four years
Why copper is important?
Copper, a key industrial metal, is the metal for electrification. It is used in
photovoltaics
electric vehicles
grid
recharging infrastructure
6. Lightning toll down 60% in 3 most vulnerable States: Report
Subject: Geography
Section: Climatology
Lightning Resilient India Campaign has created a Lightning Atlas that details strikes across States/UTs with impacts.
Lightning, even today, is not notified as a national disaster. It has been declared a state-specific disaster by 16 states as per Ministry of Home Affairs guidelines, opening up access to 10 per cent of the State Disaster Response Fund.
What is lightning?
Lightning is a very rapid and massive discharge of electricity in the atmosphere. It is the process of occurrence of a natural 'electrical discharge of very short duration and high voltage between a cloud and the ground or within a cloud. 
There are two types of lightning. Such as,

Intercloud or intracloud (IC) lightning: These are visible and harmless.
Cloud to ground (CG) lightning: This is harmful as the 'high electric voltage discharge for very short time leads to electrocution.

Cloud-to-Ground (CG) Lightning
In CG lightning, a channel of negative charge, called a stepped leader, will zigzag downward in a 'forked' pattern – hence it is sometimes called forked lightning. This stepped leader is invisible to the human eye, and travels to the ground in a millisecond. As it nears the ground, the negatively charged stepped leader is attracted to a channel of positive charge reaching up, a streamer, normally through something tall, such as a tree, house, or telephone pole. When the oppositely-charged leader and streamer connect, a powerful electrical current begins flowing (hence why it is ill-advised to stand under a tall object during a thunderstorm!). A return stroke (the very bright visible flash that we see as lightning) travels at about 60,000 miles per second back towards the cloud, with one flash consisting of as many as 20 return strokes.
Negative Cloud-to-Ground Lightning  (-CG)
The most common CG flashes are initiated by a downward-moving, negatively-charged stepped leader which is followed by an upward travelling return stroke. The net effect of this flash is to lower negative charge from the cloud to the ground. Negative CG lightning strikes can be identified by their distinctive downward branching.
Positive Cloud-to-Ground Lightning  (+CG)
The less common CG flashes are initiated by a downward-moving, positively-charged stepped leader which is followed by an upward travelling return stroke that lowers the positive charge to earth. Such lightning is usually associated with supercell thunderstorms and trailing stratiform precipitation regions behind squall lines. Positive cloud-to-ground lightning strikes are typically very bright (relative to other lightning activity) and can be identified by their distinct lack of branching near the ground. Thunder from such lightning is very loud and may sound like a series of deep, low-frequency sonic booms. Sprites (see side box) are usually associated with more intense positive CGs.
Cloud-to-Air (CA) Lightning 
This refers to a discharge that jumps from a cloud into clear air and terminates abruptly – indeed, CG lightning contains CA lightning via the branches that extend from the main channel into the mid-air. However, the most dramatic examples occur when long, bright lightning channels extend from the sides of cumulonimbus clouds.
Ground-to-Cloud (GC) Lightning
A discharge between cloud and ground initiated by an upward-moving leader originating from an object on the ground. Ground-to-Cloud lightning strikes – sometimes called upward-moving lightning –  are common on tall towers and skyscrapers.  GC lightning can also be either positive or negative in polarity. Lightning that demonstrates upward branching is a clear indication of a ground-to-cloud flash, though some upward-moving lightning is branchless below the cloud base.
Intracloud (IC) Lightning 
This is the most common type of discharge and refers to lightning embedded within a single storm cloud, which jumps between different charge regions in the cloud.
Sheet Lightning is a term used to describe clouds illuminated by a lightning discharge where the actual lightning channel is either inside the clouds or below the horizon (i.e. not visible to the observer). Although often associated with IC lightning, it is simply any lightning that is hidden by clouds or terrain aside from the flash of light it produces.
A related term, heat lightning, is any lightning or lightning-induced illumination that is too far away for thunder to be heard. Heat lightning got its name because it is often seen on hot summer nights, a time when thunderstorms are common.
Cloud-to-Cloud (CC) Lightning (or intercloud lightning)
Although rare, lightning can also travel from one cloud to another . Spider lightning refers to long, horizontal moving flashes often seen on the underside of stratiform clouds.
When lightning strikes the ground it will often melt the soil (especially sandy soil) and leave behind a rootlike structure called a fulgurite.  A fulgurite is just a narrow (1/2 to 1 inch across) segment of melted sand (glass).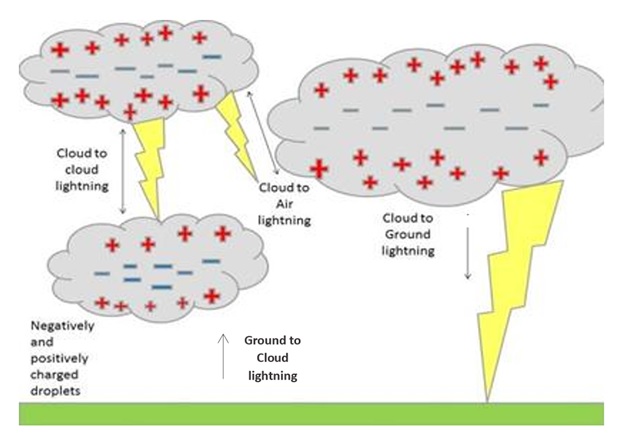 Lightning Atlas of India.
It maps entire lightning strikes across States and Union Territories along with impacts and detailed analysis
It uses micro-zonation down to the district level.
Distribution:
Madhya Pradesh remains at the top with the maximum number of lightning strikes. Maharashtra and Chhattisgarh saw more strikes than Odisha.
Among States with more than two lakh CG strikes are West Bengal, Jharkhand, Karnataka, Uttar Pradesh, Tamil Nadu, Bihar, Andhra Pradesh, Gujarat and Rajasthan.
Among districts, Kutch in Gujarat is the most lightning-prone, along with Mayurbhanj in Odisha. However, mortality is much higher in Mayurbhanj due to socio-economic attributes
Lightning Resilient India Campaign
The campaign has been a joint initiative of the Climate Resilient Observing Systems Promotion Council (CROPC), India Meteorological Department (IMD) and the Ministry of Earth Science (MoES).
It carried the early warning services of IMD and knowledge products of various MoES institutions to stakeholders and the community with value-added insights for more meaningful outcomes.
Other Govt initiative to reduce Lightning toll
Damini App
It was developed by the Indian Institute of Tropical Meteorology (IITM-Pune) and Earth System Science Organization (ESSO) under the ministry of earth sciences.
The app monitors the lightning occurrence all over India and alerts the user of lightning near them by a GPS notification under 20 km and 40 km.
Further, the Damini app also triggers warning about lightning strikes three hours in advance which can help reduce losses to life and property.
7. Remittances from advanced nations beat flows from Gulf region in FY21
Subject: Economy
Section: External Sector
Maharashtra displaces Kerala as the top recipient State
In what is seen as a shift of workers to the West, Advanced Economies (AEs) — particularly the US, the UK and Singapore — emerged as key source countries for remittances pipping the Gulf Cooperation Council region (GCC).
The share of the GCC region in India's inward remittances is estimated to have declined from more than 50 per cent in 2016- 17 to about 30 per cent in 2020-21, according to the Reserve Bank of India's fifth round of Survey on Remittances.
The US surpassed the UAE as the top source country, accounting for 23 per cent of total remittances in 2020-2
Non-Resident External (NRE) account

NRE accounts are INR denominated accounts which means all the funds you deposit are maintained in Indian rupee. When you deposit foreign currency into this account, the current exchange rate is applied by the receiving bank and Indian rupees matching the exchange rate are deposited in your account.

Non-Resident Ordinary (NRO) account

A Non-Resident Ordinary (NRO) account is a savings account that is useful if you have earnings in India. You can deposit Indian earnings – from dividends, equity returns, pension, rentals, or any other income – into an NRO account.

Foreign Currency Non-Resident (FCNR) accounts

FCNR is an account that allows you to save money earned overseas in a foreign currency in a term deposit.
Gulf Cooperation Council (GCC)
It  is a political and economic alliance of six countries in the Arabian Peninsula: Bahrain, Kuwait, Oman, Qatar, Saudi Arabia and the United Arab Emirates.
Established in 1981, the GCC promotes economic, security, cultural and social cooperation between the six states and holds a summit every year to discuss cooperation and regional affairs.
8. A treasure trove of artefacts from Kolkata's past
Subject: History
Section: Art and Culture
Photographs, sketches, pieces of gold, silver recovered from a warehouse
Company Painting

Company style or Company painting (kampani kalam) is a term for a hybrid Indo-European style of paintings made in India by Indian artists, many of whom worked for European patrons in the British East India Company or other foreign Companies in the 18th and 19th centuries.
The style blended traditional elements from Rajput and Mughal painting with a more Western treatment of perspective, volume and recession.
Most paintings were small, reflecting the Indian miniature tradition, but the natural history paintings of plants and birds were usually life size.

Techniques

The technique varied but mostly was drawn upon western water colour technique, from which "transparency of texture, soft tones and modelling in broad strokes" were borrowed from west.
Paper was mostly used for these paintings. Ivory was also used.
They were mostly intended to be kept in portfolios or albums; the muraqqa or album was very well established among Indian collectors, though usually including calligraphy as well, as least in Muslim examples
9. The Finance Ministry has declared zero coupons zero principal instruments (ZCZP) as securities
Subject :Economy
Section: Fiscal Policy
The new notification is a follow up to Finance Minister Nirmala Sitharaman's announcement in the FY20 Budget to initiate steps towards creating an electronic fund raising platform — a social stock exchange — under the regulatory ambit of SEBI for listing social enterprises and voluntary organisations working for the realisation of a social welfare objective so that they can raise capital as equity, debt or as units like a mutual fund
What is Zero Coupon-Zero Principal instrument?
Zero Coupon-Zero Principal instrument means an instrument issued by a not-for-profit organisation which shall be registered with the social stock exchange (SSE) segment of a recognised stock exchange in accordance with the regulations made by the Securities and Exchange Board of India (SEBI).
This move is certainly going to benefit both — one who wants to donate and one who wants to raise money for social causes. Take the example of a corporate which is mandated to use part of profit under Corporate Social Responsibility (CSR), it will get an instrument to invest but not for return.
The SEBI board approved a framework for SSE through which ZCZP can be issued. It has been proposed that the minimum issue size of ZCZP will be 1 crore while the minimum application size shall be  Rs.2 lakh.
10. Why Telangana's floating solar plant is greener than ground-mounted ones?
Subject : Economy
Section: Energy
India's largest floating solar plant is now fully operational at Ramagundam in Telangana's Peddapalli district.
The 100-megawatt (MW) floating solar power photovoltaic project was commissioned by the National Thermal Power Corporation, the country's foremost public-sector power generator.
What are floating solar plants?

Solar plants or solar farms can be either ground-mounted or set up on the surface of waterbodies. Though these floating farms are a bit more expensive than the traditional ones mounted on land surfaces, there are

How does it help the environment?

The solar panels floating on the water surface will reduce the evaporation rate and thereby help water conservation.
Also, with a minimum land requirement, mostly for associated evacuation arrangements, available land can be put to better use unlike in the case of ground-mounted solar farms, which require large land surface areas.