Daily Prelims Notes 2 August 2021
August 2, 2021

Posted by:

admin1

Category:

DPN

Daily Prelims Notes
2 August 2021
Table Of Contents
Subject: Economy
Context: Taking the first step towards having a digital currency in the country, Prime Minister Narendra Modi will launch an electronic voucher based digital payment system "e-RUPI" Monday.
Concept:
e-RUPI is an electronic voucher based digital payment system.
The platform has been developed by the National Payments Corporation of India (NPCI), Department of Financial Services, Ministry of Health and Family Welfare and the National Health Authority, will be a person-specific and purpose-specific payments system.
e-RUPI is a cashless and contactless digital payments medium, which will be delivered to mobile phones of beneficiaries in form of an SMS-string or a QR code.
This will essentially be like a prepaid gift-voucher that will be redeemable at specific accepting centres without any credit or debit card, a mobile app or internet banking.
e-RUPI will connect the sponsors of the services with the beneficiaries and service providers in a digital manner without any physical interface.
The system has been built by NPCI on its UPI platform, and has on boarded banks that will be the issuing entities.
Any corporate or government agency will have to approach the partner banks, which are both private and public-sector lenders, with the details of specific persons and the purpose for which payments have to be made.
The beneficiaries will be identified using their mobile number and a voucher allocated by a bank to the service provider in the name of a given person would only be delivered to that person.
How will these vouchers be issued?
The system has been built by NPCI on its UPI platform, and has onboarded banks that will be the issuing entities.
Any corporate or government agency will have to approach the partner banks, which are both private and public-sector lenders, with the details of specific persons and the purpose for which payments have to be made.
The beneficiaries will be identified using their mobile number and a voucher allocated by a bank to the service provider in the name of a given person would only be delivered to that person.
What are the use cases of e-RUPI?
e-RUPI is expected to ensure a leak-proof delivery of welfare services.
It can also be used for delivering services under schemes meant for providing drugs and nutritional support under Mother and Child welfare schemes, TB eradication programmes, drugs & diagnostics under schemes like Ayushman Bharat Pradhan Mantri Jan Arogya Yojana, fertiliser subsidies etc.
The government also said that even the private sector can leverage these digital vouchers as part of their employee welfare and corporate social responsibility programmes.
How is it different from a digital currency?
e-RUPI is still backed by the existing Indian rupee as the underlying asset and specificity of its purpose makes it different to a virtual currency and puts it closer to a voucher-based payment system.
Are there global examples of a voucher-based welfare system?
In the US, there is the system of education vouchers or school vouchers, which is a certificate of government funding for students selected for state-funded education to create a targeted delivery system.
In addition to the US, the school voucher system has been used in several other countries such as Colombia, Chile, Sweden, Hong Kong, etc.
Subject: Science and Technology
Context: The Ministry of Ayush has collaborated with the U.K.'s London School of Hygiene and Tropical Medicine (LSHTM) to conduct a study on 'Ashwagandha' for promoting recovery from COVID-19.
Concept:
All India Institute of Ayurveda (AIIA), an autonomous body under the Ministry of Ayush, and the LSHTM recently signed a Memorandum of Understanding (MoU) to conduct clinical trials of 'Ashwagandha'
This is the first time the Ministry of Ayush has collaborated with a foreign instittion to investigate its efficacy on COVID-19 patients.
The study had been approved by the Medicines and Healthcare Products Regulatory Agency (MHRA) and certified by the World Health Organizartion Good Manufacturing Practices (WHO-GMP).
Ashwagandha
Ashwagandha (Withaniasomnifera), also known as Indian ginseng, is an important ancient plant, the roots of which have been employed in Indian traditional systems of medicine, Ayurveda and Unani. It is an erect branching undershrub reaching about 1.50 m in height.  It grows in dry and sub-tropical regions.
Being hardy and drought tolerant species with its enormous biocompounds, its usage is forever regarded and continuous to enjoy the monopoly in many parts of India, particularly in Madhya Pradesh. It grows in dry parts in sub-tropical regions.
Rajasthan, Punjab, Haryana, Uttar Pradesh, Gujarat, Maharashtra and Madhya Pradesh are the major Ashwagandha producing states of the country.
Ashwagandha grows well in sandy loam or light red soil having pH 7.5 to 8.0 with good drainage. Black soils or such heavy soils are suitable for cultivation.
It is grown as late rainy season (kharif) crop. The semi-tropical areas receiving 500 to 750 mm rainfall are suitable for its cultivation as rainfedcrop It can tolerate a temperature range of 200C to 380C and even low temperature as low as 100C.  The plant grows from sea level to an altitude of 1500 meter above sea level.
Medicinal properties and use
Ashwagandha is considered to be one of the best rejuvenating agents in Ayurveda. Its roots, seeds and leaves are used in Ayurvedic and Unani medicines.
Ashwagandha root drug finds an important place in treatment of rheumatic pain, inflammation of joints, nervous disorders and epilepsy.
Dried roots are used as tonic for hiccup, cold, cough, female disorders, as a sedative, in care of senile debility, ulcers, etc. Leaves are applied for carbuncles, inflammation and swellings.
Leaf juice is useful in conjunctivitis. Bark decoction is taken for asthma and applied locally to bed sores.
Ashwagandha and its extracts are used in preparation of herbal tea, powders, tablets and syrups.
Benefits
It has been used for over 3,000 years to relieve stress, increase energy levels, and improve concentration
In several studies, ashwagandha has been shown to lower blood sugar levels.
One test-tube study found that it increased insulin secretion and improved insulin sensitivity in muscle cells
Withaferin — a compound in ashwagandha — helps induce apoptosis, which is the programmed death of cancer cells (7Trusted Source).
It also impedes the growth of new cancer cells in several ways
It may help alleviate depression
It has been shown to increase natural killer cell activity and decrease markers of inflammation
It may help reduce the risk of heart disease by decreasing cholesterol and triglyceride levels.
It supplements may improve brain function, memory, reaction time, and the ability to perform tasks.
Subject: Science and Technology
Context: UNICEF states that "breastfeeding is among the most effective ways to protect maternal and child health and promote healthy growth and optimal development in early childhood.
Concept:
During the Renaissance period, breastfeeding came to be seen as unfashionable. Feeding bottles and formula milk were aggressively advertised leading to a reduction in breastfeeding between the 17th and 19th century. However,
During the late 19th century, an increase in infant mortality rate and rise in non-communicable diseases during adulthood were attributed to bottle feeding. This prompted experts and leaders everywhere to push for breastfeeding across the world.
Breastfeeding
Infants should be breastfed within one hour of birth, breastfed exclusively for the first six months of their lives, and be breastfed after six months in combination with solid, semi-solid and soft food until they are about two years old.
Both the mother and newborn are vulnerable for the first 12 weeks. Getting used to breastfeeding takes at least 14 days.
Many advantages
Breastfeeding provides greater immunity for children against infection, allergies, cancers and obesity; and improves brain maturation.
It is also beneficial for the mother: it promotes faster weight loss after birth, reduces postpartum bleeding, and protects her against breast cancer, ovarian cancer, and osteoporosis.
Data from The Lancet show that more investment in breastfeeding could add $300 billion to the global economy and prevent about 8,20,000 child deaths every year.
Globally only 25%-40% of babies are breastfed. Breastfeeding and later wet nursing were the norm for millions of years.
However, the National Family Health Survey-5 data show that there has been a decline in early breastfeeding in as many as 12 of the 22 surveyed States and Union Territories while the share of institutional births has increased. Maternity and paternity leave
The theme for World Breastfeeding Week this year is 'Protect Breastfeedng: A Shared Responsibility'. Breastfeeding has decreased during the COVID-19 pandemic. Therefore, it is important that the promotion
The World Alliance for Breastfeeding Action (WABA)
The World Alliance for Breastfeeding Action (WABA) was established in 1991 to create awareness about the importance of breastfeeding. I
In 1992, WABA in coordination with UNICEF introduced World Breastfeeding Week during the first week of August every year. India enacted the Infant Milk Substitutes, Feeding Bottles and Infant Foods Act in 1992 with stringent regulations.
The breastfeeding should be a continuous process, not an event restricted to a week
Colostrum
Colostrum is a breast fluid produced by humans, cows, and other mammals before breast milk is released.
It's very nutritious and contains high levels of antibodies, which are proteins that fight infections and bacteria.
Colostrum promotes growth and health in infants and newborn animals, but research shows that taking bovine colostrum supplements may promote immunity, help fight infections, and improve gut health throughout life.
Subject: Economy
Context: The Monetary Policy Committee (MPC) is seen unanimously voting to continue status quo on the policy repo rate as a solid increase in aggregate demand is yet to take shape even as the retail inflation print in May and June was above its upper tolerance level.
Concept:
Policy Stance is a standpoint. Standpoint basically means an attitude to a particular issue or a point of view or perspective/outlook or approach.
Monetary Policy Stances are namely Dovish, Hawkish, Accommodative & Neutral, so that now for the upcoming RBI's Monetary Policy Statements, you could well comprehend the meaning of these Monetary Policy Stances.
Various Monetary Policy Stances
I. Hawkish Monetary Policy Stance
In order to keep inflation in check, the Hawkish stance favours high-interest rates. Because of the high interest rates, the borrowing (taking loans from banks) will become less attractive.
Due to the dearth of money, consumers would not purchase or purchase less and also would stay away from taking credit (loans) from banks.
This would lead to low domestic demand for Goods & Services. As a result of low demand, prices of Goods & Services would tend to stabilise. This would prevent inflation. This is a complete circle.
Also, an increase in interest rates can cause a strengthening of the country's currency.
II. Dovish Monetary Policy Stance
This monetary policy stance involves low interest rates. Low-Interest Rates would entice consumers to take credit (loans) from Banks and other sources.
As the demand increases (due to increase in money supply owing to the low rate), the prices of Goods & Services would rise/increase. And we all know that general rise in prices of Goods & Services is called Inflation. Inflation will cause to balance Economic Growth. (Inflation is not always harmful to the Economy, it is needed to trigger economic growth).
Economists believe that lower interest rates will lead to a hike in employment and an increase in Economic Growth.
This stance might also lead to a possible weakening of the country's currency.
III. Accommodative Monetary Policy Stance
This happens when the economic growth is slowing down. The major aim is to increase spending.
Accommodative monetary policy is implemented to allow the money supply to rise in line with national income and the demand for money. This is also known as "easy monetary policy".
When the economy slows down, the central bank (RBI) can implement an Accommodative Monetary Policy to stimulate the economy. It does this by running a succession of decreases in the Interest rates, making the cost of borrowing cheaper. Accommodative money policy is triggered to encourage more spending from consumers and businesses by making money less expensive to borrow through the lowering of short-term interest rates.
IV. Neutral Monetary Policy Stance
The policy rates neither stimulates (speed up) nor restrains (slowdown) the economic growth by taxation and government spending.
Economic conditions are just right. The Key Policy Rates are neither increased nor decreased.
Monetary policy
Monetary policy refers to the use of monetary instruments under the control of the central bank to regulate magnitudes such as interest rates, money supply and availability of credit with a view to achieving the ultimate objective of economic policy
The Monetary Policy Committee (MPC) constituted by the Central Government under Section 45ZB of RBI Act determines the policy interest rate required to achieve the inflation target.
Accordingly, the Central Government in September 2016 constituted the MPC as under Governor of the Reserve Bank of India – Chairperson, ex officio;
The primary objective of monetary policy is to maintain price stability while keeping in mind the objective of growth. Price stability is a necessary precondition to sustainable growth.
In May 2016, the Reserve Bank of India (RBI) Act, 1934 was amended to provide a statutory basis for the implementation of the flexible inflation targeting framework.
The amended RBI Act also provides for the inflation target to be set by the Government of India, in consultation with the Reserve Bank, once in every five years.
Accordingly, the Central Government has notified in the Official Gazette 4 per cent Consumer Price Index (CPI) inflation as the target for the period from August 5, 2016 to March 31, 2021 with the upper tolerance limit of 6 per cent and the lower tolerance limit of 2 per cent.
The MPC is required to meet at least four times in a year.
The composition of the MPC is as follows;

Governor of the Reserve Bank of India – Chairperson, ex officio;
Deputy Governor of the Reserve Bank of India, in charge of Monetary Policy –
(Member, ex officio)
One officer of the Reserve Bank of India to be nominated by the Central Board – Member, ex officio;
Except ex-officio members, three independent members will hold the office for a period of 4 years or until further orders, whichever is earlier.

The quorum for the meeting of the MPC is four members. Each member of the MPC has one vote, and in the event of an equality of votes, the Governor has a second or casting vote.
Subject: Economy
In news: The Indian economy is in a vicious cycle of low growth and higher inflation.
1. Economic Recovery
It is the business cycle stage following a recession that is characterized by a sustained period of improving business activity.
Normally, during an economic recovery, GDP grows, incomes rise, and unemployment falls and as the economy rebounds.
India is going through a K-shaped recovery, wherein corporates and households with stronger balance sheets have recovered more robustly, while smaller firms and poorer households probably remain trapped in a vicious cycle of poverty and indebtedness instigated by the pandemic.
2. Types of Economic Recovery:
Economic recovery can take many forms, which is depicted using alphabetic notations. For example, a Z-shaped recovery, V-shaped recovery, U-shaped recovery, elongated U-shaped recovery, W-shaped recovery, L-shaped recovery and K-shaped recovery.
K-Shaped Recovery:
A K-shaped recovery occurs when, following a recession, different parts of the economy recover at different rates, times, or magnitudes. 
This is in contrast to an even, uniform recovery across sectors, industries, or groups of people.
A K-shaped recovery leads to changes in the structure of the economy or the broader society as economic outcomes and relations are fundamentally changed before and after the recession.
Z-shaped recovery: 
It is the most-optimistic scenario in which the economy quickly rises after an economic crash.
In this economic disruption lasts for a small period wherein more than people's incomes, it is their ability to spend is restricted.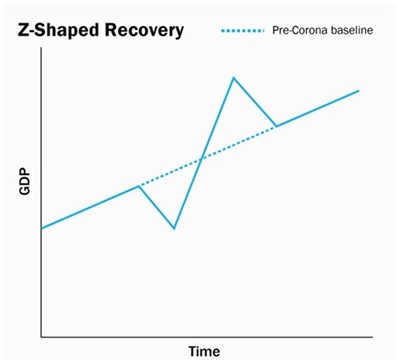 V-shaped recovery:
It is the next-best scenario after Z-shaped recovery in which the economy quickly recoups lost ground and gets back to the normal growth trend-line.
In this, incomes and jobs are not permanently lost, and the economic growth recovers sharply and returns to the path it was following before the disruption.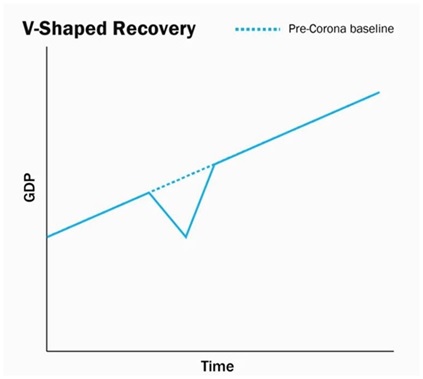 U-shaped recovery: It is a scenario in which the economy, after falling, struggles around a low growth rate for some time, before rising gradually to usual levels.
In this case several jobs are lost and people fall upon their savings.
If this process is more-long drawn than it throws up the "elongated U" shape.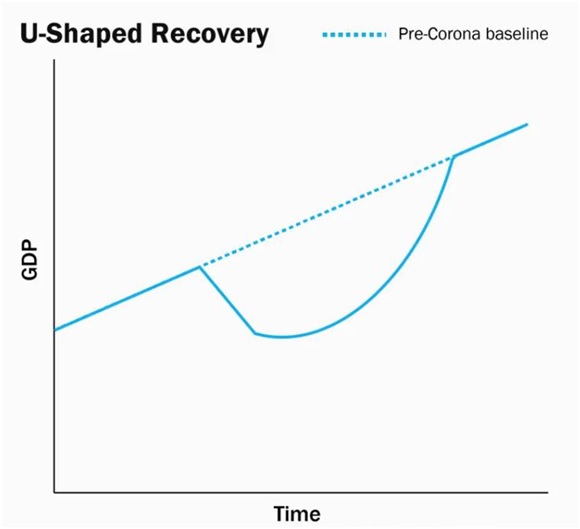 W-shaped recovery: A W-shaped recovery is a dangerous creature. In this, growth falls and rises, but falls again before recovering, thus forming a W-like chart.
The double-dip depicted by a W-shaped recovery can be due to the second wave of the pandemic.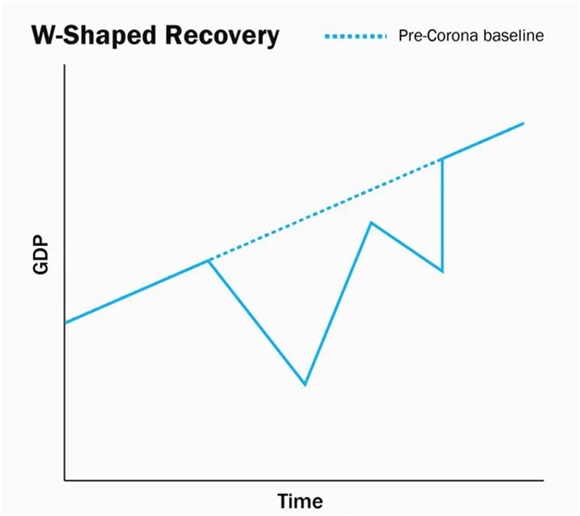 L-shaped recovery: In this, the economy fails to regain the level of GDP even after years go by.
The shape shows that there is a permanent loss to the economy's ability to produce.
Economic Growth & Base Effect:
India is suffering from stagnant growth to low growth in the last two quarters.
At best, any growth in the current quarter will be illusionary because it comes on top of substantial negative growth in the first quarter of last year, perpetuating a statistical phenomenon known as the "low base effect".
The base effect is the effect that choosing a different reference point for a comparison between two data points can have on the result of the comparison.
Base Effect refers to the impact of an increase in the price level (i.e. previous year's inflation) over the corresponding rise in price levels in the current year (i.e., current inflation).
The base effect states that when measuring YoY, or year- over-year growth, we take the previous year's numbers as the base and measure the growth as a percentage. As in the low initial base set by last year, almost any growth this year is seen as a significant growth percentage. In comparison, the absolute growth figure is negligible.
The base effect can lead to distortion in comparisons and deceptive results.
 Inflation & its causes in current scenario:
Inflation:

Inflation refers to the rise in the prices of most goods and services of daily or common use, such as food, clothing, housing, recreation, transport, consumer staples, etc.
Inflation measures the average price change in a basket of commodities and services over time.
Inflation is indicative of the decrease in the purchasing power of a unit of a country's currency. This could ultimately lead to a deceleration in economic growth.
However, a moderate level of inflation is required in the economy to ensure that production is promoted.

Current causes: 

Inflation in India is being imported through a combination of high commodity prices and high asset price inflation caused by ultra loose monetary policy followed across the globe.
Foreign portfolio investors have directed a portion of the liquidity towards our markets. Compared to a developed capital market such as that of the U.S., India has a relatively low market capitalisation. It, therefore, cannot absorb the enormous capital inflow without asset prices inflating.
Additionally, supply chain bottlenecks have contributed to inflation. Essential goods have increased in cost due to scarce supply because of these bottlenecks caused by COVID-19 and its reactionary measures enforced.
India's taxation policy on fuel has made things worse. Rising fuel prices percolate into the economy by increasing costs for transport. Furthermore, the increase in fuel prices will also lead to a rise in wages demanded as the monthly expense of the general public increases. This leads to the dangerous cycle of inflation and depleting growth.
Other Causes:

Due to fiscal stimulus.
Depreciation of rupee.
Low unemployment rate.
Increase in price of inputs.
Hoarding and Speculation of commodities.
Minsky moment:
Our small and medium scale sector is facing a Minsky moment.
The Minsky moment, coined by the economist Hyman Minsky, states that every credit cycle has three distinct stages.

The first stage is that of cautious lending and risk aversion by the bankers.
The second stage is lending to trustworthy debtors who can pay the principal and its interest.
The third stage is a state of euphoria caused by rising asset prices where bankers lend to debtors regardless of their ability to pay back interest, let alone the principal.

The Minsky moment marks the decline of asset prices, causing mass panic and the inability of debtors to pay their interest and principal.
6. Schemes by Ministry of Youth Affairs & Sports
Subject: Government Schemes
Context: Ministry has decided to establish 1000 Khelo India Centres across the country, out of which 360 Khelo India Centres have already been notified.This information was given by Minister of Youth Affairs &SportsShri Anurag Thakur in a written reply in Rajya Sabha today.
Concept:
'Sports' being a State subject, the responsibility for development of sports, including opening sports schools, rests with the State / Union Territory Governments. Central Government supplements their efforts in this regard.
This Ministry does not maintain State/UT/district-wise data in respect of the number of such schools in the country.
The Ministry of Youth Affairs & Sports has formulated the following schemes to promote sports in the country, including in rural, tribal and backward areas: –
Khelo India Scheme
Assistance to National Sports Federations;
Special Awards to Winners in International sports events and their Coaches;
National Sports Awards, Pension to Meritorious Sports Persons;
Pandit Deendayal Upadhyay National Sports Welfare Fund;
National Sports Development Fund; and
Running Sports Training Centres through Sports Authority of India.
The majority of the sportspersons benefitting from these Schemes belong to the rural, backward, tribal and women population of the country and are provided with regular training on Residential and Non-Residential basis as per the approved norms of the Schemes.
'Talent Search and Development' vertical of the Khelo India Scheme
Under the scheme India is divided into 05 zones namely North, East, West, South and North-East Zones to carry out talent identification.
Grassroot Zonal Talent Identification Committees are formed to reach out to each and every corner of the country to shortlist the potential and proven athletes.
Talent Identification is carried out in 20 sports disciplines in the age group of 8 to 14 years, wherein the country has the potential / advantage to excel at the international level.
The talent search has been started at grassroots level in two categories: Sports potential talent identification, Proven talent identification
Under the 'Talent Search and Development' vertical of the Khelo India Scheme, Khelo India Athletes identified and selected under the scheme are provided annual financial assistance of ₹ 6.28 lakh per athlete per annum
Ministry has decided to establish 1000 Khelo India Centres across the country, out of which 360 Khelo India Centres have already been notified
236 sports academies have so far been accredited across the country under the "Support to National/Regional/State Sports Academies" vertical of the Khelo India Scheme
Under the "Support to National/Regional/State Sports Academies" vertical of the Khelo India Scheme, sports academies are accreditated for the training of the Khelo India Athletes.
Further, under the "State Level Khelo India Centre" vertical of the Khelo India Scheme, this Ministry has decided to establish 1000 Khelo India Centres across the country, out of which 360 Khelo India Centres have already been notified
Subject: History
Context: Government of India has decided to celebrate the 125th Birth Anniversary year of Netaji Subhas Chandra Bose in a befitting manner at national and international level, beginning from 23rd January 2021.
Concept:
A High Level Committee, headed by the Prime Minister , has been constituted for deciding the programs, and to supervise and guide the commemoration.
In order to honour and remember Netaji's indomitable spirit and selfless service to the nation, Government of India has decided to celebrate his birthday on the 23rdday of January every year as "PARAKRAM DIWAS" to inspire people of the country, especially the youth, to act with fortitude in the face of adversity as Netaji did, and to infuse in them a spirit of patriotic fervour.
Subhash Chandra Bose's Role in Indian Independence Struggle
Bose was sent to prison in Mandalay for nationalist activities in 1925. He was released in 1927 and became the INC's general secretary.
He worked with Jawaharlal Nehru (Born on November 14 – 1889) and the two became the Congress Party's young leaders gaining popularity among the people.
He advocated complete Swaraj and was in favour of the use of force to gain it.
Bose stood for and was elected the party's president in 1939 but was forced to resign due to differences with Gandhi's supporters.
Bose's ideology tilted towards socialism and leftist authoritarianism. He formed the All India Forward Bloc in 1939 as a faction within the Congress.
At the start of the Second World War, Bose protested against the government for not consulting Indians before dragging them into the war. He was arrested when he organised protests in Calcutta for the removal of the monument memorialising theBlack Hole of Calcutta.
In Germany, he met with the Nazi leaders and hoped to stage an armed struggle against the British to gain independence. He hoped to befriend the Axis powers since they were against his 'enemy', the British.
He founded the Indian Legion out of about 4500 Indian soldiers who were in the British army and had been taken prisoners by the Germans from North Africa.
In 1943, he left Germany for Japan disillusioned with the lukewarm German support for Azad Hind.
Bose's arrival in Japan revived the Indian National Army (Azad Hind Fauj) which had been formed earlier with Japanese help.
Azad Hind or the Provisional Government of Free India was established as a government-in-exile with Bose as the head. Its headquarters was in Singapore. The INA was its military.
Bose motivated the troops with his fiery speeches. His famous quote is, "Give me blood, and I shall give you freedom!"
The INA supported the Japanese army in its invasion of northeast India and also took control of the Andaman and Nicobar Islands. However, they were forced to retreat by the British forces following the Battles of Kohima and Imphal in 1944.
Subject: Mapping
Context: Pakistani authorities have finalised a law to award provisional provincial status to strategically located Gilgit-Baltistan, a media report said on Sunday.
Concept:
Gilgit-Baltistan has functioned as a "provincial autonomous region" since 2009.
Besides, India has conveyed that the entire Union Territories of Jammu and Kashmir and Ladakh, including the areas of Gilgit and Baltistan, are an integral part of India by virtue of its fully legal and irrevocable accession.
Location of the region
It shares a geographical boundary with Pakistan-occupied Kashmir, and India considers it as part of the undivided Jammu and Kashmir, while Pakistan sees it as a separate from PoK.
Located in the northern Pakistan. It borders China in the North, Afghanistan in the west, and Tajikistan in the North West and Kashmir in the south east.
Gilgit-Baltistan is the northernmost territory administered by Pakistan, providing the country's only territorial frontier, and thus a land route, with China, where it meets the Xinjiang Autonomous Region.
To G-B's west is Afghanistan, to its south is Pakistan-occupied Kashmir, and to the east J&K
It has a regional Assembly and an elected Chief Minister.
China-Pakistan Economic Corridor (CPEC) also passes through this region.
Gilgit-Baltistan is home to five of the "eight-thousanders" and to more than fifty peaks above 7,000 metres (23,000 ft).
Three of the world's longest glaciers outside the polar regions are found in Gilgit-Baltistan.