Daily Prelims Notes 2 July 2021
July 2, 2021

Posted by:

admin1

Category:

DPN

Daily Prelims Notes
2 July 2021
Table Of Contents
1. Portland city in Oregon, US, temperatures as high as 46 degree Celsius
Subject : Environment
Context : The temperatures being reported from the Pacific Northwest and some parts of Canada are part of a "historic" heat wave as a result of a phenomenon referred to as a "heat dome".
Concept :
Heat Dome
It is essentially a mountain of warm air built into a very wavy jet stream, with extreme undulations.
It develops when there is a large poleward shift in the jet stream, which becomes wavy and elongated.
The National Oceanic and Atmospheric Administration (NOAA) says that to understand what causes a heat dome, one should liken the Pacific ocean to a large swimming pool in which the heater is turned on.
The portions of the pool close to the heating jets will warm up faster once the heater is on and therefore, the temperature in that area will be higher.
In the same way, the western Pacific Ocean's temperatures have increased in the past few decades and are relatively more than the temperature in the eastern Pacific.
The strong change in ocean temperature from the west to the east is what a team of scientists believe is the reason for the heat dome.
The reason that the planet Venus is the hottest in the Solar System is because its thick, dense cloud cover traps the heat at the surface, leading to temperatures as high as 471 degree Celsius.
Subject : Science & tech
Context : Covid-19 antibody test not to be used to evaluate immunity, says doctors
Concept :
There are two types of tests that can determine if one has developed antibodies against a virus: a laboratory test, requiring a healthcare professional to take a blood sample from the patient, which is sent to a lab for results; or a rapid point-of-care test, which uses finger-prick blood and can be taken at home.
Antibody Test/Serological Test
Antibody tests only detect antibodies the immune system develops in response to the virus, not the virus.
Anti-bodies can show up between 9-28 days after the infection has set in.
Antibodies are proteins that help fight infections & can provide protection against getting that disease again.
Antibodies are disease-specific. For example, measles antibodies will protect you from getting measles if you are exposed to it again, but they won't protect you from getting mumps if you are exposed to mumps.
Serology tests are crucial for the management & surveillance of the disease.
These tests offer insight into the virus's incidence, including symptomatic or asymptomatic infections.
Validity of the antibodies
Some of the antibodies are short term & some are long term.
IgM (Immunoglobulin M) antibodies develop early on in an infection whereas IgG (Immunoglobulin G) antibodies against SARS CoV-2 are mostly found after someone has recovered from the infection.
Antibodies may be detected in our blood for several weeks after we recover from COVID-19.
Although these antibodies might provide some immunity to the COVID-19 virus, there's currently not enough evidence to know how long these antibodies last.
Subject : International Organisations
Context : The World Gold Council said demand for gold loans, both through banks and non-banking financial companies, has grown in response to the economic impact of the pandemic.
Concept :
About World Gold Council:
It is the market development organisation for the gold industry.
It works across all parts of the industry, from gold mining to investment, and their aim is to stimulate and sustain demand for gold.
It is an association whose members comprise the world's leading gold mining companies.
It helps to support its members to mine in a responsible way and developed the Conflict Free Gold Standard.
Headquartered in the UK, they have offices in India, China, Singapore, Japan and the United States.
4. ZyCov-D will be the world's first DNA vaccine against infection with SARS-CoV-2
Subject : Science & tech
Context : Ahmedabad-based Zydus Cadila has applied to Central Drugs Standard Control Organisation (CDSCO), the national drugs regulator, seeking emergency use authorisation (EUA) for ZyCov-D, its Covid-19 vaccine.
Concept :
ZyCoV-D, designed and developed by Zydus (a pharmaceutical company) with support from the Department of Biotechnology (DBT).
ZyCoV-D, a plasmid DNA vaccine, comes under the Vaccine Discovery Programme supported by the Department of Biotechnology under the National Biopharma Mission.
Plasmids are circular deoxyribonucleic acid (DNA) vectors that can be used as vaccines to prevent various types of diseases.
Pre-Clinical Phase: It was found to initiate a strong immune response in multiple animal species like mice, rats, guinea pigs and rabbits.
The antibodies produced by the vaccine were able to neutralize the wild type virus indicating the protective potential of the vaccine candidate.
No safety concerns were observed in repeat dose by both intramuscular (directly into muscles) and intradermal (superficial injection into skin) routes of administration.
DNA Vaccine Platform:
The development of ZyCov-D has established the DNA vaccine platform in the country which is simple to deploy, temperature stable, and consistently manufacturable- thus lowering costs and enhancing the effectiveness of a vaccine.
It provides ease of manufacturing the vaccine with minimal biosafety requirements.
It has shown much improved vaccine stability and lower cold chain requirements making it easy for transportation to remote regions of the country.
Furthermore, the platform can be rapidly used to modify the vaccine in a couple of weeks in case the virus mutates.
National Biopharma Mission
It is an industry-academia collaborative mission for accelerating biopharmaceutical development in the country.
It was launched in 2017 at a total cost of Rs. 1500 crore and is 50% co-funded by World Bank loan.
It is being implemented by the Biotechnology Industry Research Assistance Council (BIRAC).
BIRAC is a Public Sector Enterprise, set up by the Department of Biotechnology (DBT), Ministry of Science & Technology.
Under this Mission, the Government has launched Innovate in India (i3) programme to create an enabling ecosystem to promote entrepreneurship and indigenous manufacturing in the biopharma sector.
Objectives: Development of vaccines, medical devices, diagnostics and biotherapeutics besides, strengthening the clinical trial capacity and building technology transfer capabilities in the country.
5. Turkey should mitigate factors aiding growth of sea snot
Subject : Environment / IR
Context : There has been growing environmental concern in Turkey over the accumulation of 'sea snot'.
Concept :
Background
It is a slimy layer of grey or green sludge in the country's seas, which can cause considerable damage to the marine ecosystem.
Turkey's Sea of Marmara, that connects the Black Sea to the Aegean Sea, has witnessed the largest outbreak of 'sea snot'.
The sludge has also been spotted in the adjoining Black and Aegean seas.
The thick slimy layer of organic matter, which looks like a viscous, brown and foamy substance, has spread through the sea south of Istanbul and also blanketed harbours and shorelines.
What is a Sea Snot?
It is marine mucilage that is formed when algae are overloaded with nutrients as a result of water pollution combined with the effects of climate change.
The nutrient overload occurs when algae feast on warm weather caused by global warming.
The phenomenon of water pollution adds to the problem.
The overproduction of phytoplankton caused by climate change and the uncontrolled dumping of household and industrial waste into the seas has led to the Sea Snot.
The dumping of sewage in the sea along with rising temperatures is causing the crisis.
A 'sea snot' outbreak was first recorded in the country in 2007 and it was also spotted in the Aegean Sea near Greece.
Sea of Marmara
It is a small inland sea that is completely bordered by the transcontinental nation of Turkey.
It has been named after the Turkish Island of Marmara, whose name was derived from the Greek word Mármaron which means "marble".
It separates Asian Turkey from European Turkey.
In the northeast, it is connected to the Black Sea via the Bosphorus Strait, whereas in the southwest, it is linked with the Aegean Sea via the Dardanelles Strait.
6. Erratic monsoon affects Kharif sowing
Subject : Agriculture
Context : Kharif sowing has started on a sluggish note despite monsoon delivering 10 percent surplus in june.
Concept :
Kharif crops are grown with the onset of monsoon in different parts of the country and these are harvested in September-October.
Important crops grown during this season are paddy, maize, jowar, bajra, tur (arhar), moong, urad, cotton, jute, groundnut and soyabean.
Some of the most important rice-growing regions are Assam, West Bengal, coastal regions of Odisha, Andhra Pradesh, Telangana, Tamil Nadu, Kerala and Maharashtra, particularly the (Konkan coast) along with Uttar Pradesh and Bihar.
Recently, paddy has also become an important crop of Punjab and Haryana.
In states like Assam, West Bengal and Odisha, three crops of paddy are grown in a year. These are Aus, Aman and Boro.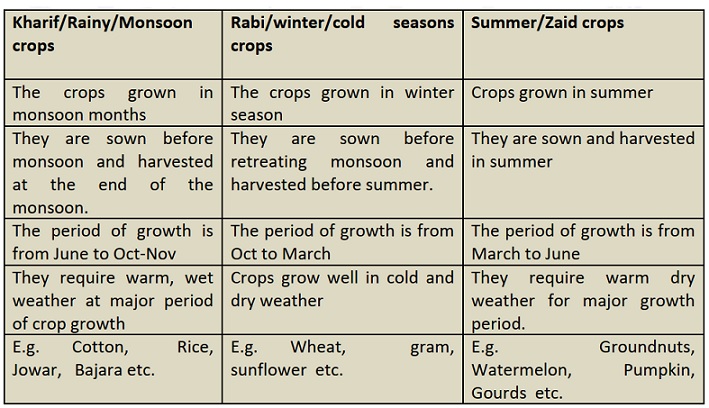 7. GNPA ratio may rise up to 11.2% in FY22: RBI
Subject : Economy
Context : The gross non-performing asset ratio (GNPA) of India's scheduled commercial banks (SCBs) may climb by the end of the current fiscal year to as much as 11.2% under a severe stress scenario, from 7.48% in March 2021, the Reserve Bank of India (RBI) said in its Financial Stability Report on Thursday.
Concept :
Macro stress tests indicate that the GNPA ratio of SCBs may increase to 9.8% by March 2022 under the baseline scenario; and to 11.22% under a severe stress scenario, although SCBs have sufficient capital, both at the aggregate and individual level, even under stress, the RBI said.
The capital to risk-weighted assets ratio of SCBs increased to 16.03% and the provisioning coverage ratio stood at 68.86% in March 2021,the central bank said.
Financial Stability report
The FSR is a hugely useful publication as it receives contributions from all the financial sector regulators in the country.
As such, it provides a rather comprehensive picture of the so-called macro-financial risks facing the economy.
The FSR released by the RBI is the biannual alert of such risks in the Indian economy.
GNPA
Gross NPA stands for the Gross Non-Performing Assets. Gross NPA is the term used by commercial banks that refer to the sum of any unpaid debt, which is classified as non-performing loans.
8. LEAF Coalition proposal is a step forward in saving forests
Subject : Environment
Context : LEAF coalition will be one of the largest ever public-private efforts to protect tropical forests and intend to mobilize at least USD 1 billion in financing to countries committed to protecting their tropical forests.
Concept :
Lowering Emissions by Accelerating Forest Finance Coalition
It is a collective of the governments of the USA, United Kingdom and Norway.
As it is a public-private effort, thus also supported by transnational corporations (TNCs) like Unilever plc, Amazon.com, Nestle, Airbnb etc.
A country willing to participate would need to fulfil certain predetermined conditions laid down by the Coalition.
Financial Support:
The results-based financing model will be used in LEAF.
The model weighs on work by the Environmental Defense Fund over two decades, in collaboration with Indigenous communities, forest peoples, Brazilian and US NGOs, and other partners, to protect the Amazon and tropical forests globally.
Performance will be measured against the TREES Standard (The REDD+ Environmental Excellence Standard)
Subject : International Relations
Context : Recently, the 7th edition of Indian Ocean Naval Symposium (IONS) was hosted by the French Navy at Réunion island.
Concept :
It is a biennial event which was conceived by the Indian Navy in 2008.
About:
The IONS is a voluntary and inclusive initiative that brings together navies of Indian Ocean Region littoral states to increase maritime co-operation and enhance regional security.
It also serves to develop an effective response mechanism and humanitarian assistance and disaster relief (HADR) against natural disasters.
The chairmanship of IONS has been held by India (2008-10), UAE (2010-12), South Africa (2012-14), Australia (2014-16), Bangladesh (2016-18) and Islamic Republic of Iran (2018-21).
France assumed the Chairmanship in June 2021 for a two-year tenure.
Members:
IONS includes 24 member nations that touch or lie within the Indian Ocean Region (IOR), and 8 observer nations.
The members have been geographically grouped into the following four sub-regions:
South Asian Littorals: Bangladesh, India, Maldives, Pakistan, Seychelles, Sri Lanka and United Kingdom (British Indian Ocean Territory)
West Asian Littorals: Iran, Oman, Saudi Arabia and United Arab Emirates
East African Littorals: France (Reunion), Kenya, Mauritius, Mozambique, South Africa, and Tanzania.
South East Asian and Australian Littorals: Australia, Indonesia, Malaysia, Myanmar, Singapore, Thailand and Timor-Leste.