Daily Prelims Notes 20 October 2021
October 20, 2021

Posted by:

OptimizeIAS Team

Category:

DPN

Daily Prelims Notes
20 October 2021
Table Of Contents
1. Energy efficiency needs a policy charge
Subject – Economy
Context – India's Energy Conservation Act has recently completed 20 years
Concept –
India's Energy Conservation Act, which recently completed 20 years, under which the Bureau of Energy Efficiency (BEE) was set up, has implemented quite a few programmes and regulations. Some of these have been successful but energy efficiency's full potential still remains untapped.
Analysis based on bottom-up energy modelling shows that just a shift in behaviour of use of appliances can reduce the residential electricity demand in 2030 by 25 per cent.

These savings can reduce India's climate change inducing emissions, lower consumer energy bills, strengthen energy security and accelerate the adoption of renewables.
But energy efficiency has so far remained at the margins of the policy discourse.

Quite a few provisions of the Energy Conservation Act were never implemented.
Only about ₹200 crore were allotted for energy efficiency measures out of the Ministry of Power's (BEE's parent ministry) Rs. ₹15,000-crore annual budget for 2021-22.
Adoption of energy efficient technologies faces several barriers like high upfront cost, lack of awareness, and limited options to finance industry level upgrades.
The hurdles –
The policy initiatives have so far had limited impact, due to four factors.
First, BEE is trying to do too many things with limited resources.

This hampers effective programme implementation and constrains scale-up of its many pilot level initiatives.
BEE's flagship Standards and Labeling (S&L) programme which prescribes minimum energy efficiency standards and comparative energy performance labels covers 28 appliances and equipment.
Perform, Achieve and Trade (PAT), a market mechanism for industry to trade energy saving certificates, has covered 1,073 designated consumers across 13 sectors.
Setting standards, revising them regularly, and ensuring compliance requires significant in-house technical expertise, tracking of market conditions, and compliance check for each sector/appliance.
Due to limited resources these programmes have seen several instances of less-ambitious targets, delays in revision of standards and lax compliance testing processes reducing their overall effectiveness.

Second, a more recent development, is the unstated approach that bulk procurement is the silver bullet for market transformation of energy efficient technologies and no direct financial incentives are required.

Energy Efficiency Services Ltd. (EESL), a public sector company, used this model extremely well to enable a rapid market transformation to highly efficient LED lighting. However, this model has not been able to achieve similar success for other appliances. But still there are no financial incentives or tax concessions for energy efficient appliances.
BEE's Super-Efficient Equipment Programme (SEEP), with a proposal to give time-bound incentives to manufacturers to cover incremental cost of manufacturing super-efficient appliances, has been gathering dust for the last five years. The level of State and Central-level incentives seen in EVs and solar rooftop are lacking for energy efficiency.

Third, the market for energy service companies (ESCOs), which conduct energy efficiency projects, is still at a nascent stage. There are only 150 ESCOs empanelled by BEE and it estimates that only 5 per cent of the 1.5 lakh crore market has been tapped so far. EESL was supposed to be a super ESCO but that has not happened either.
Fourth, the role of Discoms in promoting energy efficiency has been minimal. Even though all States have notified Demand Side Management (DSM) regulations and many electricity distribution companies have DSM cells, the expenditure on the programmes and the resultant savings are a small fraction of Discom's annual sales.
About India's Energy Conservation Act, 2001
The Energy Conservation (EC) Act was enacted in 2001 with the goal of reducing the energy intensity of Indian economy.
The Bureau of Energy Efficiency (BEE) was set up as the statutory body in 2002 at the central level to facilitate the implementation of the EC Act.
It functions under the Ministry of Power.
The Act provides for the legal framework, institutional arrangement and a regulatory mechanism at the Central and State level to embark upon energy efficiency drive in the country.
Five major provisions of EC Act relate to Designated Consumers, Standard and Labelling of Appliances, Energy Conservation Building Codes, Creation of Institutional Set up (BEE) and Establishment of Energy Conservation Fund.
Energy efficiency institutional practices and programs in India are now mainly being guided through various voluntary and mandatory provisions of the Energy Conservation Act.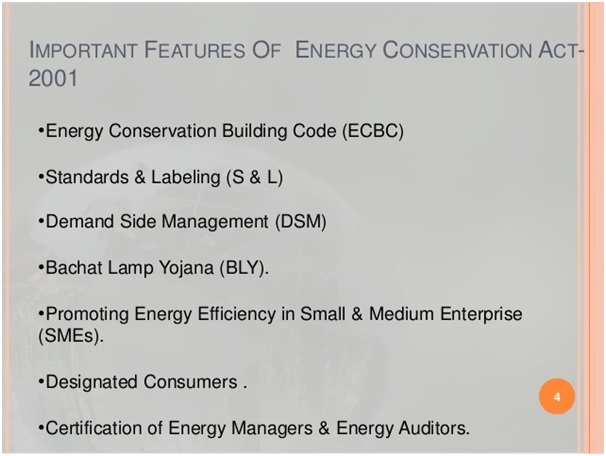 Subject – Economy
Context – The Reserve Bank of India in its latest monetary policy review has projected retail inflation to be at 5.3 per cent for 2021-22
Concept –
The Reserve Bank of India in its latest monetary policy review has projected retail inflation to be at 5.3 per cent for 2021-22. While this is lower than its earlier projection of 5.7 per cent, should the inflation estimate turn out to be true, investors may need to worry about earning negative real rates.
The real rate of return on an investment is its actual rate of return minus the prevailing inflation rate. To get at the real interest rate, you simply subtract the rate of inflation during the period of your investment, from the return you earn on it.
Unless the return on your investments beat inflation, it isn't logical to postpone your consumption or to save for the future.
Example –

In the current scenario, take SBI's one-year FD that is offering an interest of 5 per cent. If inflation in the next one year turns out to be 5.3 per cent, the real rate of interest you earn on your money would be a negative 0.3 per cent (five minus the expected inflation rate of 5.3 per cent). The real rate would be even worse, if taxes on interest income are considered.

Now central banks around the world increase interest rates when inflation begins to exceed their desired threshold. But as economic growth needs a lower interest rate regime to kick-off investments, central banks may decide to keep the rates lower or hike at lower pace going ahead. This may lead to continuation of lower real interest rate scenario in the short to medium term.
What needs to be done?
Interest rates in India are now at a record low. This makes negative real returns a significant risk to your investments.
Almost all the public sector banks and most private sector banks currently offer interest of 5 to 5.5 per cent per annum on a one-year fixed deposit, while inflation is at 5-6 per cent.
To ensure that inflation doesn't overtake your returns, you may also consider floating-rate instruments, coupon rates on which are linked to interest rate movements in the economy.

Some of them are Floating Rate Savings Bonds (FRSB) 2020 with pay-out option, the PPF and the Sukanya Samriddhi Yojana.

Gold is also considered to be a bet against inflation. As inflation rises, the value of money comes down but price of bullion goes up. However, gold returns are subject to volatility.
3. Global Ranking Of Pension Systems
Subject – Economy
Context – India fares poorly in global ranking of pension systems
Concept –
Old age security is a big worry for Indians as income at retirement is far from adequate for most people.
Now, a global study done by Mercer Consulting validates this fear as it reveals that the Indian pension system ranks a lowly 40th in a comparative index of 43 systems.
The primary objective of this annual survey by the global management consulting firm is to benchmark each retirement income system using more than 50 indicators.
This year's index edition added four new retirement systems — Iceland, Taiwan, the UAE and Uruguay.
In its maiden appearance in the Index, Iceland overthrew the Netherlands to receive the highest overall index value of 84.2.
Thailand had the lowest overall index value at 40.6.
According to the survey, India had an overall index value of 43.3 among the countries analysed.

The index highlights key strengths of retirement pension systems around three sub-indices — adequacy, sustainability and integrity, where India scored 33.5, 41.8 and 61.0, respectively.

The adequacy sub-index represents the adequacy of the benefits that are being provided, the sustainability sub-index represents the likelihood that the current system is able to provide benefits in the future, while the integrity sub-index includes many legislative requirements that influence the overall governance and operations of the system which affect the level of confidence that citizens have in their system.
With little social security coverage in the country, the workforce in India has to manage pension savings on its own for the most part. The coverage under private pension arrangement is just about 6 per cent in India.
With over 90 per cent of the total workforce being in the unorganised sector, measures should be taken to get a larger workforce under pension savings. This would go a long way in improving the adequacy subindex, the report said.
With the rules under new Social Security Code that covers unorganised, gig and platform workers expected to be notified soon, one should see significant improvement on this front in the medium to long term.
4. Parliamentary panel to study petro products pricing and marketing
Subject – Economy
Context – Agreeing to the demand of Opposition parties, the Parliamentary Standing Committee on Petroleum and Natural Gas has decided to examine the pricing, marketing and supply of petroleum products, including natural gas
Concept –
Agreeing to the demand of Opposition parties, the Parliamentary Standing Committee on Petroleum and Natural Gas has decided to examine the pricing, marketing and supply of petroleum products, including natural gas.

The panel will also review the Centre's policy on import of crude oil.

Some members in the panel are also learnt to have demanded a re-look into the UPA government's "decontrol" market prices of petrol and diesel based on a report submitted in 2010 by an expert group of Planning Commission headed by Kirit Parikh.

The report, A Viable and Sustainable System of Pricing of Petroleum Products, recommended that petrol and diesel prices should be market determined both at the refinery gate and at the retail level.
The MPs argued that "decontrol" of the market prices has burdened the people as oil companies are unwilling to reduce the prices even though international price of crude oil is low.

The panel, chaired by BJP MP Ramesh Bidhuri charted the agenda for the one-year term in its meeting. People are agitated over the rising prices of petrol, diesel and LPG. The increase was due to cess and additional taxes imposed by the Centre.
The panel has selected 17 subjects for its new term. It includes litigations involving oil PSUs, contract management and transparency in procurement procedures in oil PSUs, energy security with specific reference to hydrocarbon resources and electric vehicles, review of performance of oil PSUs with specific reference to financial performance and investments in other sectors, international cooperation in petroleum sector, alternative sources of energy and the policy on import of crude oil.
Subject – Polity
Context – Judiciary should not act as a 'super-legislature', says Centre
Concept –
A "distressed" government has taken a leaf from former United States President Franklin D Roosevelt's speech to emphasise that the judiciary ought not act as a "super-legislature" by entertaining a challenge to the Tribunal Reforms Act.
The Centre, in an affidavit in the Supreme Court, said it was "confused" why the judiciary thinks that the law made by Parliament and implemented by the Executive is an attack on judicial independence.
Some of the provisions of the Act under challenge include the reduction of the tenure of chairpersons and members of key tribunals from five years to four and mandates a minimum age to be 50 for appointment.

The new law also said the Appointments Committee of the Cabinet headed by the Prime Minister may "preferably" make the appointment within three months of the recommendation by the Search-cum-Selection Committee only one name per vacant post may be recommended with a wait list.
The affidavit said each one of these issues is purely one of policy.

The government said it was the "exclusive right" of the Parliament and the Executive to frame policy and execute it.
Any reappointment takes place only on the basis of recommendation of the search and selection committee in which the Judiciary is the dominant voice.
The word 'preferably' used in Section 3(7) of the Act was a choice of the Parliament and for the court to object to it would not be conducive to good governance. "The appointments committee has to prioritise the multitude of issues important to the State, thus the need not to have an inflexible three months… Even with pressing internal and external affairs of great importance coming in the way, three months may not be sufficient in some cases," it justified.
"Independence of judiciary cannot be used as ground for testing statutes," the affidavit said.
To know about Tribunals and Tribunals Reform Bill, please click here.
Subject – Science and Tech
Context –
Viruses have a bad reputation. They are responsible for the COVID-19 pandemic and a long list of maladies that have plagued humanity since time immemorial
Concept –
Many biologists believe there is, at least for one specific type of virus — namely, bacteriophages, or viruses that infect bacteria, there is reason to celebrate about virus.

When the DNA of these viruses is captured by a cell, it may contain instructions that enable that cell to perform new tricks.

Bacteriophages, or phages for short, keep bacterial populations in check, both on land and at sea. They kill up to 40 per cent of the oceans' bacteria every day, helping control bacterial blooms and redistribution of organic matter.
Their ability to selectively kill bacteria also has medical doctors excited. Natural and engineered phages have been successfully used to treat bacterial infections that do not respond to antibiotics. This process, known as phage therapy, could help fight antibiotic resistance.
Recent research points to another important function of phages: They may be nature's ultimate genetic tinkerers, crafting novel genes that cells can retool to gain new functions.
Phages are the most abundant life form on the planet, with a nonillion — that's a 1 with 31 zeroes after it — of them floating around the world at any moment. Like all viruses, phages also have high replication and mutation rates, meaning they form many variants with different characteristics each time they reproduce.
Most phages have a rigid shell called a capsid that is filled with their genetic material. In many cases, the shell has more space than the phage needs to store the DNA essential for its replication. This means that phages have room to carry extra genetic baggage: Genes that are not actually necessary for the phage's survival that it can modify at will.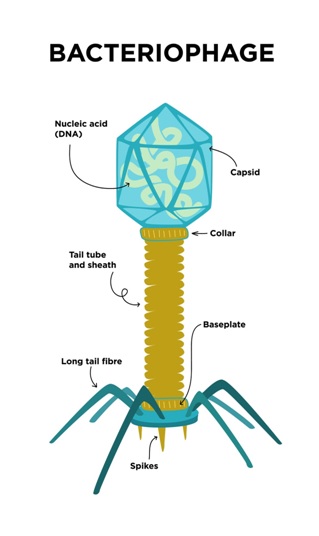 How bacteria retooled a viral switch
Phages come in two main flavours: temperate and virulent. Virulent phages, like many other viruses, operate on an invade-replicate-kill programme. They enter the cell, hijack its components, make copies of themselves and burst out.
Temperate phages, on the other hand, play the long game. They fuse their DNA with the cell's and may lay dormant for years until something triggers their activation. Then they revert to virulent behaviour: replicate and burst out.
Many temperate phages use DNA damage as their trigger. It's sort of a "Houston, we have a problem" signal. If the cell's DNA is being damaged, that means the DNA of the resident phage is likely to go next, so the phage wisely decides to jump ship. The genes that direct phages to replicate and burst out are turned off unless DNA damage is detected.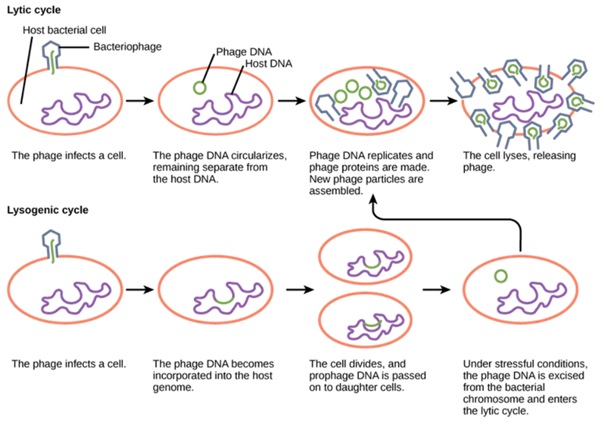 Bacterial cells are also interested in knowing if their DNA is getting busted. If it is, they activate a set of genes that attempt to repair the DNA. This is known as the bacterial SOS response because, if it fails, the cell is toast. Bacteria orchestrate the SOS response using a switch-like protein that responds to DNA damage: It turns on if there is damage and stays off if there isn't.
Who invented the switch, bacteria or viruses?
Previous research and work by other researchers indicates that phages got there first.
In recent report, we discovered that the SOS response of Bacteroidetes, a group of bacteria that comprise up to a half of the bacteria living in your gut, is under control of a phage switch that was retooled to implement the bacteria's own complex genetic programmes.
This suggests that bacterial SOS switches are in fact phage switches that got retooled eons ago.
Beautiful detective work has shown that a bacterial gene needed for cell division also arose through "domestication" of a phage toxin gene.
And many bacterial attack systems, such as toxins and the genetic guns used to inject them into cells, as well as the camouflage they use to evade the immune system, are known or suspected to have phage origins.
Subject – Economy
Context – Impact on India with rising global fuel prices
Concept –
As the global recovery gains strength, the price of crude oil is nearing its highest level since 2018, while the price of natural gas and coal are hitting record highs amid an intensifying energy shortage.
The price of Brent Crude breached the $85 per barrel mark earlier this week reaching its highest level since 2018 on the back of a sharp increase in global demand as the world economy recovers from the pandemic.
Key oil producing countries have kept crude oil supplies on a gradually increasing production schedule despite a sharp increase in global crude oil prices.
In its latest round of meetings, the OPEC+ group of oil producing countries reaffirmed that they would increase total crude oil supply by only 400,000 barrels per day in November despite a sharp increase in prices.
The output of the top oil-producing countries – Saudi Arabia, Russia, Iraq, UAE and Kuwait — would still be about 14 per cent lower than reference levels of production post the increase in November.
OPEC+ had agreed to sharp cuts in supply in 2020 in response to Covid-19 global travel restrictions in 2020 but the organisation has been slow to boost production as demand has recovered.

India and other oil importing nations have called on OPEC+ to boost oil supply faster, arguing that elevated crude oil prices could undermine the recovery of the global economy.

Natural gas deliveries to Asia hit an all-time high of $56.3 per mmbtu (Metric Million British Thermal Unit) for deliveries in November, according to SP Global Platts.

Supply side issues in the US including disruptions caused by hurricane Ida and lower than expected natural gas supplies from Russia amid increasing demand in Europe have raised the prospect of natural gas shortages in the winter.

International coal prices have also reached all-time highs as China faces a coal shortage that has led to factories across China facing power outages.
Impact on India –
High crude oil prices have contributed to the prices of petrol and diesel regularly setting new record highs across the country in 2021.
India has seen a faster recovery in the consumption of petrol than of diesel after pandemic-related restrictions with petrol consumption up 9 per cent in September compared to the year ago period but diesel consumption remaining 6.5 per cent below 2020 levels. Diesel accounts for about 38 per cent of petroleum product consumption in India and is a key fuel used in industry and agriculture.
High international gas prices have led to an upward revision in the price of domestically produced natural gas. The Petroleum Planning and Analysis Cell (PPAC) set the price of natural gas produced by state owned ONGC and Oil India under the nomination regime to $2.9 per mmbtu up from $1.79 per mmbtu in the previous six month period.
The increase in gas prices has put upward pressure on the price of both Compressed Natural Gas (CNG) used as a transport fuel and Piped Natural Gas (PNG) used as a cooking fuel.
High international prices of coal have added to a coal shortage at India's thermal power plants by forcing thermal plants using imported coal that could not pass on the higher price of coal to procurers to stop supplying power. Low coal stocks at a number of coal fired thermal power plants have led to power outages in a number of states including Punjab and Rajasthan and have forced states to buy power at well above normal prices on the power exchange.
8. Investing forex reserves in equities can fetch higher returns
Subject – Economy
Context – Investing forex reserves in equities can fetch higher returns: RBI report
Concept –
Investment of India's rising foreign exchange reserves in equity funds, especially index funds, can fetch higher returns as interest rates which have been on a declining trajectory over the last four decades in advanced economies, have touched their historic lows, a Reserve Bank of India (RBI) report has said.
Investment in equities is considered to be risky, especially for a central bank, which is responsible for safeguarding the reserves. However, investment of a small portion of the reserves in an index fund has the potential to augment the return of the portfolio
This implies that if held for a long to very long period of time, despite volatility in the interim, it can not only preserve the capital but also fetch a return much higher than most of the investments.
On August 22, 2020, RBI Governor Shaktikanta Das said there was a clear disconnect between the sharp surge in markets and the state of real economy, as surplus global liquidity was driving up asset prices worldwide.
Reserve managers usually invest in highly rated sovereigns like G10 countries as they have deep bond markets and meet safety and liquidity criteria of the reserve managers. However, there are some countries which are relatively stable financially, are highly rated and offer better yields than some of the G7 countries, the RBI report said.
9. National Security Strategies Conference
Subject – Security and Defence
Context – Strategy meet discusses Chinese cyberattacks
Concept –
The rising cyberattacks from China on critical installations was discussed at the National Security Strategies Conference chaired by Home Minister Amit Shah.
The conference, an annual event held at the Intelligence Bureau headquarters, was attended by Director General of Police of all States and Directors-General of the Central Armed Police Forces (CAPF).
The participants were told that while the Pakistani cyberattacks focused on stealing identity and personal data, the Chinese hackers were more sophisticated and they settled down in any network, striking at will.
10. PM orders drive to cut red tape
Subject – Governance
Context – PM orders drive to cut red tape
Concept –
Prime Minister Narendra Modi has directed all government departments to have a fresh look at all existing processes and scrap unnecessary paperwork and compliances, as part of a special spring-cleaning exercise this month
To be monitored by the Department of Administrative Reforms and Public Grievances (DARPG) in the Ministry of Personnel, Public Grievances and Pensions, this special campaign to run till the end of October is based on the directions of the PM
Secretaries have now been asked to monitor the progress on resolving pending issues on a daily basis and send a weekly report to the DARPG.
Asking Departments to weed out files of "temporary nature", the Cabinet Secretary has also urged them to review the period for which different records are retained. Files must neither be prematurely destroyed nor kept for periods longer than necessary.
Further, redundant scrap material and obsolete items may be discarded during this campaign to improve cleanliness at work places.
11. New Quadrilateral Economic Forum
Subject – IR
Context – India, Israel, UAE and U.S. launch quad forum
Concept –
India, Israel, the United Arab Emirates and the United States have decided to launch a new quadrilateral economic forum.
The quad builds on ongoing cooperation between the U.S., Israel and the UAE after the Abraham Accords last year, and the India, Israel and UAE cooperation that was launched since.
the grouping had decided to establish an international forum for economic cooperation, and specifically discussed "possibilities for joint infrastructure projects.
four Ministers discussed "expanding economic and political cooperation in the Middle East and Asia, including through trade, combating climate change, energy cooperation, and increasing maritime security," as well as ways to counter the COVID¬19 pandemic.
Business groups in India, the UAE and Israel have also been in talks for trilateral cooperation since diplomatic ties were established, and the International Federation of Indo-Israel Chambers of Commerce (IFIIC) has predicted that the potential for agreements backed by Israeli innovation, UAE funding and Indian manufacturing, given India's close ties and strategic partnership with the two other countries could cross $100 billion by 2030.

In the first such venture, a UAE project for robotic solar panel cleaning technology was signed by Israeli company Ecoppia that has a manufacturing base in India.
Subject – Art and Culture
Context – Bhaskarabda to be added to official calendar of Assam
Concept –
Bhaskarabda, an era counted from the date of the ascension of a seventh century local ruler, will be added to Saka and Gregorian eras in the official calendar of the Assam Government.
Bhaskarabda began when Bhaskaravarman was crowned ruler of the Kamrupa kingdom. He was a contemporary and political ally of northern Indian ruler Harshavardhana.
Unlike Gregorian, where a day starts at midnight, the Assamese calendar begins and ends at sunrise over 24 hours. While the Gregorian goes by the solar cycle, the Saka and Bhaskarabda eras use a lunisolar system based on both the phases of the moon and the solar year.
The gap between Bhaskarabda and Gregorian is 593 years.
The New Year in the Assamese calendar is known as Bohag Bihu.
The Assamese Calendar incorporates the seven-day week as used by many other calendars. The names of the days of the week in the Assamese Calendar are based on the Navagraha
13. INSACOG to track SARS­CoV­2 in sewage
Subject – Science and Tech
Context – INSACOG to track SARSCoV2 in sewage
Concept –
The decline in daily new infections across India has prompted INSACOG, the consortium of labs focused on sequencing coronavirus variants, to "prioritise" new surveillance approaches.
INSACOG (India SARS-CoV-2 Genome Consortium) notes: "In view of currently declining cases and importance of early detection of increased transmission in the future, INSACOG will prioritise developing and expanding a SARS-CoV-2 sewage surveillance program."
The CSIR-Centre for Cellular and Molecular Biology, which is also part of the INSACOG network, has since early 2020 been collecting sewage from large drains in cities to check for the presence of the virus.
Because a large fraction of those afflicted by the virus are asymptomatic but are carriers of infection, their body fluids and stool often contain traces of the virus.
Finding large proportions of it in public drains can often be a precursor to a fresh outbreak, with a rise in symptomatic infections.
Delta (B.1.617.2 and AY.x) continues to be the main VOC (Variant of Concern) in India. No new VOI (Variant of Interest) or VOC are noted in India.
To know about Indian SARS-CoV2 Genomics Sequencing Consortium (INSACOG), please click here.