Daily Prelims Notes 21 August 2021
August 21, 2021

Posted by:

admin1

Category:

DPN

Daily Prelims Notes
21 August 2021
Table Of Contents
Subject – Art and culture
Context – The Prime Minister, in a subtle message, said "destructive and terror forces" may become dominant temporarily but were not permanent, citing the example of Somnath temple, which was razed and plundered several times in the past and resurrected every time with greater glory.
Concept –
Somnath, literally translated as the Lord of Moon (Soma) houses the first of the 12 Jyotirlingas or the symbolic representation of Lord Shiva.
This highly famed pilgrim destination is located at the Viraval Port or PrabhasPattan in Saurashtra, Gujarat.
It is also known as the Deo Patan.
The temple's positioning is quite unique. The temple is positioned in such a way that not a single piece of land is visible from the Somnath seashore until Antarctica.
Troubled History:
In AD 1026, Mahmud of Ghazni first looted the temple, and then came Afzal Khan, the commander of Ala-ud-din Khilji and later Aurangzeb.
It is said that the temple was looted and destroyed as many as seventeen times.
The Iron man of India, Sardar Vallabhbhai Patel was instrumental in the construction of the present temple. Renowned temple architect Prabhaschandar designed it and the first President of India Dr. Rajendra Prasad installed the Jyotirling in the new temple on May 11, 1951.
Architectural style:
The present temple is built in the Chaulukya style of temple architecture or "Kailash Mahameru Prasad" style and reflects the skill of the Sompura Salats, one of Gujarat's master masons.
2. Indian SARS-CoV2 Genomics Sequencing Consortium (INSACOG)
Subject – Science and Tech
Context – Delta variant driving infections in India: report
Concept –
It is a repository of labs tasked with monitoring the coronavirus variants.
This is a network of 28 national laboratories — jointly set up by the Health Ministry, the Department of Biotechnology (DBT), the Council of Scientific and Industrial Research (CSIR) and the Indian Council of Medical Research — has been sequencing samples collected from all over the country since the emergence of alpha variant (B.1.1.7) in the UK.
INSACOG is a multi-laboratory, multi-agency, Pan-India network to monitor genomic variations in the SARS-CoV-2 by a sentinel sequencing effort
Subject – Science and Tech
Context – Zycov­D, first vaccine for those above 12, gets nod. It is also the only DNA based vaccine in the world and can be administered without a needle, purportedly minimising chances of reactions.
Concept –
Viral vector-based vaccines differ from most conventional vaccines in that they don't actually contain antigens, but rather use the body's own cells to produce them. They do this by using a modified virus (the vector) to deliver genetic code for antigen, in the case of COVID-19 spike proteins found on the surface of the virus, into human cells.
By infecting cells and instructing them to make large amounts of antigen, which then trigger an immune response, the vaccine mimics what happens during natural infection with certain pathogens – especially viruses.
A DNA or RNA vaccine has the same goal as traditional vaccines, but they work slightly differently. Instead of injecting a weakened form of a virus or bacteria into the body, DNA and RNA vaccines use part of the virus' own genes to stimulate an immune response. In other words, they carry the genetic instructions for the host's cells to make antigens.
This has the advantage of triggering a strong cellular immune response by T cells as well the production of antibodies by B cells.
The Difference Between DNA and RNA Vaccines
DNA and RNA vaccines work the same way as each other, but have some differences. With a DNA vaccine, the virus' genetic information "is transmitted to another molecule that is called the messenger RNA (mRNA),".
This means with an RNA or mRNA vaccine, you're one step ahead of a DNA vaccine. 
The mRNA goes into the cell, and the cell translates it into proteins, which are the ones that the organism sees and induces the immune response.
Another difference between a DNA and RNA vaccine is that a DNA vaccine delivers the message via a small electrical pulse, which "literally pushes the message into the cell."
DNA Vaccine – "The advantage is that this vaccine is very stable at higher temperatures. The disadvantage is that it requires a special device that provides the electrical pulse."
Advantages of DNA Vaccine
The immune response focused on the antigen of interest
Cost-effective
Less risk for infection
Antigen presentation by MHC class I and class II molecules
Long-term persistence of immunogen
Limitations of DNA Vaccine
Risk of affecting genes controlling cell growth
Possibility of tolerance to the antigen
Potential for atypical processing of bacterial and parasite proteins
Limited to protein immunogens
Subject – Environment
Concept –
Located in Kodagu district and Mysore district in Karnataka, India.
It is also known as 'Rajiv Gandhi National Park.
It was established as a wildlife sanctuary in 1955 and was upgraded into a national park in 1988. It was declared as the 37th Tiger reserve under Project Tiger in 1999.
The Park lies in the Western Ghats and is a part of the Nilgiri Biosphere Reserve.
The Nagarahole River flows through the park, which joins the Kabini River which also is a boundary between Nagarahole and Bandipur National Park.
Flora:The vegetation consists mainly of moist deciduous forests with predominating trees of teak and rosewood.
Fauna: Asian elephants, chital (spotted deer), Indian mouse deer, gaur, stripe-necked and ruddy mongooses, grey langur, bonnet macaque, Asian wild dog, leopard, tiger, sloth bear among others.
5. Generalised System of Preferences
Subject – IR
Context – U.S.is no longer interested in securing a bilateral free trade agreement (FTA) with India.
Concept –
It was instituted in 1971 under the aegis of United Nations Conference on Trade and Development (UNCTAD).
It is aimed at creating an enabling trading environment for developing countries.
The countries which grant GSP preferences are Australia, Belarus, Canada, the European Union, Iceland, Japan, Kazakhstan, New Zealand, Norway, the Russian Federation, Switzerland, Turkey and the United States of America (13 countries).
The provision and utilization of trade preferences is a key goal of the Istanbul Program of Actions adopted at the UN LDC IV in 2013, as further reaffirmed in SDGs Goal 17.
The objective of UNCTAD's support on GSP and other preferential arrangements is to help developing countries to increase utilization of GSP and other trade preferences.
US Generalised System of Preferences –
The US has announced that it will terminate India's designation as a beneficiary of its Generalized System of Preferences (GSP) from June 5, 2019.
GSP is the largest and oldest U.S. trade preference program. Established by the Trade Act of 1974, GSP promotes economic development by eliminating duties on thousands of products when imported from one of 120 designated beneficiary countries and territories.
Impact of GSP Withdrawal
India has been the biggest beneficiary of the GSP regime.
The sectors which could face the impact of withdrawal of GSP regime are gem and jewellery, leather and processed foods.
However, India has said that the impact is "minimal", given that Indian exporters were only receiving duty-free benefits of $190 million on the country's overall GSP-related trade of $5.6 billion.
This could impact India's competitiveness in items groups such as raw materials in the organic chemicals sector and intermediary goods in the US market, alongside items such as iron or steel, furniture, aluminum and electrical machinery.
The impact on small industries in the country could be significant. Such industries would lose their market share in the U.S. without fiscal support to help them maintain their edge.
Why GSP was Revoked?
Due to a series of decisions taken by the Indian government has led to trade friction between two countries:

India's new e-commerce rules — which have impacted American companies like Amazon and Walmart (majority owner of Flipkart).
Price controls on medical devices (cardiac stents).
Tariffs on products like smart watches and high-end mobile phones.
Lack of greater market access for the U.S. dairy industry.
6. Quota Benefit in Reorganized States
Subject – Polity
Context – Quota benefit can't be availed simultaneously in 2 States: SC
Concept –
The Supreme Court has ruled that a person belonging to a reserved category is entitled to claim the benefit of reservation in either of the successor States of Bihar or Jharkhand, but cannot claim benefit of the quota simultaneously in both the successor States upon their reorganization in November, 2000.
The top court also held that members of the reserved category, who are residents of the successor State of Bihar, while participating in open selection in Jharkhand, shall be treated to be migrants, and they can participate in the general category without claiming the benefit of reservation and vice versa.
Subject – Polity
Context – HC pulls up U.P. govt. over hospital's condition. A patient has been missing since May.
Concept –
It is a Latin term which literally means 'to have the body of'. Under this the court issues an order to a person who has detained another person, to produce the body of the latter before it. The court then examines the cause and legality of detention.
This writ is a bulwark of individual liberty against arbitrary detention.
The writ of habeas corpus can be issued against both public authorities as well as private individuals.
The writ, on the other hand, is not issued where the:

detention is lawful,
the proceeding is for contempt of a legislature or a court,
detention is by a competent court, and
detention is outside the jurisdiction of the court.
8. Biju Swasthya Kalyan Yojana (BKSY)
Subject – Governance
Context – Odisha Chief Minister Naveen Patnaik launched the distribution of a smart health card, which will help families get treatment up to ₹5 lakh per annum.
Concept –
About 3.5 crore poor people will benefit from the State­ funded health debit card system.
Women members of the family can get treatment up to ₹10 lakh in a year.
With this card, people can avail themselves of quality healthcare service in about 200 hospital chains in the country, including Odisha. 
Subject – Economy
Context – Jeweller's plan protest against hallmarking.
Concept –
The Bureau of Indian Standard (BIS), which operates the gold and silver hallmarking scheme in India, defines hallmarking as the "accurate determination and official recording of the proportionate content of precious metal in precious metal articles."
So, it is a "guarantee of purity or fineness" of precious metal articles, which started in 2000.
In India, at present two precious metals namely gold and silver have been brought under the purview of Hallmarking.
The BIS certified jewellers can get their jewellery hallmarked from any of the BIS recognized Assaying and Hallmarking Centres (A&HC).
Earlier, it was optional for the jewellers and thus only 40% of gold jewellery was getting hallmarked.
Recently, the Ministry of Consumer Affairs, Food & Public Distribution made it mandatory for the hallmarking of gold jewellery, which will be implemented in a phased manner.
Subject – Environment
Context – GSI lists geo-­tourism sites in NE to visit after 'unlock'.
Concept –
Geological Survey of India (GSI) declares geo-heritage sites/ national geological monuments for protection and maintenance.
The term geological heritage is used for natural geological or geo-morphological features that have aesthetic, intrinsic or scientific and educational value, that provide unique insight into geological processes affecting the formation or evolution of Earth.
While there are 147 UNESCO Global geoparks spread across 41 countries, India is yet to have one of its own.
32 approved geo­-tourism or geo­-heritage sites in India –
11. Three-Child policy in China
Subject – IR
Context – China formally passes three-child policy into law
Concept –
China's legislature has formally amended the country's family planning rules to allow couples to have three children.
The amended law calls on the authorities to take supportive measures, including those in finances, taxes, insurance, education, housing and employment, to reduce families' burdens as well as the cost of raising and educating children.
China's regulators in recent weeks have taken drastic measures to reduce education costs– cited in many surveys as a main reason why many couples prefer to have only one child – including by improving the booming private education industry, which may be ordered to go non-profit according to reports.
The changes come in the wake of China's once-in-ten year population census that recorded rapidly declining birth rates over the past decade.
In 2016 also a "two-child policy" was introduced that largely failed to boost birth rates.
Subject – Economy
Context – MPC's Varma flags risks of policy stance.
Concept –
The Monetary Policy Committee is a statutory and institutionalized framework under the Reserve Bank of India Act, 1934, for maintaining price stability, while keeping in mind the objective of growth.
The Governor of RBI is ex-officio Chairman of the committee.
The committee comprises six members (including the Chairman) – three officials of the RBI and three external members nominated by the Government of India.

The government nominees to the MPC will be selected by a Search-cum-Selection Committee under Cabinet Secretary with RBI Governor and Economic Affairs Secretary and three experts in the field of economics or banking or finance or monetary policy as its members.
Members of the MPC will be appointed for a period of four years and shall not be eligible for reappointment.

Decisions are taken by majority with the Governor having the casting vote in case of a tie.
The MPC determines the policy interest rate (repo rate) required to achieve the inflation target (4%).
An RBI-appointed committee led by the then deputy governor Urjit Patel in 2014 recommended the establishment of the Monetary Policy Committee.
Accommodative Stance:
The Monetary Policy Committee (MPC)of the RBI also decided to continue with the accommodative stance as long as necessary to revive growth on a durable basis and mitigate the impact of Covid-19 on the economy, while ensuring that inflation remains within the target going forward.
These decisions are in consonance with the objective of achieving the medium-term target for Consumer Price Index (CPI)inflation of 4% within a band of +/- 2 %, while supporting growth.
Accommodative monetary policy, also known as loose credit or easy monetary policy, occurs when a central bank attempts to expand the overall money supply to boost the economy when growth is slowing (as measured by GDP).

The policy is implemented to allow the money supply to rise in line with national income and the demand for money.
13. Foreign Exchange Management (Non-debt Instruments) (Second Amendment) Rules 2021
Subject – Economy
Context – RBI, IRDAI nod must for FDI in bank­led insurance.
Concept –
Applications for foreign direct investment in an insurance company promoted
by a private bank would be cleared by the RBI and IRDAI to ensure that the 74% limit of overseas investmentis not breached.
The changes took effect following amendments to the Foreign Exchange Management (Non­debt Instruments) Rules, 2019, as per the gazette notification issued by the Finance Ministry.
In March, Parliament passed a bill to raise the foreign direct investment (FDI) limit in the insurance sector from 49% to 74%.
Subject – Polity
Context – The Chairman of the Rajya Sabha is reportedly contemplating action against MPs who, he thinks, were involved in the fracas in the House.
Concept –
House rules vest in the chairman all the powers necessary to conduct proceedings smoothly.
The rules also provide for the suspension of MPs who "disregard the authority of the Chair or abuse the rules of the Council by persistently and wilfully obstructing the business of the House".
However, the power to suspend a member is vested in the House, not in the chairman.
The chairman names such a member whereupon a motion is moved by the Parliamentary Affairs Minister, or any other minister seeking the suspension of the member.
Under the rule, the maximum period of suspension is for the remainder of the session.
A suspended member cannot enter the chamber or attend any meetings of the committees. He also cannot give any notice for discussion or submission. By convention, a suspended member loses his right to get replies to his questions. Thus, suspension from the service of the House is regarded as a serious punishment.
But surprisingly, the rules do not spell out the disabilities of a suspended member. These are imposed on them as per conventions or precedent.
Suspension is the only serious punishment provided for in the rules.
Rule 256 of the Rajya Sabha's Rules of Procedure specifies the acts of misconduct:

Disregarding the authority of the chair,
abusing the rules of the council by persistently and
wilfully obstructing the business thereof.

A member can be punished for any of these acts and, usually, the punishment is immediate. Punishing members long after the occurrence of misconduct is very rare.
For the acts of misconduct by the MPs outside the House, which constitute a breach of privilege or contempt of the House, usually the privilege committee investigates the matter and recommends the course of action and the House acts on it.
A special committee is appointed usually when the misconduct is so serious that the House may consider expelling the member. Such occasions have been few and far between.
The first case of expulsion occurred in 1951 when a special committee was appointed to investigate the conduct of H G Mudgal, an MP who accepted financial benefits from business houses to canvass support for them in the government and Parliament.
So, special ad-hoc committees are appointed only to investigate serious misconduct by MPs outside the House. No special committee is required to go into what happens before the eyes of the presiding officer inside the House. As per the rules of the House, they need to be dealt with then and there.
The rules do not recognise any punishment other than suspension for a specific period.
Article 20 of the Constitution prohibits a greater penalty than what the law provided at the time of committing the offence. It is a sobering thought that the rules of the House do not empower Parliament to inflict any punishment on its members other than suspension for creating disorder in the House.
Subject – Environment
Context – Hydrogen steel-making can cut CO2 emissions: TERI study
Concept –
The Energy and Resources Institute (TERI), in a new study, suggests measures to decouple the growth of the iron and steel sector from rising carbon emissions using green hydrogen.
Hydrogen steel-making has the potential to drastically reduce CO2 emissions from primary steel-making in India, making it one of the first major economies to industrialise without the need to 'carbonise'.
Currently steel production based on hydrogen is more expensive than conventional steel-making routes.
Hydrogen gas –
Hydrogen is a colourless, odourless gas abundant in the Earth's atmosphere and is utilised for industrial uses such as petroleum refining, aerospace applications and manufacturing of chemicals, steel, and ammonia fertilisers.
Hydrogen is the lightest and first element on the periodic table. Since the weight of hydrogen is less than air, it rises in the atmosphere and is therefore rarely found in its pure form, H2.
At standard temperature and pressure, hydrogen is a nontoxic, nonmetallic, odorless, tasteless, colorless, and highly combustible diatomic gas.
Hydrogen fuel is a zero-emission fuel burned with oxygen.
Molecular hydrogen is not available on Earth in convenient natural reservoirs. Most hydrogen on Earth is bonded to oxygen in water and to carbon in live or dead and/or fossilized biomass. It can be created by splitting water into hydrogen and oxygen.
For industrial processes, hydrogen is extracted primarily through two methods, the gasification of coal or through a process called steam methane reformation (SMR).
In SME, methane from natural gas, when heated with steam, produces carbon monoxide and hydrogen that can be used as fuel.
However, these methods aren't carbon-friendly, which means they cause vast emissions of greenhouse gasses like carbon dioxide. The hydrogen produced from these methods is called 'brown' hydrogen.
Another form of hydrogen, known as 'blue hydrogen' is also extracted similarly through SMR but is more carbon-friendly because it captures the carbon dioxide released and stores it, as opposed to emitting it into the atmosphere.
According to WEC, as of 2019, "96 per cent of hydrogen is produced from fossil fuels via carbon intensive processes". Hydrogen thus obtained is called 'grey' hydrogen as the process, though not as expensive as the other methods, releases a lot of carbon dioxide.
Hydrogen can be stored physically as either a gas or a liquid.

Storage of hydrogen as a gas typically requires high-pressure tanks.
Storage of hydrogen as a liquid requires cryogenic temperatures because the boiling point of hydrogen at one atmosphere pressure is −252.8°C.
Hydrogen can also be stored on the surfaces of solids (by adsorption) or within solids (by absorption).

Hydrogen is not a source of energy, like fossil fuels or renewable sources like sunlight and air, but an energy carrier, which means it has to be produced, or extracted, and stored before it can be used.
Green Hydrogen –
Green hydrogen is produced by splitting water into hydrogen and oxygen using an electrolyzer powered by electricity from renewable energy sources such as wind and solar.
Earlier this year, the Indian Oil Corporation Limited announced it would set up the country's first green hydrogen plant. Reliance Energy followed, saying it would invest Rs 600 billion in building factories to produce green hydrogen among other carbon friendly technologies.
Subject – Art and Culture
Context – MoU for facelift of Narayankoti temple under Centre's Adopt a Heritage project.
Concept –
The temple is a group of ancient temples, about 2 km from Guptkashi on the Rudraprayag-Gaurikund highway.
This is the only place in the country which has nine planetary temples in a group that are a "symbol of nine planets".
It is devoted to Lakshmi Narayana who is associated with Pandavas.
It is believed that these temples were constructed in the 9th century.
The mention of this temple group is also found in Kedarkhand.
From time to time, due to the impact of disasters and lack of care, now there are only 29 temples, whereas in the past there were 360 temples in groups.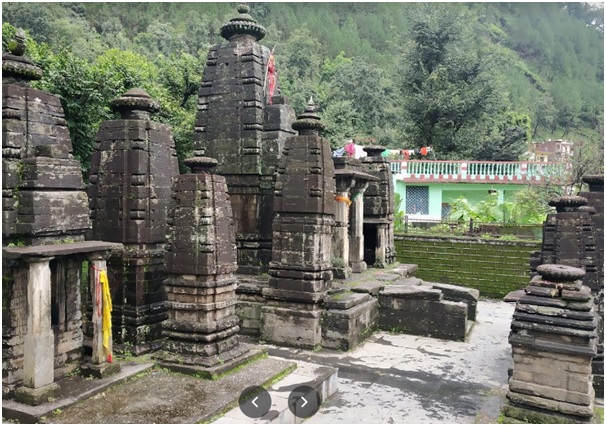 Adopt a Heritage project –
Launched on 27th September, 2017 (World Tourism Day), it is a collaborative effort by the Ministry of Tourism, Ministry of Culture and Archaeological Survey of India (ASI), State/UTs Governments.
Aim -To develop tourism amenities at heritage/ natural/ tourist sites spread across India to make them tourist friendly, in a planned and phased manner.
Implementation:

The sites/monuments are selected on the basis of tourist footfall and visibility and can be adopted by private and public sector companies and individuals — known as Monument Mitras — for an initial period of five years.
The Monument Mitras are selected by the 'oversight and vision committee,' co-chaired by the Tourism Secretary and the Culture Secretary, on the basis of the bidder's 'vision' for development of all amenities at the heritage site.

There is no financial bid involved.

The corporate sector is expected to use Corporate Social Responsibility (CSR) funds for the upkeep of the site.
17. Central Consumer Protection Authority (CCPA)
Subject – Governance
Context – CCPA cracks down on firms with misleading Covid ads.
Concept –
The Consumer Protection Act, 2019 establishes the Central Consumer Protection Authority (CCPA) whose primary objective will be to promote, protect and enforce the rights of consumers.
It will be empowered to conduct investigations into violation of consumer rights and institute complaints / prosecution, order recall of unsafe goods and services, order discontinuation of unfair trade practices and misleading advertisements, impose penalties on manufacturers/endorsers/publishers of misleading advertisements.
It will be headquartered in the National Capital Region of Delhibut the central government may set up regional offices in other parts of the country.
The Act defines "misleading advertisement" in relation to any product or service, as "an advertisement, which—

(i) falsely describes such product or service; or
(ii) gives a false guarantee to, or is likely to mislead the consumers as to the nature, substance, quantity or quality of such product or service; or
(iii) conveys an express or implied representation which, if made by the manufacturer or seller or service provider thereof, would constitute an unfair trade practice; or
(iv) deliberately conceals important information".

Composition:

It will have a Chief Commissioner as head, and only two other commissioners as members — one of whom will deal with matters relating to goods while the other will look into cases relating to services.
The CCPA will have an Investigation Wing that will be headed by a Director General.
District Collectors too, will have the power to investigate complaints of violations of consumer rights, unfair trade practices, and false or misleading advertisements.

Ministry of Consumer Affairs, Food and Public Distribution is yet to issue guidelines on misleading advertisements.
Subject – Geography
Context – 'Redraw coastline to cope with rise in sea level'.
Concept –
India has a coastline of 6 Km [6100 km of mainland coastline + coastline of 1197 Indian islands]touching 13 States and Union Territories (UTs).
The straight and regular coastline of India is the result of faulting of the Gondwanaland during the Cretaceous period (Continental Drift)
As such the coast of India does not offer many sites for good natural harbours.

[Indented coastlines of Europe provide good natural harbours whereas African and Indian coastlines are not indented].

The Bay of Bengal and the Arabian Sea came into being during the Cretaceous or early Tertiary period after the disintegration of Gondwanaland.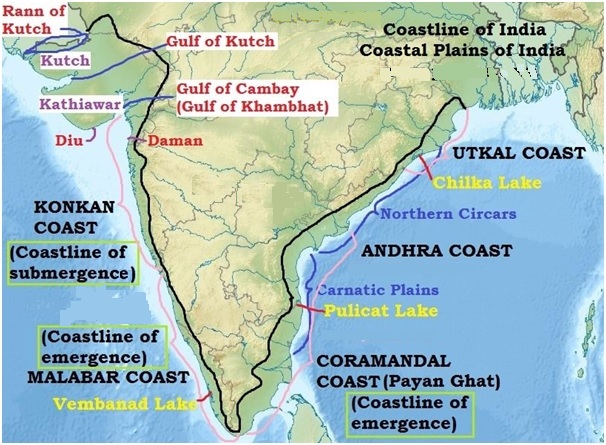 19. Land degradation and Desertification
Subject – Environment
Context – Despite PM Modi's assurance, land degradation, desertification increasing
Concept –
Land degradation is caused by multiple forces, including extreme weather conditions, particularly drought. It is also caused by human activities that pollute or degrade the quality of soils and land utility.
Desertification is a consequence of severe land degradation and is defined as a process that creates arid, semi-arid and dry sub-humid areas.

It accelerates climate change and biodiversity loss, and contributes to droughts, wildfires, involuntary migration and the emergence of zoonotic infectious diseases.
Status of Desertification in India
96 million hectares or close to 29.7% of India's area is undergoing degradation.
According to the Government's data recently presented to the United Nations Convention to Combat Desertification (UNCCD), India lost 31%, or 5.65 million hectares (mha), of grassland area in a decade.
Some 97.85 million hectares (mha) of India's total geographical area (TGA) of 328.72 mha underwent land degradation during 2018-19, according to the Desertification and Land Degradation Atlas of India.
More than 80% of the country's degraded land lies in just nine states.
Global Efforts to Check Land Degradation:
United Nations Convention to Combat Desertification (UNCCD):It was established in 1994, the sole legally binding international agreement linking environment and development to sustainable land management.

The Delhi Declaration of 2019, signed by 14thCoP of the UNCCD, called for better access and stewardship over land, and emphasised gender-sensitive transformative projects.

The Bonn Challenge: To bring 150 million hectares of the world's deforested and degraded land into restoration by 2020, and 350 million hectares by 2030.
Great Green Wall: Initiative by Global Environment Facility (GEF), where eleven countries in Sahel-Saharan Africa have focused efforts to fight against land degradation and revive native plant life to the landscape.
Subject – Environment
Context – On Saturday last week, for the first time on record, the summit of Greenland received rain and not snow, just as temperatures at the spot went above freezing for the third time in less than ten years. The event has sparked fear as scientists are pointing to it as evidence that Greenland is warming rapidly.
Concept –
As per the US National Snow and Ice Data Center, this was the heaviest rainfall that the ice sheet received since record keeping began in 1950, with Sunday witnessing a rate of ice melting that was seven times more than the daily average that is observed at this time of the year.
Greenland, which is the world's largest island located between the Arctic and Atlantic oceans, has three-quarters of its surface covered with a permanent ice sheet, which is increasingly coming under threat because of climate change.
At the highest point on Greenland's ice sheet, America's National Science Foundation maintains a Summit Station, a research facility that observes changes occurring over the island as well as in Arctic weather.
The rain, coupled with warm conditions, caused a major melting event at the summit, adding to concerns of rapid ice melting running off into the ocean in volumes, thus accelerating global sea level rise.
Greenland, which is two-thirds the size of India, already witnessed one of its most severe melting events of the past decade last month, when it lost 8.5 billion tons of surface mass in one day– the third such extreme event in the past decade.
The UN's "code red" climate report released last week concluded that the burning of fossil fuels led to Greenland melting in the last 20 years.
The rapid melting is also threatening polar bears, which now have to make their way hundreds of kilometres towards Greenland's interior from the coasts, where they usually find enough food.
Subject – IR
Context – drugs funded the Taliban's 20-year war with the US.
Concept –
The Golden Crescent is the name given to one of Asia's two principal areas of illicit opium production (with the other being the Golden Triangle), located at the crossroads of Central, South, and Western Asia. This space overlaps three nations, Afghanistan, Iran, and Pakistan, whose mountainous peripheries define the crescent.
Subject – Art and Culture
Context: The Prime Minister, Shri Narendra Modi has greeted the people on the occasion of Onam.
Concept:
Onam is a harvesting festival observed by the  Malayalis during the month of Chingam, the first month in the Malayalam calendar, Kollavarsham. It usually falls in the month of August and September every year.
According to legends, the festival is celebrated to commemorate King Mahabali, whose spirit is said to visit Keralaat the time of Onam
Onam celebrations include Vallam Kali (boat races), Pulikali (tiger dances), Pookkalam (flower Rangoli), Onathappan (worship), Onam Kali, Tug of War, ThumbiThullal (women's dance), Kummattikali (mask dance), Onathallu (martial arts), Onavillu (music), Kazhchakkula (plantain offerings), Onapottan (costumes), Atthachamayam (folk songs and dance), and other celebrations
Several traditional rituals are performed and celebrated by a lavish feast called 'Sadhya'.
Women perform folk dances which is also a major attraction of the festival. Kaikottikali is a clap dance performed by women. While dancing they praise King Mahabali. They also dance in a circle and it is known as ThumbiThullai.