Daily Prelims Notes 22 August 2021
August 22, 2021

Posted by:

admin1

Category:

DPN

Daily Prelims Notes
22 August 2021
Table Of Contents
1. Krishna River Water Dispute
Subject – Polity
Context – Chief Minister Basavaraj Bommai will be soon travelling to New Delhi to discuss the legal hurdles in raising the height of the Almatti dam to 524 metres from 519 metres.
Concept –
The Krishna is an east-flowing river that originates at Mahabaleshwar in Maharashtra and merges with the Bay of Bengal, flowing through Maharashtra, Karnataka, Telangana and AP.
Together with its tributaries, it forms a vast basin that covers 33% of the total area of the four states.
A dispute over the sharing of Krishna waters has been ongoing for many decades, beginning with the erstwhile Hyderabad and Mysore states, and later continuing between successors.
Inter-State River Water Disputes:
Article 262of the Constitution provides for the adjudication of inter-state water disputes.

Under this, Parliament may by law provide for the adjudication of any dispute or complaint with respect to the use, distribution and control of waters of any inter-state river and river valley.
Parliament may also provide that neither the Supreme Court nor any other court is to exercise jurisdiction in respect of any such dispute or complaint.

The Parliament has enacted the two laws, the River Boards Act (1956) and the Inter-State Water Disputes Act (1956).
The River Boards Act provides for the establishment of river boards by the Central government for the regulation and development of inter-state river and river valleys. A River Board is established on the request of state governments concerned to advise them.
The Inter-State Water Disputes Act empowers the Central government to set up an ad hoc tribunal for the adjudication of a dispute between two or more states in relation to the waters of an inter-state river or river valley.

The decision of the tribunal is final and binding on the parties to the dispute.
Neither the Supreme Court nor any other court is to have jurisdiction in respect of any water dispute which may be referred to such a tribunal under this Act.
Krishna River –
The Krishna River is the second biggest river in peninsular India after the Godavari River.
It originates near Mahabaleshwar (Satara) in Maharashtra.
It runs from four states Maharashtra (303 km), North Karnataka (480 km) and the rest of its 1300 km journey in Telangana and Andhra Pradesh before it empties into the Bay of Bengal.
Tributaries: Tungabhadra, Mallaprabha, Koyna, Bhima, Ghataprabha, Yerla, Warna, Dindi, Musi and Dudhganga.
Pattiseema Lift Irrigation project is the first river-linking project in India, connecting Godavari with Krishna through the Polavaram right canal. It will divert surplus Godavari water to Krishna river.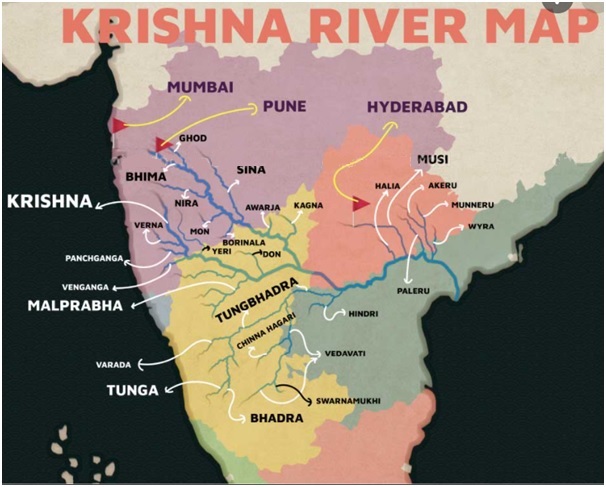 Almatti Dam –
The Lal Bahadur Shastri Damis also known as Almatti Dam is a hydroelectric project on the Krishna Riverin North Karnataka.
The backwaters of the dam host several migratory birds during summer.
Subject – Art and Culture
Context –Vice-­President M. Venkaiah Naidu visited Hampi.
Concept –
It is a UNESCO world heritage site.
It was a part of the Mauryan Empire back in the third century BC. 
Hampi was the capital city during the four different dynasties altogether in the Vijayanagar city that came into existence in the year 1336 AD.
The Vijayanagara Empire reached unfathomable heights under the guidance of King Krishnadeva Raya of the Tuluva Dynasty. 
'KishkindhaKaand' in Ramayana has special significance concerning Hampi.
It is located near the Tungabhadra river.
By 1500 CE, Hampi-Vijayanagara was the world's second-largest medieval-era city after Beijing, and probably India's richest at that time, attracting traders from Persia and Portugal.
It has been described by UNESCO as an "austere, grandiose site" of more than 1,600 surviving remains of the last great Hindu kingdom in South India.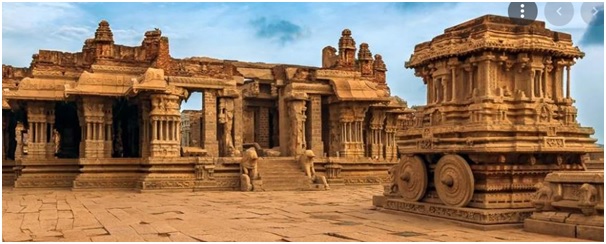 Group of Monuments at Hampi –
The Vitthala temple in Hampi is an excellent example of Vijayanagar style.
The monolithic statues of Lakshmi, Narasimha and Ganesha are noted for their massiveness and grace.
The Krishna temple, Pattabhirama temple, Hazara Ramachandra and Chandrasekhara temple as also the Jain temples, are other examples.
Zenana enclosure wherein a massive stone basement of the Queen's palace and ornate pavilion called 'Lotus-Mahal' are the only remnants of a luxurious 'Antahpura'.
The corner towers of arresting elevation, the Dhananayaka's enclosure (treasury), the Mahanavami Dibba carrying beautifully sculptured panels, a variety of ponds and tanks, Mandapas, the elephant's stables and the row of pillared Mandapas are some of the important architectural remains of Hampi.
Subject – Economy
Context – Finance minister Nirmala Sitharaman launched Rs 250 crore worth Alternative Investment Fund for export-oriented small and mid-sized companies.
Concept –
UbharteSitaare fund has been set up jointly by Exim Bank and SIDBI which will invest in the fund by way of equity and equity-like products in export-oriented units, in both manufacturing and services sectors.
The fund will also have a greenshoe option of Rs 250 crore.

A greenshoe or an 'over-allotment option' is a provision in an IPO underwriting agreement that provides the underwriter with the right to sell more shares than originally planned.
It enables the investment bank representing the underwriters to support the share price after the offering without putting their own capital at risk.

Ubharte Sitaare Programme (USP) identifies Indian companies that have the potential to be future champions in the domestic arena while meeting global demands and standards.
The aim is to identify such companies that are underperforming but have potential advantages in terms of technology, processes or products, and export potential.
Alternate Investment Fund will offer a mix of both financial and advisory services and structured support through investments in equity or equity-like instruments.
Also assist with debt (funded and non-funded) and technical assistance including advisory services, grants and soft loans to the Indian companies.
The main purpose is to encourage MSMEs as they are vital to the economy in terms of creating jobs, doing innovations and taking risks.
Subject – Polity
Context – War of words over Opposition's silence on Article 370.
Concept –
On 5thof August 2019, the President of India promulgated the Constitution (Application to Jammu and Kashmir) Order, 2019. 
The order effectively abrogates the special status accorded to Jammu and Kashmir under the provision of Article 370– whereby provisions of the Constitution which were applicable to other states were not applicable to Jammu and Kashmir (J&K).
According to the Order, provisions of the Indian Constitution are now applicable in the State.
This Order comes into force "at once", and shall "supersede the Constitution (Application to Jammu and Kashmir) Order, 1954."
A separate Bill – the Jammu and Kashmir Reorganisation Bill 2019– was introduced to bifurcate the State into two separate union territories of Jammu and Kashmir (with legislature), and Ladakh (without legislature).
Jammu and Kashmir Reservation (Second Amendment) Bill, 2019was also introduced to extend the reservation for Economically Weaker Sections (EWS) in educational institutions and government jobs in Jammu and Kashmir.
Subject – Art and Culture
Context – Kashmir's famed hand­-knotted carpet, with its intricate and colourful floral patterns, adorned a special cover of the Indian Postal Service this week.
Concept –
A Kashmir rug is a hand-knotted oriental rug from Kashmir valley in India, which is associated with Kashmiri handicrafts.
Kashmir rugs or carpets have intricate designs that are primarily oriental, floral style in a range of colors, sizes and quality.
They are primarily made using pure wool, pure silk and occasionally wool and silk blends.
Kashmir rugs are renowned to have bright, jewel-like color tones such as sapphire blue, ruby red, emerald green, aquamarine, amethyst, and ivory.
The Kashmir carpet faces tough competition internationally from the products of countries such as China, Turkey and Belgium, and internally from carpets manufactured in Jaipur, Agra, Bhadohi and Amritsar.
Around 80,000 people are associated with carpet manufacturing in Kashmir, which saw a major jump in both manufacturing and exports post­1990, with the production going up from ₹84.55 crore in 1990-­91 to ₹821.5 crore in 2016­-17.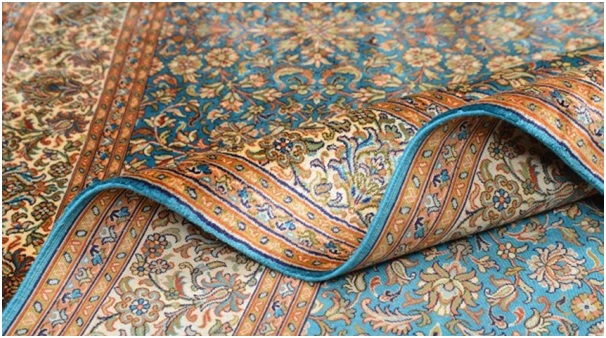 Subject – Art and Culture
Concept –
Madurkathi mats, or madur, are mats woven in West Bengal from a reed called madurkottir, or madurkathi, a sedge of the family Cyperaceae.
Madur mat-making is a long-standing tradition, centred on the Medinipur district, and is an important part of the rural economy.
Madur mats are made of natural fibres.
The mats are woven mainly by weavers of the Mahishya caste, and predominantly by women.
This cottage industry contributes significantly to village household income.
The mats are non-conductive and sweat-absorbing, making them an essential household item in West Bengal's hot and humid climate. These mats are also used for religious purposes.
On March 28, 2018, Indian Patent Office granted the Government of West Bengal a Geographical Indication (GI) Tag for madurkathi, under registration no. 567 in respect of handicrafts.
'Masland' a fine quality madur mat, which takes weeks to weave.
During the 18th century, Masland mats flourished under royal patronage. In 1744, Nawab Alibardi Khanissued a charter to land­owning jagirdars in this regard, and as a result, it was obligatory to supply Masland mats for use in the Collectorate.
The design and the quality of material used determine the price of the madur.
Subject – Environment
Context – Sri Lanka elephants to get biometric ID cards.
Concept –
There are three subspecies of Asian elephant which are the Indian, Sumatran and Sri Lankan.
Global Population: Estimated 20,000 to 40,000.
India is the natural home of the largest population of Asian elephants. It is also found in Nepal, Bangladesh, Bhutan and Myanmar.
There are around 28,000 elephants in India with around 25% of them in Karnataka.
IUCN Red List Status:
Wildlife (Protection) Act, 1972: Schedule I.
Subject – Geography
Context – Hurricane threatens U.S. East Coast.
Concept –
A swath of the U.S. East Coast, including New York City, was under alert on Saturday, as storm Henri was upgraded to what could be the first hurricane in 30 years to hit New England.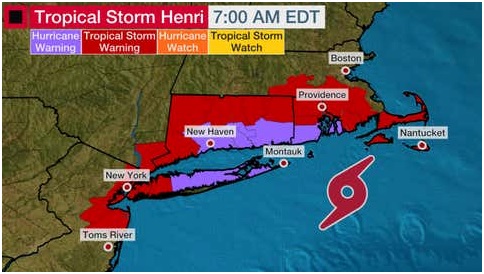 For more information on cyclones, please refer to Tropical Cyclones.
Subject – Science and Tech
Context – When people move, changing the demography of the 'herd,' or when new variants emerge, this can lead to loss of herd immunity.
Concept –
Herd immunity is when a large number of people are vaccinated against a disease, lowering the chances of others being infected by it.
When a sufficient percentage of a population is vaccinated, it slows the spread of disease.
It is also referred to as community immunity or herd protection.
Herd immunity depends on the contagiousness of the disease. Diseases that spread easily, such as measles, require a higher number of immune individuals in a community to reach herd immunity.
Herd immunity protects the most vulnerable members of our population. If enough people are vaccinated against dangerous diseases, those who are susceptible and cannot get vaccinated are protected because the germ will not be able to "find" those susceptible individuals.
Subject – Environment
Concept –
Turmeric (Curcuma longa): It is a perennial herbaceous plant of the ginger family. The plant's underground stems or rhizomes have been used as a spice, dye, medicine, and religious maker since antiquity.
Significance: The spice's color comes mainly from curcumin, a bright yellow phenolic compound that has been in the news for its ostensible potential to fight cancer. As a result, the demand for turmeric with high curcumin content has risen.
Climate: It requires temperatures between 20 and 30 °C (68 and 86 °F) and a considerable amount of annual rainfall to thrive.
Largest Producer: India is the largest producer and exporter of turmeric in the world. Turmeric occupies about 6% of the total area under spices and condiments in India.
Largest Producer State: Telangana was the leading producer of turmeric in India during 2018. Maharashtra and Tamil Nadu were second and third in the ranking that year.
11. Airports Economic Regulatory Authority of India (Amendment) Bill 2021
Subject – Government Schemes
Context– In the monsoon session, Parliament passed the Airports Economic Regulatory Authority of India (Amendment) Bill, 2021.
Concept –
It seeks to amend the Airports Economic Regulatory Authority of India Act, 2008.
The 2008 Act established the Airport Economic Regulatory Authority (AERA).
AERA regulates tariffs and other charges (such as airport development fees) for aeronautical services rendered at major airports in India.
The 2008 Act designates an airport as a major airport if it has an annual passenger traffic of at least 35 lakh.  The central government may also designate any airport as a major airport by a notification.  The Bill adds that the central government may group airports and notify the group as a major airport.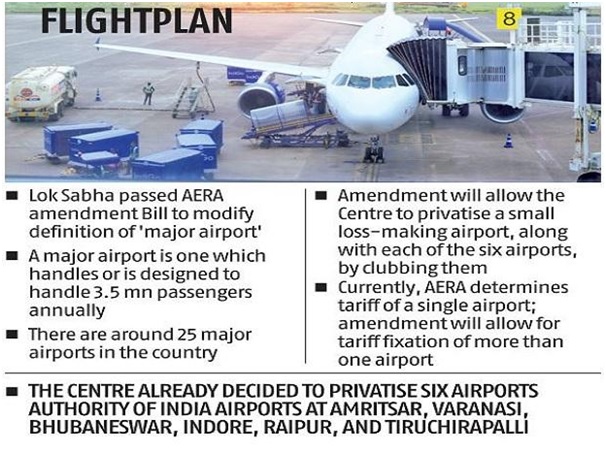 12. Human Immunodeficiency Virus (HIV)
Subject – Science and Tech
Context – Moderna, the Massachusetts­ based American biotechnology company, has indicated that it may begin human trials for a vaccine for HIV (human immuno deficiency virus) in September, according to theClinicalTrials.gov website, employing the same m­RNA platform that it has used in its COVID­19 vaccine.
Concept –
Human Immunodeficiency Virus (HIV) is a lentivirus, which is a sub-classification of the retrovirus. It causes the HIV infection which over time leads to AIDS (Acquired Immuno-deficiency Syndrome).
AIDS is a deadly condition in which the affected person's immune system fails, leading to the spread of life-threatening infections and cancers in his body.
HIV demolishes a particular type of WBC (White Blood Cells) and the T-helper This virus also makes copies of itself inside these cells.

T-helper cells are also known as CD4 cells.

The average survival period for a person affected with HIV without treatment is nine to eleven years, subject to the subtype of HIV.
HIV infection can occur by the transference of blood, breast milk, vaginal fluid, semen, or pre-ejaculate.
HIV occurs as both free virus particles and as a virus inside the infected immune cells within the above-mentioned bodily fluids.
It becomes difficult for a person infected with this virus to recover from even a minor injury or sickness.
By receiving treatment, a severe form of HIV can be prevented.
Subject – Science and Tech
Context – Year later, many participants of vaccine trials await certification.
Concept –
A type of clinical trial in which neither the participants nor the researcher knows which treatment or intervention participants are receiving until the clinical trial is over.
Double blind studies prevent bias when doctors evaluate patients' outcomes. This improves reliability of clinical trial results.
The aim of this is to minimize the placebo effect and minimize bias.
This differs from other types of trials, such as simple blind trials where only the patients are unaware of the treatment they are receiving, whereas the doctors know.
Double-blind trials are a form of randomized trials and can be 'upgraded' to triple-blind trials, in which the statisticians or data clean-up personnel are also blind to treatments.
Subject – Geography
Context – Protests in Pakistan erupt against China's belt and road plan.
Concept –
Gwadar Port is a warm water port located in Pakistan's Balochistan Province. It is a deep seaport located on the Arabian Sea in Gwadar.
This port is deemed as a link between China's One Belt One Road project and its Maritime Silk Road Project. It features majorly in the CPEC.
The port is placed at the Persian Gulf mouth, outside the Hormuz Strait, close to the important shipping routes to and from the Gulf of Persia.
The port is managed by a Chinese government company.
Subject – Economy
Context – Fintech platform CRED has launched a peer-to-peer lending feature called CRED Mint.
Concept –
P2P lending is a form of crowdfunding; an online platform that matches lenders with borrowers in order to provide unsecured loans. The borrower can either be an individual or a business requiring a loan. A fee is paid to the platform by both the lender and the borrower.
P2P lending is not a new feature. In 2017, the Reserve Bank of India had brought this service under its regulatory purview.
In P2P lending, users sitting on idle money provide loans to potential borrowers identified by the service provider. These lenders then receive payments from the borrowers on a set basis — either one time, or in equated monthly instalments.
Some of the major companies operating in this space include Rupee Circle, Finzy, India Money Mart, etc.
Risks associated with P2P lending –
One of the biggest risks associated with this kind of lending is the non-repayment of loans.
Given that P2P lending is a form of unsecured loan, there is no guarantee put up by the borrower for the lender to redeem in case of a default.
However, the unsecured nature of the loan is also the reason behind the high return on investment compared to other debt instruments.
16. Participatory notes (P-notes)
Subject – Economy
Context – P-note investment rises to 40-month high in July.
Concept –
Participatory notes (P-notes) are issued by registered foreign portfolio investors (FPIs) to overseas investors who wish to be a part of the Indian stock market without registering themselves under SEBI directly after going through a due diligence process.
The increase in P-notes investment is in line with the higher net inflows of Foreign Portfolio Investors (FPIs) in the cash segment.
P-Notes are Offshore Derivative Investments (ODIs) with equity shares or debt securities as underlying assets, as they are used by the investors abroad but not within India.
They provide liquidity to the investors as they can transfer the ownership by endorsement and delivery.
While the FIIs have to report all such investments each quarter to SEBI, they need not disclose the identity of the actual investors.
Subject – Economy
Context – Fall in currency assets, gold pulls forex reserves off record high.
Concept –
Foreign exchange reserves are assets held on reserve by a central bank in foreign currencies, which can include bonds, treasury bills and other government securities.
It needs to be noted that most foreign exchange reserves are held in US dollars.
These assets serve many purposes but are most significantly held to ensure that the central bank has backup funds if the national currency rapidly devalues or becomes altogether insolvent.
India's Forex Reserve include:

Foreign Currency Assets
Gold reserves
Special Drawing Rights
Reserve position with the IMF

Foreign Currency Assets:

FCAs are assets that are valued based on a currency other than the country's own currency.
FCA is the largest component of the forex reserve. It is expressed in dollar terms.
The FCAs include the effect of appreciation or depreciation of non-US units like the euro, pound and yen held in the foreign exchange reserves.

Gold Reserves:

Gold occupies a special position in the foreign reserves of central banks as it is widely stated to beheld for reasons of diversification.
Moreover, the unique property of gold is believed to be its ability to enhance the credibility of the central bank when it holds adequately and this has been proved time and again.

Special Drawing Rights:

The SDR is an international reserve asset, created by the International Monetary Fund (IMF) in 1969to supplement its member countries' official reserves.
The SDR is neither a currency nor a claim on the IMF. Rather, it is a potential claim on the freely usable currencies of IMF members. SDRs can be exchanged for these currencies.
The value of the SDR is calculated from a weighted basket of major currencies, including the US dollar, the euro, Japanese yen, Chinese yuan, and British pound.
The interest rate on SDRs or (SDRi) is the interest paid to members on their SDR holdings.

Reserve Position in the International Monetary Fund:

A reserve tranche position implies a portion of the required quota of currency each member country must provide to the IMF that can be utilized for its own purposes.
The reserve tranche is basically an emergency account that IMF members can access at any time without agreeing to conditions or paying a service fee.