Daily Prelims Notes 22 October 2021
October 22, 2021

Posted by:

OptimizeIAS Team

Category:

DPN

Daily Prelims Notes
22 October 2021
Table Of Contents
Subject – Defence and Security
Context – System to track prisoners on parole
Concept –
The Union Home Ministry has advised the States to update recent photographs of prisoners released on parole/furlough/premature release in the "ePrisons" and Interoperable Criminal Justice System database to generate immediate alerts and facilitate easy tracking in the event of their violating the law.
In an advisory sent to the Chief Secretaries, the Ministry said the States and the Union Territories were advised to review the existing practices and procedures governing grant of parole, furlough and premature release to inmates, as per provisions under the Model Prison Manual, 2016, and guidelines issued by the Home Ministry, the National Human Rights Commission and the Supreme Court.
It was also advised that in order to ensure that the inmates released on parole, furlough and premature release do not violate law, systems must be put in place for monitoring and followup of each such case.
Prison departments were told to update the details of any escape from the prison/ custody on 'ePrisons' on a real time basis. Quick availability of this information would facilitate police and other authorities concerned in nabbing the escapee/absconder. States/Union Territories should leverage 'ePrisons' application for updating the profile of inmates on a regular basis, the advisory said.
What is Parole?
Parole generally refers to a prisoner's temporary or permanent release before the end of a sentence in exchange for good behaviour.
It is a type of consideration given to prisoners in order to assist them in reintegrating into society. It is nothing more than a tool for the prisoner's social rehabilitation.
The concept of parole has its origins in military law. The interim release was provided to prisoners of war so that they might return to their families and live as members of society for a period of time, with the promise of returning when the time period was over.
With the passage of time, parole became an element of India's criminal justice system, allowing inmates to participate in society for a period of time.
The objective of allowing parole
Parole gives the prisoner a second chance to reform himself. Although the offender may have committed a crime, it is not desirable that he be forever stigmatized and denied the opportunity to rehabilitate himself.
It's a way of assisting the inmate in becoming a law-abiding citizen while also guaranteeing that he doesn't misbehave or return to criminal activity.
The paroling function could be useful as a "safety valve" to help keep jail populations in check in proportion to capacity, avoiding the dangers and costs of overcrowding.
The idea of parole, as established in the case of Budhi v. State of Rajasthan (2005), serves three purposes:

As a motivator for prison inmates to change their ways.
Ensure that the prisoners' family relationships are as intact as possible, as they may be prone to fracture as a result of the prisoner's protracted confinement.
Assist the offenders in gradually assimilating into society and
adapting to its folds.
Application in India
The laws enacted under the Prison Act of 1894 and the Prisoner Act of 1900 govern the award of parole in India.
Each state has its own set of parole guidelines, which differ slightly from one another.
The Prisons (Bombay Furlough and Parole) Rules, 1959, were issued under Section 59(5) of the Prisons Act, 1984, which gives the government the right to make rules.
Certain types of convicts, such as those convicted of crimes against the state or who pose a threat to national security, non-Indian citizens, and others, are not eligible for parole.

People convicted of murder, rape of children, multiple murders, and other crimes are likewise exempt unless the issuing authority decides otherwise.
Eligibility for the grant of parole
According to the 2010 Parole/Furlough Guidelines, to be eligible for parole:
A convict must have served at least one year in jail, excluding any time spent in remission.
The prisoner's behaviour had to be uniformly good.
The criminal should not have committed any crimes during the period of parole if it was granted previously.
The convict should not have broken any of the terms and restrictions of his or her previous release.
A minimum of six months should have passed since the previous parole was terminated.
The procedure followed when a prisoner requests parole
After an inmate requests parole, the jail authority (Superintendent) requests a report from the police station that conducted the arrest, as is standard protocol.
The report, along with all additional documents such as a medical report (in the case of illness as a justification for parole), and the Superintendent's recommendation, is then given to the Deputy Secretary, Home (General), State Government, who makes the final decision on the application.
In some states, the application is referred to the Inspector General of Prisons along with the police report and recommendation, who then considers it before the District Magistrate. The decision is made by the State Government in collaboration with the District Magistrate.
Does CrPC cover the concept of parole?
The Power to Suspend or Remit Sentences is covered by Section 432 of the Criminal Procedure Code, 1973.

In Sunil Fulchand Shah v. Union of India (2000), the Supreme Court said explicitly that "parole does not amount to suspension of sentence."
As a result, it is evident that Section 432 of the Criminal Procedure Code does not apply to parole.

Because there are no sections in the Code of Criminal Procedure, 1973, that deal with parole, and because there is no unified legislation in India that deals with it, individual states have their own laws governing it. As a result, there is some ambiguity when it comes to concerns about parole.
Unlike the United States of America or the United Kingdom, India lacks codified parole legislation, and the power to decide on parole issues is drawn solely from these statutes and judgments.
Types of parole in India
Custody parole or emergency parole

Custody parole is provided in emergency situations. Except for foreigners and those serving death sentences, all convicted persons may be eligible for emergency parole for 14 days for reasons such as the death of a family member (which includes grandparents, father, mother, spouse, son, daughter, brother, sister) and the marriage of a family member (which includes son, daughter, brother, sister), provided that emergency parole cannot be extended.
The Superintendent of jail grants parole, which is subject to verification of the circumstances from the concerned police station. Depending on the offence committed by the prisoner and his behaviour during his stay, the authority approving emergency parole will determine whether to give parole under police escort or with a condition to report daily to the local police station

Regular parole

Except in exceptional circumstances, offenders who have served at least one year in prison are eligible for regular parole for a maximum of one month. It is awarded for a variety of reasons, including:

A family member's (which includes father, mother, spouse, son, daughter) serious illness
A family member's death or an accident. (same as custody parol, as stated above)
A member of the family marries.
The convict's wife gives birth to the child (except for high-security risk prisoners).
Maintain social or familial ties.
Natural calamities cause serious harm to the convict's family's life or possessions.
Continue to file a Special Leave Petition.
The distinction between parole and furlough
The Supreme Court has clarified the difference between parole and furlough in a number of decisions (the State of Maharashtra vs. Suresh Panduram (2006), State of Haryana and Ors. vs. Mohinder Singh (2000), etc). The following are a few of them:
Parole and furlough are both forms of conditional release.
Parole can be awarded in the case of short-term detention, whereas furlough is allowed in the case of long-term detention.
Parole lasts for one month, whereas furlough lasts for a maximum of 14 days.
The Divisional Commissioner grants parole, and the Deputy Inspector General Prison grants furlough.
A specific justification for parole is necessary, whereas a furlough is intended to break the monotony of imprisonment.
In the case of furlough, the duration of incarceration is not taken into account for calculating the term of parole.
Parole can be given multiple times, whereas furlough has a limit.
Furlough can be denied in the interest of society because it is not granted for any specific reason.
Refusal of parole
The prisoners/convicts listed below may not be eligible for parole under the following circumstances:

Convicts whose parole release is deemed risky or a threat to national security, or if any other justifiable reason exists, such as a continuing investigation in a severe crime case;
Prison inmates who have been found to be encouraging major violations of prison discipline or who have been implicated in crimes and offences against the state, such as sedition;
Prison inmates who have fled from prison;
The detainee is not an Indian citizen.
Parole as a right
Parole is not recognized as a right in India, despite the fact that it has administrative importance. A prisoner's claim to parole is not absolute, and prison authorities have considerable discretion in granting parole to that prisoner.
However, parole is considered a right for prisoners by a number of international accords and organizations.
Bombay High Court concluded that parole is a limited legal right afforded to a criminal in the instances of Kantilal Nandlal Jaiswal v. Divisional Commissioner, Nagpur (2019) and Hariom Vijay Pande v. State of Maharashtra (2019).
However, in the Home Secretary (Prison) v. H. Nilofer Nisha (2020), the Supreme Court said unequivocally that "the issuance of remission or release is not a right conferred on the prisoner. It's a privilege that the prisoner can get if he or she meets specific requirements."
e-Prisons
ePrisons computerize and integrate all the activities related to prison and prisoner management in the jail.
This Application Suite provides the vital information about the inmates, lodged in the prisons, in real time environment to the prison officials and other entities, involved in Criminal Justice System.
It also facilitates online visit request and grievance redressal.
ePrisons Application Suite, developed by NIC, is cloud-based product designed with easy to use GUI and embedded with comprehensive security features.
It can be easily adopted by any State Prisons Department with minimum customization efforts since all the possible customization features are parameterized and can be configured by the users.
Key Features:
Available as SaaS from the NIC Cloud, which provides high availability, scalable and robust system to the users;
The solution is ready to adopt by any prison / stakeholder for free.
Parameterized and configurable gap aspects;
SMS and email alerts;
Equipped with necessary services required for integrating with other Criminal Justice System stakeholders; and
Authorization checks & validation to improve the data quality.
This application suite consists of three main products:
ePrisons MIS: Management Information System used at the prisons for their day-to-day regular activities; The major modules of ePrisons MIS are:

Prisoner Information Management System (PIMS);
Visitor Management System (eVisitor);
Hospital Management System (eHospital);
Legal Aid Management System;
Inventory Management System;
Prison Management System (PMS);
Police Intelligence System;
Court Monitoring; and
Kiosk Information.
NPIP: National Prisons Information Portal is a citizen centric portal showing statistical data of various prisons in the country

Visitors can book there visit request to meet their ward inside the prison through this portal;
Grievances with respect to their wards inside the prisons can also submitted through the portal; and
This portal also provides with inmate tracking facilities in a secured way to various investigating agencies.
Kara Bazaar: Portal for showcasing and selling the products manufactured in various prisons of the country by inmates. Necessary platform required for on boarding for all the state prison departments are in place.
To know about National Informatics Centre (NIC), please click here.
Interoperable Criminal Justice System
Interoperable Criminal Justice System (ICJS) aims to integrate CCTNS (Crime and Criminal Tracking Network and System) project with eCourts and ePrisons database in the first instance and with other pillars of judiciary like forensic labs, prosecution and juvenile homes etc.
It is a common platform for information exchange and analytics of all the pillars of the criminal justice system comprising Police, Forensics, Prosecution, Courts, Prisons.
Purpose: To reduce errors and time taken in sharing of necessary information between the pillars, which often lead to larger challenges like longer duration of trials, poorer convictions, transit losses of documents etc.
Some other critical benefits arising out of the ICJS ecosystem are usable analytics products like the National Database on Sexual Offenders (NDSO) to identify & track repeat and habitual sexual offenders.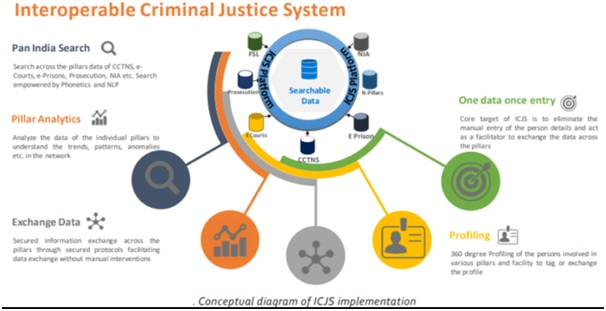 Crime and Criminal Tracking Network and Systems (CCTNS)
Crime and Criminal Tracking Network and Systems (CCTNS) is a Mission Mode project under the National e-Governance Plan for creating a single repository of crime and criminal data for enhancing the efficiency and effectiveness of policing at the Police Station level.
Out of total 16,098 police stations in the country, the CCTNS software is being implemented in over 95 per cent of police stations and connectivity is available at 97per cent police stations. 93 per cent police stations are entering 100 percent FIRs through CCTNS.
CCTNS also created facilities and mechanism to provide public services like registration of online complaints, ascertaining the status of case registered at the police station, verification of persons etc.
Its aims to

Provide Citizen Centric Police Services via a web portal
Pan India search on National database of Crime & Criminal records
Crime and Criminal reports at State and Center
Computerization of Police Processes.
Subject – Environment
Context – Gene editing guidelines facing delay
Concept –
Even as the Centre investigates allegations that unauthorised genetically modified (GM) rice was exported to Europe, it is yet to decide on a research proposal from its own scientists which would allow plants to be genetically modified without the need for conventional transgenic technology.
Scientists at the Indian Agricultural Research Institute are in the process of developing resilient and high-yield rice varieties using such gene editing techniques, which have already been approved by many countries, and they hope to have such rice varieties in the hands of the Indian farmers by 2024.
However, the proposal for Indian regulators to consider this technique as equivalent to conventional breeding methods, since it does not involve inserting any foreign DNA, has been pending with the Genetic Engineering Appraisal Committee for almost two years.
The IARI has previously worked on golden rice, a traditional GM variety which inserted genes from other organisms into the rice plant, but ended trials over five years ago due to agronomic issues.
The Institute has now moved to newer technologies such as Site Directed Nuclease (SDN) 1 and 2. They aim to bring precision and efficiency into the breeding process using gene editing tools such as CRISPR.

The SDN 1 and SDN 2 categories of genome edited plants do not contain any foreign DNA when they are taken to the open field trials.

In this case, you are just tweaking a gene that is already there in the plant, without bringing in any gene from outside. When a protein comes from an outside organism, then you need to test for safety. But in this case, this protein is right there in the plant, and is being changed a little bit, just as nature does through mutation.
But it is much faster and far more precise than natural mutation or conventional breeding methods which involve trial and error and multiple breeding cycles.
The U.S., Canada, Australia and Japan are among the countries which have already approved the SDN 1 and 2 technologies as not akin to GM, so such varieties of rice can be exported without any problem.

The European Food Safety Authority has also submitted its opinion that these technologies do not need the same level of safety assessment as conventional GM, though the European Union is yet to accept the recommendation.
3. Financial Action Task Force (FATF)
Subject – IR
Context – Pakistan retained on FATF's 'greylist' again
Concept –
The Financial Action Task Force (FATF) retained Pakistan in the 'grey-list' yet again, observing that it needed to further demonstrate that investigations and prosecutions were being pursued against the senior leadership of UN-designated terror groups, which include the Lashkar-e-Taiba (LeT), Jaish-e-Mohammed ( JeM), al-Qaeda and the Taliban.
The Pakistan Government has two concurrent action plans with a total of 34 action plan items. It has addressed or largely addressed 30 of the items. Its most recent action plan from June this year, which largely focused on money laundering deficiencies, was issued after the FATF's regional partner APG, that is the Asia-Pacific Group, identified a number of serious issues.
The FATF also announced the 'grey-listing' of Jordan, Mali and Turkey, following the conclusion of the Plenary session.
At the previous Plenary in June, the FATF had kept Pakistan in the list of "jurisdictions under increased monitoring" owing to its failure in prosecuting the top operatives of the Security Councildesignated terror groups.
To know about FATF, please click here.
Asia-Pacific Group (APG)
Jurisdictions that join the APG, either as members or as observers, commit to the recommendations of the Financial Action Task Force (FATF).
To know about APG, please click here.
Eurasian Group on Combating Money Laundering and Financing of Terrorism (EAG)
It is a regional body comprising nine countries: India, Russia, China, Kazakhstan, Kyrgyzstan, Tajikistan, Turkmenistan, Uzbekistan and Belarus.
It is an associate member of the FATF.
Subject – Science and Tech
Context – surgeons gave pig kidney to a human
Concept –
On October 19, USA Today reported that surgeons from New York have successfully transplanted a pig kidney into a brain-dead human.
The team from NYU Langone Health used the kidney from a genetically engineered pig and transplanted it into a deceased donor. The function and acceptance of the new kidney were studied for 54 hours.
The kidney began functioning and producing large amounts of urine within minutes of being connected to the person's blood vessels. He added that the creatinine which is cleared from the blood by the kidney dropped from 1.9 to 0.8 demonstrating that the kidney was functioning optimally.
If found compatible in the long run, this process of Xenotransplantation, or transplanting organs between different species, could help provide an alternative and additional supply of organs for people facing life-threatening diseases.
Why a genetically engineered pig?
The transplant conducted on September 25, used a kidney that was obtained from a pig that had undergone editing to knock out a gene that codes for a sugar molecule called Alpha-gal. Alpha-gal is not normally found in humans and this molecule can elicit a devastating immune response in humans.
The pigs with this gene alteration are called GalSafe pigs and have been FDA approved for human use for those who have pork allergies and also for use in pharmacology. These pigs have been well studied and have passed various levels of regulatory scrutiny.
Though primate organs are more compatible with humans, pigs are easier to genetically modify. They also breed better with large litter, grow faster, and are less likely to transmit infections. The size of their organs is also similar to ours.
Did they transplant the pig kidney inside the human body?
No, the kidney was attached to blood vessels in the upper leg, outside the abdomen. It was covered with a protective shield for observation.
The genetic modification of the single sugar molecule was responsible for preventing rapid rejection.
Subject – Polity
Context – Parliamentary panel on data protection Bill suggests critical amendments for adoption in the winter session
Concept –
Right to privacy is protected as an intrinsic part of the right to life and personal liberty under Article 21 and as a part of the freedoms guaranteed by Part III of the Constitution.
In Puttaswamy v. Union of India case, 2017, the Right to Privacy was declared a fundamental right by the Supreme Court.
6. Yadadri temple in Telangana
Subject – Art and Culture
Context – It's raining gold at Yadadri temple in Telangana. Businessmen, politicians rush to donate the lustrous metal for renovation project
Concept –
A reverse gold rush is underway at Yadadri in Bhongir district of Telangana. Devotees — especially businessmen and politicians — are racing to donate the yellow metal, which will be used for the gold plating of the Vimana Gopuram of the Sri Lakshmi Narasimha Swamy Temple.
The target is to collect 125 kg of gold to renovate the temple, a pet project of Telangana Chief Minister K Chandrasekhar Rao, which started some six years ago and is almost complete now.
The State government has decided to take up the gold tapering of the sikhara of the sanctumsanatorium at an estimated cost of ₹65 crore.
The Yadadri temple renovation project aims to go beyond the holy precincts and develop the temple town on the lines of Tirumala to ensure social and economic development of the region.
The total cost of the project is pegged at ₹1,000 crore.
About Yadadri temple
Sri Lakshmi Narasimha Swamy Temple or simply known as Yadadri or Yadagirigutta temple,(also known as Pancha Narasimha Kshetram and Rishi Aradhana Kshetram) is a Hindu temple situated on a hillock in the small town of Yadagirigutta in the Yadadri Bhuvanagiri district of the Indian state of Telangana.
The temple is an abode of Narasimha, an incarnation of Lord Vishnu.
It is located 60 kilometres (37 mi) from Hyderabad.
According to Skanda Purana, Yada Maharishi son of venerated Maharshi Rishyasringa performed penance here to Lord Vishnu as Narasimha.
Lakshmi-Narasimhadeva temple on the hilltop has deities of Narasimha in all five forms embedded in stone in the main cave.
Historically, the temple has followed the Thenkalai tradition of the Vaishnava Agama Shastras as followed in South India.
Temple architecture
The architecture of the temple is based on Agama Shashtra.
The temple is built entirely in stone.
The temple was earlier built on 2 acres. After demolishing all structures on the temple hillock, the base for the temple is now 14 acres.
The entire Yadadri temple renovated with the Krishna Sila (Black stone) is going to become known for its uniqueness.
Sculptures
Three types are stones are being used for the temple like Krishna Sila (also known as Purusha Sila) for presiding deities in the sanctum sanctorum; Sthri Sila for deities of Goddesses; and Napunsaka Sila used for flooring, walls etc.
Black granite stone is also used, based on the temple architecture of the Kakatiya Dynasty in Telangana.

The black granite stone has tiny pores, and it becomes strong and hard when milk, curd, oil and other liquids get into those pores, according to learned shilipis (sculpture experts).
7. Foreign Contribution Regulation Act (FCRA)
Subject – Governance
Context – Genuine NGOs need not shy away from regulatory compliance: Centre to SC
Concept –
There is no fundamental right to receive unbridled foreign contributions without any regulation, the Centre has told Supreme Court, defending amendments made last year to the 2010 Foreign Contribution Regulation Act (FCRA).
The government said it recognises the role of NGOs and voluntary organisations in national development and "genuine NGOs need not shy away from any regulatory compliance mandated under the…Act."
The government said foreign contributions, considering their nature and vast expanse of abuse, are a tightly regulated and controlled means and that it is well within its rights to make changes to effectively implement the objectives set by Parliament.
The Foreign Contribution (Regulation) Amendment Bill, 2020
The Foreign Contribution (Regulation) Amendment Bill, 2020 amends the Foreign Contribution (Regulation) Act, 2010.  The Act regulates the acceptance and utilisation of foreign contribution by individuals, associations and companies.  Foreign contribution is the donation or transfer of any currency, security or article (of beyond a specified value) by a foreign source.
Prohibition to accept foreign contribution: Under the Act, certain persons are prohibited to accept any foreign contribution.  These include: election candidates, editor or publisher of a newspaper, judges, government servants, members of any legislature, and political parties, among others.  The Bill adds public servants (as defined under the Indian Penal Code) to this list.  Public servant includes any person who is in service or pay of the government, or remunerated by the government for the performance of any public duty.
Transfer of foreign contribution: Under the Act, foreign contribution cannot be transferred to any other person unless such person is also registered to accept foreign contribution (or has obtained prior permission under the Act to obtain foreign contribution).  The Bill amends this to prohibit the transfer of foreign contribution to any other person.  The term 'person' under the Act includes an individual, an association, or a registered company.
Aadhaar for registration: The Act states that a person may accept foreign contribution if they have: (i) obtained a certificate of registration from central government, or (ii) not registered, but obtained prior permission from the government to accept foreign contribution.  Any person seeking registration (or renewal of such registration) or prior permission for receiving foreign contribution must make an application to the central government in the prescribed manner.  The Bill adds that any person seeking prior permission, registration or renewal of registration must provide the Aadhaar number of all its office bearers, directors or key functionaries, as an identification document.  In case of a foreigner, they must provide a copy of the passport or the Overseas Citizen of India card for identification.
FCRA account: Under the Act, a registered person must accept foreign contribution only in a single branch of a scheduled bank specified by them.  However, they may open more accounts in other banks for utilisation of the contribution.  The Bill amends this to state that foreign contribution must be received only in an account designated by the bank as "FCRA account" in such branch of the State Bank of India, New Delhi, as notified by the central government.  No funds other than the foreign contribution should be received or deposited in this account.  The person may open another FCRA account in any scheduled bank of their choice for keeping or utilising the received contribution.
Restriction in utilisation of foreign contribution:. Under the Act, if a person accepting foreign contribution is found guilty of violating any provisions of the Act or the Foreign Contribution (Regulation) Act, 1976, the unutilised or unreceived foreign contribution may be utilised or received, only with the prior approval of the central government.  The Bill adds that the government may also restrict usage of unutilised foreign contribution for persons who have been granted prior permission to receive such contribution.  This may be done if, based on a summary inquiry, and pending any further inquiry, the government believes that such person has contravened provisions of the Act.
Renewal of license: Under the Act, every person who has been given a certificate of registration must renew the certificate within six months of expiration.  The Bill provides that the government may conduct an inquiry before renewing the certificate to ensure that the person making the application: (i) is not fictitious or benami, (ii) has not been prosecuted or convicted for creating communal tension or indulging in activities aimed at religious conversion, and (iii) has not been found guilty of diversion or misutilisation of funds, among others conditions.
Reduction in use of foreign contribution for administrative purposes: Under the Act, a person who receives foreign contribution must use it only for the purpose for which the contribution is received.  Further, they must not use more than 50% of the contribution for meeting administrative expenses.  The Bill reduces this limit to 20%.
Surrender of certificate: The Bill adds a provision allowing the central government to permit a person to surrender their registration certificate.  The government may do so if, post an inquiry, it is satisfied that such person has not contravened any provisions of the Act, and the management of its foreign contribution (and related assets) has been vested in an authority prescribed by the government.
Suspension of registration: Under the Act, the government may suspend the registration of a person for a period not exceeding 180 days.  The Bill adds that such suspension may be extended up to an additional 180 days.
To know more about FCRA, please click here.
Subject – Economy
Context – Government panel Okays group to steer PM Gati Shakti plan
Concept –
The government set in motion the execution of its ambitious PM Gati Shakti National Master Plan (NMP) by approving a three-tier mechanism, including an all-powerful empowered group of secretaries (EGOS) under the Cabinet Secretary to review and monitor the implementation of the plan.
A decision to this effect was taken in the meeting of the Cabinet Committee on Economic Affairs (CCEA), chaired by the Prime Minister. The CCEA also approved constitution of a Network Planning Group (NPG) and a Technical Support Unit (TSU) to assist the EGOS.
EGOS will be headed by the Cabinet Secretary and will consist of Secretaries of 18 ministries as members and head of Logistics Division as member-convenor.

EGOS is empowered to prescribe framework and norms for undertaking any subsequent amendments to the NMP.
EGOS will also look at interventions required to meet the demand side, in efficiently transporting bulk goods on the requirement of various Ministries like Steel, Coal, Fertilizer, etc.
To know more about it, please click here.
Subject – Agriculture
Context – Department of Fisheries organises webinar on "Fish for Health and Fish for Wealth" as part of "Azadi ka Amrit Mahotsav"
Concept –
The participants were made aware of the numerous health benefits provided through fish consumption due to micronutrients, minerals and animal proteins present including Omega 3 and Fatty acids that are very useful for our health.
About Omega-3 Fatty Acids
Omega-3s are nutrients you get from food (or supplements) that help build and maintain a healthy body. They're key to the structure of every cell wall you have. They're also an energy source and help keep your heart, lungs, blood vessels, and immune system working the way they should.
Two crucial ones — EPA and DHA — are primarily found in certain fish. ALA (alpha-linolenic acid), another omega-3 fatty acid, is found in plant sources such as nuts and seeds.

DHA levels are especially high in retina (eye), brain, and sperm cells.

Not only does your body need these fatty acids to function, they also deliver some big health benefits.
10. SAKSHAM Centres (Centre for Financial Literacy & Service Delivery)
Subject – Governance
Context – 152 SAKSHAM Centres (Centre for Financial Literacy & Service Delivery) launched in a week as part of Amrit Mahotsav
Concept –
As part of Azadi ka Amrit Mahotsav, a total of 152 Centre for Financial Literacy & Service Delivery (SAKSHAM Centres) across 77 districts of 13 states launched under Deendayal Antyodaya Yojana – National Rural Livelihoods Mission (DAY-NRLM) of the Ministry of Rural Development during 4-8th October, 2021.
Centre for Financial Literacy & Service Delivery (CFL&SD) would act as one stop solution/single window system for basic financial needs of Self-Help Group (SHG) households in rural areas.
The main objective of the center is to provide financial literacy & facilitate delivery of financial services (savings, credit, insurance, pensions etc.) to SHG members and rural poor.
These Centers will be managed by SHG network, largely at the level of the Cluster Level Federations (CLFs), with the help of trained Community Resource Persons (CRPs).
These trained CRPs are provided six days residential training at Rural Self Employment Training Institutes (RSETIs) established by the Lead Bank of the district. All of these resources persons, popularly known as Financial Literacy Community Resource person (FL CRPs) also provided a training tool kit in vernacular languages.
Ministry of Rural Development (MoRD) has also developed a mobile & web-based application called "SAKSHAM" which will be used by the community resource person of the Centre to know the penetration of various financial services for each SHG & village, identify major gaps and accordingly provide training and deliver the required financial services. This application will also measure the impact of the programme on regular interval for mid-course correction in strategy, if any.
Deendayal Antyodaya Yojana – National Rural Livelihoods Mission (DAY-NRLM)
It is a centrally sponsored programme, launched by the Ministry of Rural Development in June 2011.
Objectives –

To eliminate rural poverty through the promotion of multiple livelihoods and improved access to financial services for the rural poor households across the country.
To reach out to all rural poor households and impact their livelihoods.

Functioning:

It involves working with community institutions through community professionals in the spirit of self-help which is a unique proposition of DAY-NRLM.
It impacts the livelihoods through universal social mobilization by inter alia organising one-woman member from each rural poor household into Self Help Groups (SHGs), their training and capacity building, facilitating their micro-livelihoods plans, and enabling them to implement their livelihoods plans through accessing financial resources from their own institutions and the banks.

Implementation:

It is implemented in a Mission mode by special purpose vehicles (autonomous state societies) with dedicated implementation support units at the national, state, district and block levels, using professional human resources in order to provide continuous and long-term handholding support to each rural poor family.

Support Provided:

There were 63 lakh SHGs comprising seven crore women members in the country which had been granted Rs. 3 lakh crore in loans and the non-performing assets (NPA) amounted to only 2.3%.
The outstanding loans were to the tune of Rs. 1 lakh crore.
The government plans to take the scheme to 10 crore women.
Subject – Economy
Context – Paytm weighs scrapping pre-IPO sale plan on valuation differences
Concept –
A pre-initial public offering (IPO) placement is a private sale of large blocks of shares before a stock is listed on a public exchange.
The buyers are typically private equity firms, hedge funds, and other institutions willing to buy large stakes in the firm.
Due to the size of the investments being made and the risks involved, the buyers in a pre-IPO placement usually get a discount from the price stated in the prospective for the IPO.
For the company, the placement is a way to raise funds and offset the risk that the IPO will not be as successful as hoped.
From the perspective of a young company, a pre-IPO placement is a way to raise money before going public.

It also is a way to offset the risk that the IPO price will prove to be optimistic, and the price will not go up immediately after it opens.
Moreover and often, investors in these private sales are institutional investors and help the company with governance matters and getting institutionalized before going IPO.

From the buyer's perspective, the amount per share may be discounted from the expected IPO price, but there is no way to know the price per share that the market will actually pay.

In fact, the purchase is typically made without a prospectus and with no guarantee that the public listing will occur.
The discounted price is compensation for this uncertainty.
Subject – Economy
Context – India to sell half of Mangaluru strategic oil reserves by December
Concept –
India has started selling crude oil from its strategic reserves to state refiners with a view to soften the blow from surging global crude prices, while also creating space for leasing out to private and international companies.
The sale follows the government decision earlier this year to liberalise its oil policy by allowing Indian Strategic Petroleum Reserves Ltd (ISPRL)to commercialise up to 50 per cent of its reserves — under which ISPRL can use 20 per cent of the volumes for trading and lease out the remaining 30 per cent of the capacity.
About Strategic oil reserves –
Strategic petroleum reserves are huge stockpiles of crude oil to deal with any crude oil-related crisis like the risk of supply disruption from natural disasters, war or other calamities.
According to the agreement on an International Energy Programme (I.E.P.), each International Energy Agency (IEA) country has an obligation to hold emergency oil stocks equivalent to at least 90 days of net oil imports.
In case of a severe oil supply disruption, IEA members may decide to release these stocks to the market as part of a collective action.
India's strategic crude oil storages are currently located at Visakhapatnam (Andhra Pradesh), Mangaluru (Karnataka), and Padur (Karnataka).
The government has also given approval for setting up of two additional facilities at Chandikhol (Odisha) and Padur (Karnataka).
The concept of dedicated strategic reserves was first mooted in 1973 in the US, after the OPEC oil crisis.
Underground storage is, by far the most economic method of storing petroleum products because the underground facility rules out the requirement of large swathes of land, ensures less evaporation and, since the caverns are built much below the sea level, it is easy to discharge crude into them from ships.
The construction of the Strategic Crude Oil Storage facilities in India is being managed by Indian Strategic Petroleum Reserves Limited (ISPRL).

ISPRL is a wholly owned subsidiary of Oil Industry Development Board (OIDB) under the Ministry of Petroleum & Natural Gas.

After the new facilities get functional a total of 22 days (10+12) of oil consumption will be made available.
With the strategic facilities Indian refiners also maintain crude oil storage (industrial stock) of 65 days.
Thus, approximately a total of 87 days (22 by strategic reserves + 65 by Indian refiners) of oil consumption will be made available in India after completion of Phase II of the SPR programme. This will be very close to the 90 days mandate by the IEA.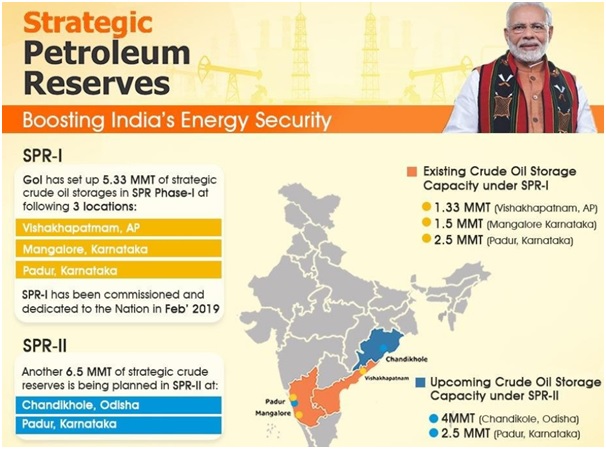 Subject – Environment
Context – SC panel tells Assam to act on illegal construction
Concept –
Location

State of Assam
Located on the edge of the Eastern Himalaya biodiversity hotspot.

Feature
Single largest undisturbed and representative area in the Brahmaputra Valley floodplain.
Legal Status

Declared as a National Park in 1974.

Declared a tiger reserve since 2007.

International Status

Declared a UNESCO World Heritage Site in 1985.

Recognized as an Important Bird Area by BirdLife International.

Important Fauna found

Home of the world's most one-horned rhinos.

(Note – Pobitora Wildlife Sanctuary has the highest density of one-horned rhinos in the world and second highest number of Rhinos in Assam after Kaziranga National Park)

The 'big four' species— Rhino, Elephant, Royal Bengal tiger and Asiatic water buffalo.

(Note – As per the figures of tiger census conducted in 2014, Kaziranga had an estimated 103 tigers, the third highest population in India after Jim Corbett National Park (215) in Uttarakhand and Bandipur National Park (120) in Karnataka)

Flora

Alluvial inundated grasslands

Alluvial savanna woodlands

Tropical moist mixed deciduous forests

Tropical semi-evergreen forests.

River passing through

Brahmaputra River (northern and eastern boundaries)

Diphlu River (southern boundary)

Mora Dhansiri.

Highways
National Highway 37 passes through the park area
Other national parks in Assam

Dibru-Saikhowa National Park,

Manas National Park,

Nameri National Park,

Rajiv Gandhi Orang National Park.
14. India crosses 100 crore vaccination
Subject – Science
Context: Decades worth of experience of Universal Immunisation Programme helped Health Ministry proceed with COVID-19 vaccination rapidly: ICMR DG
Concept:
Evolution of the programme:
1978: Expanded Programme of immunization (EPI). – Limited reach – mostly urban
1985: Universal Immunization Programme (UIP). Ø For reduction of mortality and morbidity due to 6 VPD's. Ø Indigenous vaccine production capacity enhanced Ø Cold chain established Ø Phased implementation – all districts covered by 1989-90. Ø Monitoring and evaluation system implemented
1986: Technology Mission On ImmunizationØ Monitoring under PMO's 20 point programme Ø Coverage in infants (0 – 12 months) monitored
1992: Child Survival and Safe Motherhood (CSSM) Ø Included both UIP and Safe motherhood program
1997: Reproductive Child Health (RCH 1)
 2005: National Rural Health Mission (NRHM)
2012: Government of India declared 2012 as "Year of Intensification of Routine Immunization.
2013: India, along with other South-East Asia Region, declared commitment towards measles elimination and rubella/congenital rubella syndrome (CRS) control by 2020.
2014: No Wild Polio virus case was reported from the country for the last three years and India had a historic achievement and was certified as "polio free country" along with other South East Asia Region (SEAR) countries of WHO. Vaccines under UIP ·
Under UIP, following vaccines are provided:
BCG (Bacillus Calmette Guerin)
DPT (Diphtheria, Pertussis and Tetanus Toxoid)
OPV (Oral Polio Vaccine)
Measles 5. Hepatitis B
TT (Tetanus Toxoid)
JE vaccination (in selected high disease burden districts)
Hib containing Pentavalent vaccine (DPT+HepB+Hib) (In selected States)
Diseases Protected by Vaccination under UIP
Diphtheria
Pertussis.
Tetanus
Polio
Tuberculosis
Measles
Hepatitis B
Japanese Encephalitis (commonly known as brain fever)
Meningitis and Pneumonia caused by Haemophilus Influenzae type b