Daily Prelims Notes 24 December 2021
December 29, 2021

Posted by:

admin1

Category:

DPN

Daily Prelims Notes
24 December 2021
Table Of Contents
Subject – Geography
Context – Days after it advised all District Ganga Committees to address the issue of bodies being dumped in the river, the National Mission for Clean Ganga (NMCG) asked Uttar Pradesh and Bihar to submit a "detailed report" in two days
Concept –
Source of origin: The Ganga rises from the Gangotri glacier near Gomukh in Uttarkashi district of the state of Uttarakhand.

Alaknanda River joins Bhagirathi at Devaprayag.
From Devapryag the river is called as Ganga.

Confluence or Mouth: The Ganga River drains into the Bay of Bengal before forming a very huge delta.
The Ganga River system outspreads in India, Tibet (China), Nepal and Bangladesh.
It is the largest river basin in India and accounts for about one-fourth of the total area of the country.
It covers states of Uttar Pradesh, Madhya Pradesh, Rajasthan, Bihar, West Bengal, Uttarakhand, Jharkhand, Haryana, Chhattisgarh, Himachal Pradesh and Union Territory of Delhi.
Ganga River System
The Ganga is formed from the 6 headstreams and their five confluences.
The Alaknanda River meets the Dhauliganga River at Vishnuprayag, the Nandakini River at Nandprayag, the Pindar River to form the Ganga main stream.
The Bhagirathi, considered to be the source stream: rises at the foot of Gangotri Glacier, at Gaumukh, at an elevation of 3892m and fanning out into the 350km wide Ganga delta, it finally empties into the Bay of Bengal.
From Devapryag the river is called as Ganga.
Ganga debouches [emerge from a confined space into a wide, open area] from the hills into the plain area at It is joined by the Yamuna at Allahabad.
Near Rajmahal Hills it turns to the south-east.
At Farraka, it bifurcates into Bhagirathi-Hugli in West Bengal and Padma-Meghna in Bangladesh (it ceases to be known as the Ganga after Farraka).
Brahmaputra (or the Jamuna as it is known here) joins Padma-Meghna.
The total length of the Ganga river from its source to its mouth (measured along the Hugli) is 2,525 km.
Haridwar, Kanpur, Soron, Kannauj, Allahabad, Varanasi, Patna, Ghazipur, Bhagalpur, Mirzapur, Ballia, Buxar, Saidpur, and Chunar are the important towns.
It has long been considered holy by Hindus and worshipped as the goddess Ganga in Hinduism.
Major Tributaries of the Ganga River
Right Bank Tributaries of the Ganga River

Yamuna River

Chambal River
Banas River
Sind River
Betwa River

Ken River
Son River
Damodar River

Left Bank Tributaries of the Ganga River

Ramganga River
Gomti River
Ghaghra River
Kali River
Gandak River
BurhiGandak
Kosi River
The Five Prayags
Devaprayag, the place of confluence of Bhagirathi river and Alaknanda river.
Rudraprayag, the place of confluence of Mandakini river and Alaknanda river.
Nandaprayag, the place of confluence of Nandakini river and Alaknanda river.
Karnaprayag, the place of confluence of Pindar river and Alaknanda river.
Vishnuprayag, the place of confluence of Dhauliganga river and Alaknanda river.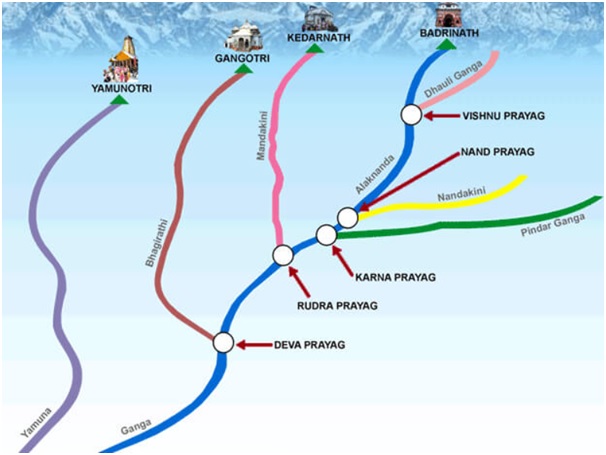 To know about National Mission for Clean Ganga, please refer August 2021 DPN.
Subject – Economy
Context – Citing security, Centre asks phone firms to keep call records for two years
Concept –
The Department of Telecommunications (DoT) has amended the Unified License Agreement asking telecom and Internet service providers as well as all other telecom licensees to maintain commercial and call detail records for at least two years, instead of the current one-year practice.

The additional time, was based on requests from multiple security agencies.

DoT has said all call detail record, exchange detail record, and IP detail record of communications "exchanged" on a network must be archived for two years or until specified by the government for "scrutiny" for security reasons.
Internet service providers will also have to maintain details of "internet telephony" in addition to the usual IP detail record for a period of two years.
Under Clause No. 39.20 of the licence agreement that the DoT has with the operators, the latter have to preserve records including CDRs and IP detail records (IPDR), for at least one year for scrutiny by the Licensor (which is DoT) for "security reasons," and the Licensor "may issue directions/instructions from time to time" with respect to these records.
The licence condition also goes on to mandate that CDRs be provided by mobile companies to law-enforcement agencies and to various courts upon their specific requests or directions, for which there is a laid-down protocol.
Subject – Economy
Context – The asset size of ESG funds has ballooned nearly five times to Rs 12,300 crore over the last couple of years.
Concept –
Environment, social responsibility, and corporate governance have of late emerged as key themes for investors in India.
Earlier this week, the National Stock Exchange (NSE) launched NSE Prime, a framework that allows companies to submit to standards of corporate governance that are higher than those required by existing regulations.
ESG investing – the expression is used synonymously with sustainable and socially responsible investing.
While selecting a stock for investment, an ESG fund shortlists companies that score high on environment, social responsibility, and corporate governance, and then looks at financial factors.
With the overall increase in awareness, and with regulations moving in this direction, investors are re-evaluating traditional approaches and considering the impact of their decisions on the planet.
As ESG funds gain momentum in India, companies will be forced to improve governance and ethical practices, and act with greater social and environmental responsibility.
As the policy framework changes, companies that do not alter business models or become more environmentally sustainable, could have their revenue and profits impacted in the long term.
Globally, many pension funds and sovereign wealth funds do not invest in companies that are seen as polluting or socially not responsible.
Subject – Economy
Context – Taxmen can directly start recovery for mismatch in sales in GSTR-1, 3B
Concept –
GSTR – 3B is a monthly summary return filed by a taxpayer by the 20th of the next month or 22nd/24th of month following a quarter. GSTR-3B discloses supplies made during the month along with GST to be paid, input tax credit claimed, purchases on which reverse charge is applicable, etc., and also makes a provision for the payment of taxes, if any, for the relevant month.
GSTR – 1 is a monthly or quarterly return filed by taxpayers to disclose details of their outward supplies for the month – along with their tax liability. Here, invoice-wise details are to be uploaded so that the Government can keep a check on every transaction. This forms the basis for the recipient of supplies to accept the same and take the eligible input tax credit.
Subject – Governance
Context – 23 December 2021 marked the 100th anniversary of the Visva-Bharati University set up by Nobel laureate Rabindranath Tagore
Concept –
It is a public central university and an Institution of National Importance located in Shantiniketan, West Bengal, India.
It was founded by Rabindranath Tagore who called it Visva-Bharati, which means the communion of the world with India.
Until independence it was a college. Soon after independence, the institution was given the status of a central university in 1951 by an act of the Parliament.
At Visva-Bharati, if a course demanded by a student is not available, then the university will design a course and bring teachers for that course.
Rabindranath Tagore believed in open-air education and had reservations about any teaching done within four walls.
6. Karnataka Right to Freedom of Religion Bill 2021
Subject – Governance
Context – The Karnataka legislative Assembly Thursday passed The Karnataka Right to Freedom of Religion Bill, 2021
Concept –
The Karnataka Right to Freedom of Religion Bill, 2021, commonly referred to as the anti-conversion Bill.
It prohibits conversion from one religion to another by misrepresentation, force, fraud, allurement or marriage.
It, however, provides an exemption in the case of a person who "reconverts to his immediate previous religion" as "the same shall not be deemed to be a conversion under this Act".
According to the proposed legislation, complaints regarding conversions can be filed by family members or any other person who is related to the individual who is getting converted.
The offence of conversion has been deemed to be a cognizable and non-bailable, that can be tried in a magistrate's court under the proposed law.
Any person intending to convert to another religion after the law comes into force will have to notify the district magistrate two months in advance.
Subject – Environment
Context – Plans afoot to uproot lantana from BRT reserve, Bandipur
Concept –
It is a genus of about 150 species of perennial flowering plants in the verbena family, Verbenaceae.
They are native to tropical regions of the Americas and Africa but exist as an introduced species in numerous areas, especially in the Australian-Pacific region, South and North-eastern part of India.
Some species are invasive, and are considered to be noxious weeds, such as in South Asia, Southern Africa and Australia.
It is generally deleterious to biodiversity and is an agricultural weed.
Lantana is toxic for most livestock to graze.
Biligiri Rangaswamy Temple (BRT) Tiger Reserve
Situated between the Western and Eastern Ghats the BiligiriRangaswamy Temple (BRT) Tiger Reserve is based in south eastern Karnataka, at the border of Tamil Nadu.
It has been named after the Rangaswamy temple that is embellished with a whitish rock at the helms of the sanctuary.
It was declared as a protected reserve in the Wildlife Protection Act of 1972.
This unique sanctuary exhibits scrub, dry deciduous, moist deciduous, evergreen, semi evergreen and shola forests.
It is widely known for its many endemic species of plants including valuable medicinal ones.
Bandipur Tiger Reserve
Please refer August 2021 DPN to know about it.
8. Indian Council of cultural relations (ICCR)
Subject – Art and Culture
Context – The Indian Council for Cultural Relations (ICCR) has requested Minister for Civil Aviation to make it mandatory for the country's airlines and airports to play Indian music
Concept –
The Indian Council for Cultural Relations (ICCR) was founded in 1950 by Maulana Abul Kalam Azad. It completed 70 years in 2020.
It is an autonomous organisation of the Government of India, involved in India's external cultural relations i.e., cultural diplomacy.
Its objectives are:
to actively participate in the formulation and implementation of policies and programmes pertaining to India's external cultural relations.
to foster and strengthen cultural relations and mutual understanding between India and other countries,
to promote cultural exchanges with other countries and people, and to develop relations with nations.
It is running 36 cultural centres in different countries with the promotion of Indian culture and projecting India as a hub for higher education.
It instituted several awards for foreign nationals as a way to promote India's culture abroad:
Distinguished Indologist Award
World Sanskrit Award
Distinguished Alumni Award – Citation and Plaque
Gisela Bonn Award
9. Shakti Criminal Laws (Maharashtra Amendment) Bill
Subject – Governance
Context – Maharashtra clears Bill with stricter punishment for crimes against women
Concept –
Maharashtra became the second state in India after Andhra Pradesh to approve death penalty for heinous offences of rapes and gang rapes.
The Bill aims to curb crime against women and children provides stricter punishment including death penalty in rape cases.