Daily Prelims Notes 25 October 2021
October 26, 2021

Posted by:

OptimizeIAS Team

Category:

DPN

Daily Prelims Notes
25 October 2021
Table Of Contents
Subject – Agriculture
Context – Biodynamic Farming Takes Root in India
Concept –
Biodynamic farming is what makes organic agriculture work. Drawn from concepts outlined by its Austrian pioneer Rudolf Steiner in 1924, it proscribes the use of chemicals on plants and soil and instead places emphasis on natural composts. In this, it is like organic farming.

Rudolf Steiner was an Austrian philosopher and scientist who's thought was very much influenced by oriental philosophy, especially Buddhism, Hinduism, and the Vedic scriptures.
Out of this influence and his own studies was born Anthroposophy, or the wisdom (knowledge) of the human being.
Anthropos=human being Sophia=wisdom
At the heart of Anthroposophy is the recognition that the human being (Manushya) is a spiritual being (Purusha).

The difference is the alignment of its practices with the cosmos, with zodiac signs as guidance. Also, various biodynamic preparations to fertilise the ground are used in far smaller quantities than otherwise.
Rudolf explained how modern science and therefore chemical agriculture was based on the study of dead things in laboratories, rather than on the observation of living nature and the complex relationships constantly changing therein.
Among this web of life he also included the cosmos with its moving planets and stars, and he spoke of how in the past, farmers instinctively knew about the effects of this movement on the life of plants and also animals and human beings.
Rudolf Steiner introduced a few preparations based on homeopathic medicine to enhance the beneficial cosmic influences on plants and the soil, and encouraged people to experiment and find new ones as well.
Biodynamics is primarily concerned with the higher forces, the finer energies and how they influence plants, animals, and human beings. This knowledge and work with the life forces brings balance and healing to the soil, and therefore to anything that grows in that soil and every being that eats those plants.
Main effects of using biodynamic agriculture
to increase the vitality of food
to regenerate natural resources such as the soil (by restoring the organic matter present in the soil), the seeds, and the water
to create a personal relationship with the world in which we live, with Nature of which we are apart of, and to learn to work together
most of all, to be of service to the Earth and its beings by aiding nature where it is weak due to constant use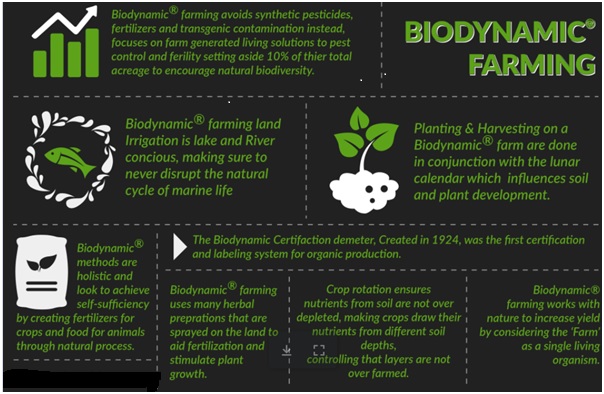 Subject – Agriculture
Context – An acute shortage of di-ammonium phosphate (DAP) in Haryana has seen desperate farmers pelting stones at the police, blocking roads in protest, and even resorting to "loot" the fertilizer from a private dealer's outlet in Mahendragarh district of south Haryana.
Concept –
Why is DAP so important for farmers?
Being a basic nutrient for Rabi crops, the DAP fertiliser has to be sprinkled at the time of sowing crops like mustard and wheat.
The farmers say they need a bag of at least 45 kilos for sowing an acre of land. Any delay in its supply could adversely impact the sowing of crops.
What is DAP?
Diammonium phosphate is one of a series of water-soluble ammonium phosphate salts that can be produced when ammonia reacts with phosphoric acid.
When applied as plant food, it temporarily increases the soil pH, but over a long term the treated ground becomes more acidic than before upon nitrification of the ammonium.
It is incompatible with alkaline chemicals because its ammonium ion is more likely to convert to ammonia in a high-pH environment.
The average pH in solution is 7.5–8.
DAP can be used as a fire retardant. These are important effects in fighting wildfires as lowering the pyrolysis temperature and increasing the amount of char formed reduces that amount of available fuel and can lead to the formation of a firebreak.
DAP is also used as a yeast nutrient in winemaking and mead-making; as an additive in some brands of cigarettes purportedly as a nicotine enhancer; to prevent afterglow in matches, in purifying sugar; as a flux for soldering tin, copper, zinc and brass; and to control precipitation of alkali-soluble and acid-insoluble colloidal dyes on wool.
Natural occurrence
The compound occurs in the nature as the exceedingly rare mineral phosphammite. The related dihydrogen compound occurs as the mineral biphosphammite. Both are related to guano deposits.
3. Ayushman Bharat Health Infrastructure Mission
Subject – Governance
Context – Prime Minister Narendra Modi is set to visit Uttar Pradesh's Varanasi on Monday to inaugurate what is being touted as "India's largest scheme to scale-up health infrastructure".
Concept –
The Ayushman Bharat Health Infrastructure Mission is aimed at ensuring a robust public health infrastructure in both urban and rural areas, capable of responding to public health emergencies or disease outbreak.
In a bid to increase accessibility, the Ayushman Bharat Health Infrastructure Mission, an addition to the National Health Mission, will provide support to 17,788 rural Health and Wellness Centres in 10 'high focus' states and establish 11,024 urban Health and Wellness Centres across the country.
The mission's objective is to "fill critical gaps in public health infrastructure, especially in critical care facilities and primary care in both the urban and rural areas."
It will ensure access to critical care services in all districts of the country with over five lakh population through 'Exclusive Critical Care Hospital Blocks'. The remaining districts will be covered through referral services.
Integrated public health labs will also be set up in all districts, giving people access to "a full range of diagnostic services" through a network of laboratories across the country.
The Ayushman Bharat Health Infrastructure Mission also aims to establish an IT-enabled disease surveillance system through a network of surveillance laboratories at block, district, regional and national levels.
All the public health labs will be connected through the Integrated Health Information Portal, which will be expanded to all states and UTs.
In light of the coronavirus pandemic, the mission aims at ensuring a robust system for "detecting, investigating, preventing, and combating public health emergencies and disease outbreaks".

For this, 17 new public health units will be set up, while the 33 existing public health units will be strengthened. It will also train frontline and healthcare workers to respond to public health emergencies effectively.

Apart from this, the mission will set up other infrastructure, including a national institution for one health, four national institutes for virology, a regional research platform for WHO's South East Asia region, nine biosafety level-III laboratories, and five regional centres for disease control.
Ayushman Bharat Digital Mission (ABDM)
A flagship digital initiative involving the creation of not just a unique health ID for every citizen, but also a digital healthcare professionals and facilities registry.
4. International Year of Fruits & Vegetables 2021
Subject – IR
Context – 2021 has been designated by the UN General Assembly as the International Year of Fruits and Vegetables (IYFV)
Concept –
2021 has been designated by the UN General Assembly as the International Year of Fruits and Vegetables (IYFV).
The IYFV is a unique opportunity to raise awareness of the important role of fruits and vegetables in human nutrition, food security and health as well as in achieving the UN Sustainable Development Goals.
The 2021 IYFV falls within the UN Decade of Action on Nutrition (2016-2025) and the UN Decade of Family Farming (2019-2028).
FAO is the lead agency for celebrating the year in collaboration with other relevant organizations and bodies of the United Nations systems.
What are fruit and vegetables?
There is no widely accepted definition for either fruit or vegetables. The definition agreed to for the International Year of Fruits and Vegetables is as follows.
Fruit and vegetables are considered edible parts of plants (e.g., seedbearing structures, flowers, buds, leaves, stems, shoots and roots), either cultivated or harvested wild, in their raw state or in a minimally processed form.
Excluded are the following:

Starchy roots and tubers such as cassava, potato, sweet potato and yams (although leaves of these plants are consumed as vegetables).
Dry grain legumes (pulses) unless harvested when immature.
Cereals including maize (corn), unless harvested when immature.
Nuts, seeds and oilseeds such as coconuts, walnuts and sunflower seeds.
Medicinal or herbal plants and spices, unless used as vegetables.
Stimulants such as tea, cacao and coffee.
Processed and ultra-processed products made from fruit and vegetables such as alcoholic beverages (e.g. wine, spirits), plant-based meat substitutes, or fruit and vegetable products with added ingredients (e.g., packed fruit juices, ketchup).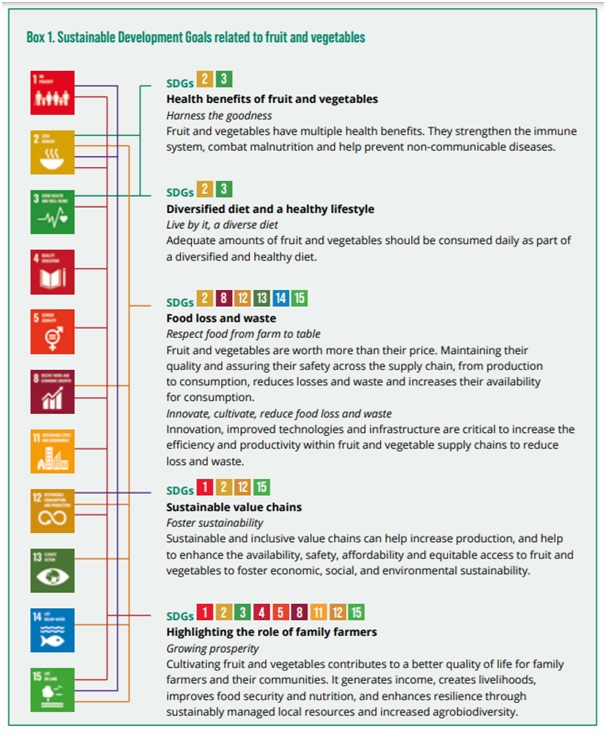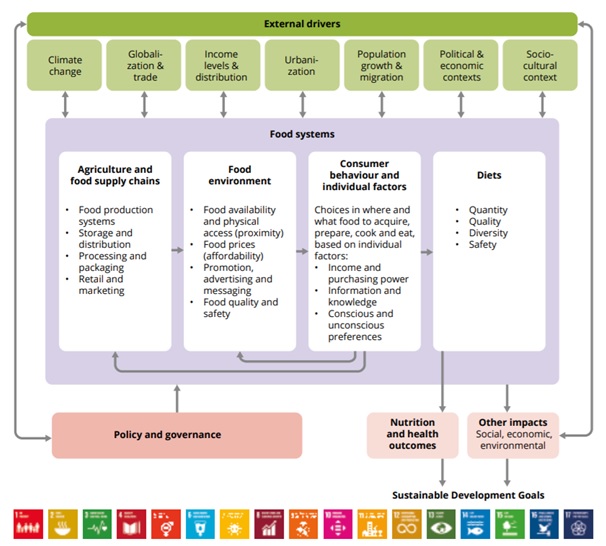 World fruit production by commodity, 2018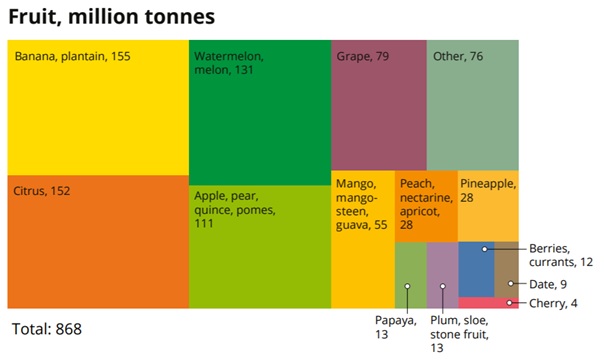 World vegetable production by commodity, 2018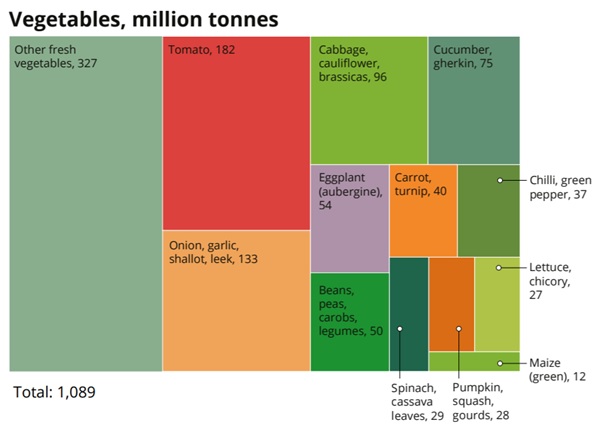 Meeting standards and ensuring safety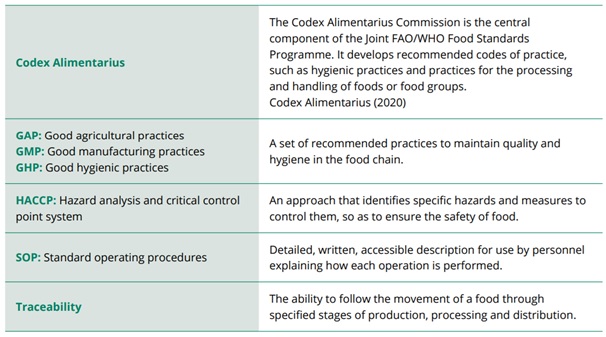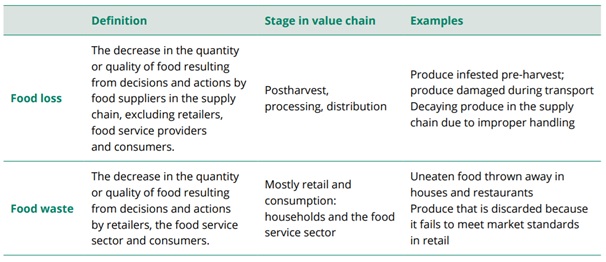 Food safety risks along the value chain
In India –
India's diverse climate ensures availability of all varieties of fresh fruits & vegetables.
It ranks second in fruits and vegetables production in the world, after China.
According to FAO (2019), India is the largest producer of ginger and okra amongst vegetables and ranks second in production of potatoes, onions, cauliflowers, brinjal, Cabbages, etc.
Amongst fruits, the country ranks first in production of Bananas (26.08%), Papayas (44.05%) and Mangoes (including mangosteens and guavas) (45.89%).
Grapes, Pomegranates, Mangoes, Bananas, Oranges account for larger portion of fruits exported from the country while Onions, Mixed Vegetables, Potatoes, Tomatoes, and Green Chilly contribute largely to the vegetable export basket.
The major destinations for Indian fruits and vegetables are Bangladesh, UAE, Netherland, Nepal, Malaysia, UK, Sri Lanka, Oman and Qatar.
Though India's share in the global market is still nearly 1% only, there is increasing acceptance of horticulture produce from the country.
5. SEBI declares govt-owned firm PEC as 'not fit & proper'
Subject – Economy
Context – SEBI declares govt-owned firm PEC as 'not fit & proper'
Concept –
The Securities and Exchange Board of India (SEBI) has declared a government-owned company as 'not fit & proper' for the first time.

PEC Ltd, a 100 per cent government-owned company, has been declared 'as not fit and proper' for acting as a broker and carrying out illegal trades on NSEL's spot exchange platform between 2010 and 2013.
In the case of PEC, SEBI has said in its order that the company failed in conducting its business in conformity with the standards expected to be maintained by registered securities market intermediaries.

Experts say that this order may become a test case as it could tag the President of India, under whom all government ownership is held, as 'not fit and proper' going by the precedent in similar actions against private entities.
In the past, when SEBI declared entities 'not fit and proper' in high-profile cases involving Sahara India and Financial Technologies (63Moons Technologies), the regulator studied the role of its management, board and promoters to accord them a similar tag.
In October 2018, the Bombay High Court said, "Perusal of Regulation 7 read with Schedule II would reveal that while making an inquiry to find as to whether the applicant is "fit and proper person", the board (SEBI) is entitled to conduct an inquiry not only about the applicant intermediary, but also its principal officer, director, promoter and the key management persons.
Subject – History
Context – J&K now free of strong ­arm tactics by three families: Shah
Concept –
Prem Nath Dogra was a leader from Jammu and Kashmir who worked for total integration of the state with India.
He was also known as Sher e Duggar.
He was instrumental in forming the Jammu PrajaParishad party in 1947 along with Balraj Madhok and opposed the policies of Sheikh Abdullah.
He was later elected the president of Bharatiya Jana Sangh in 1955 for a brief period.
PanditPremNath Dogra dedicated himself to the service of the downtrodden, poor, Dalit, and proletariat part of society.
He was an instrument in establishing 'Brahman Mukhya Mandal' which is now called "Brahman Pritinidhi Sabha".
His doctrine was for Brahmans not to be contented with BHIKHYA or DAN from the society but do efforts, gain knowledge, and endeavor for the welfare of the society and state.
He emphasized that SanatanDharm Sabha is meant to work for boosting social, religious, cultural and educational aspects of Hindu society.
Subject – History
Context – J&K now free of strong­arm tactics by three families: Shah
Concept –
Syama Prasad Mukherjee was an Indian politician, barrister and academician, who served as the Minister for Industry and Supply in Prime Minister Jawaharlal Nehru's cabinet.

After falling out with Nehru,[3] protesting against the Liaquat-Nehru Pact, Mukherjee resigned from Nehru's cabinet.

With the help of the Rashtriya SwayamsevakSangh, he founded the Bharatiya Jana Sangh, the predecessor to the Bharatiya Janata Party, in 1951.
He was also the president of AkhilBharatiya Hindu Mahasabha from 1943 to 1946.
Since the Bharatiya Janata Party is the successor to the Bharatiya Jana Sangh, Mukherjee is also regarded as the founder of the Bharatiya Janata Party.
8. Information Fusion Centre for Indian Ocean Region
Subject – IR
Context – Netherlands keen on Naval Liaison Officer
Concept –
The IFC-IOR was set up in 2018 to coordinate with regional countries on maritime issues and act as a regional repository of maritime data.
It presently has linkages with 21 partner countries and 22 multi-national agencies across the globe.
The IFC has been established at Gurugram, India and is collocated with Information Management and Analysis Centre which is jointly administered by the Indian Navy and Indian Coast Guard.
IFC-IOR is established with the vision of strengthening maritime security in the region and beyond, by building a common coherent maritime situation picture and acting as a maritime information hub for the region.
Roles and functions of a liaison officer:
The liaison officer will be based full-time at the centre, working directly with the Indian armed forces and fellow liaison officers from partner nations to enhance maritime domain awareness in the region.
Subject – Governance
Context – Punjab uses tech against illicit brewing
Concept –
In 2020, Punjab's Excise Department launched Operation Red Rose to curb illicit liquor trading and nail excise­related crimes.
For this purpose, a 30-member anti-smuggling cell has been constituted. A close co-ordination is also being kept with the excise department to stop smuggling of liquor.
Subject – Governance
Context – Gorias feel heat of eviction drive in Assam
Concept –
They are a category of Assamese Muslims.
Goriyas can trace their lineage back to the time of the 13th-century Ahom kings. Many came with Muslim armies and were captured in warfare. When they were released, they mingled with the mainstream society — so even today, most of their cultural traditions match Assamese customs,
The behavior, culture, traditions of this community are not different from other indigenous communities of Assam.
Apart from the religious aspect, no Muslim in India and the world has any cultural, linguistic and traditional similarities with the Gorias.
Language- Assamese.
In Edward Gait's A History of Assam, Goriyas are described as hailing from Gaur, the ancient "Mahammadan capital" of Bengal.
Contribution towards the field of Education :-
At the advent of British when they started to propagate modern education in Assam and established schools, the Goria people also anticipated in such process and establishes many schools in their localities  in those earlier days.
Some of those schools are Naharani L.P. School established at village Naharani, Dergaon, Golaghat in the year 1875, Jorhat MuktabAdarsha L.P. School established at Jorhat town in the year 1896 and Ghahigaon Government L.P. School establsihed at Ghahigaon village of Sootea, Biswanath in the year 1889 are most notable.
11. National Fund to Control Drug Abuse
Subject – Governance
Context – Use anti-drug fund for de-addiction: Ministry
Concept –
The fund, which was created in accordance with a provision of the Narcotic Drugs and Psychotropic Substances Act, 1985.
The Fund shall be applied by the Central Government to meet the expenditure incurred in connection with the measures taken for combating illicit traffic in, or controlling abuse of, narcotic drugs and psychotropic substances for all or any of the purposes specified in sub-section (1) of section 71.
It had a nominal corpus of ₹23 crore.
Funding: Under the NDPS Act, the sale proceeds of any property forfeited, grants made by any person and institution, and income from the investments of the fund, go towards the fund.