Daily Prelims Notes 26 December 2021
December 29, 2021

Posted by:

admin1

Category:

DPN

Daily Prelims Notes
26 December 2021
Table Of Contents
1. Shyama Prasad Mukherjee Rurban Mission
Subject – Government Schemes
Context – Telangana stood first in the implementation of the Shyama Prasad MukherjiRurban Mission (SPMRM)
Concept –
It is a Centrally Sponsored Scheme (CSS), launched in 2016 by the MInistry of Rural Development (MoRD) to deliver integrated project based infrastructure in the rural areas, which also include development of economic activities and skill development.
A predecessor to SPMRM was the Provision of Urban Amenities to Rural Areas (PURA), announced in 2003.

PURA was mooted by the former President Dr. Abdul Kalam in January 2003 as a way of empowering and accelerating rural development.

Main objective of the scheme is bridging the rural-urban divide-viz: economic, technological and those related to facilities and services.
Rurban Clusters: There are 2 categories of clusters: Non-Tribal and Tribal.

They are identified across the country's rural areas showing increasing signs of urbanization – i.e. increase in population density, high levels of non-farm employment, presence of growing economic activities and other socioeconomic parameters.
For the purposes of SPMRM, Rurban areas refer to a cluster of 15-20 villages having about 30 to 40 lakh population.
The clusters will be geographically contiguous Gram Panchayats with a population of about 25000 to 50000 in plain and coastal areas and a population of 5000 to 15000 in desert, hilly or tribal areas.

The State Government identifies the clusters in accordance with the Framework for Implementation prepared by the MoRD.
Subject – History
Context – Unity is collective responsibility: PM Modi recalls role of Sikh gurus
Concept –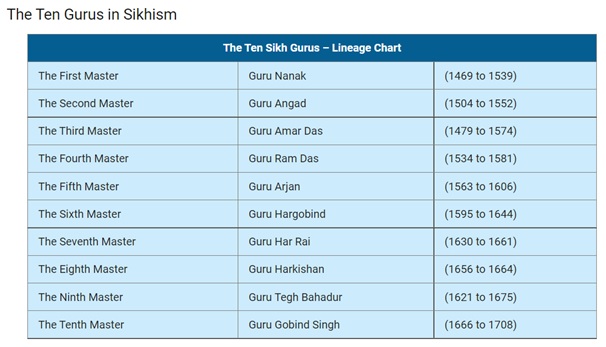 Guru Nanak Dev – Guru from 1469 to 1539
Guru Nanak Dev, first of the 10 gurus, founded the Sikh faith, introducing the concept of one God.
He started the institution of Guru Ka Langar. Langar is the term in the Sikh religion refers to the common kitchen where food is served to everyone without any discrimination.
He emphasized the equality of women and rejected the path of renunciation and he rejected the authority of the Vedas.
He was the contemporary of Mughal emperor – Babur.
Guru Angad Dev – Guru from 1539 to 1552
Guru Angad Dev, second of the 10 gurus, invented and introduced the Gurmukhi (written form of Punjabi) script.
He compiled the writings of Nanak Dev in Guru Granth Sahib in Gurmukhi Script.
Popularized and expanded the institution of Guru ka Langar which was started by Guru Nanak Dev.
Guru Amardas Sahib – Guru from 1552 to 1574
Guru Amardas introduced the Anand Karaj marriage ceremony for the Sikhs, replacing the Hindu form.
He established Manji & Piri system of religious missions for men and women respectively.
He strengthened the tradition of Guru Ka Langar.
He also completely abolished amongst the Sikhs, the custom of Sati and purdah system.
He was the contemporary of Mughal emperor – Akbar.
Guru Ram Das – Guru from 1574 to 1581
Guru Ram Das, fourth of the 10 gurus, founded the city of Amritsar.
He started the construction of the famous Golden Temple at Amritsar, the holy city of the Sikhs.
He requested the Muslim Sufi, Mian Mir to lay the cornerstone of the Harmandir Sahib.
Guru Arjan Dev – Guru from 1581 to 1606
He compiled the Adi Granth, the scriptures of the Sikhs.
He completed construction of Sri Darbar Sahib also known as Golden Temple in Amritsar.
He founded the town of Tarn Taran Sahib near Goindwal Sahib.
He became the first great martyr in Sikh history when Emperor Jahangir ordered his execution. Thus, he was hailed as Shaheedan-de-Sartaj (The crown of martyrs).
Guru Har Gobind Sahib – Guru from 1606 to 1644
He was the son of Guru Arjan Dev and was known as a "soldier saint".
He organised a small army and became the first Guru to take up arms to defend the faith.
He waged wars against Mughal rulers Jahangir and Shah Jahan.
Guru Har Rai Sahib – Guru from 1644 to 1661
Though he was a man of peace, he never disbanded the armed sikh warriors who were earlier maintained by Guru Har Gobind.
He gave shelter to Dara Shikoh, the eldest son of Mughal Ruler Shah Jahan, who was later persecuted by Aurangazeb.
He cautiously avoided conflict with Emperor Aurangzeb and devoted his efforts to missionary work.
Guru Har Krishan Sahib – Guru from 1661 to 1664
Guru Har Krishan was the youngest of the Gurus. He was installed as Guru at the age of five.
He was contemporary of Aurangazeb and summoned to Delhi by him under framed charges of anti-Islamic blasphemy.
Guru Tegh Bahadur Sahib – Guru from 1665 to 1675
He established the town of Anandpur.
He opposed the forced conversion of the Hindu Kashmiri Pandits by Mughal ruler Aurangazeb and he was consequently persecuted for this.
Guru Gobind Singh Sahib – Guru from 1675 to 1708
He became Guru after the martyrdom of his father Guru Tegh Bahadur.
He created the Khalsa in 1699, changing the Sikhs into a saint-soldier order for protecting themselves.
Last Sikh Guru in human form and he passed the Guruship of the Sikhs to the Guru Granth Sahib.
He established the five symbols of Sikhism:

Kangha (comb),
Kesh (long hair),
Kada (iron bracelet),
Kachcha (underwear) and
Kirpan (sword or dagger).
Guru Granth Sahib
Guru Granth Sahib (also known as the Adi Granth) is the scripture of the Sikhs.
The Granth was written in Gurmukhi script and it contains the actual words and verses as uttered by the Sikh Gurus.
It is considered the Supreme Spiritual Authority and Head of the Sikh religion, rather than any living person.
Subject – History
Context – Call to give Tai Khamti resistance its due. Arunachal Deputy CM asks Centre to recognise battles against British in northeast
Concept –
Tai Khamti took place in 1839 between the Tai Khamti people and the British. The theatre of this war was some 2,400 km east of Meerut in Uttar Pradesh where the mutiny began.
Tai Khamtis resisted colonisation by the British. Some 80 British soldiers, including Col. Adam White, were killed in the resultant conflict.
The Tai Khamti people, who follow Theravada Buddhism, number a little more than 1,00,000 today and live in areas straddling Arunachal Pradesh and Assam.
Other battles between communities of Arunachal Pradesh and the British –
Anglo-Abor wars from 1858 to 1911

The Abors, now called Adis, inhabit central Arunachal Pradesh

Wancho-British war in Tirap district's Ninu in 1875

Wanchos live in the southern part of the State in Arunachal.
About Tai Khamti
They are an ethnic group native to Myanmar. In India, they are found in Arunachal Pradesh and Assam and possibly in some parts of China.
The Tai Khamtis who inhabit the region around the Tengapani basin were descendants of migrants who came during the century from the Hkamti long region, the mountainous valley of the Irrawaddy.
The Tai-Khamti are followers of Theravada Buddhism.
The Tai-Khamti have their own script for their language, known as 'Lik Tai', which originated from the Shan (Tai) script of Myanmar.
Their mother tongue is known as Khamti language. It is a Tai language, closely related to Thai and Lao.
Sangken is the main festival of the Khamti.
Subject – Science and Tech
Context – Study of distant magnetar reveals facets of the exotic star
Concept –
A magnetar is a type of neutron star believed to have an extremely powerful magnetic field.

Neutron stars are formed when the largest stars in the universe reach the end of their lives. When these stars run out of fuel, their core collapses causing outer layers to come crashing in towards the centre.

The magnetic-field decay powers the emission of high-energy electromagnetic radiation, particularly X-rays and gamma rays.
A magnetar is a rare compact type of neutron star teeming with energy and magnetism.
Magnetars are relatively rare objects, with only about thirty having been spotted within the Milky Way so far.
How magnetars form?
During the course of their evolution, massive stars – with masses around 10-25 times the mass of the Sun – eventually collapse and shrink to form very compact objects called neutron stars. A subset of these neutron stars are the so-called magnetars which possess intense magnetic fields.
These are highly dense and have breathtakingly high rotation speeds – they have rotational periods that can be just 0.3 to 12.0 seconds.
Magnetars have high magnetic fields in the range of 1015 gauss and they emit energy in the range given by luminosities of 1037– 1040 joules per second.

Compare this to the luminosity of the sun which is in the order of 1026 joules per second – a factor of at least 1011

Further, these magnetars emit violent flares.
Eruptions in magnetars are believed to be due to instabilities in their magnetosphere, or "starquakes" produced in their crust – a rigid, elastic layer about one kilometre thick. This causes waves in the magnetosphere, and interaction between these waves causes dissipation of energy.
Magnetars are very difficult to observe when they are silent. It is only during a flare that they can be observed, and these flares are so short-lived that it presents a formidable problem.
They are mostly observed or seen in active transient phases which are very short in duration and are very faint in general for any available instruments or telescopes.
The active life of a magnetar is short. Their strong magnetic fields decay after about 10,000 years, after which activity and strong X-ray emission cease.
In News –
An international group of researchers has succeeded in measuring for the first time the characteristics of a flare on a distant magnetar.
The magnetar they have studied is about 13 million light years away, in the direction of the NGC 253, a prominent galaxy in the Sculptor group of galaxies.
The flare, which spewed within a few tenths of a second as much energy as the Sun would shed in 100,000 years, was captured accidentally on April 15, 2020, by the Atmosphere-Space Interactions Monitor instrument (ASIM) of the International Space Station.
The present magnetar is only the second one to be studied which is located outside the galaxy and is also the furthest, at 13 million light years distance.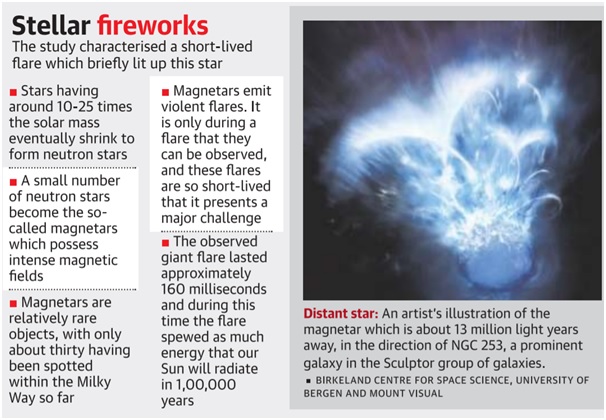 Subject – Science and Tech
Context – The California-based site "Bayview Senior Assisted Living," in an article suggests 13 ways in which dementia can be handled / reduced.
Concept –
Dementia is a group of symptoms that affect memory and thinking and interfere with daily life.
Alzheimer's disease is the main and major cause of dementia.
Treatments to reduce the symptoms and progression of dementia can be clinical, or methods such as practising yoga, breathing exercises, brisk walking and listening to tuneful music.
It is an age-related disease, affecting over 55 million people across the world.
The National Health Portal of India says that as per the Census 2011, dementia affects 2.7% of the 65 million Indian Senior Citizens over 65 years of age.
To know more about Dementia, please refer September 2021 DPN.
Subject – Science and Tech
Context – Japanese professor creates 'tele-­taste' TV screen
Concept –
A Japanese professor has developed a prototype lickable TV screen that can imitate food flavours, another step towards creating a multi-sensory viewing experience.
The device, called Taste the TV (TTTV), uses a carousel of 10 flavour canisters that spray in combination to create the taste of a particular food.
The flavour sample then rolls on hygienic film over a flat TV screen for the viewer to try.
The goal is to make it possible for people to have the experience of something like eating at a restaurant on the other side of the world, even while staying at home.
Potential applications include distance learning for sommeliers and cooks, and tasting games and quizzes.
In the Covid-19 era, this kind of technology can enhance the way people connect and interact with the outside world, said Meiji University professor Homei Miyashita.
Subject – Science and Tech
Context – Researchers at KarolinskaInstitutet in Sweden have found that negative smells associated with unpleasantness or unease are processed earlier than positive smells and trigger a physical avoidance response.
Concept –
The olfactory system, or sense of smell, is the sensory system used for smelling (olfaction).
Researchers in Sweden have found that negative smells associated with unpleasantness or unease are processed earlier than positive smells and trigger a physical avoidance response.
The olfactory organ takes up about 5% of the human brain and enables us to distinguish between many million different smells. In humans, the olfactory sense seems particularly important for detecting and reacting to potentially harmful stimuli.
The researchers have for the first time made it possible to measure signals from the human olfactory bulb, which processes smells and in turn can transmits signals to parts of the brain that control movement and avoidance behaviour.
The bulb reacts specifically and rapidly to negative smells and sends a direct signal to the motor cortex within about 300 milliseconds.
Subject – Governance
Context – Govt. set to decriminalise metrology law
Concept –
The Act aims to establish and enforce standards of weights and measures, regulate trade and commerce in weights, measures and other goods which are sold or distributed by weight, measure or number and for matters connected therewith or incidental thereto.
The Acts is regulated and administered by the Ministry of Consumer Affairs, Food and Public Distribution.
The Legal Metrology (Packaged Commodities), Rules 2011 are primarily intended to ensure that the consumers are able to make informed choices by being informed of essential declarations on the pre-packed commodities.
9. Right To Freedom of Religion
Subject – Polity
Context – Karnataka's anti-conversion legislation
Concept –
Part III of the Indian Constitution guarantees various fundamental rights. Article 25- 28 provides for the right to freedom of religion which is largely based upon Irish Constitution.
Article 25– Freedom of conscience and free profession, practice and propagation of religion.
Article 26– Freedom to manage religious affairs.
Article 27– Freedom as to payment of taxes for promotion of any particular religion.
Article 28– Freedom as to attendance at religious instruction or religious worship in certain educational institutions.
SC Case
In Stainislaus Rev. v. State of M.P, Supreme Court held that the right to propagate one's religion means the right to communicate a person's beliefs to another person or to expose the tenets of that faith, but would not include the right to 'convert' another person to the former's faith because the latter person is "equally entitled to freedom of conscience" which words precede the word 'propagate'.

So, nobody has any fundamental right to convert the religion of someone without his free choice.
Further, Court held that the word propagate does not give rise to the right to convert.