Daily Prelims Notes 27 January 2022
January 27, 2022

Posted by:

admin1

Category:

DPN

Daily Prelims Notes
27 January 2022
Table Of Contents
1. 'Personal Safety User Guide' by Apple
Subject – Science and Tech
Context – Apple has released a 'Personal Safety User Guide' to address growing AirTag stalking cases
Concept –
Apple launched what it calls a "Personal Safety User Guide" to address the growing stalking problems caused by its AirTags, a little tracking device the size of a coin meant to keep tag of personal devices.
Apple is known for providing an extra layer of security when users buy its products or subscribe to any of its services.
What is an Apple AirTag?
Last year, Apple debuted its AirTag item tracker as a new accessory for iPhone users. If you lose a wallet with an AirTag attached to it, you will get a notification with the location when someone with an iPhone, iPad or Mac comes within Bluetooth range of it. Any iOS or Mac device that comes close to the tag sends the location of an AirTag to Apple's cloud computing network and onto the owner.
An app called "Find My" on the iPhone tracks how far the tracker is and displays a map with the exact location. Apple says only the owner can see where exactly the tag currently is, and the tracking device doesn't store location or history.
But the AirTag is increasingly becoming a tool for stalking, especially in the US and Canada.
Personal Safety User Guide
Personal Safety User Guide is aimed at providing users with resources, including personal safety features available across the Apple ecosystem.
Although a data privacy guide was first published a year ago, it has now been updated to include a section on AirTags.
In the guide, Apple talks about privacy features and the security mechanism in place to prevent stalking and provides instructions on what to do if you hear an AirTag making a sound that doesn't belong to them.
To be clear, Apple is not introducing any new security features to beef up the privacy features. This guide is a useful safety resource for anyone "who is concerned about or experiencing technology-enabled abuse, stalking, or harassment."
2. Small Satellite Launch Vehicle (SSLV) by ISRO
Subject – Science and Tech
Context – ISRO's SSLV, a small satellite launcher with big prospects ahead
Concept –
The ISRO chairman has mentioned the launch of an "SSLV-D1 Micro SAT in April 2022".
The SSLV is intended to cater to a market for the launch of small satellites into low earth orbits which has emerged in recent years on account of the need for developing countries, private corporations, and universities for small satellites.
The launch of small satellites has until now been dependent on 'piggy-back' rides with big satellite launches on ISRO's work-horse – the Polar Satellite Launch Vehicle which has had over 50 successful launches so far. The launch of small satellites as a consequence has been dependent on the finalising of launch contracts for the larger satellites by ISRO.
The launch of the maiden flight of the SSLV was scheduled for July 2019 but has been delayed due to setbacks from the Covid 19 crisis and other issues.
The SSLV can carry satellites weighing up to 500 kg to a low earth orbit while the tried and tested PSLV can launch satellites weighing in the range of 1000 kg.
The former chairman Sivan said in an industry meeting that year that about 15 to 20 SSLVs would be required every year to meet the national demand alone.
The SSLV is the smallest vehicle at 110-ton mass at ISRO. It will take only 72 hours to integrate, unlike the 70 days taken now for a launch vehicle. Only six people will be required to do the job, instead of 60 people. The entire job will be done in a very short time and the cost will be only around Rs 30 crore. It will be an on-demand vehicle.
SSLV is perfectly suited for launching multiple microsatellites at a time and supports multiple orbital drop-offs.
The development and manufacture of the SSLV are expected to create greater synergy between the space sector and private Indian industries – a key aim of the space ministry.

One of the aims of the newly-created ISRO commercial arm, New Space India Limited (NSIL), is to use research and development carried out by ISRO over the years for commercial purposes through Indian industry partners.
"Manufacturing and production of Small Satellite Launch Vehicle (SSLV) and Polar Satellite Launch Vehicle (PSLV) through technology transfer," is one of the mandates of the new firm.
3. Separation of the post of Chairperson and Managing Director
Subject – Economy
Context – Over a third of top-500 firms yet to split MD and chair roles
Concept –
Over a third of the top 500 companies by market cap are yet to comply with SEBI's requirement to split the post of chairperson and managing director by April 2022 deadline.
Taken together, almost half the companies, or 49.6 per cent, are still not compliant with the SEBI norm that aims to improve corporate governance.
Under the SEBI norms, the top 500 listed entities by market capitalisation were mandated to comply with the requirement of separation of the roles of chairperson and managing director (MD) or chief executive officer (CEO) with effect from April 1, 2020. This was deferred by two years to April 2022.
The norms were part of the series of recommendations given by the Sebi-appointed Kotak committee on corporate governance.
Subject – Science and Tech
Context – The Railways is in the news for its plans on hyperloop trains
Concept –
Hyperloop trains are hydrogen fuel-cell trains and lighter aluminium coaches — the most futuristic being hyperloop.
Hyperloop trains, like Maglev, use linear motors, with magnetised coils placed along the track with repelling magnetism induced in the train's undercarriage so the train hovers on guide-ways in a magnetic field, powerful enough to lift, suspend and propel the train at speeds much faster than conventional trains, exploiting the absence of friction between rail and wheel.
Since air drag, which increases parabolically as speeds go up, limits the speed, hyperloop trains work in sealed vacuumed tubes. Aircraftlike speed becomes theoretically feasible.
Hyperloop was mooted by Elon Musk, the founder of SpaceX, envisaging passenger-carrying pods travelling through vacuum tubes at 1,000 km/h or more. It was touted as power-autonomous with solar energy; after consuming tremendous energy to accelerate, the input reduces with momentum moving it at high speeds in the airless tube.
Hyperloop is not operational anywhere in the world as yet but various companies have announced projects for routes in the US, Canada, West Asia, Ukraine, South Korea, etc.

The only recorded proof of concept has been by Virgin Hyperloop, when, after many unmanned tests, it ran a prototype pod in a manned trial in November 2020.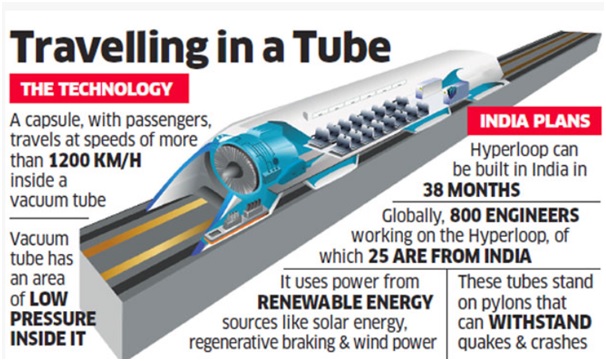 5. National Pharmaceutical Pricing Authority (NPPA)
Subject – Science and Tech
Context – Price of Covishield, Covaxin may be capped at ₹275/dose
Concept –
National Pharmaceutical Pricing Authority (NPPA) was constituted as an attached office of the Department of Pharmaceuticals (DoP) in 1997 under Ministry of Chemicals & Fertilizers as an independent Regulator for pricing of drugs and to ensure availability and accessibility of medicines at affordable prices.
It fixes ceiling prices of scheduled essential drugs and monitors Maximum Retail Prices (MRPs) of remaining non-scheduled medical devices, which have been regulated as drugs.
NPPA is neither a Statutory nor a Constitutional Body.
Drugs (Prices Control) Order (DPCO)
The Drugs Prices Control Order, 1995 is an order issued by the Government of India under Sec. 3 of Essential Commodities Act, 1955 to regulate the prices of drugs.
The Order inter alia provides the list of price controlled drugs, procedures for fixation of prices of drugs, method of implementation of prices fixed by Govt., penalties for contravention of provisions etc.
For the purpose of implementing provisions of DPCO, powers of Government have been vested in NPPA.
Subject – Science and Tech
Context – China mRNA vaccine may fall short of Pfizer, Moderna shots
Concept –
To know about mRNA Vaccines, please refer August 2021 DPN.
Subject – Economy
Context – Tata takes over Air India
Concept –
The first attempt to conduct a strategic sale of the airline was made in 2001 during the NDA regime, when Atal Vihari Vajpayee was the Prime Minister. At that point, the government of the day wanted to offload 40 per cent of the airline's equity.
Initially, several foreign airlines, expressed interest. In addition, Indian corporates like Hinduja Group and Tata Group were in the fray. However, when the government clarified that any foreign airline will have to partner with an Indian company to bid, most airlines pulled themselves out of the race.
Why were successive governments keen to sell the airline?
It was said the government, in just the last decade, infused over ₹1-lakh crore in Air India in the form of cash and credit guarantee support.
But the airline continued to make losses, which stood at nearly ₹20 crore a day or ₹7,046 crore for 2020-21.
In 2017, the Centre decided it would hold on to 24 per cent of the equity in the airline; and 76 per cent would be divested. The acquirer would also have to pick up a portion of the airline's debt. Investors backed away at the prospect of picking up debt, and not a single bid was received.
What was different this time around?
In January 2021, the Modi government brought Air India back to the strategic sale table with significant changes in terms. The biggest change was that the government said it would offload 100 per cent of its stake in Air India.
Further, over the past two years, part of Air India's debt was transferred to a special-purpose vehicle, and in this round of the disinvestment process, the buyer was to take on ₹23,286 crore of debt out of a total ₹60,074 crore.
In October, the government further tweaked the bidding parameters. A key change was that the Centre took a call to allow prospective bidders the flexibility to decide the level of debt they wish to take on along with the loss-laden airline.
The government said that potential bidders will be allowed to place their bids based on enterprise value, which accounts for the company's equity and debt.
What do the Tata's get?
Apart from Air India, Tata Group gets Air India Express and 50 per cent stake in Air India SATS, which provides ground handling services.
For Tatas, over and above the emotional aspect of regaining control of an airline they started, AI's acquisition is a long-term bet. They are expected to invest far more than what they have paid the government if this acquisition works or them.
Tata Sons, who originally founded the airline in 1932 as Tata Airlines before it was nationalised, already operates two airlines in India – Vistara (a joint venture with Singapore Airlines) and AirAsia India (a joint-venture with Malaysia's AirAsia).
8. Paramparagat Krishi Vikas Yojana (PKVY)
Subject – Government Schemes
Context – The US and Europe are the major markets for India's organic apparel. Under the Paramparagat Krishi Vikas Yojana (PKVY), the government has been promoting organic farming in clusters to lower the costs on certification and help improve marketing.
Concept –
"Paramparagat Krishi Vikas Yojana" is an elaborated component of Soil Health Management (SHM) of major project National Mission of Sustainable Agriculture (NMSA).
Under PKVY Organic farming is promoted through adoption of organic village by cluster approach and PGS certification.
The funding pattern under the scheme is in the ratio of 60:40 by the Central and State Governments respectively. In the case of North Eastern and the Himalayan States, Central Assistance is provided in the ratio of 90:10 (Centre: State).
Implementation of the programme –
PKVY is being implemented by the Organic Farming cell of the Integrated Nutrient Management (Division) of the Department of Agriculture; Cooperation and Farmers Welfare (DAC&FW)
At the State level, the State Department of Agriculture and Cooperation has been implementing the scheme with the involvement of Regional Councils that are registered under the PGS- India Certification Programme
At the district level, the Regional Councils (RCs) within the district anchor the implementation of PKVY.
To know about Organic Farming, please refer August 2021 DPN.
Subject – History
Context – Mysore King Tipu Sultan is at the centre of a controversy in Mumbai with the BJP claiming that Congress leader and Mumbai Suburban Minister Aslam Shaikh is planning to name a playground in the Muslim dominated Malwani locality after the 17th century ruler.
Concept –
Tipu Sultan also known as the Tiger of Mysore, was the ruler of the Kingdom of Mysore based in South India and a pioneer of rocket artillery.
He introduced a number of administrative innovations during his rule, including a new coinage system and calendar, and a new land revenue system which initiated the growth of the Mysore silk industry.
He expanded the iron-cased Mysorean rockets and commissioned the military manual Fathul Mujahidin.
He deployed the rockets against advances of British forces and their allies during the Anglo-Mysore Wars, including the Battle of Pollilur and Siege of Srirangapatna.
Tipu Sultan and his father used their French-trained army in alliance with the French in their struggle with the British.
He won important victories against the British in the Second Anglo-Mysore War and negotiated the 1784 Treaty of Mangalore with them after his father died from cancer in December 1782 during the Second Anglo-Mysore War.
Tipu's conflicts with his neighbours included the Maratha–Mysore War which ended with the signing of the Treaty of Gajendragad.

The treaty required that Tipu Sultan pay 4.8 million rupees as a one-time war cost to the Marathas, and an annual tribute of 1.2 million rupees in addition to returning all the territory captured by Hyder Ali.
To know about Anglo-Mysore Wars, please refer July 2021 DPN.
Subject – Environment
Context – Agroforestry produce, sustainable bamboo can generate huge rural earnings
Concept –
Agroforestry is defined as a land use system which integrates trees and shrubs on farmlands and rural landscapes to enhance productivity, profitability, diversity and ecosystem sustainability.
It is a dynamic, ecologically based, natural resource management system that, through integration of woody perennials on farms and in the agricultural landscape, diversifies and sustains production and builds social institutions.
Agroforestry systems include both traditional and modern land-use systems where trees are managed together with crops and or/ animal production systems in agricultural settings.
Agroforestry is practiced in both irrigated and rain fed conditions where it produces food, fuel, fodder, timber, fertilizer and fibre, contributes to food, nutritional and ecological security, sustains livelihoods, alleviates poverty and promotes productive and resilient cropping and farming environments.
Agroforestry shares principles with intercropping but can also involve much more complex multi-strata agroforests containing hundreds of species. Agroforestry can also utilise nitrogen-fixing plants such as legumes to restore soil nitrogen fertility. The nitrogen-fixing plants can be planted either sequentially or simultaneously.
11. Reverse Repo Normalisation
Subject – Economy
Context – The State Bank of India's economic research team believes the stage is set for a reverse repo normalisation, given that the Triparty Repo Dealing and Settlement (TREPS) and call money rates are ruling higher than the reverse repo rate
Concept –
Normalisation means raising the reverse repo rate in one or two stages.
Repo and Reverse Repo Rate:
Repo rate is the rate at which the central bank of a country (Reserve Bank of India in case of India) lends money to commercial banks in the event of any shortfall of funds. Here, the central bank purchases the security.
Reverse repo rate is the rate at which the RBI borrows money from commercial banks within the country.
Liquidity Adjustment Facility (LAF):
It is a tool used in monetary policy by the RBI that allows banks to borrow money through repurchase agreements (repos) or for banks to make loans to the RBI through reverse repo agreements.
Triparty Repo
A triparty repo is an alternate repo arrangement which seeks to provide borrowers control over their unencumbered collateral, with minimal settlement costs to the lender and independent confirmation that their lending is fully collateralised.
In this arrangement, the borrower delivers the collateral to an independent custodian, which places the same in a segregated triparty collateral account.
The borrower has control over the securities in the account, while the custodian ensures that the lender is always collateralised with securities of acceptable asset quality.
Key features of triparty repo
Triparty repo trades' securities settle on the books of the triparty agent and cash moves between the lenders and borrower's respective accounts.
In a triparty repo the borrowers (collateral providers) finalize their securities allocation decision later in the day, unlike in a bilateral repo transaction where they have to deliver the specific security earlier during the day.
The securities given as collateral in a triparty repo cannot be re-pledged outside the triparty platform. In the case of a bilateral repo, lenders receive control over the securities posted as collateral.
Triparty repo involves a "general collateral" transaction, where the lender receives any security within the specified security class acceptable to it. In the case of a bilateral repo, the specific security agreed at the time of the transaction has to be delivered.
Simplified legal documentation for instant access to a large number of counterparties.
Subject – Art and Culture
Context – Sankaranarayana Menon, the 93-year-old kalaripayattu exponent who has been conferred the Padma Shri for his contributions to martial arts.
Concept –
Kalaripayattu, also known simply as Kalari, is an Indian martial art that originated in modern-day Kerala, a state on the southwestern coast of India.
Kalaripayattu is known for its long-standing history within Indian martial arts. It is believed to be the oldest surviving martial art in India, with a history spanning over 3,000 years.
Kalaripayattu is mentioned in the VadakkanPattukal, a collection of ballads written about the Chekavar of the Malabar region of Kerala.
Kalaripayattu is a martial art designed for the ancient battlefield (the word "Kalari" meaning "battlefield"), with weapons and combative techniques that are unique to India.
Like most Indian martial arts, Kalaripayattu contains rituals and philosophies inspired by Hinduism.
The primary aim is the ultimate coordination between mind and body. Another focus of Kalaripayattu is specialisation in indigenous medicinal practices. Kalaris are also important centres of religious worship. Once the course is complete, one should engage in oil massage and practice to maintain shape.

The art also bases medical treatments upon concepts found in the ancient Indian medical text, the Ayurveda.

Kalaripayattu is taught in accordance with the Indian guru-shishya system.
Kalaripayattu differs from many other martial arts systems in the world in that weapon based techniques are taught first, and barehanded techniques are taught last.
Subject – Environment
Context – Spot ­billed pelicans dying en­masse in Andhra Pradesh
Concept –
The spot-billed pelican (Pelecanusphilippensis) or grey pelican is a member of the pelican family.
It breeds in southern Asia from southern Iran across India east to Indonesia.

The species is found to breed only in peninsular India, Sri Lanka and in Cambodia.
In the non-breeding season they are recorded in Nepal, Myanmar, Thailand, Laos and Vietnam.

It is a bird of large inland and coastal waters, especially large lakes.
Estimates suggest that increased protection has since enabled a recovery in their numbers and the status of the species was changed from vulnerable to near threatened in the 2007 IUCN Red List.
Wildlife (Protection) Act, 1972: Schedule IV (Hunting prohibited but the penalty for any violation is less compared to the first two schedules).
The spot-billed pelican is capable of hunting huge fish from the water bodies and swamps and thus, it is vulnerable to infestation.
Reasons for their death –
Preliminary inquiry suggests that nematode infestation is the cause for the death of the spot-billed pelicans that preys on nearby water bodies. The nematode parasite is suspected to be transferred through fish and snails in particular, when the birds prey in the aqua ponds.
The nematode infestation would not spread from one species to another species.
14. International Holocaust Remembrance Day
Subject – IR
Context – Marked by the United Nations each year on the 27th of January, International Holocaust Remembrance Day provides an opportunity to recount the atrocities of the Holocaust that resulted in the death of an estimated 6 million Jews.
Concept –
International Holocaust Remembrance Day or the International Day in Memory of the Victims of the Holocaust, is an international memorial day on 27 January that commemorates the victims of the Holocaust, which resulted in the murder of one third of the Jewish people, along with countless members of other minorities by Nazi Germany between 1933 and 1945.
27 January was chosen to commemorate the date that Auschwitz concentration camp was liberated by the Red Army of USSR in 1945.
15. PLI Scheme for Food Processing
Subject – Agriculture
Concept –
In order to boost domestic manufacturing and cut down on import bills, the central government in March 2020 introduced a PLI scheme that aims to give companies incentives on incremental sales from products manufactured in domestic units.
Scheme Objectives:
Support Food manufacturing entities with stipulated minimum Sales and willing to make minimum stipulated investment for expansion of processing capacity and Branding abroad to incentivise emergence of strong Indian brands.:
Support creation of global food manufacturing champions;
Strengthen select Indian brand of food products for global visibility and wider acceptance in the international markets;
Increase employment opportunities of off-farm jobs,
Ensuring remunerative prices of farm produce and higher income to farmers.
Salient features:
Central Sector Scheme with an outlay of Rs. 10900 crore
The first component relates to incentivising manufacturing of four major food product segments viz. Ready to Cook/ Ready to Eat (RTC/ RTE) foods including Millets based products, Processed Fruits & Vegetables, Marine Products, Mozzarella Cheese.
Innovative/ Organic products of SMEs including Free Range – Eggs, Poultry Meat, Egg Products in these segments are also covered under above component.
The second component relates to support for branding and marketing abroad to incentivise emergence of strong Indian brands.
For promotion of Indian Brand abroad, the scheme envisages grant to the applicant entities for – in store Branding, shelf space renting and marketing.
Scheme will be implemented over a six year period from 2021-22 to 2026-27.
Implementation strategy and targets
The scheme will be rolled out on All India basis.
The scheme shall be implemented through a Project Management Agency (PMA).
The PMA would, inter-alia, be responsible for appraisal of applications/ proposals, verification of eligibility for support, scrutiny of claims eligible for disbursement of incentive
The incentive under the scheme would be paid for six years ending 2026-27. The incentive payable for a particular year will be due for payment in the following year. The duration of the scheme will be six years i.e. 2021-22 to 2026-27.
The scheme is "fund-limited", i.e. cost shall be restricted to the approved amount. The maximum incentive payable to each beneficiary shall be fixed in advance at the time of approval of that beneficiary. Regardless of achievement/ performance, this maximum shall not be exceeded.
Administrative and Implementation Mechanisms
The Scheme would be monitored at Centre by the Empowered Group of Secretaries chaired by the Cabinet Secretary
Inter-Ministerial Approval Committee (IMAC) would approve selection of applicants for coverage under the scheme, sanction and release of funds as incentives.
The Ministry will prepare Annual Action Plan covering various activities for implementation of the scheme.
A third party evaluation and mid-term review mechanism would be built in the programme.
16. Central Secretariat Service
Subject – Governance
Context – 30% vacancies in Central offices as promotions on hold
Concept –
Central Secretariat Service is the administrative civil service under Group A and Group B of the Central Civil Services of the executive branch of the Government of India.
They are governed by Central Secretariat Service Rules of 1962,which has been issued under the powers of Article 309 of the Constitution of India.
The service members work under restrictions and rules of Central Civil Services (Conduct) Rules.
The service serves as the backbone of administrative work and provides permanent bureaucracy and functionary staff in the Union Government ministries, Cabinet Secretariat, Central Secretariat and other offices of Government of India.
Based on CSS service model, State governments like Bihar, Uttar Pradesh have organised their own independent services like Bihar Secretariat Service and Provincial Secretariat Service of UP.
The Union Government ministries such like Railways, Defence and External Affairs, have organised their own independent services based on CSS model which are known as Railway Board Secretariat Service, Armed Forces Headquarters Civil Services and Indian Foreign Service, Group B (general cadre)respectively.
Recruitment
Minister of State at Ministry of Personnel, Public Grievances and Pensions Jitendra Singh interacting with CSS officers in 2018.
From 1946 until 2003, 50 percent of direct recruitment into CSS was through the Civil Services Examination conducted by the Union Public Service Commission, the next 25 percent recruitment was through Annual Departmental Examination and next 25 percent by promotion.
However, after the cadre restructuring in 2003, the direct recruitment into CSS through the Civil Services Examination has been stopped.
The mode of recruitment was changed to the grade of Section Officer by way of 50% through Limited Departmental Competitive Examination by Union Public Service Commission and 50% by seniority.
Allocation and placement
After appointment by the President, the officers (Entry grade/Probationers) are allocated to different Ministries/Departments under Government of India.
The Group B officers work in the levels of Assistant Section Officer and Section Officer/Assistant Director (For Directorate).
The Group A officers work in the levels of Under Secretary/Deputy Director (For Directorate), Deputy Secretary/Joint Director (For Directorate), Director, Joint Secretary and Additional Secretary under Central Staffing Scheme of Government of India.
The officers are posted in various Ministries and Departments, Prime Minister's Office, National Security Council Secretariat, intelligence agencies, Apex /Autonomous organizations of Government of India located at different places in the Secretariat in New Delhi. They are also appointed in personal staff of Union Council of Ministers of India.
Subject – Governance
Context – Integrity Pact: CVC modifies criteria
Concept –
Integrity Pact is a vigilance tool that envisages an agreement between the prospective vendors/bidders and the buyer, committing both the parties not to exercise any corrupt influence on any aspect of the contract.
The pact also ensures transparency, equity and competitiveness in public procurement.
It is a tool developed by Transparency International.
Who are IEMs?
The Integrity Pact envisages a panel of Independent External Monitors (IEMs) for each organisation.
IEM reviews independently and objectively, whether and to what extent parties have complied with their obligations under the pact.
They may submit a report to the chief executive of the organisation concerned or directly to the CVO and the CVC, if they find serious irregularities attracting the Prevention of Corruption Act provisions.