Daily Prelims Notes 28 July 2021
July 28, 2021

Posted by:

admin1

Category:

DPN

Daily Prelims Notes
28 July 2021
Table Of Contents
1. Dholavira in Gujarat on UNESCO World Heritage list
Subject: Culture
Context:
Dholavira, the archaeological site of a Harappan-era city, received the UNESCO world heritage site tag. Dholavira became the fourth site from Gujarat and 40th from India to make the list, it is the first site of the ancient Indus Valley Civilisation (IVC) in India to get the tag. Gujarat now has four world heritage sites — Dholavira, Champaner near Pavagadh, Rani ki Vav in Patan and the Historic City of Ahmedabad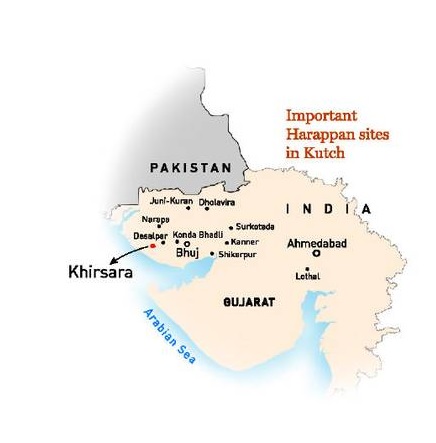 Concept:
Dholavira is located in Kutch district of Gujarat. It was discovered in 1968 by archaeologist Jagat Pati Joshi.
After Mohen-jo-Daro, Ganweriwala and Harappa in Pakistan and Rakhigarhi in Haryana of India, Dholavira is the fifth largest metropolis of Indus Valley Civilization (IVC).
Dholavira was a commercial and manufacturing hub for about 1,500 years before its decline.
Dholavira was a hub for copper metallurgy. It is believed that traders of Dholavira used to source copper ore from present-day Rajasthan and Oman and UAE and export finished products.
It was also a hub of manufacturing jewellery made of shells and semi-precious stones, like agate and also used to export timber.
From around 2000 BC, Dholavira entered a phase of severe aridity due to climate change and rivers like Saraswati drying up. Because of a drought-like situation, people started migrating toward the Ganges valley or towards south Gujarat and further beyond in Maharashtra.
Distinct features:
The water management system, multi-layered defensive mechanisms, extensive use of stone in construction and special burial structures are some of the unique aspects of Dholavira.
Dholavira houses a cascading series of water reservoirs believed to be part of a water harvesting system.
Dholavira has a fortified citadel, a middle town and a lower town with walls made of sandstone or limestone instead of mud bricks as in other Harappan sites.
Dholavira had an enormous outer fortification running on all four sides.
The funerary architecture featuring tumulus — hemispherical structures like the Buddhist Stupas— are a unique feature of Dholavira
There are remains of two open air stadiums
A range of artefacts of copper, shell, stone, and jewellery made of terracotta and ivory had been found at the site.
Rise and fall of Dholavira
Remains of a copper smelter indicate of Harappans, who lived in Dholavira, knew metallurgy.
It is believed that traders of Dholavira used to source copper ore from present-day Rajasthan and Oman and UAE and export finished products.
It was also a hub of manufacturing jewellery made of shells and semi-precious stones, like agate and used to export timber.
The beads peculiar to the Harappan workmanship have been found in the royal graves of Mesopotamia, indicating Dholavira used to trade with the Mesopotamians.
Its decline also coincided with the collapse of Mesopotamia, indicating the integration of economies. Harappans, who were maritime people, lost a huge market, affecting the local mining, manufacturing, marketing and export businesses once Mesopotamia fell.
From 2000 BC, Dholavira entered a phase of severe aridity due to climate change and rivers like Saraswati drying up. Because of a drought-like situation, people started migrating toward the Ganges valley or towards south Gujarat and further beyond in Maharashtra.
The Great Rann of Kutch, which surrounds the Khadir Island on which Dholavira is located, used to be navigable, but the sea receded gradually and the Rann became a mudflat.
Other Harappan sites in Gujarat
Before Dholavira was excavated, Lothal, in Saragwala village on the bank of Sabarmati in Dholka taluka of Ahmedabad district, was the most prominent site of IVC in Gujarat.
It was excavated between 1955 and 1960 and was discovered to be an important port city of the ancient civilisation, with structures made of mud bricks.
From a graveyard in Lothal, 21 human skeletons were found. Foundries for making copperware were also discovered. Ornaments made of semi-precious stones, gold etc. were also found from the site.
Rangpur on the bank of Bhadar River in Surendranagar district was the first Harappan site in the state to be excavated.
Rojdi in Rajkot district, Prabhas near Veraval in Gir Somnath district, Lakhabaval in Jamnagar, and Deshalpar in Bhuj taluka of Kutch are among other Harappan sites in the state.
Conservation
The Dholavira site has remained free from encroachment in historical periods as well as in the modern era
The site was found free from any kind of encroachment, a rarity in India.
In its release, UNESCO termed Dholavira as one of the most remarkable and well-preserved urban settlements in South Asia dating from the 3rd to mid-2nd millennium BCE (Before Common Era).
Dholavira, a village with a population of around 2,000, is the nearest human settlement at present.
Near the ancient city is a fossil park where wood fossils are preserved
UNESCO World Heritage Sites in India
Other than India, Italy, Spain, Germany, China and France have 40 or more World Heritage Sites.
UNESCO's announcement comes just days after another site, Kakatiya Rudreshwara (Ramappa) in Telangana, was admitted to the World Heritage List.
2. No landless farmers in new database
Subject: Government Schemes
Context: Agriculture Minister Narendra Singh Tomar's statement in Lok Sabha on the Centre's new National Farmers Database.
Concept:
Agristack initiative:
The Central government had proposed an Agristack initiative to create a digital ecosystem for agricultural sector in India.
As part of the first step of this initiative, the government has initiated a farmers database that would serve as the core of the Agristack.
Also a data policy is being prepared specifically for the agriculture sector in collaboration with the Ministry of Electronics and Information Technology (MeitY).
The Agriculture Minister has stated that the proposed National Farmers Database would be linked to the digital land record management system and would thus initially only include farmers who were legal owners of agricultural land.
Significance of the farmer's database:
The availability of a database would serve an important role in the formulation of evidence based policies for the agricultural sector.
Also the government can make use of the database for targeted service delivery with higher efficiency and in a focussed and time bound manner.
Database could be used to select beneficiaries of government schemes.
The availability of data will make it possible to implement digital technologies like Artificial Intelligence/Machine Learning, Internet of Things in the agricultural domain, thus opening up the sector to the immense opportunities for improvement in productivity.
Concerns:
As with all such databases there are concerns about data protection and consent.
Given the large number of landless farmers in the country and the exclusion of landless and tenant farmers in the proposed farmer's database there are concerns over the exclusion of landless cultivators from the benefits of government schemes
3. Plan for adjournment motion
Subject: Polity
Context: The Opposition leaders are planning to move adjournment motion in the Lok Sabha to discuss the Pegasus issue.
Concept:
       Adjournment motion:
Adjournment motion can be introduced only in the Lok Sabha.
The primary object of an adjournment motion is to draw the attention of the House to a recent matter of urgent public importance having serious consequences and with regard to which a motion or a resolution with proper notice will be too late.
The adjournment motion is an extraordinary procedure which, if admitted, leads to setting aside the normal business of the House for discussing a definite matter of urgent public importance.
The speaker is the final authority to give consent to an adjournment motion.
The right to move a motion for an adjournment of the business of the House is subject to the following restrictions
Raise a matter which is definite, factual, urgent and of public importance.
Not cover more than one matter.
Be restricted to a specific matter of recent occurrence.
Not raise a question of privilege.
Not revive discussion on a matter that has been discussed in the same session.
Not deal with any matter that is under adjudication of court.
Not raise any question that can be raised on a distinct motion.
4. South Korea's artillery interception system
Subject: International Relations
Context: South Korea has approved plans to develop an artillery interception system, similar to Israel's Iron Dome.
Concept:
This new Defence system will be designed and built specifically to thwart attacks by rockets and long-range missiles launched by North Korea.
The South Korean government had announced in June that it would be spending approximately $2.5 billion on research and development of this new system, with a target to deploy it by 2035.
North Korea deploys around 1,000 artillery pieces along the Military Demarcation Line that divides the Korean Peninsula.
How will South Korea's Iron Dome differ from Israel's?
There are operational differences between the two systems as well, with the most significant being that South Korea's system will be designed to intercept long-range artillery pieces.
But more importantly, South Korea and Israel face different security threats that require different responses. While Israel contends with Hamas, which is primarily a militant group, South Korea had to contend with North Korea, a nation with its own extensive military capabilities.
5. India will explore indigenous deposits of phosphatic rock
Subject: Geography
Context: Union Minister of Chemicals and Fertilizers informed Parliament that India will explore indigenous deposits of phosphatic rock, a step towards becoming AatmaNirbhar in fertilizer production.
Concept:
Phosphorus rocks or phosphate rocks are unprocessed ores.
Phosphate rock deposits can be sedimentary (formed from sediment deposited by water or air) or igneous (having solidified from lava or magma).
However, the easiest way to obtain phosphorus is by way of mining and concentrating phosphate rock from the phosphate deposits.
Used in fertilizers
Worldwide, more than 85% of the phosphate rock mined is used to manufacture phosphate fertilizers.
All common fertilizers have an "N-P-K" rating. Phosphorus is the "P" in fertilizers, which is essential for plants.
Where is it found?
Phosphate rock deposits can be sedimentary or igneous and are mined from sedimentary deposits formed by the deposition of phosphate-rich materials in marine environments.
Large sedimentary deposits are located in China, Middle East, Northern Africa, and the United States.
Meanwhile, the igneous deposits are mined in Brazil, Canada, Finland, Russia, South Africa, and Zimbabwe.
Phosphorus in India
Phosphate rocks are majorly produced only from two States in India, namely Rajasthan and Madhya Pradesh.
Currently, there exists 30 lakh MT of phosphorite deposits in the country, for which important steps are being taken by the Government to ramp up its production.
These deposits are available in Rajasthan, central part of peninsular India, Hirapur (Madhya Pradesh), Lalitpur (Uttar Pradesh), Mussoorie syncline, and Cuddapah basin (Andhra Pradesh).
Subject: Science and Technology
In news: The spat among the Pune-based Kirloskar brothers has intensified with Kirloskar Brothers (KBL), led by Sanjay Kirloskar, accusing Kirloskar Industries (KIL), led by his brother Atul Kirloskar, of using the intellectual property (IP), trademark, copyright and material part of KBL's logo.
About Intellectual Property Rights (IPR):
Intellectual property rights (IPR) are the rights given to persons over the creations of their minds: inventions, literary and artistic works, and symbols, names and images used in commerce. They usually give the creator an exclusive right over the use of his/her creation for a certain period of time.
Intellectual property is a category of property that includes intangible creations of the human intellect.
Laws & Rules that govern Intellectual Property Rights (IPR):
The importance of IPR was first recognized in the

Paris Convention for the Protection of Industrial Property (1883) &
Berne Convention for the Protection of Literary & Artistic Works (1886).
Both are administered by the World Intellectual Property Organization(WIPO).
IPRs have been outlined in Article 27 of the Universal Declaration of Human Rights.
WTO governs IPR through Trade-Related Aspects of the Intellectual Property Rights (TRIPS).
Trade-Related Aspects of the Intellectual Property Rights (TRIPS):
TRIPS is an international agreement on intellectual property rights.
The Agreement covers most forms of intellectual property including

patents,
copyright,
trademarks,
geographical indications,
industrial designs,
trade secrets, &
exclusionary rights over new plant varieties.

It came into force in 1995 & is binding on all members of the World Trade Organization (WTO).
Types of Intellectual Property:
Patents: 

A patent is an exclusive right granted for an invention, which is a new product or process that meets conditions of

Novelty
Non-obviousness
Industrial use

Patents in India are governed by "The patent Act 1970" which was amended in 2005 to make it compliant with TRIPS.
Patent (Amendment) Rules, 2020:

The new rules have amended the format of a disclosure statement that patentees & licensees are required to annually submit to the Patent Office.
The format contains disclosing the extent to which they have commercially worked or made the patented inventions available to the public in the country.

Industrial Designs

An industrial design constitutes the ornamental or aesthetic aspect of an article/object.

A design may consist of three-dimensional features, such as the shape or surface of an article, or of two-dimensional features, such as patterns, lines or colors.
Industrial Designs in India are governed by "The Designs Act 2000".

Copyright

Copyright is a legal term used to describe the rights that creators have over their literary & artistic works.

Works covered by copyright range from books, music, paintings, sculpture & films, to computer programs, databases, advertisements, maps & technical drawings.
Copyrights in India are governed by "The Copyright Act, 1957".

Trademarks

A trademark is a sign capable of distinguishing the goods or services of one enterprise from those of other enterprises.

Trademarks in India are governed by Trade Marks Act 1999 which was amended in 2010.

Geographical Indications:

A GI tag is a legal recognition given primarily to an agricultural, natural or a manufactured product (handicrafts & industrial goods) originating from a definite geographical territory.

GI tag conveys an assurance of quality & distinctiveness of a product, which is essentially attributable to the place of its origin.
Geographical Indicators in India are governed by "The Geographical Indications of Goods (Registration & Protection) Act, 1999".

Trade secrets:

Trade secrets are IP rights on confidential information which may be sold or licensed.

There is no specific law.

Plant Variety Protection:

It refers to the protection granted for plant varieties. These rights are given to the farmers & breeders to encourage the development of new varieties of plants.

Plant variety protection in India is governed by "The Protection of Plant Varieties & Farmers' Rights (PPV&FR) Act, 2001".
7. Central Bureau of Investigation (CBI) Appointment
Subject: Polity
Context: Four days before his retirement, the central government Tuesday appointed 1984-batch Gujarat cadre IPS officer Mr. Rakesh as the new Delhi Police Commissioner until July 31, 2022.
Concept:
Central Bureau of Investigation (CBI) is the premier investigating police agency in India.
It functions under the superintendence of the of Personnel, Ministry of Personnel, Pension & Public Grievances, Government of India – which falls under the prime minister's office.
However for investigations of offences under the Prevention of Corruption Act, its superintendence vests with the Central Vigilance Commission.
It is also the nodal police agency in India which coordinates investigation on behalf of Interpol Member countries
The CBI is headed by a Director.
The Director of CBI as Inspector General of Police, Delhi Special Police Establishment, is responsible for the administration of the organisation.
With the enactment of CVC Act, 2003, the superintendence of Delhi Special Police Establishment vests with the Central Government to save investigations of offences under the Prevention of Corruption Act, 1988, in which, the superintendence vests with the Central Vigilance Commission.
The Director of CBI has been provided security of two-year tenure in office by the CVC Act, 2003.
Appointment:
The Lokpal and Lokayuktas Act (2013) amended the Delhi Special Police Establishment Act (1946) and made the following changes with respect to appointment of the Director of CBI:
The Central Government shall appoint the Director of CBI on the recommendation of a three-member committee consisting of the Prime Minister as Chairperson, the Leader of Opposition in the Lok Sabha and the Chief Justice of India or Judge of the Supreme Court nominated by him.
Later, the Delhi Special Police Establishment (Amendment) Act, 2014 made a change in the composition of the committee related to the appointment of the Director of C.B.I.
It states that where there is no recognized leader of opposition in the Lok Sabha, then the leader of the single largest opposition party in the Lok Sabha would be a member of that committee.
Cases Handled by the CBI
Anti-Corruption Crimes – for investigation of cases under the Prevention of Corruption Act against Public officials and the employees of Central Government, Public Sector Undertakings, Corporations or Bodies owned or controlled by the Government of India.
Economic Crimes – for investigation of major financial scams and serious economic frauds, including crimes relating to Fake Indian Currency Notes, Bank Frauds and Cyber Crime, bank frauds, Import Export & Foreign Exchange violations, large-scale smuggling of narcotics, antiques, cultural property and smuggling of other contraband items etc.
Special Crimes – for investigation of serious and organized crime under the Indian Penal Code and other laws on the requests of State Governments or on the orders of the Supreme Court and High Courts – such as cases of terrorism, bomb blasts, kidnapping for ransom and crimes committed by the mafia/the underworld.
Suo Moto Cases – CBI can suo-moto take up investigation of offences only in the Union Territories.
The Central Government can authorize CBI to investigate a crime in a State but only with the consent of the concerned State Government.
The Supreme Court and High Courts, however, can order CBI to investigate a crime anywhere in the country without the consent of the State.
8. Clinical Establishments (Registration and Regulation) Act 2010
Subject: Polity
Context: The Supreme Court on Tuesday issued notice on a plea which said the Covid-19 spread has "exposed the lacunae in Indian healthcare system" and sought "proper implementation of Clinical Establishments (Registration and Regulation) Act, 2010".
Concept:
Article 47 of the Constitution lays down a responsibility upon the State for aiming at improvement in public health and shall consider this responsibility as among its primary duties in particular, the State shall endeavour to bring about prohibition of the consumption except for medicinal purposes of intoxicating drinks and of drugs which are injurious to health.
The health is a state subject, Article 252(1) of the Constitution permits Parliament to make law on subjects over which it has no power to make laws, "if it appears to the Legislatures of two or more States to be desirable" that there should be a Central law.
Clinical Establishments (Registration and Regulation) Act, 2010
This Act was enacted after Arunachal Pradesh, Himachal Pradesh, Mizoram and Sikkim agreed to have a central legislation. Other states and UTs could opt to adopt it.
At present, the Act is applicable in 11 states and six UTs, while 18 states/UTs have their own independent legislation.
The Act makes it mandatory for registration of all clinical establishments, including diagnostic centres and single-doctor clinics across all recognized systems of medicine both in the public and private sector except those run by the defence forces.
The registering authority facilitates policy formulation, resource allocation and determines standards of treatment. It can impose fines for non-compliance of the provision of the Act.
The Act lays down Standard Treatment Guidelines for common disease conditions, for which a core committee of experts has been formed.
The Act makes all clinical establishments to provide medical care and treatment necessary to stabilize any individual who comes or is brought to the clinical establishment in an emergency medical condition, particularly women who come for deliveries and accident cases.
The Act defines "Clinical Establishment" and bring under the ambit of clinical establishment all hospitals, maternity home, nursing home, dispensary, clinic, etc or an institution by whatever name called that offers services, facilities requiring diagnosis, treatment or care for illness, injury, etc or a place establishmed as an independent entity pr part of an establishment in connection with the diagnosis or treatment of certain diseases.
It also includes a clinical establishment which is owned, controlled and managed by government or a department of the Government, a trust, a corporation registered under a Central, Provincial or State Act, a local authority and a single doctor.
The National Council for Clinical Establishment
The Act lays down establishment for the a Council Body called The National Council for Clinical Establishment which is responsible primarily for setting up standards for ensuring proper healthcare by the clinical establishment and develop the minimum standards and their periodic review.
Patient's charter
Union Ministry of Health and Family Welfare (MoHFW), issued a letter to all state governments outlining a smaller set of rights and some additional responsibilities for patients. Some key patients' rights enunciated in the NHRC charter were dropped in this communication. Nevertheless, this set of do's and don'ts must be publicised and implemented by all state governments.
The Act and the Rules provide for registration and regulation of clinical establishments and for matters connected therewith or incidental thereto, namely, to prescribe minimum standards of facilities and services, to ensure affordable and quality healthcare. The Patient Rights' Charter (notified by the NHRC) affirms and adopts a rights-based health care regime for the patients.
This Charter of Patient's Rights is adopted from National Human Rights Commission and international patient charters.
There is an expectation that this document will act as a guidance document for all empanelled hospitals to formulate concrete mechanisms so that Patient rights are given adequate protection. The Patients' Rights charter is created to try to reach 3 major goals:
Assures that the health care system is fair and it works to meet patients' needs
To create strong relationship between patients and their health care providers.
Gives patients a way to address any grievance they may have.
Patients are informed about the disease, possible outcomes and are involved in the decision making.
Another objective of this Charter is to generate widespread public awareness and educate AB PM-JAY beneficiaries regarding what they should expect from health care providers and what kind of treatment they deserve as patients, in health care settings
Rights Covered
Right to access medical care
Right to information
Right to records and reports
Right to confidentiality, human dignity and privacy
Right to second opinion, Patient has the right to a seek a second opinion on medical condition form a doctor or hospital of his/her choice
Right to safety and quality care according to standards
Right to proper referral and transfer & continuity of care
Right to informed consent, Every patient has a right that informed consent must be sought prior to invasive investigation/surgery (e.g. invasive investigation / surgery / chemotherapy
Right to redress Patient, has the right to give feedback, make comments, or lodge complaints about the health care they are receiving or had received from a doctor or hospital and all complaints must be given a registration number and there should be a robust tracking and tracing mechanism to ascertain the status of the complaint resolution.
Subject: Economy
Context: Banks have added Rs 38,976 crore from 662 borrower accounts as willful defaulters during the 12 months ended December 2020 when the Covid pandemic hit the country's financial system.
Concept:
As per the Reserve Bank of India's (RBI) classification, a 'wilful default' would be deemed to have occurred if the borrower has defaulted in meeting their repayment obligations to the lender even when they have the capacity to honour the said obligations.
A wilful default happens when the borrower has not utilised the finance from the lender for the specific purpose for which finance was availed and has diverted the funds for other purposes, or siphoned off funds, or disposed of or removed the movable fixed assets or immovable property given for the purpose of securing a term loan without the knowledge of the bank.
Status
The total wilful defaults amounted to Rs 244,602 crore from 12,917 accounts as of December 2020, according to data available from credit information bureau Transunion Cibil.
State Bank of India (SBI), India's largest bank, has topped the list of wilful defaulters with 1,792 borrower accounts owing Rs 62,709 crore as of December 2020.
Punjab National Bank is in the second position
Action under various provisions
In cases involving secured assets, action under provisions of the Securitisation and Reconstruction of Financial Assets and Enforcement of Security Interest Act, 2002 has been initiated in 8,175 cases.
Central Bureau of Investigation (CBI) has registered and probed 512 cases of bank loan default at the behest of public sector banks (PSBs) between 2018 and 2020.
According to the RBI's Master Circular on wilful defaulters, once the bank declares a borrower wilful defaulter, no additional funding facility should be granted by any bank to the listed wilful defaulter. In addition, such companies (including promoters) should be barred from institutional finance from banks for floating new ventures for a period of five years from the date of removal of their name from the list of wilful defaulters as published or disseminated by the RBI or credit information companies. Lenders should initiate criminal proceedings against wilful defaulters, wherever necessary.
10. Govt says 78 foreign companies registered in India last fiscal year
Subject: Economy
Context: As many as 78 foreign companies were registered in the country under the company's law in the last financial year, according to official data. In 2019-20, a total of 124 foreign companies were registered in India. The count was at 118 in 2018-19.
Concept:
Companies Act 2013
The Companies Act 2013 regulates the formation and functioning of corporations or companies in India. The first Companies Act after independence was passed in 1956, which governed business entities in the country.
By Section 135 of the 2013 Act, India became the first country to make corporate social responsibility (CSR) spending mandatory by law.
Currently, the Ministry of Corporate Affairs is administering the following Central government Acts:
Companies Act 2013
Companies Act 1956 (some provisions of this Act still apply)
Competition Act 2002
Insolvency & Bankruptcy Code, 2016
Chartered Accountant Act 1949
What is a foreign company?
Foreign Company is defined under Section 2 (42) of the Companies Act, 2013 (the Act) as any company 2013 (the Act) as any company or body corporate incorporated outside India which
 (a) Has a place of business in India by itself or through an agent, physically or thorough electronic mode and
 (b) Conducts any business activity in India in any other manner.
Under Section 248, a company can be struck off from the official records subject to certain conditions. These include instances where the Registrar of Companies has a reasonable cause to believe that companies are not carrying on any business or operation for two immediately preceding financial years and have not made any application within such period for obtaining dormant company status.
During the period from 2018 to June 2021, a total of 2, 38,223 companies were struck off from the official records under Section 248 of the Act.
'Shell Company'
There is no definition of the term 'shell company' under the Companies Act, 2013
it normally refers to a company without active business operation or significant assets, which in some cases are used for illegal purpose such as tax evasion, money laundering, obscuring ownership, benami properties etc.
A shell corporation is a corporation without active business operations or significant assets. These types of corporations are not all necessarily illegal, but they are sometimes used illegitimately, such as to disguise business ownership from law enforcement or the public.
Subject: Polity
Context: To a query on whether it is a fact that the government has recognised the land rights as human rights, Singh said that as per inputs provided by the home ministry, there is no document in custody which shows that  land rights has been recognised as human rights.
Concept:
There is no document in custody which shows that land rights has been recognised as human rights.
As per Section 2(d) of the Protection of Human Rights Act, 1993, 'human rights' means the rights relating to life, liberty, equality and dignity of the individual guaranteed by the Constitution of India or embodied in the international covenants and enforceable by courts in India.
Article 17 of the Universal Declaration of Human Rights (UDHR) states:
Everyone has the right to own property alone as well as in association with others.
No one shall be arbitrarily deprived of his property.
Supreme Courts View
The Supreme Court has recently held that a citizen's right to own private property is a human right and the state cannot take possession of it without following due procedure and authority of law.
The state cannot trespass into the private property of a citizen and then claim ownership of the land in the name of 'adverse possession'.
Grabbing private land and then claiming it as its own makes the state an encroacher.
In a welfare state, right to property is a human right.
A welfare state cannot be permitted to take the plea of adverse possession, which allows a trespasser i.e. a person guilty of a tort, or even a crime, to gain legal title over such property for over 12 years. The State cannot be permitted to perfect its title over the land by invoking the doctrine of adverse possession to grab the property of its own citizens.
Right to Property:
'Right to private property was previously a fundamental right' under Article 31 of the Constitution.
Property ceased to be a fundamental right with the 44th Constitution Amendment in 1978.
Nevertheless, Article 300A required the state to follow due procedure and authority of law to deprive a person of his or her private property.
The right to property is now considered to be not only a constitutional or statutory right, but also a human right.
12. James Webb Space Telescope (JWST)
Subject: Science and Technology
Context: NASA is set to launch the large infrared James Webb Space Telescope (JWST) touted as the "premier observatory" of the coming decade later this year.
Concept:
JWST will study various phases in the history of the universe, from the formation of solar systems to the evolution of our own Solar System.
The James Webb Space Telescope (sometimes called JWST or Webb) is an orbiting infrared observatory that will complement and extend the discoveries of the Hubble Space Telescope, with longer wavelength coverage and greatly improved sensitivity.
Webb will be the premier space observatory for astronomers worldwide, extending the.tantalizing discoveries of the Hubble Space Telescope.
The James Webb Space Telescope (JWST or "Webb") is a joint NASA–ESA–CSA space telescope that is planned to succeed the Hubble Space Telescope as NASA's flagship astrophysics mission
The JWST will provide improved infrared resolution and sensitivity over Hubble, and will enable a broad range of investigations across the fields of astronomy and cosmology, including observing some of the most distant events and objects in the universe, such as the formation of the first galaxies.
Unlike the Hubble telescope, which observes in the near ultraviolet, visible, and near infrared (0.1 to 1 μm) spectra, the JWST will observe in a lower frequency range, from long-wavelength visible light through mid-infrared (0.6 to 28.3 μm), which will allow it to observe high redshift objects that are too old and too distant for Hubble to observe
The telescope must be kept very cold in order to observe in the infrared without interference, so it will be deployed in space near the Sun–Earth L2 Lagrange point,
The JWST is being developed by NASA, the European Space Agency and the Canadian Space Agency. The NASA Goddard Space Flight Center is managing the development effort, and the Space Telescope Science Institute will operate Webb after launch
It is named for James E. Webb, who was the administrator of NASA from 1961 to 1968 and played an integral role in the Apollo program.
Subject: Reports and Indices
Context: The International Monetary Fund (IMF) has cut India's GDP growth estimate for FY22 by 300 basis points to 9.5 per cent from its April projection of 12.5 per cent
Concept:
World Economic Outlook
WEO is a survey by the IMF that is usually published twice a year in the months of April and October.
It analyses and predicts global economic developments during the near and medium term.
In response to the growing demand for more frequent forecast updates, the WEO Update is published in January and July between the two main WEO publications released usually in April and October.
International Monetary Fund
IMF is an organization working to foster global monetary cooperation, secure financial stability, facilitate international trade, promote high employment and sustainable economic growth, and reduce poverty around the world.
Created in 1945, the IMF is governed by and accountable to the 189 countries that make up its near-global membership. India Joined on December 27, 1945.
The IMF's primary purpose is to ensure the stability of the international monetary system—the system of exchange rates and international payments that enables countries (and their citizens) to transact with each other.
The Fund's mandate was updated in 2012 to include all macroeconomic and financial sector issues that bear on global stability.
Projections
Growth prospects in India have been downgraded following the severe second Covid wave during March-May and expected slow recovery in confidence from that setback
It mentioned that countries lagging in vaccination, such as India and Indonesia, will suffer the most among G-20 economies
it is higher than Moody's forecast of 9.3 per cent and close to Crisil's range of 8.2-9.8 per cent
Growth prospects for advanced economies this year have improved by 0.5 percentage point, but this is offset exactly by a downward revision for emerging market and developing economies, driven by a significant downgrade for emerging Asia
It project global growth of 4.9 per cent, up from our previous forecast of 4.4 per cent.
According to the fund's estimate, the pandemic has reduced per capita incomes in advanced economies by 2.8 per cent, relative to pre-pandemic trends over 2020-22
Subject: Economy
Context: To promote rooftop solar (RTS) in the country including in rural areas, the Ministry of New and Renewable Energy is implementing Rooftop Solar Programme Phase II wherein RTS capacity aggregating 4000 MW by 2022 is targeted for installation in residential sector with provision of subsidy.
Concept:
The following major steps have been taken by the Government for overall promotion of Grid Connected Rooftop Solar Systems in the country:
For individual households, subsidy upto 40% of the benchmark cost is provided for RTS plants upto 3 kW capacity and 20% for RTS plants of capacity beyond 3 kW and up to 10 kW. For Group Housing Societies/Residential Welfare Associations (GHS/RWA), the subsidy is limited to 20% of the benchmark cost for RTS plants of capacity up to 500 kW used for supply of power to common facilities
Launch of phase II of rooftop solar programme under with Central Financial Assistance (CFA) for residential sector and incentives in slabs for the Power Distribution Companies (DISCOMs) for achievement of additional capacity over and above the installed capacity of the previous year.
Earlier under Phase-I of the programme, CFA assistance for residential/ institutional/social sectors and achievement linked incentives for Government sectors was provided.
Assistance to states in development/ integration of online portal and aggregation of demands relating to rooftop solar projects.
Preparing of model MoU, PPA and Capex Agreement for expeditious implementation of RTS projects in Government Sector.
Advising States to notify the net/gross metering regulations for RTS projects. At present, all 36 States/UTs/SERCs have notified such regulations and/or tariff orders.
SPIN-an online platform developed for expediting project approval, report submission and monitoring progress of implementation of RTS projects.
Facilitation of concessional loans from World Bank and Asian Development Bank (ADB) through SBI and PNB respectively, for disbursal of loans to industrial and commercial sectors, where CFA/incentive is not being provided by the Ministry.
Renewable energy included under priority sector lending
Declaration of trajectory of Renewable Purchase Obligation (RPO) upto year 2022
Quality standards for deployment of solar photovoltaic system/ devises notified.
Innovative Business models for rooftop solar shared with the States
Subject: Government Schemes
Context: Khadi and Village Industries Commission (KVIC) on Tuesday planted 1000 bamboo saplings at Tanot village in Jaisalmer, in collaboration with the Border Security Force (BSF).
Concept:
Project BOLD was launched on 4thJuly from a tribal village Nichla Mandwa in Udaipur district in Rajasthan with plantation of 5000 saplings of special bamboo species over 25 bigha of arid land
Bamboo plantation, as part of KVIC's Project BOLD (Bamboo Oasis on Lands in Drought) aims at serving the combined national goals of reducing desertification and providing livelihood and multi-disciplinary rural industry support to the local population.
In the next 3 years, 1000 bamboo plants will multiply and produce at least 4,000 bamboo logs weighing about 100 MT of bamboo. At the current market rate of Rs 5000 per ton, this bamboo produce will generate an income of nearly Rs 5 lakh after three years and later on every year, thus supporting the local economy.
Bamboo can be used for making agarbatti sticks, furniture, handicraft, musical instruments and paper pulp while the bamboo waste is widely used in making charcoal and fuel briquette. Bamboos are also known for conserving water and hence useful in arid and drought-prone regions
16. Black carbon particles contribute to increasing COVID-19 cases
Subject: Environment
In news: Black carbon particles contribute to increasing COVID-19 cases. This is according to a recent study conducted by the Indian Institute of Tropical Meteorology located in Pune.
About the study:
The COVID-19 infection count increase corresponded with an increase in black carbon in the atmosphere and decreased simultaneously with the decrease in black carbon in the atmosphere.
The study also suggests that this holds true only for black carbon particles and not all PM2.5 particles. 
The Increase in COVID-19 infection rate in Delhi coincided with stubble burning in neighbouring states, the study showed.
The aged biomass BC particles aggregated and reacted with other compounds to grow in size, providing temporary habitat to viruses. This led to a rapid increase in COVID-19 cases.
About Black Carbon: 
BC is a short-lived pollutant that is the second-largest contributor to warming the planet behind carbon dioxide (CO2). Black carbon is a kind of an aerosol. An aerosol is a suspension of fine solid particles or liquid droplets in the air.
Black carbon is commonly known as soot. Soot is a form of particulate air pollutant, produced from incomplete combustion.
India and China are the largest emitters of black carbon in the world.
It gets emitted from gas and diesel engines, coal-fired power plants, and other sources that burn fossil fuel. It comprises a significant portion of particulate matter or PM2.5, which is an air pollutant.
Unlike other greenhouse gas emissions, BC is quickly washed out and can be eliminated from the atmosphere if emissions stop.
Unlike historical carbon emissions it is also a localised source with greater local impact.
It emits infra-red radiation that increases the temperature.
Climate and Clean Air Coalition (CCAC):
The Climate and Clean Air Coalition is a voluntary partnership of governments, intergovernmental organizations, businesses, scientific institutions and civil society organizations committed to improving air quality and protecting the climate through actions to reduce short-lived climate pollutants which includes Methane, black carbon and hydrofluorocarbons (HFCs) etc.
What are short-lived climate pollutants?
Short-lived climate pollutants are those pollutants which are short lived in the atmosphere.
They are also known as Super Pollutants.
Methane, black carbon and hydrofluorocarbons (HFCs) are some examples of short-lived pollutants.
They are many times more powerful than carbon dioxide at warming the planet.
But because they are short-lived in the atmosphere, preventing emissions can rapidly reduce the rate of warming.