Daily Prelims Notes 28 October 2021
October 28, 2021

Posted by:

OptimizeIAS Team

Category:

DPN

Daily Prelims Notes
28 October 2021
Table Of Contents
1. US Food and Drug Administration
Subject – IR
Context – WHO seal: Covaxin may be missing the USFDA ballast
Concept –
Despite almost 12 crore people in India having been administered Bharat Biotech's Covaxin, the absence of an approval from the US drug regulator could have come in the way of the vaccine's speedy processing by the World Health Organization (WHO), for an emergency use tag.
An approval from the US Food and Drug Administration would have worked in Covaxin's favour in getting a speedy EUL from the WHO.
The WHO relies on approvals from SRAs (Stringent Regulatory Authorities) and National Regulatory Authorities.
Covaxin is, however, on the US Centres for Disease Control (CDC)'s list of Covid-19 vaccines.
Though an EUL is not required for countries to source vaccines from a company, a WHO ratification facilitates easier travel.
About USFDA –
The United States Food and Drug Administration (FDA or USFDA) is a federal agency of the Department of Health and Human Services.
FDA is a government agency established in 1906 with the passage of the Federal Food and Drugs Act.
The FDA is responsible for protecting and promoting public health through the control and supervision of food safety, tobacco products, dietary supplements, prescription and over-the-counter pharmaceutical drugs (medications), vaccines, biopharmaceuticals, blood transfusions, medical devices, electromagnetic radiation emitting devices (ERED), cosmetics, animal foods & feedand veterinary products.
The FDA gives approval to regulated products before they can be sold in the U.S.
FDA has the power to recall products on the market, if necessary, for safety and other reasons.
The FDA is known for its work in regulating the development of new drugs. The FDA has developed rules regarding the clinical trials that must be done on all new medications. Pharmaceutical companies must test drugs through four phases of clinical trials before they can be marketed to individuals.
The FDA approves products in the biotech and pharmaceutical industries, and its approval or rejection of a product can have a financial impact.
The FDA is led by the Commissioner of Food and Drugs, appointed by the President with the advice and consent of the Senate. The Commissioner reports to the Secretary of Health and Human Services.
The FDA has its headquarters in unincorporated White Oak, Maryland.
To know about Emergency Use Listing by WHO, please refer September 2021 DPN.
EUL process
It is a complex one that takes about 12-24 months generally after submission of a dossier by a vaccine maker.
However, in pandemic times, the review process has been faster to meet global requirements.
The application and data submitted is reviewed by two groups – the Strategic Advisory Group of Experts on Immunisation (SAGE) and Technical Advisory Group (TAG) – an independent advisory group that provides recommendations to the WHO on whether a Covid vaccine can be listed for emergency use under the EUL procedure.
As of now, the WHO has six vaccines on the approved list. They are from Pfizer-BioNTech, Moderna Janssen (Johnson & Johnson), Oxford/AstraZeneca and that includes Serum Institute of India's Covishield (AstraZeneca's formulation), Sinopharm and Sinovac.
EUL is not must for exports. There is no link between EUL and exports. A vaccine maker can export its vaccines, subject to approval of the importing country's health regulator
However, EUL can augment demand for a particular vaccine as it facilitates easier international travel for people. And an EUL is important if the company wants to supply to the WHO-supported Covax facility that distributes to low- and middle-income countries
Technical Advisory Group (TAG)
The core function of this Technical Advisory Group (TAG) of experts for educational institutions and COVID-19 would be to provide strategic and technical advice to WHO, UNESCO and UNICEF on matters relating to educational institutions and COVID-19 transmission.
Recommendations from TAG, an independent advisory group, completes the WHO's two-part EUL process.
Subject – Governance
Context – Fortifying rice by adding micronutrients is a quick and cost-efficient way to address malnutrition
Concept –
In an ambitious attempt to combat the serious problem of anaemia due to malnutrition, Prime Minister Narendra Modi made an announcement to mandate rice fortification in all social safety net schemes by 2024.
Rice fortification, a process of adding micronutrients like iron, folic acid and vitamin B12, is an effective, preventive and cost-efficient complementary strategy to address the nutrition problem within a short period.
Anaemia –
India has made impressive progress in reducing stunting and anaemia among children over the last decade.
However, anaemia still impacts more than one in two children and women.
The WHO has declared anaemia among women and children as a "severe" public health problem, demanding immediate attention.
Further, recent statistics indicate rise in anaemia levels amongst among women and children in 16 and 18 of 22 States/UTs respectively (NFHS-5).
Iron deficiency-anaemia is the biggest cause of disability for the past 10 years and contributed 20 per cent direct and 50 per cent associated maternal deaths in India. Its economic burden is equivalent to about 4 per cent of GDP.
Apart from iron, deficiency in micronutrient like vitamin B12, vitamin A, folate and zinc also contribute to rising anaemia levels.
Reasons–
The available national level consumption data National Nutrition Monitoring Board (1979; 1991; 2002; 2012) indicate low levels of iron and micronutrient deficiencies amongst the Indian population.
"What India Eats", a recent report by ICMR-National Institute of Nutrition, shows low consumption of nutritious food like fruits, vegetables, milk, pulses, meat, poultry and so on.
FAO recently attributed affordability of cost intensive healthy diets as a constraint in achieving the nutrition related Sustainable Development Goals globally.
At $1/person per day, India's spending on diet is significantly lower than the EAT Lancet dietary recommendations of $3-5.
Analysis by IFPRI also finds that nearly two-thirds of the rural poor cannot afford a nutritious diet that meets India's national food-based dietary guidelines.
On the other hand, rice, a staple cereal, is consumed by 65 per cent of the population at the rate of 6.8 kg per capita per month.

Fortifying rice with micronutrients thus is an ideal vehicle and offers an immediate opportunity to bridge dietary nutrient gaps and improve health outcomes.
Indian Efforts –
The Prime Minister's announcement of universalisation of rice fortification by 2024, will cover about 100 crore target population, including about 20 crore women of reproductive age.

FSSAI is working on FRK standardisation and enabling setting up more NABL accredited labs and Bureau of Indian Standards Standardisation of Extruders/Blenders, to ensure quality.
FCI and the Ministries of Women and Child Development and Education are working in convergence to ensure distribution of 13.70 lakh tonnes of fortified rice in ICDS and MDM.

It has been promoting millets on a mission mode to achieve nutritional security and has included millets under NFSA to be distributed in the social safety net schemes.
The Prime Minister recently launched 35 crop varieties with higher nutrient-content to combat malnutrition.
Under POSHAN 2.0, MoWCD has urged all Aspirational Districts to establish poshanvatika or nutrigarden to promote locally grown nutritious food.
Note –
Historically, India has tested the idea of fortification by mandating iodised salt in 1962.
Interestingly, CNNS Report 2016-18, subtly hinted the success of universal fortification of salt by revealing iodine to be the only exception to micronutrient deficiencies in the tested sample.
To know more about Rice Fortification, please refer August 2021 DPN.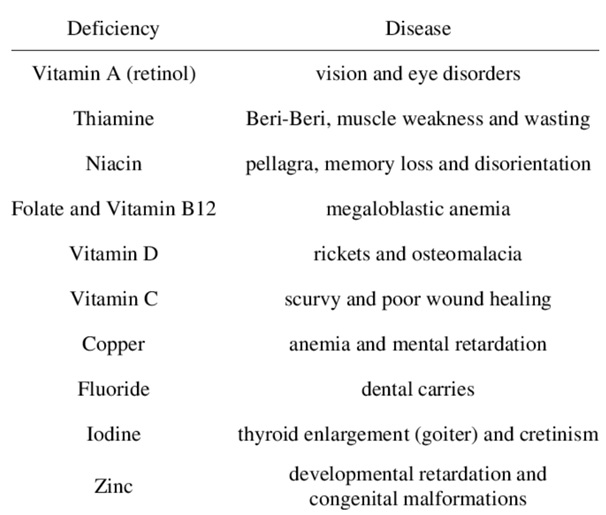 Copenhagen Consensus
Copenhagen Consensus is a project that seeks to establish priorities for advancing global welfare using methodologies based on the theory of welfare economics, using cost–benefit analysis.
It was conceived and organized around 2004 by BjørnLomborg,the author of The Skeptical Environmentalist and the then director of the Danish government's Environmental Assessment Institute.
The project is run by the Copenhagen Consensus Center, which is directed by Lomborg and was part of the Copenhagen Business School, but it is now an independent non-profit organisation registered in the USA.
The project considers possible solutions to a wide range of problems, presented by experts in each field.
3. 'Podu' land issue in Telangana
Subject – Agriculture
Context – The Telangana government has decided to move landless, non-tribal farmers engaged in shifting cultivation inside forests to peripheral areas as it looks to combat deforestation.
Concept –
Telangana government has red-flagged encroachment of forests by non-tribals, who are indulging in the practice of shifting agriculture (podu).
The government now wants to shift out all farmers from the forests to the periphery by allotting lands to them for cultivation.
Tribal farmers who have been traditionally cultivating for decades will not be affected by this drive against illegal encroachers. The government has, in fact, given land ownership titles to tribals.
Shifting Cultivation –
The Shifting cultivation is a form of agricultural practice or a cultivation system in which an area of ground is cleared of vegetation and cultivated for a few years and then abandoned for a new area until its fertility has been naturally restored.
Local names of shifting cultivation –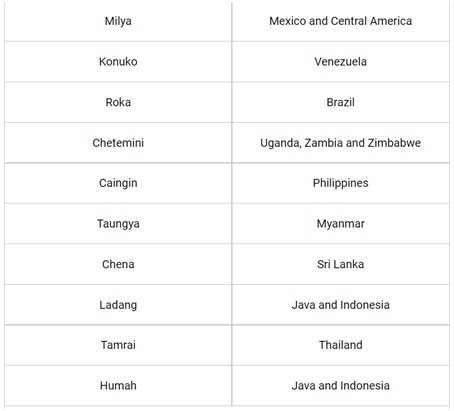 In India–
4. National Bank for Financing Infrastructure Development (NABFID)
Subject – Economy
Context – KV Kamath to head NABFID
Concept –
It is a newly set up development finance institution in the country.
The board will comprise 13 members, including a chairman, four whole-time directors and two government nominees. The remaining are expected to be independent directors.
Parliament had, in March this year, passed a Bill to set up NABFID to fund infrastructure projects in the country.
The bank has been set up to support the development of long-term, non-recourse infrastructure financing in India, including development of the bonds and derivatives markets necessary for infrastructure financing and to carry on the business of financing infrastructure.
5. Meghalaya's Matrilineal Inheritance Custom
Subject – Polity
Context – Meghalaya: District council to introduce Bill changing age-old Khasi matrilineal inheritance custom
Concept –
A district autonomous council in Meghalaya is attempting to modify a customary practice of inheritance of the Khasi tribe in which the youngest daughter of the family is bequeathed the full share of parental property.
The Khasi Hills Autonomous District Council (KHADC), an autonomous body under the Sixth Schedule of the Constitution, is scheduled to introduce the Khasi Hills Autonomous District Khasi Inheritance of Property Bill, 2021, for "equitable distribution" of parental property among siblings – both male and female.
The Khasis are a matrilineal society and trace inheritance and descent through the mother's clan.
The 'custodian'
In the matrilineal Khasi community, lineage and inheritance is traced through the daughter.
In most Khasi families, ancestral property is bequeathed to the youngest daughter (khatduh) of the family, who becomes the "custodian" of the land, and takes over all responsibilities associated with the land, including taking care of aged parents, unmarried or destitute siblings.
Custom also dictates that the khatduh cannot sell the property, without permission of her maternal uncle.
Problems associated –
In the Khasi custom, the youngest daughter inherits all the property of the parents. As a result, the siblings (not just boys, but eldest girl siblings too), do not get their share.
Sometimes, when a couple has no children, and there is no genuine heir, the clan takes over the property, as per custom.
Over the years, a few groups have protested the system of property inheritance, saying it "disinherits" men, and pressed for equitable property distribution between all children in the family.
Note –
Even if the KHADC does pass the Bill, Paragraph 12A of the Sixth Schedule says that the right of passing a district council law ultimately rests with the state legislature.
To know about Autonomous District Council, please refer September 2021 DPN.
Subject – Economy
Context – Mumbai 2020 outage due to 'cascade tripping', not sabotage: Report
Concept –
Cascade tripping is the tripping of the power grid in unbalanced condition or it is the tripping of safety devices and isolation of the part of the system to prevent damage to the equipment.
This tripping occurs during under-frequency or other unbalanced condition.
When demand is more than power generated the frequency of machine goes down. When this frequency is less than a certain limit, the grid will trip. This will result in a certain loss of power.
If demand is less than the generation it will also cause such a situation which is also called blackout or grid failure.
To avoid this synchronism must be maintained in the grid.
Basic structure of a power grid
During cascade tripping –
7. Rules of Religion in Eligibility for the SC Quota
Subject – Polity
Context – Maharashtra Minister Nawab Malik has alleged that Sameer Wankhede, Mumbai Zonal Director of the Narcotics Control Bureau (NCB), who is in charge of the case against Shah Rukh Khan's son Aryan, benefitted from the reservation for Scheduled Castes (SCs) despite being Muslim and ineligible for the quota
Concept –
There is a 15 per cent quota for SCs in government jobs. But Hindu SCs who convert to Islam lose their SC status, and are no longer eligible for the quota.
A brochure on the DoPT site lays down the position on SC status and conversions:

"No person who professes a religion different from the Hindu or the Sikh religion shall be deemed to be a member of the Scheduled Castes…"
"A person belonging to a Scheduled Caste or Scheduled Tribe will continue to be deemed as such irrespective of his/her marriage to a non-Scheduled Caste/Scheduled Tribe."
"A convert or re-convert to Hinduism and Sikhism shall be accepted as a member of Scheduled Caste if he has been received back and accepted as a member of the concerned Scheduled Caste."

The Constitution (Scheduled Castes) Order, 1950, which lays down that no person professing a religion different from the Hindu or Sikh or Buddhist religion can be deemed to be a member of an SC, has been amended several times.

The original order under which only Hindus were classified as SCs, was amended to include Sikhs in 1956, and Buddhists in 1990.

No such religion-based bar, however, operates for STs and Other Backward Classes (OBCs).

The brochure on the DoPT site says, "The rights of a person belonging to a Scheduled Tribe are independent of his/her religious faith."

Petitions have been filed in the Supreme Court seeking the inclusion of Muslims and Christians in the SC category.
In inter-caste marriages, can mother's caste be the caste of the couple's child?
The child carries the caste of the father, and caste certificates are issued on this basis. However, courts have taken note of the surroundings in which the child was brought up.
In RameshbhaiDabhaiNaika vs State of Gujarat &Ors (2012), the Supreme Court ruled: "In an inter-caste marriage or a marriage between a tribal and a non-tribal there may be a presumption that the child has the caste of the father.

This presumption may be stronger in the case where in the inter-caste marriage or a marriage between a tribal and a non-tribal the husband belongs to a forward caste.
But by no means the presumption is conclusive or irrebuttable and it is open to the child of such marriage to lead evidence to show that he/she was brought up by the mother who belonged to the Scheduled Caste/Scheduled Tribe."
8. Economic Advisory Council to the Prime Minister
Subject – Economy
Context – EAC-PM: 3 new members inducted
Concept –
The government has reconstituted the Economic Advisory Council to the Prime Minister for a period of two years after its term came to an end last month.
Bibek Debroy continues to be the Chairman of the EAC-PM.
Economic Advisory Council to the Prime Minister (PMEAC)[1] is a non-constitutional, non-permanent and independent body constituted to give economic advice to the Government of India, specifically the Prime Minister.
The council serves to highlight key economic issues facing the country to the government of India from a neutral viewpoint.
It advises the Prime Minister on economic issues like inflation, microfinance, and industrial output.
It publishes reports on the annual Economic Outlook and Review of the Economy of India.
There is no fixed definition on the exact number of members and staff of the PMEAC.
For administrative, logistic, planning and budgeting purposes, the NITI Aayog serves as the Nodal Agency for the PMEAC.
Subject – IR
Context – India seeks vaccine loans from ADB and AIIB
Concept –
ADB is a regional development bank established on 19th December 1966.
ADB now has 68 members, 49 from within Asia. India is a founding member.

The bank admits the members of the United Nations Economic and Social Commission for Asia and the Pacific (UNESCAP, formerly the Economic Commission for Asia and the Far East or ECAFE) and non-regional developed countries.

ADB's five largest shareholders are Japan and the United States (each with 15.6% of total shares), the People's Republic of China (6.4%), India (6.3%), and Australia (5.8%).
It aims to promote social and economic development in Asia.
ADB is committed to achieving a prosperous, inclusive, resilient, and sustainable Asia and the Pacific, while sustaining its efforts to eradicate extreme poverty.
ADB is headquartered in Manila, Philippines.
It is official United Nations Observer.
Voting rights are modeled closely on the World Bank, and has a similar weighted voting system where votes are distributed in proportion with members' capital subscriptions.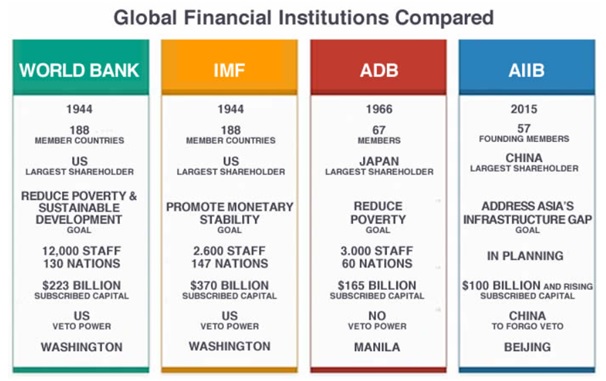 10. China-Pakistan 1963 Agreement
Subject – IR
Context – Don't use new law to justify LAC moves, India tells China
Concept –
The Sino-Pakistan Agreement (also known as the Sino-Pakistan Frontier Agreement and Sino-Pak Boundary Agreement) is a 1963 document between the governments of Pakistan and China establishing the border between those countries.
With China-­Pakistan 1963 agreement, Pakistan handed over the Shaksgam Valley of Aksai Chin to China.
The agreement is not recognized as legal by India, which also claims sovereignty over part of the land.
Shaksgam Valley
The Shaksgam Valley or the Trans Karakoram Tract is part of Hunza-Gilgit region of Pakistan Occupied Kashmir (POK), and is a disputed territory claimed by India but controlled by Pakistan.
It borders Xinjiang Province of the People's Republic of China (PRC) to the north, the Northern Areas of POK to the south and west, and the Siachen Glacier region to the east.
The Shaksgam Valley was ceded to China by Pakistan in 1963 when both countries signed a boundary agreement to settle their border differences.
The agreement laid the foundation of Karakoram highway which was built jointly by the Chinese and Pakistani engineers in 1970s.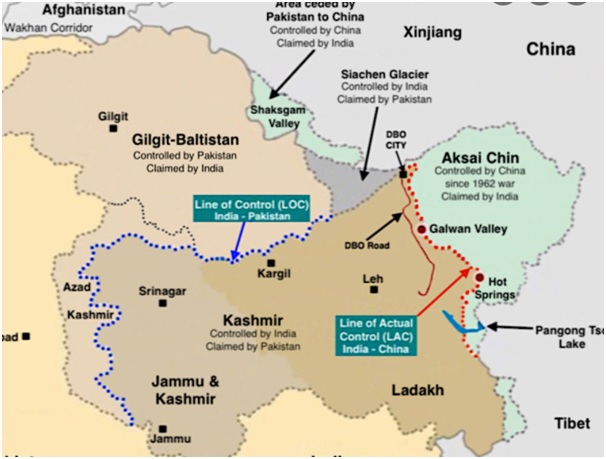 China's Land Boundary Law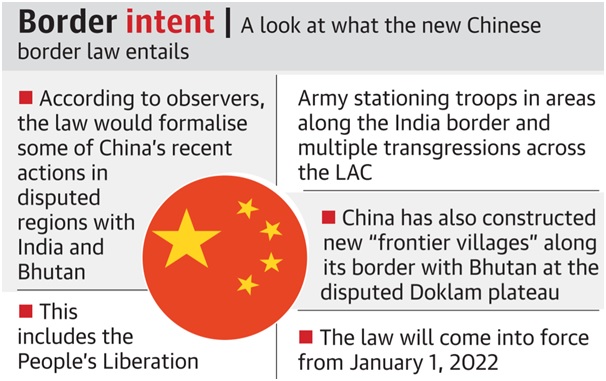 Asserting that sovereignty and territorial integrity of China are "sacred and inviolable", the country's national legislature has adopted a new law on the protection and exploitation of the land border areas, which could have bearing on Beijing's border dispute with India.
The state shall take measures to safeguard territorial integrity and land boundaries and guard against and combat any act that undermines territorial sovereignty and land boundaries
The law also stipulates that the state shall take measures to strengthen border defence, support economic and social development as well as opening-up in border areas, improve public services and infrastructure in such areas, encourage and support people's life and work there, and promote coordination between border defence and social, economic development in border areas.
The state shall, following the principle of equality, mutual trust and friendly consultation, handle land border-related affairs with neighbouring countries through negotiations to properly resolve disputes and longstanding border issues.
India and Bhutan are the two countries with which China is yet to finalise the border agreements, while Beijing resolved the boundary disputes with 12 other neighbours.
11. Registration of Births and Deaths Act 1969
Subject – Governance
Context – Centre wants to keep birth, death database
Concept –
The Centre has proposed amendments to a 1969 law that will enable it to "maintain the database of registered births and deaths at the national level".
Presently, the registration of births and deaths is done by the local registrar appointed by the States.
It is proposed that the Chief Registrar (appointed by the States) would maintain a unified database at the State level and integrate it with the data at the "national level," maintained by the Registrar General of India (RGI).

The amendments will imply that the Centre will be a parallel repository of data.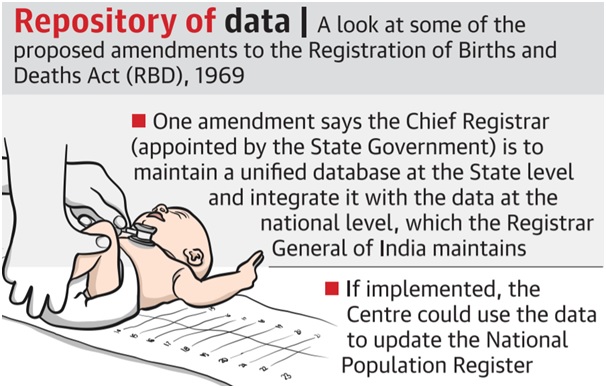 The Registration of Births and Deaths Act, 1969 (Act No. 18 of 1969) provides for the compulsory registration of births and deaths.
12. Integrated Teacher Education Programme (ITEP)
Subject – Governance
Context – Dual degree for teacher education
Concept –
The Education Ministry notified a four-year Integrated Teacher Education Programme (ITEP), offering dualmajor Bachelor's degrees which will become a mandatory requirement for recruitment of schoolteachers by 2030, according to the National Education Policy (NEP).
As a pilot project in 2022-23, the integrated programme will initially be offered in 50 selected multidisciplinary institutions.
Admissions into the programme will be carried out by the National Testing Agency through the National Common Entrance Test (NET).
The curriculum, which has been designed by the National Council for Teacher Education, will enable student-teachers to get a degree in education and in a specialised discipline such as history, mathematics, science, arts, economics, or commerce. Students will walk out of the programme with a B.Ed. and a BA, B.Sc. or B.Com.
13. 'Knock Every Door' Campaign
Subject – Governance
Context – 'Knock every door' campaign to boost second-dose vaccination
Concept –
According to a release issued by the Health Ministry, the "HarGharDastak" (Knock Every Door) campaign is scheduled to start soon in districts with low vaccination rates to enthuse and motivate people towards getting their jab.
Subject – IR
Context – Sweden set to launch 'Time for India' drive
Concept –
Sweden would soon launch a trade promotion event — Time for India — to boost bilateral trade.
Under it, there shall be no requirement for vaccination for entry nor will there be a quarantine regime in place. But travellers need to take a COVID-19 test on arrival.