Daily Prelims Notes 30 October 2021
October 30, 2021

Posted by:

OptimizeIAS Team

Category:

DPN

Daily Prelims Notes
30 October 2021
Table Of Contents
Subject – Defence and Security
Context – India's first manned ocean mission 'Samudrayan' launched
Concept –
India's first manned ocean mission 'Samudrayan' was launched and with this the nation joined an elite club of nations having such underwater vehicles for carrying out subsea activities.

India joins elite club of select nations USA, Russia, Japan, France & China having such underwater vehicles.

Ministry – Ministry of Earth Sciences
Objective-deep Ocean exploration for rare minerals.

The niche technology facilitates carrying out deep ocean exploration of non-living resources such as polymetallic manganese nodules, gas hydrates, hydro-thermal sulphides and cobalt crusts.

Matsya 6000 under Samudrayan initiative is capable of carrying three human beings in titanium alloy personnel sphere of 2.1 metre diameter enclosed space with an endurance of 12 hours and an additional 96 hours in case of emergency situation.

Matsya 6000, the deep sea vehicle, will be ready for qualification trials by December 2024.

The manned submersible can take three scientists to ocean depths to explore oceans and to survey the ocean bed and collect the data and samples.
By the end of 2022 or 2023, the shallow water (500 metres) phase is expected to happen which would be followed by more deeper initiatives.
The deep sea vehicle shall be maneuvered at deep sea floor with six degree freedom using battery powered propulsion system for 4 hours at 6000 metre depth.
System design, concept of operation, subcomponents functionality and integrity, emergency rescue, failure mode analysis are reviewed and certified as per the rules of International Association of Classification and Certification Society for man-rated usage of manned submersible at a depth of 6000 metres.
Ahead of this launch, the National Institute of Ocean Technology (NIOT) had developed a 'personnel sphere,' built of mild steel and tested it as an unmanned trial, two days back, using the Ocean Research Vessel Sagar Nidhi, in Bay of Bengal.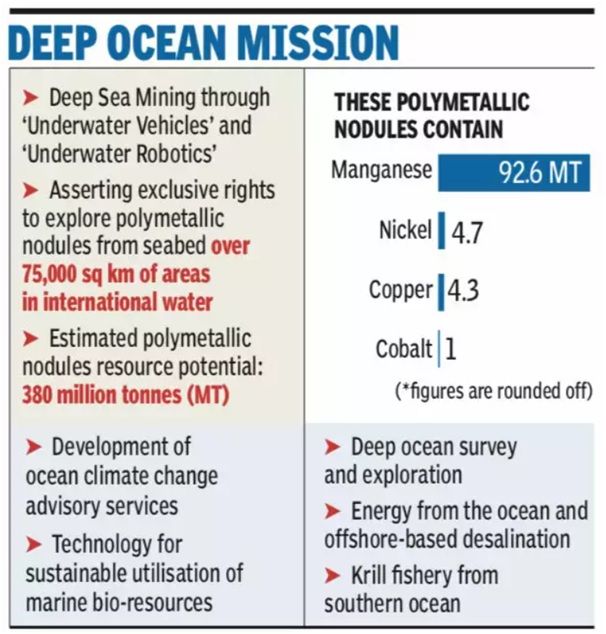 Subject – Economy
Context – Although SARS in 2003, H1N1 in 2009, MERS in 2012, Ebola in 2014, and Zika in 2016 were much smaller in scale than the ongoing pandemic, they led to increases in the Gini coefficient.
Concept –
The Gini index, or Gini coefficient, is a measure of the distribution of income across a population developed by the Italian statistician Corrado Gini in 1912.
It is often used as a gauge of economic inequality, measuring income distribution or, less commonly, wealth distribution among a population.
The coefficient ranges from 0 (or 0%) to 1 (or 100%), with 0 representing perfect equality and 1 representing perfect inequality.
Values over 1 are theoretically possible due to negative income or wealth.
A higher Gini index indicates greater inequality, with high-income individuals receiving much larger percentages of the total income of the population.
Global inequality as measured by the Gini index increased over the 19th and 20th centuries, but has declined in more recent years.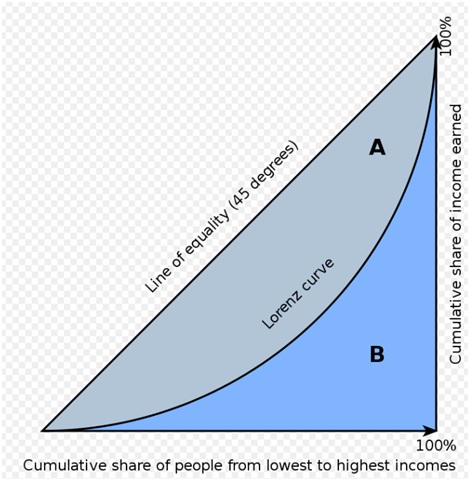 The difference between this hypothetical line and the actual line produced of people's incomes is the Gini ratio.
Limitation – The Gini coefficient is a relative measure.
Subject – Economy
Context – The three-year term extension given to Reserve Bank of India (RBI) Shaktikanta Das
Concept –
RBI Governor Appointment Procedure –
In India, the process is entirely a political one. Though an Appointments Committee is the formal vehicle designated to shortlist candidates for the job, in reality, the Prime Minister's Office chooses the governor after consulting the finance ministry and the outgoing governor.
The RBI Governor is appointed after the proposal made by the Financial Sector Regulatory Appointments Search Committee (FSRASC), headed by the Cabinet Secretary.
In absence of the Governor, a Deputy Governor nominated by him functions as the Chairman of the Central Board.
Largely, the world over, central bankers are appointed by the head of the state
Term of the RBI Governor –
The Governor and Deputy Governors hold office for periods not exceeding five years. The term of the governor may be fixed by the government at the time of his appointment.
Governor (and also Deputy Governors) is eligible for reappointment or extension (according to RBI Act).
On average, the BIS survey showed that worldwide, most central bankers serve a term of 5-6 years.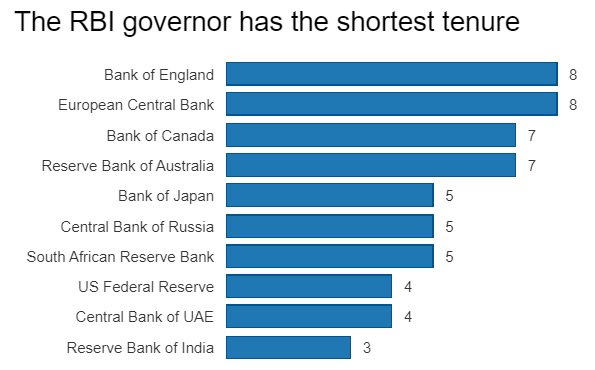 Qualification of the Governor
The RBI Act doesn't mention any specific qualification for the governor. Persons with different educational backgrounds were selected as Governor.
But they had either Economics/Financial management experience with the government (Economic Affairs Secretary/Financial Secretary etc.,) or were Economists.
This means that the qualification for Governor is a matter of convention rather than a rule.
Traditionally, the Governor is appointed from either Civil Services Personnel or Economists. The implication is that if a civil servant has experience in Economic management, he can be appointed as the Governor.
Profile of RBI Governors from 1934 (25 Governors and Shakthikanta Das being the latest) shows that 14 out of 25 Governors were Civil Servants (IAS or ICS/IAAS officers). Only 7 were Economists.
Salaries and allowances –
Salaries and allowances of the Governor and Deputy Governors may be determined by the Central Board, with the approval of the Central Government.
The governor can be removed by the government.
To know about RBI, please refer August 2021 DPN.
4. Different types of U.S. Visa
Subject – IR
Context – H-1B visa: Market research analyst job now a 'specialist occupation'
Concept –
Visa
Description
H-1B (specialty occupation)
An H-1B visa is required if you are coming to the United States to perform services in a pre-arranged professional job
H-1B1 Treaty-based Temporary Work Visas

Free trade agreements signed with Chile and Singapore permit qualified Chilean and Singaporean citizens to temporarily work in the United States in certain circumstances.
Only Chilean and Singaporean citizens are eligible as principal applicants, although their spouses and children may be nationals of other countries.

H-2A (seasonal agricultural workers)

An H-2A visa allows U.S. employers to bring foreign nationals to the United States to fill temporary agricultural jobs for which U.S. workers are not available.

Indian and Bhutanese passport holders are not eligible for H-2A and H-2B visas.

H-2B visa (skilled and unskilled workers)
This visa is required if you are coming to the United States to perform a job which is temporary or seasonal in nature and for which there is a shortage of U.S. workers.
H-3 (trainee)
An H-3 visa is required if you are coming to the United States to receive training from an employer in any field of endeavour, other than graduate education or training, for a period of up to two years.
H-4 (dependents)

If you are the principal holder of a valid H visa, your spouses, including same-sex spouses, and/or unmarried children (under age 21) may receive an H-4 visa to accompany you to the United States.

However, your spouse/children are not permitted to work while in the United States.

L-1 (intra-company transferees)

An L-1 visa is required if you are the employee of an international company which is temporarily transferring you to a parent branch, affiliate, or subsidiary of the same company in the United States.

The international company may be either a U.S. or foreign organization.

L-2 (dependents)

If you are the principal holder of a valid L visa, your spouses, including same-sex spouses, and/or unmarried children (under age 21) may receive this derivative visa.

Due to a recent change in the law, your spouse may seek employment authorization.

O
Type O visas are issued to people with extraordinary ability in the sciences, arts, education, business and athletics, or extraordinary achievement in motion picture and television production, and their essential support personnel.
P (artists, entertainers)
Type P visas are issued to certain athletes, entertainers, artists and essential support personnel who are coming to perform in the United States.
Q
A Q visa is required if you are traveling to the United States to participate in an international cultural exchange program for the purpose of providing practical training, employment, and the sharing of the history, culture, and traditions of your home country.
Subject – Geography
Context – Actions, not words – Pacific Islands urge strong commitment on climate
Concept –
Three major groups of islands in the Pacific Ocean are Melanesia, Micronesia and Polynesia.
The indigenous inhabitants of the Pacific Islands are referred to as Pacific Islanders.
The Pacific Island region covers more than 300,000 square miles (800,000 square km) of land—of which New Zealand and the island of New Guinea make up approximately nine-tenths—and millions of square miles of ocean.
Most Pacific islands are coral formations, although all of these rest on volcanic or other cores.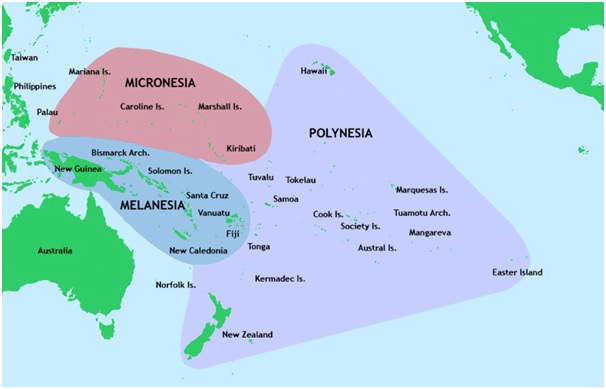 It excludes the following –
the neighbouring island continent of Australia,
the Asia-related Indonesian, Philippine,
Japanese archipelagoes, and the Ryukyu, Bonin, Volcano, and Kuril island arcs that project seaward from Japan
the Aleutian chain or such isolated islands of the Pacific Ocean as the Juan Fernández group off the coast of South America.
Melanesia
The great arc of islands located north and east of Australia and south of the Equator is called Melanesia (from the Greek words melas, "black," and nēsos, "island") for the predominantly dark-skinned peoples of New Guinea island, the Bismarck Archipelago, Solomon Islands, Vanuatu (the New Hebrides), New Caledonia, and Fiji.
Micronesia
North of the Equator and east of the Philippines are the islands of Micronesia, which form an arc that ranges from Palau, Guam, and the Northern Mariana Islands in the west eastward through the Federated States of Micronesia (the Caroline Islands), Nauru, and the Marshall Islands to Kiribati.
Polynesia
In the eastern Pacific, largely enclosed within a huge triangle formed by the Hawaiian Islands to the north, New Zealand to the southwest, and Easter Island (Rapa Nui) far to the east, are the many ("poly") islands of Polynesia.
Subject – IR
Context – On Saturday, Prime Minister Narendra Modi calls on Pope Francis, head of the sovereign of the Vatican City State, for a 30-minute meeting.
Concept –
Pope, (Latin papa, from Greek pappas, "father"), the title, since about the 9th century, of the bishop of Rome, the head of the Roman Catholic Church.
It was formerly given, especially from the 3rd to the 5th century, to any bishop and sometimes to simple priests as an ecclesiastical title expressing affectionate respect.
He is thehead of the worldwide Catholic Church and head of state or sovereign of the Vatican City State.
According to Catholics, the primacy of the bishop of Rome is largely derived from his role as the apostolic successor to Saint Peter, to whom primacy was conferred by Jesus, giving him the Keys of Heaven.
While his office is called the papacy, the jurisdiction of the episcopal see is called the Holy See.
It is the Holy See that is the sovereign entity by international law headquartered in the distinctively independent Vatican City State, a city-state enclaved within Rome, established by the Lateran Treaty in 1929 between Italy and the Holy See to ensure its temporal and spiritual independence.
Pope and India –
PM Modi became the fifth Indian Prime Minister to have visited the head of Roman Catholics, the largest religious denomination in the world.
The Roman Catholic Church also wields influence in Kerala
Christians are the third largest religious community in India. According to Census 2011, they form 2.3 per cent of the population, behind Hindus (79.8%) and Muslims (14.2%).
Before Modi, Prime Ministers Jawaharlal Nehru, Indira Gandhi, I K Gujral, and Atal Bihari Vajpayee had met the then Popes in the Vatican.
Popes in India
The first Pope to visit India was Paul IV, who travelled to Mumbai in 1964 to attend the International Eucharistic Congress.
7. Facebook is now called 'Meta'
Subject – Science and Tech
Context – Facebook is starting its metaverse journey by rebranding itself as Meta
Concept –
'Meta' in Greek means 'after' or 'beyond'. The overall Facebook Company will now simply be called Meta. However, the Facebook app will retain its name and there's no change for other apps.
But Instagram, Facebook, WhatsApp, Messenger are now all under the company 'Meta'— like Google has all its products under the umbrella company Alphabet.
Meta has a new logo as well, which is sort of like the symbol for infinity.
The way Mark Zuckerberg is envisioning the 'metaverse', it will go beyond the internet as we know it, with interoperability, avataars, natural interfaces, teleporting, Home Space, presence, digital goods being some of the key features of this metaverse.
To know about Metaverse, please refer October 2021 DPN.
To know about Augmented Reality (AR) and Virtual Reality (VR), please refer August 2021 DPN.
Subject – Economy
Context – Sept core sector growth drops to 4.4% YoY as rains affect infra activity
Concept –
Core industry can be defined as the main industry which has a multiplier effect on the economy.
In most countries, there is particular industry that seems to be backbone of all other industries and it qualifies to be the core industry.
The eight Core Industries in decreasing order of their weightage: Refinery Products> Electricity> Steel> Coal> Crude Oil> Natural Gas> Cement> Fertilizers.
The Eight Core Industries comprise 40.27% of the weight of items included in the Index of Industrial Production (IIP).
To know about IIP, please refer September 2021 DPN.
9. Sardar Patel supported Partition
Subject – History
Context – Sardar Patel supported Partition
Concept –
World War II ended in the summer of 1945, which was also when India's leaders, imprisoned from 1942 for their Quit India call, were released.
Less than two years thereafter, on February 21, 1947, Premier Attlee announced in London that power would be transferred from British to Indian hands. He added that Mountbatten would replace Wavell as viceroy in India and work out the details of Britain's departure.
On June 2, 1947, Congress leaders Nehru, Sardar Patel and president Kripalani, Muslim League leaders Jinnah (president), Liaqat and Nishtar, and Akali representative Baldev Singh gave their assent to Mountbatten's plan for independence and partition.
On June 3, this plan was publicly announced.
On June 14, the AICC ratified what had been signed by Kripalani and agreed to by Nehru and Patel.
On July 18, King George VI signed the Indian Independence Act, which embodied the plan's far-reaching features.
Following this Act, power descended to two Constituent Assemblies already activated by this time, one for an area comprising today's Pakistan and Bangladesh, the other for post-Partition India.
Princely states were given the option to join either area.
Partition Theory –
The claim that the two-nation theory was accepted in 1947 is entirely incorrect.
It is true that the Hindu Mahasabha from 1937, and the Muslim League from 1940, had held that Hindus and Muslims were two different nations, but the rest of India didn't go along with that theory, and the 1947 agreement scrupulously refrained from endorsing it.
The division agreed upon in 1947 was of areas, not of communities. The Independence Act did not say that two nations, one Hindu and the other Muslim, were being created. Neither the June 3 Plan nor the Independence Act even mentioned "Hindus" or "Muslims".
The separating Pakistan area no doubt had an overwhelming Muslim majority, the area that remained India had an overwhelming Hindu majority, and from 1940 to 1947 the Muslim League had indeed campaigned for Pakistan as "a Muslim homeland".
Sardar Patel supported Partition
The story of Patel's shift from opposing Partition to enthusiastic acceptance has been told in more than one account.
On March 8, 1947, following violence against Sikhs and Hindus in western Punjab, the Congress Working Committee passed a resolution (with Kripalani in the chair) urging the division of Punjab into two halves, a West Punjab where Muslims predominated, and an East Punjab where Hindus and Sikhs outnumbered Muslims.

This was the first public signal that the Congress was willing to accept Pakistan if Muslim-minority areas demanded for Pakistan by the Muslim League, namely East Punjab, West Bengal and Assam, remained in India.
This signal was offered before the Mountbattens arrived in India.

To preserve a united India, Gandhi then responded by proposing a Jinnah premiership backed by the Congress majority in the central legislature. Except for Khan Abdul Ghaffar Khan, no Congress leader supported the idea, and Gandhi didn't pursue it.
Subject – Environment
Context – Goa's pilot seaweed farm explores viability of these climate-smart algae
Concept –
"Seaweed" is the common name for countless species of marine plants and algae that grow in the ocean as well as in rivers, lakes, and other water bodies.
Some seaweeds are microscopic, such as the phytoplankton that live suspended in the water column and provide the base for most marine food chains.

Some are enormous, like the giant kelp that grow in abundant "forests" and tower like underwater redwoods from their roots at the bottom of the sea.
Most are medium-sized, come in colors of red, green, brown, and black, and randomly wash up on beaches and shorelines just about everywhere.

They are the primitive, marine non-flowering marine algae without root, stem and leaves, play a major role in marine ecosystems.
Seaweeds, found mostly in the intertidal region, in shallow and deep waters of the sea and also in estuaries and backwaters.
The southern Gulf of Mannar's rocky intertidal and lower intertidal regions have rich populations of several seaweed species.
Seaweeds exhibit highest photosynthesis efficiency due to moist conditions.
They contribute to about 50% of all photosynthesis in the world.
Benefits of seaweed –
Applications of seaweed–
Seaweed in India –
Health risks
Rotting seaweed is a potent source of hydrogen sulfide, a highly toxic gas, and has been implicated in some incidents of apparent hydrogen-sulphide poisoning. It can cause vomiting and diarrhea.
The so-called "stinging seaweed" Microcoleuslyngbyaceus is a filamentous cyanobacteria which contains toxins including lyngbyatoxin-a and debromoaplysiatoxin.
Direct skin contact can cause seaweed dermatitis characterized by painful, burning lesions that last for days.
Subject – Governance
Context – No money left in MGNREGA coffers; 21 States in the red
Concept –
The Centre's flagship rural employment scheme has run out of funds halfway through the financial year, and supplementary budgetary allocations will not come to the rescue for at least another month when the next Parliamentary session begins
The MGNREGA is a demand-driven scheme, guaranteeing 100 days of unskilled work to any rural household that wants it. During last year's COVID-19 lockdown, the scheme was ultimately given its highest budget of ₹1.11 lakh crore.
This provided a critical lifeline to a record 11 crore workers. But the scheme's 2021-22 budget was set at just ₹73,000 crore.
To know about MGNREGA, please refer to August 2021 DPN.
12. The Personal Data Protection Bill 2019
Subject – Governance
Context – UIDAI seeks indemnity from Data Bill
Concept –
Applicability: The Bill governs the processing of personal data by: (i) government, (ii) companies incorporated in India, and (iii) foreign companies dealing with personal data of individuals in India. Personal data is data which pertains to characteristics, traits or attributes of identity, which can be used to identify an individual.  The Bill categorises certain personal data as sensitive personal data.  This includes financial data, biometric data, caste, religious or political beliefs, or any other category of data specified by the government, in consultation with the Authority and the concerned sectoral regulator.
Obligations of data fiduciary: A data fiduciary is an entity or individual who decides the means and purpose of processing personal data. Such processing will be subject to certain purpose, collection and storage limitations.  For instance, personal data can be processed only for specific, clear and lawful purpose.  Additionally, all data fiduciaries must undertake certain transparency and accountability measures such as: (i) implementing security safeguards (such as data encryption and preventing misuse of data), and (ii) instituting grievance redressal mechanisms to address complaints of individuals.  They must also institute mechanisms for age verification and parental consent when processing sensitive personal data of children.
Rights of the individual: The Bill sets out certain rights of the individual (or data principal). These include the right to: (i) obtain confirmation from the fiduciary on whether their personal data has been processed, (ii) seek correction of inaccurate, incomplete, or out-of-date personal data, (iii) have personal data transferred to any other data fiduciary in certain circumstances, and (iv) restrict continuing disclosure of their personal data by a fiduciary, if it is no longer necessary or consent is withdrawn.
Grounds for processing personal data: The Bill allows processing of data by fiduciaries only if consent is provided by the individual. However, in certain circumstances, personal data can be processed without consent.  These include: (i) if required by the State for providing benefits to the individual, (ii) legal proceedings, (iii) to respond to a medical emergency.
Social media intermediaries: The Bill defines these to include intermediaries which enable online interaction between users and allow for sharing of information. All such intermediaries which have users above a notified threshold, and whose actions can impact electoral democracy or public order, have certain obligations, which include providing a voluntary user verification mechanism for users in India.
Data Protection Authority: The Bill sets up a Data Protection Authority which may: (i) take steps to protect interests of individuals, (ii) prevent misuse of personal data, and (iii) ensure compliance with the Bill. It will consist of a chairperson and six members, with at least 10 years' expertise in the field of data protection and information technology.  Orders of the Authority can be appealed to an Appellate Tribunal.  Appeals from the Tribunal will go to the Supreme Court.
Transfer of data outside India: Sensitive personal data may be transferred outside India for processing if explicitly consented to by the individual, and subject to certain additional conditions. However, such sensitive personal data should continue to be stored in India.  Certain personal data notified as critical personal data by the government can only be processed in India.
Exemptions: The central government can exempt any of its agencies from the provisions of the Act: (i) in interest of security of state, public order, sovereignty and integrity of India and friendly relations with foreign states, and (ii) for preventing incitement to commission of any cognisable offence (i.e. arrest without warrant) relating to the above matters. Processing of personal data is also exempted from provisions of the Bill for certain other purposes such as: (i) prevention, investigation, or prosecution of any offence, or (ii) personal, domestic, or (iii) journalistic purposes.  However, such processing must be for a specific, clear and lawful purpose, with certain security safeguards.
Offences: Offences under the Bill include: (i) processing or transferring personal data in violation of the Bill, punishable with a fine of Rs 15 crore or 4% of the annual turnover of the fiduciary, whichever is higher, and (ii) failure to conduct a data audit, punishable with a fine of five crore rupees or 2% of the annual turnover of the fiduciary, whichever is higher.  Re-identification and processing of de-identified personal data without consent is punishable with imprisonment of up to three years, or fine, or both.
Sharing of non-personal data with government: The central government may direct data fiduciaries to provide it with any: (i) non-personal data and (ii) anonymised personal data (where it is not possible to identify data principal) for better targeting of services.
Amendments to other laws: The Bill amends the Information Technology Act, 2000 to delete the provisions related to compensation payable by companies for failure to protect personal data.
To know about UIDAI, please refer August 2021 DPN.
13. Best Public Transport Award
Subject – Governance
Context – Surat wins award for best public transport
Concept –
Surat won the award for the city with the best public transport system, while Kochi was judged the city with most sustainable transport system by the Union Housing and Urban Affairs Ministry.
Delhi received the award for the city with the best non-motorised transport system for the Chandni Chowk redevelopment project.
Delhi also won the best Metro passenger services and satisfaction award, while Nagpur's multi-modal integration with Metro rail was found to be the best in the country.
14. Pneumococcal 13-valent Conjugate Vaccine
Subject – Science and Tech
Context – Nationwide PCV drive launched
Concept –
Union Health Minister Dr. Mansukh Mandaviya launched a nationwide expansion of Pneumococcal 13-valent Conjugate Vaccine (PCV) under the Universal Immunisation Programme (UIP) as a part of 'Azadi ka Amrit Mahotsav.
It was for the first time in the country that PCV would be available for universal use. Pneumonia was a leading cause of death among children under five, globally and in India.
"Pneumonia caused by pneumococcus is the most common cause of severe pneumonia in children. Around 16% of deaths in children occur due to pneumonia in India.
About the vaccine –
It prevents pneumococcal disease. It can protect both children and adults from pneumococcal disease.
The vaccine is a mix of several bacteria of the pneumococci family, which are known to cause pneumonia—hence 'conjugate' is included in the name of the vaccine.
Conjugate vaccines are made using a combination of two different components.
Pneumococcal disease –
Pneumococcal disease is a name for any infection caused by bacteria called Streptococcus pneumoniae or pneumococcus. Most people carry pneumococcus in their nose and throat, where the bacteria do not cause any symptoms.
However, sometimes the bacteria grow and spread to other parts of the body and that's when people become sick.
These bacteria can cause many types of illnesses, including pneumonia, which is an infection of the lungs. Pneumococcal bacteria are one of the most common causes of pneumonia.
Besides pneumonia, pneumococcal bacteria can also cause:

Ear infections.
Sinus infections.
Meningitis (infection of the tissue covering the brain and spinal cord).
Bacteremia (infection of the blood).

Doctors consider some of these infections "invasive". Invasive disease means that germs invade parts of the body that are normally free from germ.
Anyone can get pneumococcal disease, but children under 2 years of age, people with certain medical conditions, adults 65 years or older, and cigarette smokers are at the highest risk.
Most pneumococcal infections are mild. However, some can result in long-term problems, such as brain damage or hearing loss. Meningitis, bacteremia, and pneumonia caused by pneumococcal disease can be fatal.
Universal Immunization Programme
It was launched in 1985 to prevent mortality and morbidity in children and pregnant women against 12 vaccine-preventable diseases.
Under UIP, free of cost vaccination is provided against twelve vaccine-preventable diseases i.e. Tuberculosis, Diphtheria, Pertussis, Tetanus, Polio, Hepatitis B, Pneumonia and Meningitis due to Haemophilus Influenzae type b (Hib), Measles, Rubella, Japanese Encephalitis (JE) and Rotavirus diarrhoea.
The programme is one of the largest health programmes in the world. Despite being operational for many years, UIP has been able to fully immunize only 65% of children under 1 year of age.
 Conjugate vaccine 
A conjugate vaccine is a type of vaccine which combines a weak antigen with a strong antigen as a carrier so that the immune system has a stronger response to the weak antigen.
Vaccines are used to prevent diseases by invoking an immune response to an antigen, the foreign part of a bacteria or virus that the immune system recognizes.
This is usually accomplished with an attenuated or dead version of a pathogenic bacterium or virus in the vaccine, so that the immune system can recognize the antigen later in life.
Many vaccines contain a single antigen that the body will recognize.
However, the antigen of some pathogenic bacteria does not elicit a strong response from the immune system, so a vaccination against this weak antigen would not protect the person later in life. In this case, a conjugate vaccine is used in order to invoke an immune system response against the weak antigen. In a conjugate vaccine, the weak antigen is covalently attached to a strong antigen, thereby eliciting a stronger immunological response to the weak antigen. Most commonly, the weak antigen is a polysaccharide that is attached to strong protein antigen. However, protein and protein/protein conjugates have also been developed.
Subject – Economy
Context – Fiscal deficit touches 35% of annual budget target
Concept –
Fiscal Deficit
The government describes fiscal deficit of India as "the excess of total disbursements from the Consolidated Fund of India, excluding repayment of the debt, over total receipts into the Fund (excluding the debt receipts) during a financial year".
The government that has a fiscal deficit is spending beyond its means.
It is calculated as a percentage of Gross Domestic Product (GDP), or simply as total money spent in excess of income.
In either case, the income figure includes only taxes and other revenues and excludes money borrowed to make up the shortfall.
Formula:
Fiscal Deficit = Total expenditure of the government (capital and revenue expenditure) – Total income of the government (Revenue receipts + recovery of loans + other receipts).
Expenditure component: The government in its Budget allocates ,2funds for several works, including payments of salaries, pensions, etc. (revenue expenditure) and creation of assets such as infrastructure, development, etc. (capital expenditure).
Income component: The income component is made of two variables, revenue generated from taxes levied by the Centre and the income generated from non-tax variables.
The taxable income consists of the amount generated from corporation tax, income tax, Customs duties, excise duties, GST, among others.
Meanwhile, the non-taxable income comes from external grants, interest receipts, dividends and profits, receipts from Union Territories, among others.
It is different from revenue deficit which is only related to revenue expenditure and revenue receipts of the government.
The government meets the fiscal deficit by borrowing money. In a way, the total borrowing requirements of the government in a financial year is equal to the fiscal deficit in that year.
A high fiscal deficit can also be good for the economy if the money spent goes into the creation of productive assets like highways, roads, ports and airports that boost economic growth and result in job creation.
The Fiscal Responsibility and Budget Management Act, 2003 provides that the Centre should take appropriate measures to limit the fiscal deficit upto 3% of the GDP by 31st March, 2021.