Daily Prelims Notes 31 October 2021
October 31, 2021

Posted by:

OptimizeIAS Team

Category:

DPN

Daily Prelims Notes
31 October 2021
Table Of Contents
Subject – Environment
Context – low-rise buildings are the future – not skyscrapers
Concept –
More than half of the world's 7.8 billion people live in cities and urban areas. By 2050, an additional 2.5 billion will be living there.
More densely packed optimize the use of space and house more people per square metre and limit urban sprawl.
However, densely built, low-rise environments are more space and carbon efficient, while high-rise buildings have a drastically higher carbon impact.
Operational carbon is generated while a building is in service.
Embodied carbon is all the hidden, behind-the-scenes carbon produced during the extraction, production, transport and manufacture of raw materials used to construct a building, plus any produced during maintenance, refurbishment, demolition or replacement.
At a global scale, the construction sector is responsible for a significant impact on the environment, as is clear from the graph below.

The largest contribution comes from its consumption of energy and resources, which boils down to the design stage — the part of the process that no one is looking at.
Passive House designs– a building standard that uses non-mechanical heating and cooling design techniques to lower energy use.
Near-zero energy builds– high performance buildings where the low amount of energy required comes mostly from renewable sources.
Skyscrapers rely heavily on concrete as a structural material. So the type of materials we use, how much we use, and how we use them is crucial.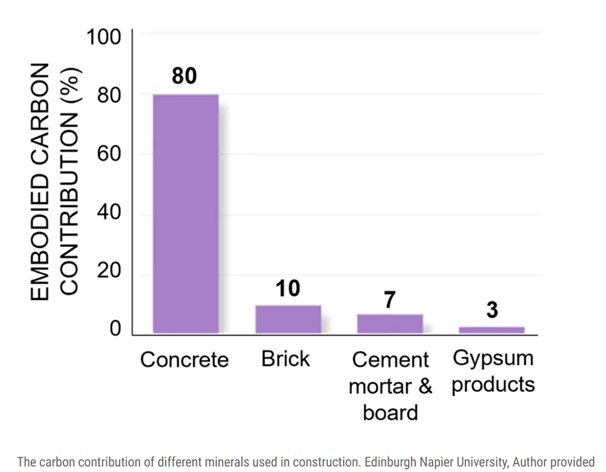 High-density low-rise cities, such as Paris, are more environmentally friendly than high-density high-rise cities, such as New York.

Looking at the fixed population scenarios, when moving from a high-density low-rise to a high-density high-rise urban environment, the average increase in whole life-cycle carbon emissions is 142%.
2. National Unity Day- 31 October
Subject – History
Context – 'From Kashmir to North East, country has got freedom from age-old laws': PM Modi on Sardar Patel's birth anniversary.
Concept –
Vallabhbhai Patel was born on 31st October 1875 in Nadiad, Gujarat.
A successful lawyer by profession, his life encountered a turning point when Mahatma Gandhi chose him as his deputy commander to lead the Kheda Satyagraha in 1918.
Thus, as the leader of a peasants' protest, Vallabhbhai Patel found the trajectory of his life turning towards a path of public service.
In 1924, Patel was elected President of the Ahmedabad Municipal Board.
Vallabhbhai Patel became increasingly involved with the struggle for independence. It was his role in the Bardoli Satyagraha of 1928 that elevated him to a new pinnacle of national glory.

It was here that he earned the title of 'Sardar', the fond epithet by which he continues to be remembered and revered.

In 1931, he was elected President of the Indian Nation Congress at its Karachi Session.

At a time when the nation was in tumult over the execution of Bhagat Singh, Sukhdev and Rajguru, he made a sombre speech that reflected the sentiment of the hour.

At the time of Independence, there were 17 British-Indian provinces, and the Princely States– comprising about two fifths of the geographic territory of the country- numbered more than 560.
Map of British India and Princely States at the time of Independence
Sardar Patel stepped in to ensure the accession of the princely states and integrate them into the Union of India.
On 25 June 1947, the States Department was formed under Sardar Patel. VP Menon was appointed its Secretary.

These two individuals made a formidable team whose tact and diplomacy made it possible to overcome apparently insurmountable hurdles.

On 15 August 1947, Sardar Patel took oath as the first Deputy Prime Minister, as well as the first Home Minister of independent India. He also took charge of the Information and Broadcasting Ministry.
He earned the reputation of 'Iron Man' because of the manner in which he brought about and maintained internal stability as Home Minister in the wake of the partition of the country.
Another illustrious contribution made by Sardar Patel was the creation of All India Services. He had envisioned these services as the 'Steel frame of India' that would further safeguard the country's unity and integrity.
On 15 December 1950, the Iron Man of India breathed his last. He had successfully accomplished the task of integrating 565 Princely States into the Union of India within a remarkably short span of time- a feat unprecedented in history.
On 31 October 2018, Prime Minister Narendra Modi dedicated the world's tallest statue – the 'Statue of Unity' to the nation.

Standing tall at 182 metres against the backdrop of the dramatic Satpura and Vindhyachal hills in Kevadia, Gujarat, this statue of Sardar Vallabhbhai Patel stands as an ode to one of the most venerated leaders the country has known.
Note –
With Operation Vijay, Goa, Daman and Diu were annexed, from Portuguese control, into the Indian union and made into a centrally administered Union Territory of India.
His political philosophy
Patel's ideology was quite different from that of other freedom fighters such as Jawaharlal Nehru and Subhas Chandra Bose.
He was a proponent of India attaining a dominion status within the British government, and not total Independence.
Patel did not accept the post of Congress presidency during the 1929 Lahore session of the Indian National Congress, a bid to pressure the party to withdraw the resolution of independence.

However, ultimately Nehru became Congress president and the resolution was passed.

Patel was also against any kind of armed rebellion as he thought such measures could lead to a violent retaliation from the British government.
He agreed with Gandhi on the points of self-reliance, but did not see Hindu-Muslim unity as a prerequisite for Independence.
Patel also differed with Gandhi on the issue of Partition, as he believed the alternative was civil war.
Subject – History
Context – Brutal attack on Dalits as they turned up for the installation ceremony at a temple
Concept –
Vaikom, in the northern part of Travancore, became a centre of agitation for temple entry.
In 1924, the Vaikom Satyagraha led by P. Kesava, was launched in Kerala demanding the throwing open of Hindu temples and roads to the untouchables.
The satyagraha was reinforced by jathas from Punjab and Madurai.
Gandhi undertook a tour of Kerala in support of the movement.
Significant work in this direction had already been done by reformers and intellectuals like Sree Narayana Guru and Kumaran Asan.
K. Madhavan, a prominent social reformer and editor of Deshabhimani, took up the issue of temple entry with the Travancore administration.
Again in 1931 when the Civil Disobedience Movement was suspended, temple entry movement was organised in Kerala. Inspired by Kelappan, poet SubramaniyamTirumambu (the 'singing sword of Kerala') led a group of sixteen volunteers to Guruvayur.
Leaders like Krishna Pillai and A.K. Gopalan were among the satyagrahis.
Finally, on November 12, 1936, the Maharaja of Travancore issued a proclamation throwing open all government-controlled temples to all Hindus.
A similar step was taken by the Rajagopalachari administration in Madras in 1938.
Subject – Geography
Context – Amid Bangladesh violence, a Tripura suburb hangs on to its peace
Concept –
The Bangladesh–India border, known locally as the International Border (IB), is an international border running between Bangladesh and India.
Bangladesh and India share a 4,096-kilometre-long (2,545 mi) international border, the fifth-longest land border in the world, including 262 km (163 mi) in Assam, 856 km (532 mi) in Tripura, 318 km (198 mi) in Mizoram, 443 km (275 mi) in Meghalaya, and 2,217 km (1,378 mi) in West Bengal.
The Border Security Force (BSF) of India and the Border Guards Bangladesh (BGB) of Bangladesh are involved in the patrolling of the border area.
The border divides the Sundarban mangrove forest and the Ganges delta region and is crisscrossed by many rivers.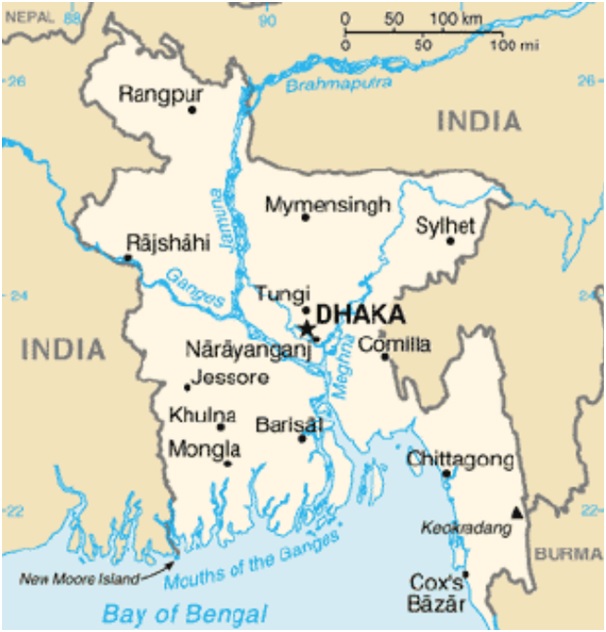 5. Constitutional Safeguards for Schedule Tribes
Subject – Governance
Context – MadhavSarkunde writes: Dr Ambedkar did everything possible to improve the plight of the Adivasis. It is a pity that Adivasis did not get a visionary leader like him in the post-Independence era.
Concept –
I. Educational & Cultural Safeguards
15(4):-Special provisions for advancement of other backward classes(which includes STs);
29:- Protection of Interests of Minorities (which includes STs);
46:– The State shall promote, with special care, the educational and economic interests of the weaker sections of the people, and in particular, of the Scheduled Castes, and the Scheduled Tribes, and shall protect them from social injustice and all forms of exploitation.
350:-Right to conserve distinct Language, Script or Culture;
350:- Instruction in Mother Tongue.
II.Social Safeguard
23:- Prohibition of traffic in human beings and beggar and other similar form of forced labour;
24:- Forbidding Child Labour.
III. Economic Safeguards
244:-Clause(1) Provisions of Fifth Schedule shall apply to the administration & control of the Scheduled Areas and Scheduled Tribes in any State other than the states of Assam, Meghalaya, Mizoram and Tripura which are covered under Sixth Schedule, under Clause (2) of this Article.
275:-Grants in-Aid to specified States (STs&SAs) covered under Fifth and Sixth Schedules of the Constitution.
IV. Political Safeguards
164(1):- Provides for Tribal Affairs Ministers in Bihar, MP and Orissa;
330:-Reservation of seats for STs in Lok Sabha;
337- Reservation of seats for STs in State Legislatures;
334:-10 years period for reservation (Amended several times to extend the period.);
243:-Reservation of seats in Panchayats.
371:-Special provisions in respect of NE States and Sikkim
V. Service Safeguards
(Under Art.16(4),16(4A),164(B) Art.335, and Art. 320(40).
Subject – Geography
Context – 'Chinese build­up in RALP a matter of concern'
Concept –
It is an under-construction 2-lane more than 2,407 km (1,496 mi) long highwayin Arunachal Pradesh state in India.
It runs from LAC in Tawang in northwest to Kanubari in southeast at tri-junction of Assam-Nagaland-Arunachal Pradesh.
It connects at least 16 districts of Arunachal Pradesh
It starts from India's north most military post (north of Hathung La Ridge) in Tawang district.
This strategically important highway network enhances Indian military's capabilities in combating the threat of China's Western Theater Command opposite India's eastern sector of Line of Actual Control.
TAH, from Tawang to Kanubari in Longding district has a target completion date of March 2024.
Note –
Rest of Arunachal Pradesh (RALP) area – Other than the Kameng area, which consists of East and West Kameng districts, the rest of the State is referred to by the Army as the RALP.
7. The Medical Termination of Pregnancy Amendment Rules 2021
Subject – Governance
Context – Abortion rules to aid minors
Concept –
The Medical Termination of Pregnancy Amendment Rules, 2021, define new categories of vulnerable women who are allowed termination up to 24 weeks upon meeting certain conditions and with the permission of two doctors.

These include minors, survivors of sexual assault and those with foetal malformation.

Others may seek abortion up to 20 weeks with the permission of one doctor upon meeting certain criteria.

Earlier you needed the permission of one doctor for termination up to 12 weeks, and two doctors for 12 to 20 weeks.

The amended law provides for setting up of State-level medical boards to decide if a pregnancy may be terminated after 24 weeks.
However, there are obstacles posed by the POCSO Act, 2012, in providing services. Section 19 of the Act requires any person aware of a minor engaging in sex to report the matter to the local police even if it was a consensual act as the law pegs the age of consent at 18.
8. Fisher Friend Mobile Application
Subject – Environment
Context –App to give no­-fishing zone alerts
Concept –
With the mass nesting season of the endangered Olive Ridley sea turtles approaching, the Odisha Government, in collaboration with the M.S. Swaminathan Research Foundation (MSSRF), has come up with a customised mobile application to alert fishermen to no-fishing zones in the Bay of Bengal.
Fishermen and boat crew members can download the offline Fisher Friend Mobile Application (FFMA) free to know the GPS locations and the boundaries of the zones.
The app also has additional features for providing fishing boats with near real-time information regarding weather, potential fishing zones, ocean state forecasts, disaster alerts and other information provided by the Indian National Centre for Ocean Information System, which will further strengthen the safety and security of the fishermen.
The Gahirmatha Marine Sanctuary, located off the Odisha coast, has been declared a no-fishing zone.
Each year, the turtles congregate near the Dhamara, the Devi, and the Rushikulya river mouths and along the sanctuary for mass nesting.
Olive Ridley –
The Olive ridley turtles are the smallest and most abundant of all sea turtles found in the world.
These turtles are carnivores and get their name from their olive colored carapace.
Wildlife Protection Act, 1972: Scheduled 1
IUCN Red List: Vulnerable
CITES: Appendix I
They are found in warm waters of the Pacific, Atlantic and Indian oceans.
The males and females olive ridley turtles grow the same in size
The Odisha's Gahirmatha Marine Sanctuary is known as the world's largest rookery (colony of breeding animals) of sea turtles, followed by the coasts of Mexico and Costa Rica.
They are best known for their unique mass nesting called Arribada, where thousands of females come together on the same beach to lay eggs.

They lay their eggs over a period of five to seven days in conical nests about one and a half feet deep which they dig with their hind flippers.
They hatch in 45 to 60 days, depending on the temperature of the sand and atmosphere during the incubation period.

Three river mouths where the turtles come together for mass nesting:

Dhamra River
Rushikulya River
Devi River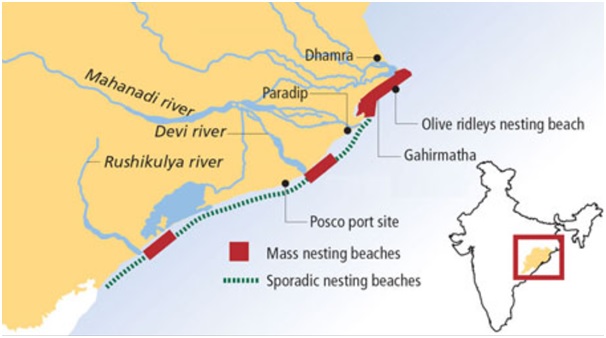 Gahirmatha Marine Sanctuary
Gahirmatha is the mass nesting spot in Indian Ocean region and the only turtle sanctuary in Odisha.
It is the world's largest nesting beach of Olive Ridley Sea Turtles.
Gahirmatha was declared a turtle sanctuary in 1997 by the Odisha government after considering its ecological importance and as part of efforts to save the sea turtles.
Gahirmatha Marine Sanctuary is one of the three parts of the Bhitarkanika National Park. The other two includes the area of Bhitarkanika National Park and the Bhitarkanika Wildlife Sanctuary.
Subject – Geography
Context – Scientists find a mineral seen in the depths ofthe Earth in a meteorite
Concept –
The key findings of a study led by IIT Kharagpur researchers could help us understand the formation and evolution of the Earth.

They have studied a meteorite that fell near the town of Katol in Nagpur District of Maharashtra on May 22, 2012, reporting for the first time, presence of veins of the mineral bridgmanite, which is the most abundant mineral in the interior of the Earth, within the Katol L6 Chondrite meteorite.
This finding adds evidence to the Moon-forming giant impact hypothesis.

Bridgmanite is the most volumetrically abundant mineral of the Earth's interior.

It is present in the lower mantle (from 660 to 2700 km).
Bridgmanite consists of magnesium, iron, calcium aluminum oxide and has a perovskite structure.
While the crystal structure of natural bridgmanite has been reported in other meteorites such as the Tenham and Suizhou meteorites, their chemical composition does not fully match with the terrestrial bridgmanite present in the Earth's interior between 660 and 2700 km depth

The Moon-forming giant impact hypothesis is that long ago, nearly 4.5 billion years ago, the Earth collided with a planet the size of Mars named Thela, and the force of this impact was so huge as to melt the Earth down from the surface to a depth of 750 km to 1,100 km.

The hypothesis goes that this caused the Earth to be bathed in a magma ocean, and the ejecta from the collision led to the formation of the Moon.
This is the most favoured hypothesis on the formation of the Moon and the present finding by the Kharagpur team lends further support to it.

Earth was an ocean of magma in the past. The heavier iron and nickel went to the core while the lighter silicates stayed in the mantle. By studying the meteorite, we can understand more details about the formation of the Earth and other planets.
Subject – Environment
Context – Asian spider seen in Georgia
Concept –
The Joro spider, (Trichonephilaclavata) is common in Japan, China, Korea and Taiwan, Joro females have colourful yellow, blue and red markings on their bodies.
It's not clear exactly how and when the first Joro spider arrived in the U.S. or why they are so abundant this year.
The bottom line is: There are many unknowns.
Most of the Joros are expected to die by late November, but they may return in equally large, or even larger, numbers next year, though scientists say even that is hard to predict with any certainty.
11. Integrated Farming with Inter-Cropping
Subject – Agriculture
Context – Indian farming practices: Learning from elsewhere in the world
Concept –
Integrated farming with intercropping increases food production while reducing environmental footprint.
A work found that

(1) "relay planting" enhances yield,
(2) within-field rotation or "strip rotation", allowing strips for planting other plants (such as grass, fruits) besides the major crop was more fruitful,
(3) "soil munching," that is, available means such as crop straw, in addition to the major crop such as wheat or rice, and
(4) "no-till" or a reduced tillage, which increases the annual crop yield up by 15.6% to 49.9%, and decreasing the environmental footprint by 17.3%, compared with traditional monoculture cropping.

This led to the conclusion that small farm holders can grow more food and have reduced environmental footprint.
About 70% of its rural households still depend primarily on agriculture for their livelihood, with 82% of farmers being small and marginal.
Relay Planting –
Relay planting means the planting of different crops in the same plot, one right after another, in the same season.
Examples of such relay cropping would be planting rice (or wheat), cauliflower, onion, and summer gourd (or potato onion, lady's fingers and maize), in the same season.
Advantages of relay planting –
less risk since you do not have to depend on one crop alone.
It also means better distribution of labour,
insects spread less, and
any legumes actually add nitrogen to the soil!
Difficulties involved with relay planting –
mechanisation here can be difficult,
management requirements are somewhat higher.
It is here that women come in handy.
Women plant materials for home food, such as greens, leafy vegetables and pulses such as green grams, Finger millet (ragi in Hindi, kezhwaragu in Tamil) horse gram (chaneki dal in Hindi, kudure gram in Kannada, and kollu in Tamil), cowpeas, and also grass (all of which add to the nitrogen to the soil and also to the world around us, fixing nitrogen not just under our feet but also in the air we breathe; the carbon dioxide, ozone, and the oxides of nitrogen and phosphorus that we inhale every day from the filthy atmosphere is at least nullified a little, thanks to relay cropping.
Strip Cropping –
Strip cropping has been used in the U.S. (where the fields are larger than those in India), where they grow wheat, along with corn and soyabean, in the same farm in an alternative manner. However, this needs large lands.
In India, where there are large fields (such as the ones owned by cities and state governments), the land is divided into strips, and strips of grass are left to grow between the crops. Planting of trees to create shelters has helped in stabilising the desert in Western India.
Western Karnataka (and the nearby Telangana and Northern Tamil Nadu), dry belts with frequent droughts, where 80% of the farmers depend on groundnut as their option.
Soil mulching and no-till –
Soil mulching requires keeping all bare soil covered with straw, leaves, and the like, even when the land is in use. Erosion is curtailed, moisture retained, and beneficial organisms, such as earthworms, kept in place.
The same set of benefits are also offered by not tilling the soil.
These four methods suggested by the international group are worth following in India.