Daily Prelims Notes 4 September 2023
September 4, 2023

Posted by:

OptimizeIAS Team

Category:

DPN

Daily Prelims Notes
4 September 2023
Table Of Contents
1. Mobile int­er­net services suspended in Gilgit-Baltistan
Subject: IR
Section: Places in news
Context: Mobile int­er­net services suspended in Gilgit-Baltistan amid sectarian tensions.
More about the news:
The tensions in the region flared up on Friday, triggered by protests in Gilgit and surrounding areas, called for by a Shia group.
These protests were in response to alleged derogatory remarks made by a prominent Sunni cleric during a separate demonstration in Gilgit.
Mobile internet services have been suspended across the region until further notice.
An FIR has been registered against the Sunni cleric at the City Police Station Gilgit for his comments.
More details about Gilgit Baltistan:
Gilgit-Baltistan is one of the disputed territories of India.
Gilgit-Baltistan (GB) was formerly known as the Northern Areas.
It is the northernmost territory administered by Pakistan, providing the country's only territorial frontier, and thus a land route, with China, where it meets the Xinjiang Autonomous Region.
It borders PoK to the south, the province of Khyber Pakhtunkhwa to the west, the Wakhan Corridor of Afghanistan to the north, the Xinjiang region of China, to the east and northeast, and the Indian-administered union territories of Jammu and Kashmir and Ladakh to the southeast.
Its largest city is Skardu and Capital is Gilgit.
China-Pakistan Economic Corridor (CPEC) also passes through this region.
Gilgit-Baltistan is home to five of the "eight-thousanders" and to more than fifty peaks above 7,000 metres (23,000 ft).
K2, the second highest mountain peak of the world is located here.
Three of the world's longest glaciers outside the polar regions are found in Gilgit-Baltistan i.e Biafo Glacier, Baltoro Glacier, and Batura Glacier.
History of Gilgit Baltistan:
During the first Indo-Pak war of October 1947, Pakistan occupied 78,114 sq km of the land of Jammu and Kashmir, including the 'Northern Areas'. The Northern Areas is the other name of Gilgit-Baltistan that Pakistan has used for administrative reasons because it was a disputed territory.
Some more details:
The region is known for high altitude dams because of both local and Islamabad-driven initiatives. Mountain streams and rivers are often harvested for local community needs. The tradition of building dams and bunds dates back to the reign of Balti King Ali Sher Khan Anchan of 1580-1624, who built the famous bund at Satpara Lake, which helps in watering Skardu. The water-rich region's biggest hydroelectricity project is the Diamer-Bhasha dam, which was launched in July 2020.
India has objected to the use of Gilgit-Baltistan to build and operate the China Pakistan Economic Corridor (CPEC), which cuts through the region before heading to the Arabian Sea coastline of Balochistan's Gwadar port.
Gilgit-Baltistan is important for Pakistan as it is the gateway for the CPEC. But for India, the region represents the continuity with the past of Jammu and Kashmir, which included Gilgit-Baltistan at the time of Partition of 1947. Significantly, the ongoing stand-off with China at the Line of Actual Control in Eastern Ladakh has a Gilgit-Baltistan connection as the Darbuk-Shyok-DBO road of India is viewed as a tactical roadway to access the Karakoram Pass, which provides China crucial access to Gilgit-Baltistan and Pakistan.
2. Centre's Digital Infrastructure for Knowledge-Sharing Education Platform to Offer AI Help
Subject: Science and Technology
Section: Awareness in IT and computer
Introduction
The National eGovernance Division (NeGD) under the Ministry of Electronics and Information Technology (MeitY) is integrating Personalised Adaptive Learning (PAL) into the existing Digital Infrastructure for Knowledge Sharing (DIKSHA) platform.
Digital Infrastructure for Knowledge Sharing (DIKSHA):
DIKSHA is an online platform and mobile application developed by the Ministry of Education in India. It is designed to provide digital content and resources for teachers, students, and parents across the country.
DIKSHA aims to democratize access to quality education materials, promote interactive and digital learning, and facilitate teacher training and development.
Features:

Content Repository: DIKSHA hosts a wide range of educational resources, including digitized textbooks, videos, explanations, and practice questions.
Accessibility: The platform is accessible via both web and mobile applications, making it convenient for users.
Assistive Technologies: DIKSHA includes features to support learners with visual or hearing impairments, enhancing accessibility for all students.

Challenges:

Contributions from NCERT and others are scattered across the platform, creating a fragmented learning experience.
Personalized Adaptive Learning (PAL):
PAL is an innovative educational approach that utilizes software-based systems, often powered by Artificial Intelligence (AI), to provide customized learning experiences for students.
Key Features:

Individualized Learning: PAL tailors educational content and pace to the unique needs and abilities of each student.
Identifying Gaps: AI algorithms in PAL can identify areas where a student is struggling or making mistakes and provide targeted support.
Feedback Loop: PAL often includes a feedback loop, where students receive additional materials or exercises to reinforce their learning in areas they find challenging.
Implementation: PAL can be applied in various educational settings, from primary and secondary schools to higher education, and can cover a wide range of subjects and topics.

Benefits: PAL has the potential to improve learning outcomes, increase student engagement, and address individual learning challenges more effectively compared to traditional one-size-fits-all educational approaches.
Challenges: Implementing PAL can be resource-intensive, requiring the development of adaptive content, sophisticated AI algorithms, and robust technology infrastructure.
Government's Education Goals
Addressing the issue of approximately 35 lakh students dropping out after Class 10.
Improving learning outcomes and school retention through digital learning.
State-Level PAL Initiatives
Andhra Pradesh collaborating with private edtech companies for PAL implementation.
PAL adaptation in 200 Assam schools for Classes 6 to 10. Discontinuation due to lack of funds.
Haryana's PAL project stalled due to high streaming costs.
Madhya Pradesh considering introducing PAL for Classes 6 to 10 on its education portal, CM-RISE.
National eGovernance Division (NeGD):
Established in 2009, NeGD is an integral part of India's Ministry of Electronics and Information Technology (MeitY).
NeGD formulates policies and standards for e-governance and drives digital initiatives to enhance government services and transparency.
3. As UPI crosses 10 billion transactions mark, a look at India's key foreign policy sell: Digital public infra
Subject: Science and Technology
Section: Awareness in IT and computer
Introduction
In August, the United Payments Interface (UPI) achieved a significant milestone, surpassing 10 billion transactions.
UPI, initially a domestic success, has become a critical element of India's foreign policy strategy.
India's Global Outreach
During its G20 presidency, India highlighted its efforts to establish digital public infrastructure, collectively known as the India Stack.
India aimed to encourage other nations to adopt similar technologies.
This strategy positions India as a global leader in digital governance, setting it apart from China's focus on physical infrastructure.
Since June 2023, India has signed agreements with countries like Armenia, Sierra Leone, Suriname, Antigua & Barbuda, and Papua New Guinea to share the India Stack model.
Mauritius and Saudi Arabia have expressed interest in adopting this approach.
UPI has expanded to international markets like France, UAE, Singapore, and Sri Lanka, with Japan considering adoption.
Digital Public Infrastructure:
Digital Public Infrastructure (DPI) is a digital network or framework that enables governments to deliver essential economic opportunities and social services efficiently and securely to all residents within a country.
It typically includes systems for digital identity, payments, and data exchange, and it plays a crucial role in promoting financial inclusion, healthcare access, and economic growth.
The Global Digital Public Infrastructure Repository (GDPIR)
India is developing the GDPIR to share best practices, experiences, and tools related to digital public infrastructure.
The repository will benefit G20 members and extend its reach beyond.
The India Stack:
India Stack is the moniker for a set of open APIs and digital public goods that aim to unlock the economic primitives of identity, data, and payments at a population scale.
It comprises three layers:
Aadhaar – The Identity Layer

The core of India Stack, reshaping identity verification.
Biometric authentication for secure, remote identity verification.
Digilocker: Digital records, like licenses and diplomas, are issued and shared securely.
Digital signatures ensure legal validity in online transactions.
Enables financial inclusion and government service delivery.
UPI – The Payments Layer

Facilitates seamless, interoperable payments across institutions.
Open and unified payment platform for banks and service providers.
Private sector participation (e.g., PhonePe, Google Pay) fosters innovation.
Promotes financial inclusion, accessible to those without bank accounts.
Data Governance – The Third Layer

Data Empowerment and Protection Architecture (DEPA) focuses on data governance.
A consent management system gives users control over data sharing.
Enhances services (finance, health) tailored to individual preferences.
Emphasizes data privacy and security.
A new category of regulated entities is known as 'consent managers' (in the Financial Services sector these will be known as Account Aggregators).
4. What is the Pirola variant of the Coronavirus?
Subject: Science and Technology
Section: Biotechnology
Introduction
A new Coronavirus variant, informally called 'Pirola' or 2.86, has emerged, leading to increased Covid-19 infections in multiple countries.
Pirola's Characteristics and Spread
Pirola has over 30 mutations in its spike protein compared to XBB.1.5, a variant of Omicron, raising concerns as the spike protein is crucial for the virus to enter human cells.
Pirola has been detected in the US, the UK, and other countries in unrelated cases.
The high number of mutations in Pirola is similar to the shift seen from Delta to Omicron, causing concern among experts.
The strain has been found in at least six countries, suggesting international transmission that might go undetected.
How do viruses mutate?
All viruses mutate over time, particularly RNA viruses like coronaviruses and influenza viruses.
Mutations occur when errors happen during the virus's replication process, sometimes providing advantages like better infectivity.
Widely circulating viruses have a higher chance of mutating due to increased replication.
What differentiates Pirola from other variants?
Anne Hahn, a postdoctoral associate, describes Pirola as a more interesting subvariant compared to XBB.1.9, another Omicron subvariant.
Surveillance labs in Israel, Denmark, England, South Africa, and the United States have detected Pirola.
Recent data suggests that blood samples perform well in neutralizing Pirola, providing hope for booster effectiveness.
Current Status and Precautions
No deaths have been reported due to Pirola as of now, according to the WHO.
While there is not enough evidence to conclude if Pirola leads to more severe disease, precautions such as masking, vaccination, and hand-washing remain important.
It's still important to remember that Pirola is the same virus at its core, and existing preventive measures can help people avoid infection.
5. Coral breach: A silent, catastrophic invasion has happened in the Gulf of Mannar; here is how
Subject: Environment
Section: Biodiversity
Context:
An investigation of three coral colonies adjoining Kurusadai island of the Gulf of Mannar Marine National Park along the Tamil Nadu coastline, shows them to be grey and eerie, an indication of coral bleaching.
Kurusadai island:
It is one of the 21 uninhabited islands that form the Gulf of Mannar Marine National Park along the Tamil Nadu coastline.
The 21 islands came under the control of the forest department in 1986, which established the national park — a 10,500 sq km reserve that is a habitat for the rare seacow, dolphin and dozens of coral species — the same year.
Tourism was not allowed till 2022, after that it is being opened for tourism. The other 20 islands are still closed for tourists.
Coral bleaching due to Kappaphycus seaweed:
The corals provide shelter to myriad marine life, protect against storms and support livelihoods through fisheries and tourism.
Prime threats: Kappaphycusalvarezii, a seaweed (alga) species deliberately introduced in Ramanathapuram for commercial cultivation.
The International Union for Conservation of Nature lists it as one of the world's 100 most invasive species.
As of 2021, Kappaphycus has invaded six of the 21 islands of the Gulf of Mannar.
The seaweed grows fast, doubling its size in 15-30 days, and thrives on live corals — unlike native seaweeds, which typically grow on dead corals.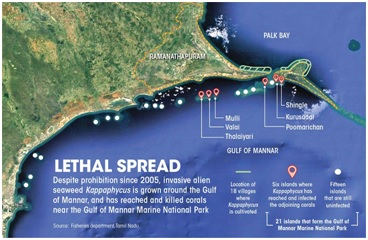 Continued cultivation of kappaphycus:
Currently, about 750 farmers are engaged in seaweed farming, primarily Kappaphycus, in 18 villages of Ramanathapuram.

Pudukottai, Thanjavur, Thoothukudi and Kanyakumari are the other four districts of the state where the alga is cultivated.

Kappaphycus is also likely to be cultivated in Tamil Nadu's proposed seaweed park, proposed by the center in Union Budget for 2021-22.

The park is likely to function as two hubs: a seaweed bank in Valamavoor village in Ramanathapuram and a processing hub for factories for seaweed products in Pudukottai.

In 2021, India cultivated around 34,000 tonnes of seaweed. The Centre earmarked Rs 600 crore to increase seaweed production to 85 million tonnes by 2025.
Industrial use of kappaphycus:

National research institutes and companies are for increased cultivation of Kappaphycus to improve livelihoods, profits and to reduce India's import of kappa-carrageenan, a polysaccharide extracted from the alga that finds use in industrial gums and as a smoothening agent in ice cream, toothpaste, jellies, medicines and paint.
India produces 100-132 tonnes of carrageenan a year and imports 1,800-2,000 tonnes.
Sequence of events:
In the 1960s commercial cultivation of kappaphycus began in its native land of the Philippines.
In the 1970s it was introduced in Hawaii, and spread to 6km from the area where it was introduced. It caused considerable damage to Coconut Island in Hawaii, Cubagua Island in Venezuela, Zanzibar in Tanzania, and Almirante and Cristobal in Panama and Costa Rica.
In 1984Kappaphycusalvarezii of Philippine origin from Japan was introduced in Okha, Gujrat and Mandapam town, Ramanathapuram of Tamilnadu by the CSMCRI.
In 2000, it was introduced in the Gulf of Mannar Marine National Park by PepsiCo. without a proper EIA.
The seaweed provided an annual income of ₹50000 to cultivators.
In 2005, the Goa-based National Institute of Oceanography noted signs of bio-invasion.

The Tamilnadu government on 12 december 2005, prohibited cultivation of the species in sea waters between the north of Palk Bay and south of Tuticorin district.

In January 2014, the invasive species was discovered on a new base, Mulli island, located about 40 km south of Kurusadai.
By 2019, the exotic species had extended its range to Valai and Thalaiyari islands.
In 2021, a multi-departmental survey found bio-invasion of Kappaphycus in both Valai island and the southern part of Kurusadai island.
Livelihood at stake:
Repeated cultivation of the same fragment brought from Japan has reduced the quality and thus price of the seaweed.
Cost of seaweed farming is also high.
For details of Coral Bleaching: https://optimizeias.com/coral-bleaching/
6. After 3 years of drought, Greater Horn of Africa to get early, heavy rains, courtesy El Nino
Subject: Science and Technology
Section: Awareness in IT and computer
Context:
The Greater Horn of Africa is likely to get heavy rains from October-December 2023, said the Intergovernmental Authority on Development (IGAD) Climate Prediction and Applications Centre (ICPAC) in its forecast.
Details:
Southern Ethiopia, eastern Kenya and southern Somalia are very likely to experience wetter-than-usual rainfall.
The drier-than-usual conditions have been forecast for the isolated areas of southwestern Uganda and southwestern South Sudan.
Below-average rainfall has been forecast until end of the season for Eritrea, central and northern Ethiopia, Djibouti, Western Kenya, significant areas of South Sudan and Sudan, and Northern Uganda.
Cause of heavy rain:
Strong el-nino is developing over the Indian ocean.
The Indian Ocean Dipole is also developing over the Indian Ocean and may strengthen the El Nino impacts.
Impact of heavy rainfall:
It may contribute to flood situations.
Agriculture sector may benefit from heavy rain.
Desert locusts attack may increase.
About ICPAC:
The forecast was released at the 65th Greater Horn of Africa Climate Outlook Forum (GHACOF65) held by ICPAC in collaboration with the region's National Meteorological and Hydrological Services.
ICPAC, the climate centre accredited by the World Meteorological Organization, provides climate services to 11 East African countries.
Its service aims at creating resilience in a region deeply affected by climate change and extreme weather.
Office: Ngong, Kenya.
Greater Horn of Africa region:
The Greater Horn of Africa region includes Burundi, Djibouti, Eritrea, Ethiopia, Kenya, Rwanda, Somalia, South Sudan, Sudan, Tanzania and Uganda.
Cartesian coordinates: a means to find your way
Cartesian coordinates system:
A coordinate system is a set of numbers that allows you to specify the location of a point in some space.
The Cartesian coordinates is one such system, which uses a set of three numbers to specify the distance of a point from three perpendicular planes.
In general, this system uses N numbers if there are N perpendicular planes, including in higher dimensions.
The French philosopherand mathematician René Descartes created this system in the 17th century.
His invention bridged the gap between algebra and geometry and created analytic geometry.
How does it locate a point?
Cartesian coordinates use a pair of numbers – one on the x-axis, one on the y-axis – that can be used to locate a specific point on the plane.
In three dimensions, the point's location can be fixed by adding one more number, e.g. the floor of the building you are on.
The coordinates have an array of applications in astronomy, engineering, and most other disciplines that involve geometry, including representing spatial data in computer graphics and computer-aided geometric design.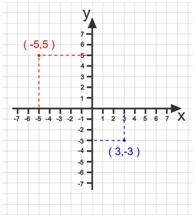 Application:
The coordinates also have an array of applications in astronomy, engineering, and most other disciplines that involve geometry, including representing spatial data in computer graphics and computer-aided geometric design.
7. Simultaneous election will need special constitution amendment
Subject : Polity
Section: Constitution
Context: The centre setup committee to examine various aspects, both legal and logistical, for implementing the "one nation, one election" idea. The Law Ministry has outlined seven terms of reference for the eight-member panel headed by former President Ram Nath Kovind and including Union Home Minister Amit Shah. One of the terms of reference is to examine if a constitutional amendment of facilitate simultaneous polls would have to be ratified by the states. While some amendments to the Constitution can be made like any ordinary legislation, others need more rigorous methods.
Concept :
Part XX of the Constitution deals with its amendment.
Under Article 368(2), Parliament can amend the Constitution by passing a Bill in each House by a majority of the total membership of that House and by a majority of not less than two-thirds of the members of that House present and voting.
Thereafter, the Bill shall be presented to the President who shall give his assent… and thereupon the Constitution shall stand amended.
Parliament cannot amend those provisions which form the basic structure of the Constitution according to the Supreme Court ruling in the landmark 1973 KesavanandaBharati case.
FRs and DPSPs are the two most important provisions that can be amended by the special majority.
All provisions that do not require ratification by states, and those that come directly under the purview of Article 368, have to be amended by the special majority.
Various Procedures for Amendments
[I] Simple Majority
A large number of provisions contained in the constitution are open to change by a simple majority. These may be divided into two classes:
Where the text of the constitution is not altered but the law is changed
Article 11 confers on the Parliament power to enact a law regarding citizenship.
An Act made in pursuance of that power will change the law relating to citizenship without altering the text of Article 5 to 10.
Article 124 still refers to the Supreme Court as consisting of the Chief justice and 7 judges.
But in exercise of its power the Parliament has increased the strength of the judges from 7 to 25.
Where the text of the constitution is changed
Formation of new state.
Creation or abolition of legislative council
Creation of council of ministers for Union territories
Extending the period of 15 years fixed for the use of English in Article 343
Defining Parliamentary privileges
Salaries and allowances of President, Vice-President, Judges, etc.
[II] Special Majority
Except those provisions which are amendable by an ordinary majority, the rest of the provisions require a special majority for amendment.
The Amendment Bill must be passed by a majority of two-thirds of the members of each House present and voting and such majority must exceed 50% of the total membership of the House.
[III] Special Majority and Ratification by half of the States
Those provisions which relate to the federal structure of the constitution require special majority in Parliament as well as ratification by at least half of the state legislatures.
This procedure is required in the following provisions:
Manner of election of President
Executive power of the Union and the State
The Supreme Court and the High Courts
Distribution of legislative power between the Union and the States
Representation of states in Parliament
Article 368 itself