Daily Prelims Notes 5 October 2021
October 5, 2021

Posted by:

admin1

Category:

DPN

Daily Prelims Notes
5 October 2021
Table Of Contents
Since India is marking the 75th Independence this year, we are launching 'Azadi ka Amrit Mahotsav' series wherein we'll cover 3-4 unsung heroes and important Freedom Movements this entire week.
Alluri Seetarama Raju
He remains an idol for the tribesmen of Andhra Pradesh. He united various tribes, taught them guerrilla warfare and trained them to fight back with the colonial power.
He was one of the bravest revolutionaries and freedom fighters.
Alluri Seetarama initiated the famous "Rampa Rebellion" or Manyam Rebellion in 1922-1924.

During the period of two years, he fought multiple times with the British troops, always winning against them.
This gave him the title of "ManyamVeerudu" or the "Hero of Jungle".

In the year 1986, the Indian Postal Department issued a stamp on his behalf, featuring his struggle for Independence.
PottiSriramulu
Sriramulu took part in the Indian Independence Movement and was imprisoned for participating in the 1930 Salt Satyagraha.
He participated in the individual satyagraha and the Quit India movement and was imprisoned on three occasions.
He was a devout follower, avid supporter and devotee of Mahatma Gandhi.

He also joined the Gandhi Ashram established by YerneniSubrahmanyam, in Komaravolu.

He undertook three fasts, during 1946-1948, in support of Dalitrights to enter holy places, such as the temples of Nellore.
Commenting on Sriramulu's dedication and fasting ability, Mahatma Gandhi once said, "If only I have eleven more followers like Sriramulu I will win freedom from British rule in a year."
The present-day district of Sri PottiSriramulu Nellore is named after him.
Moji Riba
MojeRiba, lovingly calledAbohNyiji was a prominent martyr of the freedom movement.
He was arrested by Britishers in 1947 for campaigning and distribution of Congress pamphlets.
He was the first person from Arunachal Pradesh to host the national flag at Dipa Village of Arunachal Pradesh on the 15th August, 1947.
After joining INC, MojeRiba became the first INC President from Arunachal Pradesh.
Ribawas the first recipience of the TamraPatra Award in 1972 at Shillong by Government of India for his sacrifices and contributions towards freedom struggle.
Jhansi Regiment Case in Army (1940)
The Rani of Jhansi Regiment was the Women's Regiment of the Indian National Army, with the aim of overthrowing the British Raj in colonial India. It was one of the all-female combat regiments of the Second World War.
Led by Lakshmi Sahgal, the unit was raised in July 1943 with volunteers from the expatriate Indian population in South East Asia.
The Rani of Jhansi Regiment of the Indian National Army (INA) was raised and trained in Japanese-occupied Malaya and Singapore in 1943-45. It saw action against the Allies in Burma during 1944-45.
The unit was named the Rani of Jhansi Regiment after LakshmiBai, Rani of Jhansi.
Netaji Subhash Chandra Bose announced the formation of the Regiment on 12 July 1943.
Most of the women were teenage volunteers of Indian descent from Malayan rubber estates; very few had ever been to India.
The cadets were given ranks of non-commissioned officer or sepoy (private) according to their education.
Some 200 of the cadets were also chosen for nursing training, forming the Chand Bibi Nursing Corps.
After the fall of Rangoon and the withdrawal of the Azad Hind government and Subhas Chandra Bose from the city and through Burma, the troops originally from Burma were allowed to disband, while the remainder of the regiment retreated along with the retreating Japanese forces on foot and, when available, on mechanised transport.

During the retreat it suffered some attacks both, from Allied air attacks, as well the Burmese resistance forces.

Led by Caption Lakshmi Swaminathan [popularly known as caption Lakshmi Sehgal].
2. RBI supersedes boards of two debt-laden Srei companies
Subject – Economy
Context – RBI supersedes boards of two debt-laden Srei companies
Concept –
After months of uncertainty over the debt-laden Srei Infrastructure Finance (SIFL) and Srei Equipment Finance (SEFL), the Reserve Bank of India superseded the boards of the Kolkata-based non-banking financial companies on governance concerns and defaults by the companies in meeting their various payment obligations.
This will pave the way for a debt resolution process under the Insolvency and Bankruptcy Code, similar to the recently concluded sale of Dewan Housing Finance Corporation Ltd (DHFL) to the Piramal group.
RBI's powers in this regard –
The government has decided to give more powers to the central bank to regulate the non-banking finance companies and the regulator will have the power to supersede the board of the shadow banks, apart from those owned by the government.
According to the Finance Bill, if the RBI is satisfied that in the 'public interest' or to prevent the affairs of an NBFC being conducted in a manner detrimental to the interest of the depositors or creditors, the board can be superseded for a maximum five years and an administrator can be appointed.
The RBI will also regulate housing finance companies which are under the purview of the National Housing Bank.
The 2019-20 budget also proposed that foreign institutional investors and foreign portfolio investors will be allowed to invest in debt securities by shadow banks, which help NBFCs to raise more funds.

The budget also provided some tax incentives to the NBFCs by treating them on par with banks.
The interest on bad loans for deposit-taking NBFC and systemically important non deposit-taking NBFC will now be charged to tax on receipt basis.
What is a Non-Banking Financial Company (NBFC)?
A Non-Banking Financial Company (NBFC) is a company registered under the Companies Act, 1956 engaged in the business of loans and advances, acquisition of shares/stocks/bonds/debentures/securities issued by Government or local authority or other marketable securities of a like nature, leasing, hire-purchase, insurance business, chit business but does not include any institution whose principal business is that of agriculture activity, industrial activity, purchase or sale of any goods (other than securities) or providing any services and sale/purchase/construction of immovable property.
A non-banking institution which is a company and has principal business of receiving deposits under any scheme or arrangement in one lump sum or in installments by way of contributions or in any other manner, is also a non-banking financial company (Residuary non-banking company).
What is difference between banks & NBFCs?
NBFCs lend and make investments and hence their activities are akin to that of banks; however there are a few differences as given below:
NBFC cannot accept demand deposits;
NBFCs do not form part of the payment and settlement system and cannot issue cheques drawn on itself;
Deposit insurance facility of Deposit Insurance and Credit Guarantee Corporation is not available to depositors of NBFCs, unlike in case of banks.
Is it necessary that every NBFC should be registered with RBI?
In terms of Section 45-IA of the RBI Act, 1934, no Non-banking Financial company can commence or carry on business of a non-banking financial institution without a obtaining a certificate of registration from the Bank and without having a Net Owned Funds of ₹ 25 lakhs (₹ Two crore since April 1999).
However, in terms of the powers given to the Bank, to obviate dual regulation, certain categories of NBFCs which are regulated by other regulators are exempted from the requirement of registration with RBI viz. Venture Capital Fund/Merchant Banking companies/Stock broking companies registered with SEBI, Insurance Company holding a valid Certificate of Registration issued by IRDA, Nidhi companies as notified under Section 620A of the Companies Act, 1956, Chit companies as defined in clause (b) of Section 2 of the Chit Funds Act, 1982,Housing Finance Companies regulated by National Housing Bank, Stock Exchange or a Mutual Benefit company.
What are systemically important NBFCs?
NBFCs whose asset size is of ₹ 500 cr or more as per last audited balance sheet are considered as systemically important NBFCs.
The rationale for such classification is that the activities of such NBFCs will have a bearing on the financial stability of the overall economy.
Types of NBFC –
To know about Regulatory Framework for NBFCs, please click here.
Subject – Polity
Context – Why the protests when farm laws are on hold, Apex Court asks
Concept –
The right to protest is a fundamental political right of the people that flows directly from a democratic reading of various provisions of Article 19.
Right to Protest is protected under Article 19(1) (a), Article 19(1) (b) and Article 19(1) (c) of the Indian Constitution.

Article 19(1) (a)guarantees the freedom of speech and expression;
Article 19(1) (b)assures citizens the right to assemble peaceably and without arms.
Article 19(1) (c) assures right to form associations or trade unions

Reasonable restrictions: However, like other fundamental rights, right to protest is also not absolute and also subject to reasonable restrictions mentioned under Article 19(2) and 19(3) on the following grounds;

In the interests of the sovereignty & integrity of India,
The security of the State,
Friendly relations with foreign States,
Violation of Public order,
Decency or morality or in relation to Contempt of court, defamation or incitement of an offence
To know more about it, please click here.
Subjudice rule
Res subjudice is a legal term which, in simple language, means that if a matter is before a court, the same matter cannot be brought before another court by the same parties.
This rule is contained in section 10 of the civil procedure code.
The purpose of the rule is to prevent contradictory orders on the same issue being issued by two different courts.
The subjudice rule has found a place in the rules of the Houses of Parliament and also the state legislatures. This rule prohibits the admission of motions, resolutions and questions for discussion in the House on the ground that the matter is before the court. But it is not applicable to bills or an issue of privilege.
The point is that the rule does not have universal application to all types of business of the legislature.
4. Competition Commission Of India
Subject – Governance
Context – Competition panel notice to Apple for misuse of position
Concept –
To know about CCI, please click here.
Subject – Economy
Context – Last week, SEBI introduced a new swing pricing framework for debt mutual funds to protect retail investors in times of massive redemptions.
Concept –
Under swing pricing, an AMC adjusts or 'swings' by a certain percentage the net asset value (NAV) of any MF scheme facing redemption pressure.
Once swing pricing is enforced, all investors exiting or entering the scheme can transact only at the adjusted NAV — which is lower than the usual NAV.
The purpose of swing pricing is to pass on the cost of redemptions — in the form of a lower NAV — to those selling their scheme units.
Incoming investors who are countering the outflow, benefit from a lower entry NAV.
Under SEBI regulations, swing pricing will be implemented only in case of net outflows (outflows exceeding inflows) from a debt MF scheme.
Swing pricing makes debt funds, especially those taking credit risk or those owning less liquid bonds, fairer for small investors. In its absence, those exiting a scheme first have an advantage over those who exit later as they may get the benefit of higher NAV.
Under swing pricing, the money the fund saves by offering a lower exit NAV can help shore up value for staying investors. The need for offloading the better-quality holdings is reduced.
6. Tarballs on India's west coast
Subject – Environment
Context – Tarballs hit the news headlines recently when they started appearing on well-known beaches of Mumbai and Goa.
Concept –
These aquatic pollutants, formed from weathering of crude oil floating on the ocean surface, have flooded Anjuna, Morjim, Colva and Mandrem beaches in Goa as well as Juhu, Versova, Dadar and Cuff Parade shorelines in Mumbai.
Tarballs are dark-coloured substances dropped off to shores by waves and sea currents. They accumulate in several sizes ranging from small globules to those as big as a basketball. The latter, which weigh 6-7 kilograms, are washing up more often these days.
The presence of tarballs can indicate oil spills. In addition to the big spills near Mumbai, the Arabian Sea experiences oil spills routinely as it is also a crowded oil transportation waterway, with western coast corporations like Bombay High, Panna-Mukta oil field, Tapti gas fields and Essar Oil.
Discharge from municipal waste, oil-well blowouts, deliberate and accidental release of bilge and ballast water from ships are among the main factors driving the formation of these pollutants.
Tarballs can be hazardous to human life due to the presence of Vibrio vulnificus, a bacteria whose entry through wounds could be fatal, according to scientifics studies.
These petroleum blobs also affect marine biodiversity in several ways, such as disturbing turtle habitats. This in turn, augments the impact on humans who consume marine fish.
The National Green Tribunal (NGT) and the Apex Court, in several cases, have held the polluters liable for oil spills and other actions that have harshly impacted the marine environment.
In the Samir Mehta vs Union of India and Ors, the NGT bench of Justice Swatanter Kumar upheld the "precautionary principle" and the "polluter pays" principle, along with the fundamental right to life and personal liberty under Article 21.
Legal provisions
The United Nations Conference on the Human Environment held in 1972 in Stockholm strongly impacted the environmental laws of various countries and provided a solid foundation for the protection of the environment.
India's participation in the conference resulted in the Environment (Protection Act), 1986 that was enforced to prevent and control hazards of the environment and human life.
Part IV of the Indian constitution (Article 48A – one of the Directive Principles of the state policy), has also empowered the state to create laws and policies to protect and improve the environment and safeguard forests and wildlife. The Water (Prevention and Control of Pollution) Act, 1974, was one such instance.

Sections 16 and 17 of the Water (Prevention and Control of Pollution) Act, 1974, conferred several functions upon the central and state pollution control boards. Among them is the role of devising plans and advising governments on the control of water pollution.

The environment and forests ministry had also issued coastal regulation zone notification in 2011 for the following:

Ensure livelihood security to the fishing communities and other local communities of coastal areas
Protecting and conserving coastal stretches
Promoting growth sustainably based on scientific principle and taking into account the perils of natural hazards in the coastal areas and sea-level rise caused by global warming.
Subject – Environment
Context – Carcass of fourth dead whale shark in 11 months found on Odisha beach
Concept –
Whale sharks are a protected species under the Wild Life (Protection) Act, 1972. They are also included in the International Union for Conservation of Nature's Red List.
The whale shark is a slow-moving, filter-feeding carpet shark and the largest-known extant fish species. The largest confirmed individual had a length of 18.8 metres. The whale shark is also notably the largest living non-mammalian vertebrate.
These sharks often get entangled in fishing nets due to their feeding habits.
The largest whale shark aggregation is in Gujarat and the only whale shark aggregation along the east coast is in Andhra Pradesh.
Whale sharks had no commercial importance. However, fishers illegally extracted their fins and livers.
Subject – Agriculture
Context – the decision to impose stock limits on pulses is flawed policy
Concept –
The Union government's decision on July 2, 2021, to impose stock limits on pulses till October 31 has once again fuelled the long-held perception that the country's food policies are not even consistent, let alone being relevant.
On June 5, 2020, the Union government issued the Essential Commodities (Amendment) (ECA) Ordinance, 2020, which was later legislated into an Act.
It said a stock limit would be imposed only if there was a 100 per cent rise in retail prices of perishable food items in the last one year or five years.
The rationale for this amendment was that India was food surplus in most agricultural commodities. Farmers were not able to realise fair prices due to lack of investment in warehousing and processing capacities because of regulatory mechanisms prescribed under the ECA, 1955.
The lack of 'ease of doing business' was also cited for the poor investment in storage and processing infrastructure by the Economic Survey 2015-16 and the Arvind Subramaniam Committee Report on Pulses (2016).
Farmer unions, which are demanding repeal of the ECA, 2020, along with two new farm Acts, now argue that the recent stockholding limits contradict the Act.
Importers claim lower stocking limits would make imports costlier as container costs and prices would go up.
In India, pulses are under minimum support price (MSP), but farmer awareness is poor as procurement is not effective.
To know more about Pulses Import Curbs, please click here.
Subject – Geography
Context – Scientists sound the alarm over drought in East Africa
Concept –
Every few years, it is devastating to watch the same tragedy: A weather cycle that brings debilitating drought and hunger to East Africa, threatening the lives and livelihoods of millions of people in Ethiopia, Somalia, and Kenya.
The weather cycle responsible for these episodes is a climate-change-enhanced "La Niña". La Niña is driven by the cooling of ocean temperatures in the eastern Pacific sea, causing dry spells in eastern Africa.
Human-induced warming in the western Pacific ocean is making things worse. Global emissions have resulted in the rapid warming of the west Pacific, resulting in more rain around Indonesia and concerning but predictable rainfall deficits in arid, food-insecure eastern Kenya, Somalia and Ethiopia.
Typically eastern East Africa receives two rainy seasons every year, October to December and March to May. Now, with climate change, we are seeing more frequent and extremely dangerous back-to-back failures of these rains.
Fortunately, we can now often predict these droughts using climate models and Earth observations.

As part of the Famine Early Warning Systems Network, the Climate Hazards Center produces maps of rainfall estimates that help guide billions of dollars in humanitarian assistance for tens of millions of people.

Generally, climate models can predict where exceptionally warm waters will be. And we can use these forecasts to diagnose droughts, often before they happen.

For instance, when the East Pacific is warmer it amplifies the intensity of droughts in northern Ethiopia and Southern Africa. If this extra heat is in the western Pacific and eastern Indian Oceans, it contributes to sequential droughts in Kenya, Somalia and southern Ethiopia.

Drought risk management rests upon three pillars; drought monitoring and forecast, vulnerability and risk assessment and drought preparedness, and mitigation and response.
To know about El-Nino and La-Nina, please click here.
Subject – Environment
Context – The biofuels route to carbon neutrality
Concept –
The continued use of fossil fuels for addressing the world's energy needs is leading to rapid depletion of natural resources and a simultaneous increase in environmental pollution. Biofuels are viewed as one of the solutions to this dual problem.

The best part is that biofuels can be manufactured from what is generally considered as agricultural "waste".

Using biotechnology and bio solutions, it is possible to improve agricultural produce as well as the conversion of agro-residue to biofuels.
The March 2021 Report of the World Biogas Association estimates that around 105 billion tonnes of organic waste is generated every year, which can be used to produce biofuels, thus driving progress towards a low-carbon energy transition.
Sugarcane ethanol has one of the smallest carbon footprints among biofuels. It is clean and affordable and, when blended with petrol, can reduce GHG emissions by up to 90 per cent. Ethanol blending also significantly reduces emissions of particulate pollutants and noxious gases.
India launched the Ethanol Blended Petrol (EBP) scheme in 2003. With concerted efforts by the government over the past seven years, the production of fuel-grade ethanol touched three billion litres in Ethanol Supply Year 2020-21.

The targets for ethanol blending have now been set at 10 per cent for 2022 and 20 per cent for 2025.

To guide efforts in this direction, the NITI Aayog and the Ministry of Petroleum and Natural Gas released the "Roadmap for Ethanol Blending in India, 2020-25" in June 2021. It is expected that a successful E20 (20 per cent ethanol blend) programme could save $4 billion per annum for India.
What are Biofuels?
A biofuel is any liquid fuel derived from biological material such as trees, agricultural wastes, crops, or grass. Biofuel can be produced from any carbon source that can be replenished rapidly, such as plants.
Biofuels are used globally and biofuel industries are greatly expanding in Europe, Asia, and North and South America.
They contain no sulphur and produce low carbon monoxide and toxic emissions.
Biofuels are substitutes for conventional fossil fuels, such as petroleum, propane, coal, and natural gas.
Biofuels are made from plant or animal products. Some are produced by the extracting of sugar or starch from crops and then fermenting it to make alcohol. Other biofuels are made by the decaying of organic matter and the capturing of the resultant gases.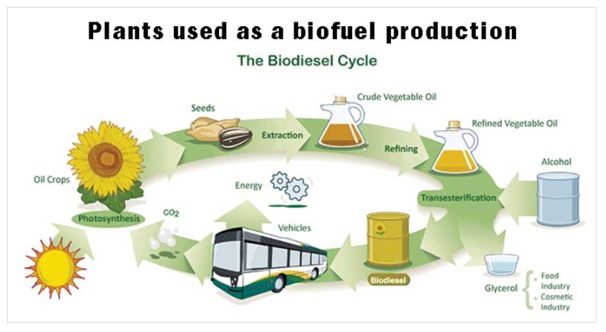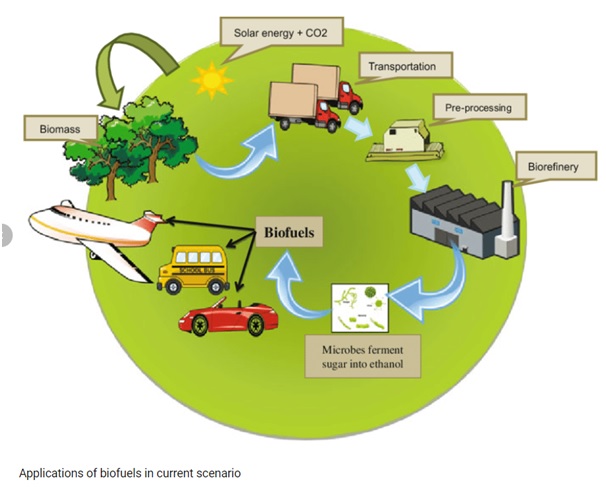 To know more about biofuels, please click here.
To know about Generations of biofuel and ethanol blending, please click here.
11. Edayur chilli Kuttiattoor mango receive GI tag
Subject – Agriculture
Context – Edayur chilli, Kuttiattoor mango receive GI tag
Concept –
About Edayur Chilli –
Edayur chilli (Edayurmulaku in Malayalam) is a local cultivar of Kerala being cultivated for at least the last 150 years.
FromEdayur, large quantities of this chilli were sold to nearby markets and districts for making Kondattom (sun-dried-curd-chillies).
Edayur chilli has very low pungency. The distinctiveness can be attributed to its genetic make-up, the specific environmental and soil conditions and the traditional methods of cultivation.
About Kuttiattoor Mango
Kuttiattoor mango (Kuttiattoor manga in Malayalam) is a popular and tasty traditional mango cultivar of Kuttiattoor and the nearby gram panchayats in Kannur district of North Kerala.
Trees with large number of mangoes on them are a visual treat for anyone visiting Kuttiattoor during the monthsof March, April and May.
It is famous for its appealing orange-yellow coloured fruits as well as the excellent taste and flavour.
Another speciality is that ripened fruits do not show speckles or patches on the skin, making it more appealing in market.
The distinctiveness of Kuttiattoor mango is aided by the combination of specific environmental conditions of the area of its cultivation and varietal characters.
To know about GI Tags and recent GI products, please click here.
Subject – Agriculture
Context – Organic farmers face double whammy
Concept –
Indian exporters of organic produce have been affected by a double whammy of "variations" in tests for ethylene oxide (ETO) and need for separate certifications to export to the US, European Union, and Canada.
Presence of over 0.1 mg/kg ethylene oxide even in conventional products is not accepted by the European Union, as the chemical is considered carcinogenic. Separate certifications for organic products are required since the US ended a unilateral agreement with APEDA.
What is organic farming?
According to FSSAI,' organic farming' is a system of farm design and management to create an ecosystem of agriculture production without the use of synthetic external inputs such as chemical fertilisers, pesticides and synthetic hormones or genetically modified organisms.
Organic farm produce means the produce obtained from organic agriculture, while organic food means food products that have been produced in accordance with specified standards for organic production.
Organic Farming in India
India ranks 1st in number of organic farmers and 9th in terms of area under organic farming.
Sikkim became the first State in the world to become fully organic in 2016.
North East India has traditionally been organic and the consumption of chemicals is far less than the rest of the country.
Similarly the tribal and island territories have been traditionally practicing organic farming.
The major organic exports from India have been flax seeds, sesame, soybean, tea, medicinal plants, rice and pulses.
To know about different schemes w.r.t Organic Farming by GOI, please click here and here.
13. Green hydrogen push for refining fertiliser sectors
Subject – Environment
Context – R K Singh: 'Green hydrogen push for refining, fertiliser sectors; PLI for electrolysers in the works'
Concept –
The government is working on plans to boost the use of green hydrogen in the oil refining and fertiliser production sectors, including a likely announcement on a Production Linked Incentive (PLI) scheme for electrolyser manufacturing to give an impetus to the domestic hydrogen value chain.
Now, grey hydrogen and grey ammonia (both generated from natural gas or methane, through a process called steam reforming) will be gradually replaced by the green hydrogen and green ammonia (generated using renewables).

Grey hydrogen is used in course refining.
To know about Green Hydrogen, please click here.
To know about National Hydrogen Mission, please click here.
To know about Electrolyser, please click here.
Subject – Science and Tech
Context – Nobel for deciphering the science of touch
Concept –
David Julius and ArdemPatapoutian, working independently in the United States, made a series of discoveries in the late 1990s and early 2000s to figure out the touch detectors in our body and the mechanism through which they communicate with the nervous system to identify and respond to a particular touch.
For their ground-breaking research, which is still continuing, 66-year-old Julius and 54-year-old Patapoutian were declared joint winners of the 2021 Nobel Prize in Physiology.
Julius and Patapoutian have been awarded the prize "for their discoveries of receptors for temperature and touch".

Simply put, they discovered the molecular sensors in the human body that are sensitive to heat, and to mechanical pressure, and make us "feel" hot or cold, or the touch of a sharp object on our skin.

Artificial sensors are familiar in today's world. A thermometer is a very common temperature sensor.
Similarly, in the human body, all the molecules do not sense heat when they are exposed to it. Only very specific proteins do, and it is their job to relay this signal to the nervous system, which then triggers an appropriate response. Scientists knew that such sensors must exist, but were not able to identify them until Julius discovered the first heat receptor.
The human ability to sense heat, or cold, and pressure is not very different from the working of the many detectors that we are familiar with.

A smoke detector, for example, sends off an alarm when it senses smoke beyond a certain threshold.
Similarly, when something hot, or cold, touches the body, the heat receptors enable the passage of some specific chemicals, like calcium ions, through the membrane of nerve cells.
It's like a gate that opens up on a very specific request. The entry of the chemical inside the cell causes a small change in electrical voltage, which is picked up by the nervous system.

These receptors were sensitive not just to external touch, but could detect temperature or pressure changes inside the body as well.
Julius discovered TRPV1, a heat-sensing receptor, while Patapoutian discovered two mechanosensitive ion channels known as the Piezo channels.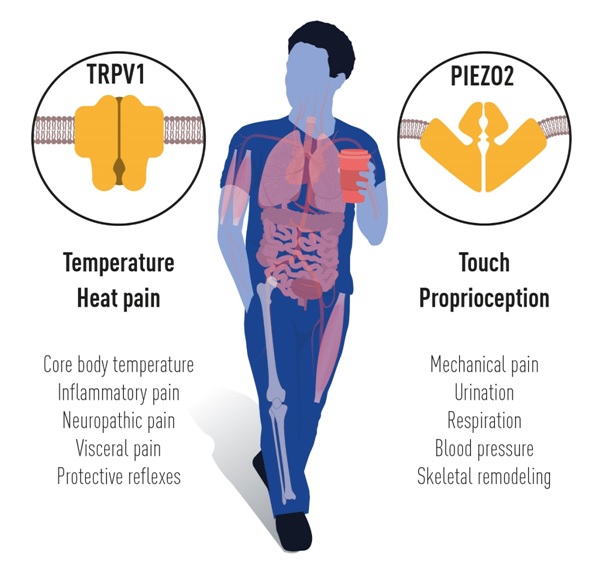 15. Changes to Forest Conservation Act
Subject – Environment
Context – The Union Government has proposed changes to Forest Conservation Act.
Concept –
It has proposed absolving agencies involved in national security projects and border infrastructure projects from obtaining prior forest clearance from the Centre.
The FCA, which first came in 1980 and was amended in 1988, requires such permission.
The onerous requirements imposed by the FCA have in the past delayed critical border infrastructure projects.
Earlier, MoEFCC had accorded general approval for diversion of forest land for construction and widening of border roads in the areas falling within 100 km from the Line of Actual Control (LAC) with China.
The proposed amendment could remove one of the most biggest hurdles in the timely completion of border infrastructure projects.
There is also a plan in the document to exempt land acquired before 1980 by public sector bodies such as the Railways.

Currently there is a strong resentment among several Ministries on how the Act was being interpreted over the right of way of railways, highways.
At present, a landholding agency (Rail, NHAI, PWD, etc.) is required to take approval under the Act and pay stipulated compensatory levies such as Net Present Value (NPV), Compensatory Afforestation (CA), etc. for use of such land which was originally been acquired for non-forest purposes.

The Environment Ministry has proposed adding a clause to make offences under the modified Act punishable with simple imprisonment for a period which may extend to one year and make it cognisable and non-bailable.
Provisions have been proposed for penal compensation to make good for the damage already done.
It proposes removing zoos, safaris, Forest Training infrastructures from the definition of "non-forestry" activities.

The current definition restricts the way money collected as part of compensatory cess can be spent towards forest conservation purposes.
The Forest (Conservation) Act, 1980
It is the principal legislation that regulates deforestation in the country. It prohibits the felling of forests for any "non-forestry" use without prior clearance by the central government.
The clearance process includes seeking consent from local forest rights-holders and from wildlife authorities.
The Centre is empowered to reject such requests or allow it with legally binding conditions.
In a landmark decision in 1996, the Supreme Court had expanded the coverage of FCA to all areas that satisfied the dictionary definition of a forest; earlier, only lands specifically notified as forests were protected by the enforcement of the FCA.
The FCA is a brief legislation with only five sections. Section 1 defines the extent of coverage of the law, Section 2 restrictions of activities in forest areas, and the rest deals with the creation of advisory committees, powers of rule-making and penalties.
Subject – Environment
Context – Two new smog towers have been recently inaugurated in Delhi. Bengaluru and Chandigarh also installed smog towers this year.
Concept –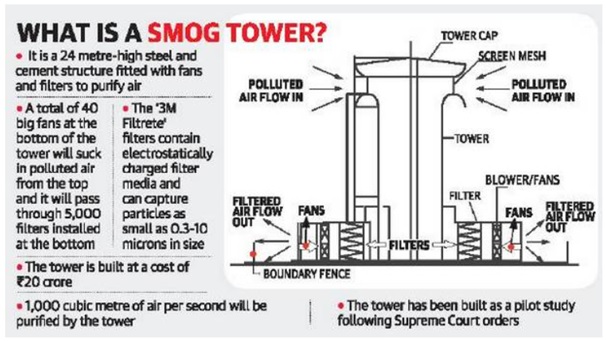 To know about Smog Tower and its working, please click here.
17. 'Race to Zero' global Campaign
Subject – Environment
Context – On September 23, Maharashtra's Environment Minister, Aaditya Thackeray, announced that 43 cities across the State will join the UN-backed 'Race to Zero' global campaign.
Concept –
Race To Zero is a global campaign to rally leadership and support from businesses, cities, regions, investors for a healthy, resilient, zero carbon recovery that prevents future threats, creates decent jobs, and unlocks inclusive, sustainable growth.
It mobilizes a coalition of leading net zero initiatives, representing 733 cities, 31 regions, 3,067 businesses, 173 of the biggest investors, and 622 Higher Education Institutions. These 'real economy' actors join 120 countries in the largest ever alliance committed to achieving net zero carbon emissions by 2050 at the latest.

Collectively these actors now cover nearly 25% global CO2 emissions and over 50% GDP.

Led by the High-Level Climate Champions for Climate Action – Nigel Topping and Gonzalo Muñoz– Race To Zero mobilizes actors outside of national governments to join the Climate Ambition Alliance, which was launched at the UNSG's Climate Action Summit 2019 by the President of Chile, SebastiánPiñera.
The objective is to build momentum around the shift to a decarbonized economy ahead of COP26, where governments must strengthen their contributions to the Paris Agreement.

This will send governments a resounding signal that business, cities, regions and investors are united in meeting the Paris goals and creating a more inclusive and resilient economy.
Subject – Polity
Context – SC may not hear poll bond case on Friday
Concept –
To know about Electoral Bonds, please click here.
Subject – Governance
Context – 'Survey on water supply in 500 cities'
Concept –
A survey on household water supply and the condition of waterbodies in 500 cities will be carried out in 2022, officials of the Union Ministry of Housing and Urban Affairs Ministry said.
As a part of the Atal Mission for Rejuvenation and Urban Transformation (AMRUT) 2.0, which was launched by Prime Minister Narendra Modi on October 1, water balance plans would be created for all cities.
The survey — Pey Jal Survekshan — would be carried out in 500 cities with a population of above 1 lakh each, which were covered under the first iteration of AMRUT.
To know about AMRUT 2.0, please click here.
20. Real Estate Regulatory Authority (RERA) Act
Subject – Governance
Context – Court seeks model builder­ buyer pact
Concept –
To know about RERA Act, please click here.
21. Drone based Vaccine Delivery
Subject – Science and Tech
Context – Drone­ based vaccine delivery model launched
Concept –
Health Minister Mansukh Mandaviya launched the ICMR's drone response and outreach in the north-east (i-Drone). The delivery model is aimed at ensuring that life-saving vaccines reach everyone.
This is for the first time that a 'Make in India' drone has been used in South Asia to transport COVID vaccine over an aerial distance of 15 km in 12-15 minutes from the Bishnupur district hospital to Loktak lake, Karang island in Manipur for administration at the primary health centre.
Launching the initiative which would facilitate vaccine delivery to tough and hard-to-reach terrains, the Health Minister said incorporating such technologies into the national programmes would help deliver other vaccines and medical supplies too as quickly as possible.
The delivery model would serve remote areas and hard to reach terrains. Currently, the drone-based delivery project has been granted permission for implementation in Manipur and Nagaland, as well as the Andaman and Nicobar Islands.
To know about Drone Rules 2021, please click here.
To know about Airspace map of India, please click here.
Subject – Economy
Context – Need to double infra spending: Seth
Concept –
Gati Shakti will be a National Infrastructure Master Plan for our country which will lay the foundation of holistic Infrastructure.
This scheme of more than 100 lakh crores rupees will result in new employment opportunities for lakhs of youth.
The plan will help raise the global profile of local manufacturers and help them compete with their counterparts worldwide.
It also raises possibilities of new future economic zones.
Multimodal connectivity of various economic hubs with roads, ports and airports will be part of the Gati Shakti masterplan, which will provide manufacturers faster access to domestic and international markets.