6 policemen killed in Assam-Mizoram border row
July 27, 2021

Posted by:

admin1

Category:

DPN Topics

6 policemen killed in Assam-Mizoram border row
Subject : Internal Security
Context: Assam-Mizoram border dispute: The violence spotlights the long-standing inter-state boundary issues in the Northeast, particularly between Assam and the states that were carved out of it.
The history of dispute:

The boundary issue between Assam and Mizoram has existed since the formation of Mizoram — first as a union territory in 1972, and then as a full-fledged state in 1987.
In India, Inter-state disputes are multifaceted, besides disputes over boundaries, there are disputes over sharing of water (rivers)and migration also impacts the federal polity of India.
Mizoram (earlier Lushai Hills) was part of Assam which was later carved out as a Union Territory and later achieved statehood in the year 1987 via the State of Mizoram Act of 1986.
Mizoram was granted statehood in 1987 by the State of Mizoram Act, 1986.
The boundary issue between present-day Assam and Mizoram dates back to the colonial era when inner lines were demarcated according to the administrative needs of British Raj.
The Assam-Mizoram dispute stems from two notifications passed under British era.
The Government of Mizoram is of the view that the boundary should be demarcated as stated in the 1875 notification, derived from the Bengal Eastern Frontier Regulation (BEFR) Act, 1873, while the Government of Assam believes that the 1933 demarcation must be followed.
1875 notification- Marks a boundary between Lushai Hills from the plains of Cachar
1933 notification- Marks a boundary between Lushai Hills and Manipur. Mizo society was not consulted.
There is a 164.6-km inter-state border that separates Assam and Mizoram, with the three Assam districts of Cachar, Hailakandi and Karimganj sharing a border with Kolasib, Mamit and Aizawl districts of Mizoram.
Further, the boundary between Mizoram and Assam follows naturally occurring barriers of hills, valleys, rivers and forests, and both sides have attributed border skirmishes to perceptual differences over an imaginary line.
In the Northeast's complex boundary equations, clashes between Assam and Mizoram residents are less frequent than they are between other neighbouring states of Assam, like with Nagaland.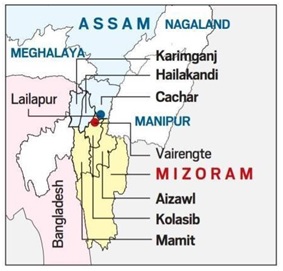 The biggest river in Mizoram is Chhimtuipui, also known as Kaladan (or Kolodyne). It originates in Chin state in Burma and passes through Saiha and Lawngtlai districts in the southern tip of Mizoram, goes back to Burma's Rakhine state.