Agro climatic zones in India
December 5, 2021

Posted by:

OptimizeIAS Team

Category:

DPN Topics

Agro climatic zones in India
Subject – Geography
Context – Punjab's six agro-climatic zones might hold key to its diversification conundrum
Concept –
What is Agro climatic zone?
An "Agro-climatic zone" is a land unit in terms of major climates, suitable for a certain range of crops and cultivars.
The planning aims at scientific management of regional resources to meet the food, fiber, fodder and fuel wood without adversely affecting the status of natural resources and environment.
Agro-climatic conditions mainly refer to soil types, rainfall, temperature and water availability which influence the type of vegetations.
Agro-climatic regions by the erstwhile Planning Commission
The Planning Commission, as a result of the mid-term appraisal of the planning targets of the Seventh Plan, has divided the country into fifteen broad agro-climatic zones based on physiography, soils, geological formation, Climate, cropping patterns, and development of irrigation and mineral resources for broad agricultural planning and developing future strategies.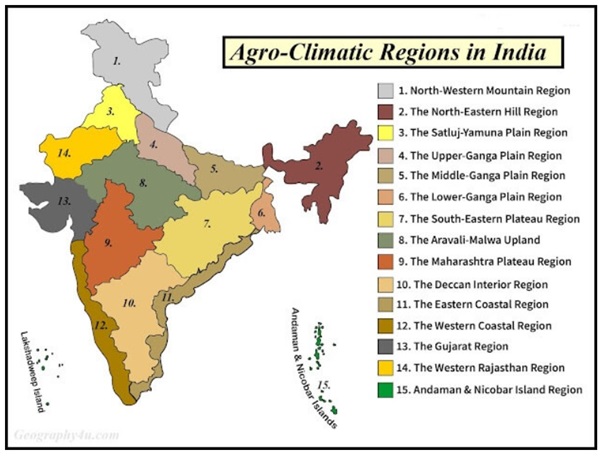 Zone 1 – Western Himalayan Region: Jammu and Kashmir, Uttar Pradesh
Zone 2 – Eastern Himalayan Region: Assam, Sikkim, West Bengal and all North-Eastern states
Zone 3 – Lower Gangetic Plains Region: West Bengal
Zone 4 – Middle Gangetic Plains Region: Uttar Pradesh, Bihar
Zone 5 – Upper Gangetic Plains Region: Uttar Pradesh
Zone 6 – Trans-Gangetic Plains Region: Punjab, Haryana, Delhi and Rajasthan
Zone 7 – Eastern Plateau and Hills Region: Maharashtra, Uttar Pradesh, Orissa and West Bengal
Zone 8 – Central Plateau and Hills Region: MP, Rajasthan, Uttar Pradesh
Zone 9 – Western Plateau and Hills Region: Maharashtra, Madhya Pradesh and Rajasthan
Zone 10 – Southern Plateau and Hills Region: Andhra Pradesh, Karnataka, Tamil Nadu
Zone 11 – East Coast Plains and Hills Region: Orissa, Andhra Pradesh, Tamil Nadu and Pondicherry
Zone 12 – West Coast Plains and Ghat Region: Tamil Nadu, Kerala, Goa, Karnataka, Maharashtra
Zone 13 – Gujarat Plains and Hills Region: Gujarat
Zone 14 – Western Dry Region: Rajasthan
Zone 15 – The Islands Region: Andaman and Nicobar, Lakshadweep