Asset Quality Review
May 16, 2022

Posted by:

OptimizeIAS Team

Category:

DPN Topics

Asset Quality Review
Subject: Economy
Section: Monetary Policy
The RBI governor will meet chiefs of public sector banks (PSBs) on May 17 to review credit flow and assess the outlook on asset quality.
The Governor will also review PSBs' collection efficiencies, consumer grievance redress mechanism, digital banking units, lending to government entities, IT infrastructure and cyber security framework and any issue that the lenders may like to present along with strategies to deal with the rising interest rate scenario without upsetting growth dynamics.
Background
With the regulatory forbearance coming to an end in 2015, RBI started the Asset Quality Review to ensure that banks were taking proactive steps to clean up their balance sheets.
The RBI together with the senior national supervisors carried out financial health checks of the banks it supervises directly. These comprehensive assessments help to ensure that the banks are adequately capitalized and can withstand possible financial shocks.
AQR:
Inspectors from the Reserve Bank of India (RBI) typically review bank records once a year as part of the Annual Financial Inspection (AFI) process. A small sample of loans is evaluated in a routine AFI to see if asset classification matches loan repayment and if banks have made necessary reserves.
However, the sample size in the AQR, on the other hand, was substantially larger, and most of the large borrower accounts were investigated to see if categorisation complied with prudential standards.The main aspect of AQR is that it is a random check rather than a periodic check.
Classification of assets:
Standard Assets-An asset which does not have more than normal risk attached to the business, and the one which does not disclose any problems is known as a standard asset.
Non-Performing Assets (NPA) are loans and arrears lent by the banks or financial institutions whose principal and interests are delayed beyond 90 days.
The Classification of NPA is based on the number of days the payment of principal and interest is due. It is classified as Substandard assets, Doubtful assets, and Loss assets:
Sub-standard: When the NPAs have aged <= 12 months.
Doubtful: When the NPAs have aged > 12 months.
Loss assets: When the bank or its auditors have identified the loss, but it has not been written off.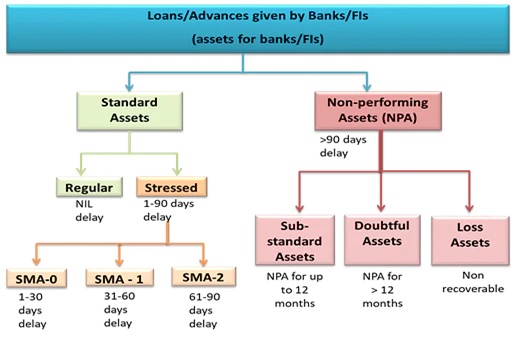 Stressed assets-The classification of Special Mention Accounts (SMA) was introduced by the RBI in 2014, to identify those accounts that have the potential to become an NPA/Stressed Asset. As per the SMA regulations, banks should identify potential stress in the account by creating a new sub-asset category viz. 'Special Mention Accounts' (SMA).
There are four types of Special Mention Accounts – SMA-NF, SMA 0, SMA1 and SMA 2.
SMA-0-Principal or interest payment overdue between 1-30 days.
SMA -1- Principal or interest payment overdue between 31-60 days.
SMA-2-Principal or interest payment overdue between 61-90 days.
SMA-NF-some 'Special Mention' assets are identified on the basis of other factors that reflect sickness/irregularities in the account (SMA -NF).