Autoimmunity
February 15, 2021

Posted by:

OptimizeIAS Team

Category:

DPN Topics

Autoimmunity
Subject: Science and tech
Context: Scientists have found that the Covid-19 leaves behind the danger of multi-organ damage due to autoimmunity effect.
Concept:
About autoimmunity:
It is a condition in which the body's defence mechanism attacks its own organs, mistaking them as foreign invaders.
Clinical reports suggest of autoimmune conditions that follow Covid-19 leading to multi-organ failure.
Such response post-covid19 is now explained through molecular mimicry', which occurs when virus epitopes elicit an antibody response.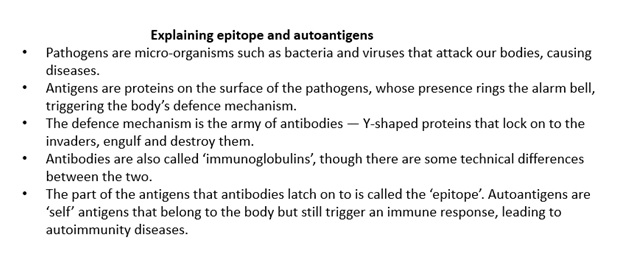 These epitopes are similar to the ones present in the other 'good' proteins in the body, the antibodies could attack the latter instead of (or in addition to) the viral epitopes. This gives rise to what we know as autoimmune conditions.
The scientists also highlighted Human proteins housing amino acid sequences similar to the viral epitopes which were identified as possible 'autoantigens' — that is, targets of antibodies generated against the spike protein of SARS-CoV-2.
These findings if established experimentally can contribute to the understanding and better management of post-infection autoimmune reactions