Cell therapy cancer centre takes shape in Bengaluru, trials are on
July 10, 2022

Posted by:

OptimizeIAS Team

Category:

DPN Topics

Cell therapy cancer centre takes shape in Bengaluru, trials are on
Subject: Science and technology
Section: Biotechnology
Context: In 2019, when Immuneel Therapeutics Ltd, founded by Pulitzer winning author and US oncologist Dr Siddhartha Mukherjee and leading biotech entrepreneur Kiran Mazumdar Shaw, planned to set up a breakthrough cell therapy facility for  cancer.
Stem Cells:
Stem cells are the body's raw materials — cells from which all other cells with specialized functions are generated.
Under certain conditions in the body or a laboratory, stem cells divide to form more cells called daughter cells.

These daughter cells either become new stem cells (self-renewal)or become specialized cells (differentiation) with a more specific function, such as blood cells, brain cells, heart muscle cells or bone cells.
No other cell in the body has the natural ability to generate new cell types.
Types of Stem Cells:
Somatic Stem Cells (SSCs) are the resident, self-renewable population of cells that are present virtually in all organs/tissues of the body. They are essentially undifferentiated, resident in differentiated tissues and are committed to the lineage of that organ. SSCs could be obtained from different sources, for example the fetus, umbilical cord, placenta, infant, child or adult; and from different organs/tissues. They are generally present in relatively low numbers in most tissues.
Pluripotent Stem Cells have the ability to differentiate into derivatives of all three germ layers, viz., ectoderm, mesoderm and endoderm, but not placenta.
Embryonic Stem Cells (ESCs) are derived from pre-implantation embryos (blastocysts). Those derived from embryos before differentiation of trophectoderm and inner cell mass (i.e. morula stage) are truly totipotent, capable of giving rise to the entire organism including extra-embryonic tissues. ESCs derived from the inner cell mass (ICM) are pluripotent (not totipotent).
Induced Pluripotent Stem Cells (iPSCs), as the name suggests are pluripotent in nature, quite similar to the ESCs. They are capable of indefinite expansion and differentiation into ectodermal, mesodermal and endodermal cells. The iPSCs can be generated from somatic cells by a variety of genetic and epigenetic methods.
What is Stem cell therapy?

Stem cell therapy, also known as regenerative medicine, promotes the repair response of diseased, dysfunctional or injured tissue using stem cells or their derivatives.
Stem cells can then be implanted into a person. For example, Mumbai baby boy was injected with 40 million stem cells and gradually the lungs began to repair. In this case, doctors used mesenchymal stem-cell therapy (these are adult stem cells and are different from Embryonic stem cells) on an experimental basis.
Ex: A US patient has become the third person in the world, and the first woman, to be cured of HIV, the deadly virus that causes AIDS using umbilical cord blood.
National Guidelines for Stem Cell Research (NGSCR) in 2017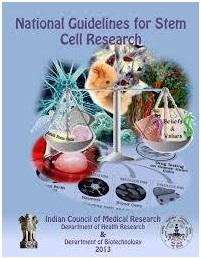 Indian Council of Medical Research (ICMR) released the NGSCR in 2017.
It aims to ensure that all research with human cell is conducted in an ethical and scientifical manner.
The guidelines focus on:
Monitoring mechanism and regulatory pathway for basic, clinical research and product development based on categories of research and level of manipulation.
Procurement of gametes, embryos and somatic cells for derivation and propagation of any stem cell lines, their banking and distribution.
Other important areas like international collaboration, exchange of cell/lines and education for stakeholders and advertisement.
Prohibitions under Guidelines
Research related to human germ line gene therapy and reproductive cloning
In vitro culture of intact human embryos beyond 14 days of fertilization or formation of primitive streak whichever is earlier.
Clinical trials involving transfer of xenogeneic cells.