Chandragupta Maurya
November 16, 2021

Posted by:

admin1

Category:

DPN Topics

Chandragupta Maurya
Subject – History
Context – UP CM Yogi's claim: Chandragupta defeated Alexander, but isn't called 'great'
Concept –
Uttar Pradesh Chief Minister Yogi Adityanath on Sunday claimed that Chandragupta Maurya, who founded the Mauryan kingdom, had defeated Alexander of Macedonia, and yet historians did not describe him as "great".
Alexander died in 323 BC, a few years after his Indian campaign. There is some debate among historians over when Chandragupta came to power, but it is generally believed to have been after Alexander's death.
About Chandragupta Maurya
In 321 BC, Chandragupta Maurya, with the help of Chanakya (author of Arthashasthra) founded the Mauryan dynasty after overthrowing Nanda Dynasty.
The Mauryan Empire was the first most powerful Indian empire to bring the entire Indian subcontinent under a single rule.
The Mauryanempire under Chandragupta Maurya spread its boundaries into Central Asia and Persia.
Greek accounts mention him as Sandrokottos.
Alexander had abandoned his India conquest in 324 BC and within a year, Chandragupta had defeated some of the Greek-ruled cities in the north-western part of the country.
Megasthenes was the Greek ambassador at Chandragupta's court.
He abdicated the throne in favour of his son, Bindusara, and went to Karnataka with Jain monk Bhadrabahu. He had embraced Jainism and is said to have starved himself to death according to the Jain tradition at Shravanabelagola.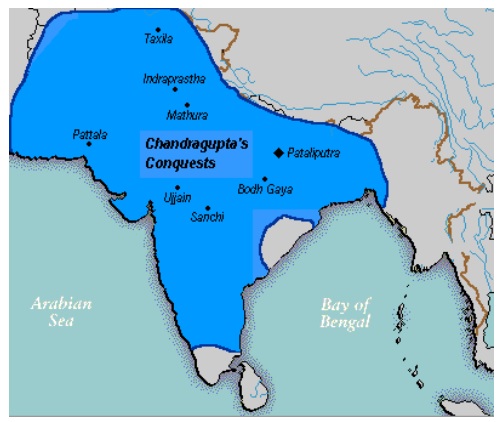 Alexander the Great
Alexander the Great, also known as Alexander III or Alexander of Macedonia was born in 356 BCE in Pella, Macedonia. He died on June 13, 323 BCE in Babylon.
He was the king of Macedonia (336–323 BCE), who overthrew the Persian empire.
He spent most of his ruling years on an unprecedented military campaign through Asia and northeast Africa, and by the age of thirty, he had created one of the largest empires of the ancient world, stretching from Greece to northwestern India.
In 326 BC, Alexander invaded India, after crossing the river Indus he advanced towards Taxila.
He then challenged king Porus, ruler of the kingdom between the rivers Jhelum and Chenab.
The Indians were defeated in the fierce battle (Battle of Hydaspes).
Alexander captured Porus and, like the other local rulers he had defeated, allowed him to continue to govern his territory.
Alexander remained in India for 19 months (326-325 B.C.), which were full of fighting in July 325 BC Alexander and his army returned westward for home.