China-Pakistan Economic Corridor (CPEC)
November 7, 2022

Posted by:

OptimizeIAS Team

Category:

DPN Topics

China-Pakistan Economic Corridor (CPEC)
Subject :International Relations
Context:
External Affairs Minister S Jaishankar told the SCO Council of Heads of Government last week that connectivity projects should respect the sovereignty and territorial integrity of Member States and respect international law in reference to the so-called China-Pakistan Economic Corridor (CPEC)
What is CPEC:
CPEC is a 3,000-km long route of infrastructure projects connecting China's northwest Xinjiang Uygur Autonomous Region and the Gwadar Port in the western province of Balochistanin Pakistan.
It is a bilateral project between Pakistan and China, intended to promote connectivity across Pakistan with a network of highways, railways, and pipelines accompanied by energy, industrial, and other infrastructure development projects.
CPEC is a part of the Belt and Road Initiative.
The proposed projects in CPEC will be financed by heavily subsidised loans that will be disbursed to the Government of Pakistan by Chinese banks.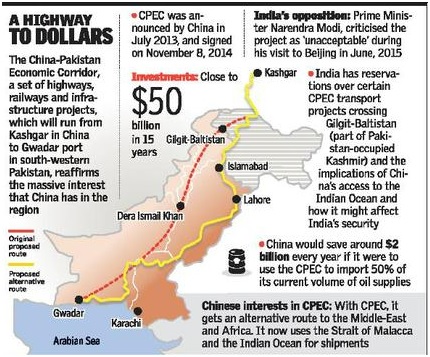 What is India's Stand on CPEC:
India has been severely critical of the CPEC, as it passes through Pakistan-occupied Kashmir, which is a disputed territory between India and Pakistan.
What is Border Road Initiative(BRI):
Belt & Road Initiative is an ambitious project that focuses on connectivity and cooperation among multiple countries spread across the continents of Asia, Africa, and Europe.
BRI was announced in the year 2013.
The project has a target completion date of 2049, which will coincide with the centennial anniversary of the People's Republic of China (PRC)'s founding.
The project involves building networks of roadways, railways, maritime ports, power grids, oil and gas pipelines, and associated infrastructure projects.
The project covers two parts.
Silk Road Economic Belt: It is land-based and is expected to connect China with Central Asia, Eastern Europe, and Western Europe.
21st Century Maritime Silk Road: It is sea-based and is expected to connect China's southern coast to the Mediterranean, Africa, South-East Asia, and Central Asia.