China's Xi Jinping makes rare visit to Xinjiang
July 17, 2022

Posted by:

OptimizeIAS Team

Category:

DPN Topics

China's Xi Jinping makes rare visit to Xinjiang
Subject : Geography
Section :Mapping
Xinjiang lies in the north-west of China and is the country's largest region.
Like Tibet, it is autonomous, meaning – in theory – it has some powers of self-governance.
But in practice, both regions are subjected to major restrictions by the central government.
Xinjiang is a mostly desert region and produces about a fifth of the world's cotton.
In December 2020, research seen by the BBC showed that up to half a million people were being forced to pick cotton in Xinjiang. There is evidence that new factories have been built within the grounds of the re-education camps.
The region is also rich in oil and natural gas and because of its proximity to Central Asia and Europe is seen by Beijing as an important trade link.
In the early 20th Century, the Uyghurs briefly declared independence for the region but it was brought under the complete control of China's new Communist government in 1949.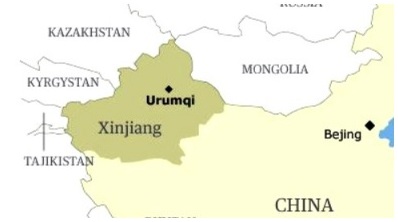 The Uighurs are Muslim ethnic community which speak a language close to Turkish, and are culturally and ethnically closer to Central Asia than the rest of China live in Xinjiang, the largest and most western of China's administrative regions.
Till recently, they were the majority in Xinjiang, but massive registered and unregistered settlements of Han Chinese and heavy troop deployments have likely changed that situation.
Besides ethnicity and cultural dissonance, tensions are seen as rooted also in economic factors — as China's development has lifted cities like Kashgar and Urumqi, young, qualified Han Chinese from eastern regions have come to Xinjiang, taking the most lucrative jobs and triggering resentment among the indigenous population.
In Beijing's official narrative, much of the Uighur terrorist violence is carried out by the East Turkestan Islamic Movement, a group that seeks to establish an independent East Turkestan state in China.
China has been criticized at different forums for violation of Human rights of Uighur population.