Climate Finance Delivery Plan
November 1, 2021

Posted by:

OptimizeIAS Team

Category:

DPN Topics

Climate Finance Delivery Plan
Subject – Environment
Context – Expectations from CoP26: Climate finance needs to be scaled up with focus on adaptation, says LDC Group.
Concept –
Least developed countries (LDC)are the least responsible for climate change but bear most of its brunt. They represent over one billion people in Africa, the Asia-Pacific and the Caribbean.
LDCs are now leading the way for decisive climate action, according to the United Nations Development Programme. About 83 per cent of the LDCs have submitted their enhanced NDCs as of October 12, 2021.
At least $93 billion per year will be required by all 46 LDCs for implementing their post-2020 climate action plans. But, it has been a decade and the developed nations failed to deliver on climate finance.
In 2009, at the Conference of the Parties (COP) of the United Nations Framework Convention on Climate Change (UNFCCC) in Copenhagen (COP15), developed country Parties committed, in the context of meaningful mitigation actions and transparency on implementation, to a goal of mobilising jointly US$100 billion a year by 2020 to address the needs of developing countries.

The climate finance goal was then formally recognized by the UNFCCC Conference of the Parties at COP16 in Cancun.
At COP21 in Paris, Parties extended the US$100 billion goal through 2025.

Developed countries may be able to deliver on the agreed goal of mobilising $100 billion per year in climate finance to support developing countries, said Organisation for Economic Co-operation and Development (OECD) in its report Climate Finance Provided and Mobilised by Developed Countries: Aggregate Trends released September 15, 2021.

Developed countries will make significant progress towards the $100 billion goal in 2022 and provide confidence that it will be met in 2023, according to OECD. The developed countries can mobilise more than $100 billion per year thereafter through to 2025.
At COP 26, discussions will begin on a new quantified climate finance goal. This time, new goal for climate finance must be based on the actual needs of our countries and the scale of action that is needed to leapfrog to low-carbon technologies.

The LDC group has appreciated assurances under the new Climate Finance Delivery Plan but raised doubts since the developed group failed to deliver on its promises in the last decade.
Loss and Damage from Climate Change
The Loss and Damage (L&D) discourse, initiated almost three decades ago by Small Island States worried about sea level rise, has given voice to concerns for climate change-related impacts that may be irreversible and beyond physical and social adaptation limits.
The discourse has become institutionalised in international climate policy through the Warsaw Mechanism on Loss and Damages adopted in 2013 and was given firm consideration in the Paris Agreement in 2015.
The term loss and damage is used within the UN Framework Convention on Climate Change (UNFCCC) process to refer to the harms caused by anthropogenic climate change.
The UNFCCC has defined loss and damage to include harms resulting from sudden-onset events (climate disasters, such as cyclones) as well as slow-onset processes (such as sea level rise).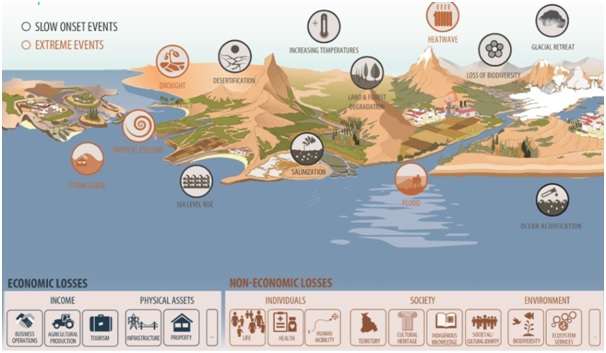 'Damage' is the negative impacts that can be repaired or restored (such as windstorm damage to the roof of a building, or damage to a coastal mangrove forest from coastal surges which affect villages).
While, 'Loss' is the negative  impacts  that  cannot  be  repaired  or  restored  (such  as  loss  of geologic  freshwater  sources  related  to  glacial  melt  or  desertification,  or  loss  of  culture  or  heritage associated with potential population redistribution away from areas that become less habitable due to climate change).
Thimphu Call for Ambition and Action
Ministers and Heads of Delegation of the Least Developed Country (LDC) Parties to the United Nations Framework Convention on Climate Change (UNFCCC), met in Thimphu, Bhutan, and virtually on 11 October 2021 in preparation for the UN Climate Change Conference (COP26, CMA3, CMP16) taking place in Glasgow, October-November 2021.
They emphasised that climate change requires urgent and immediate action that is both ambitious and equitable to support the interests of the poorest and most vulnerable countries and peoples.