Countries' targets to cut greenhouse gas emissions insufficient: UNFCCC
October 27, 2022

Posted by:

OptimizeIAS Team

Category:

DPN Topics

Countries' targets to cut greenhouse gas emissions insufficient: UNFCCC
Subject: Environment
Context-
The Nationally Determined Contributions (NDC) pledged by countries to arrest climate change are insufficient, noted a new report released by the United Nations Framework Convention on Climate Change (UNFCCC).
Cumulative CO2 emissions in 2020-2030, based on the latest NDCs, would likely use up 86 per cent of the remaining carbon budget, according to the new NDC Synthesis Report.
About the report-
The UNFCCC's synthesis report is an annual summary of climate commitments made by countries and their impact on global greenhouse gas (GHG) emissions.
These commitments — known as Nationally Determined Contributions  — were made by countries who signed on to the Paris Agreement to address climate change.
The latest iteration of the report analyses 166 NDCs communicated to the UNFCCC as of September 23, 2022. Some 39 countries have submitted new or updated NDCs since the previous report.
Marginal progress has been made over the past year, the report noted.
For the countries that have made their pledges more ambitious recently, the total GHG emissions will be about 10 per cent lower in 2030 than their previous NDCs.
Updated NDCs are a manifestation of the Paris Agreement's 'ratcheting mechanism'— wherein countries must revise their pledges to be more ambitious every five years.
New or updated NDCs-
Only 24 countries submitted new or updated NDCs after COP 26.
India submitted its upwardly revised NDC in August, extending two of its previous NDC goals.
India now stands committed to reducing the emissions intensity of its GDP by 45 per cent by 2030 from its 2005 levels.
The country will also target about 50 per cent of cumulative electric power installed capacity from non-fossil fuel-based energy resources by 2030.
India has made one of its new NDC targets conditional.
The country will switch 50 per cent of its total power capacity to non-fossil sources by 2030.
This pledge depends on the "transfer of technology and low-cost international finance, including Green Climate Fund (GCF)."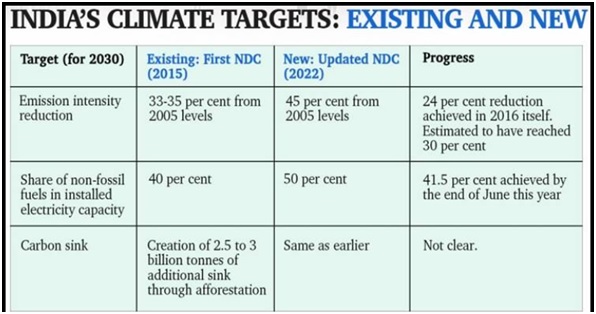 Carbon budget–
The carbon budget is a biophysical threshold of CO2 that can be emitted to prevent global average temperatures from rising above a certain level.
A carbon budget is a cumulative amount of carbon dioxide (CO2) emissions permitted over a period of time to keep within a certain temperature threshold.
It is the maximum amount of carbon dioxide (CO2) that can be emitted while still having a chance to limit warming to 1.5°C or 2°C.
Carbon budgets are constructed on the premise that there is a near-linear relationship between rising global temperatures and the level of cumulative atmospheric CO2.
long-term low-emission development strategies (LT-LEDS)-
A second report published today by the UNFCCC summarises 53 long-term emission reduction plans submitted by countries.
These plans are known as long-term low-emission development strategies (LT-LEDS).
These plans typically follow the announcement of a long-term target, such as net zero emissions by 2050 or 2070.
Some 87 per cent of these plans communicated 2050 as a date along with a quantifiable long-term mitigation goal.
Most NDCs (92 per cent) in the NDC Synthesis report are dated to 2030.
LT-LEDS are typically broader in scope than NDCs and incorporate developmental goals as well as required levels of investment and government expenditure.
Alignment between NDCs and LT-LEDS is still unclear — only 8 per cent of countries mentioned that their NDCs are aligned with their LT-LEDS.
LT-LEDS can be useful to guide future low-carbon development, but the criticality of front-loading emission reductions in this decade cannot be overstated.