Cyclones in Arabian Sea
December 10, 2021

Posted by:

OptimizeIAS Team

Category:

DPN Topics

Cyclones in Arabian Sea
Subject – Geography
Context – More cyclones in Arabian Sea recently, Minister tells RS
Concept –
The frequency of "very severe cyclonic storms" has increased in recent years over the Arabian Sea. However, this has not measurably increased the threat to India's western coast, as most of these cyclones were making landfall in Oman and Yemen.
A very severe cyclone is defined as one with wind speeds touching 220 kmph. It is the fourth highest category of cyclones, just below "extremely severe cyclones".
Factors responsible for this –
Surface temperatures in the Arabian Sea have increased rapidly during the past century due to global warming. Temp. Now is 1.2–1.4 °C higher than the temperature witnessed four decades ago. These warmer temperatures support active convection, heavy rainfall, and intense cyclones.
The rising temperature is also enabling the Arabian Sea to supply ample energy for the intensification of cyclones.
The Arabian Sea is also providing conducive wind shear for cyclones. For instance, a higher level easterly wind drove the depression of Cyclone Ockhi from the Bay of Bengal to the Arabian Sea.
Greater occurrence of El Niño Modoki. It is a climate phenomenon that creates conditions that are not conducive for cyclogenesis in the Bay of Bengal. However, this condition is conducive for the formation of cyclones in the Arabian Sea.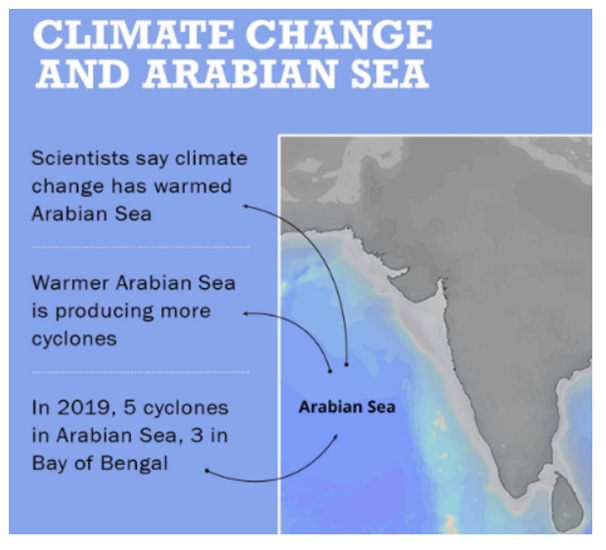 To know about Tropical Cyclones, please refer August 2021 DPN.