Daily Practice Sheet 10 January 2021
January 10, 2021

Posted by:

admin1

Category:

DPS

Daily Practice Sheet 10 January 2021
By
Santosh Sir
All 6 Prelims qualified
4 CSE Mains qualified
If I can do it, you can too
Daily Prelims Topic
Priority list for Covid-19 Vaccination
UAPA
Role of Aurangzeb (In news due to Aurangabad naming controversy in Kaharashtra)
Quality Council of India
Pravasi Bhartiya Divas
Shivalik Elephant reserve
Immunogenicity
Kerala: To set up Kalaripayattu Academy to boost traditional martial art form
Avian influenza – A(H7N9) , A(H5 N1 ), A(H5 N8 )
Mukundpurameteorite
Entangles Particle and Quantum Technology
Daily Mapping
Daily Constitution
Right against Arrest and detention
Daily Mains Mantra
NEWSPAPER
GS 1: History
1. Comment on how Netaji Subhash Chandra Bose provided an alternative idea and approach and was an important pillar of deepening of Indian National Movement. [Reference: Indian Express]
Nethaji Subash Chandra boss was a fierce nationalist whose patriotism made him into a great freedom fighter. Netaji's entry into political life gave a new turn to India's struggle. A new wave of enthusiasm swept the country. His restless and dynamic spirit led him to a path that was different from other freedom fighters
Body
Netaji Subhas Chandra Bose 's political views were in support of complete freedom for India at the earliest, whereas most of the Congress Committee wanted it in phases, through a Dominion status.

The strategy to achieve Indian Independence, and to some degree the form which the post-Independence state should take: Gandhi was hostile to industrialisation, while Bose saw it as the only route to making India strong and self-sufficient, who's that he was influenced by the Soviet Union plan

Bose's earlier correspondence (prior to 1939) also reflects his deep disapproval of the racist practices of and annulment of democratic institutions in Nazi Germany.[4] He also, however, expressed admiration for the authoritarian methods (though not the racial ideologies) which he saw in Italy and Germany during the 1930s

Bose's tenure as Congress Party President (1938–39) did not reflect any particular anti-democratic or authoritarian attributes, can be seen us the values that boss wanted for future India

Demanded giving the British Government a six-month deadline for granting independence and of launching a mass civil disobedience movement if it failed to do so.

Bose wanted freedom for India at the earliest opportunity, and he didn't care who he had to approach for assistance

He was a contemporary of Mohandas K. Gandhi, at times an ally and at other times an adversary. Bose was known in particular for his militant approach to independence and for his push for socialist policies

Bose became increasingly critical of Gandhi's more conservative economics as well as his less confrontational approach toward independence, he went to a man of critic of Gandhi he gave the title bapu, example that he was a man who accepted criticisms

An important development in the struggle for freedom during the Second World War was the formation and activities of the Azad Hind Fauj, also known as the Indian National Army, or INA, reflected his militant nationalism

Indian women also played an important role in the activities for the freedom of India. A women's regiment of Azad Hind Fauj was formed, which was under the command of Captain Lakshmi Swaminathan. It was called the Rani Jhansi regiment. shows that netaji e was a man of gender equality and he promoted women in involvement in freedom struggle was important

Faith in our cause and readiness for sacrifice by voluntary total self-mobilisation were insisted by him, makes us understand that netaji Subhash Chandra Bose was man of self-confidence and a man who promoted the potential of self control and discipline
Conclusion
Netaji Subhas Chandra Bose was without doubt a far-sighted, realistic type of leader. Even though Bose and Mohandas K. Gandhi had differing ideologies, the latter called Bose the "Patriot of Patriots
GS 2: Geography
1. Discuss the geophysical characteristics of the Circum-Pacific zone ( CSE MAINS 2020)
Approach:
Introduction: Mention about Ring of Fire as a zone of:
String of Volcanoes (around 452)

Seismic activity

90% of all earthquakes of the world

75% of all active volcanoes
Body: Geophysical characteristics:
Horseshoe shaped ( around 40000kms) on the edges of Pacific ocean from the

southern tip of South America along the west coast of North America, Bering Strait to

Japan, southern New Zealand.

Result of activities of Plate Tectonics.
Subduction Zones and convergent plate boundary: Add a small diagram showing

subduction of oceanic plate under continental plate.

O-C collision: Denser oceanic plate subduct under lighter continental plate.
Mantle Dynamics: Melting of plate produces magma which rises up to the surface as a volcano.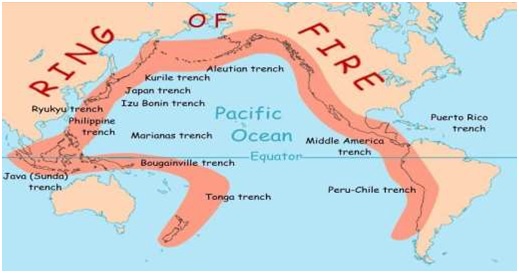 GS 3: Economy
1. Discuss the effectiveness of work from home as a new Norm at workplaces. Also discuss benefits of Hybrid workplace as an alternative in many offices. [Reference: Financial Express]
GS 3: Environment
1. Discuss the impacts of conflict between infrastructure development and wildlife protection. Also, mention Indian efforts so far in wild life protection and what more needs to be done. [Reference: Indian Express]
Approach:
Introduction: Show how development expansion with limitation of land conflicts with wild life protection.
Body:
1. Show the conflict between infrastructure development and wildlife
Linear project encroaching wildlife
Infrastructure crisscrossing wild life's movement path or corridor
Man-animal conflict
Decreased protection for wild life
Loss of ecosystem
Disturbs food chain
2. Discuss government steps so far in this direction (laws, schemes etc)
Wild Life protection Act
Project Lion
Project Rhino
National Park, Sanctuary
Etc…
3. Suggest measures to establish a balance:
Community management of wildlife
Strict regulation of Eco-Sensitive zones, Elephant corridor and protection zones
EIA
Conclusion:
End on need of fair balance n=between wildlife and development need.
Daily Ethics:
1. What do you understand by social influence?
2. What do you understand by patriotism? How it is different from Nationalism