Daily Practice Sheet 2 February 2021
February 2, 2021

Posted by:

OptimizeIAS Team

Category:

DPS

Daily Practice Sheet
2 February 2021
By
Santosh Sir
All 6 Prelims qualified
4 CSE Mains qualified
If I can do it, you can too
Daily Prelims Topic
PM Atma Nirbhar Swasth Bharat
India's First Budget in 1860
Agriculture infrastructure and development levy
Modernization Fund for Defence and Internal Security and other recommendations of 15hth Finance commission
4 strategic sectors:
Law on Minimum wages to apply to all category of workers
Tax dispute Resolution committee proposed
Mega Investment Textiles Park
Mission POSHAN 2.0
National Monetisation Pipeline
New Scrappage policy
SEBI as the new regulator of gold spot exchange
REITs, InVITs
Daily Facts
Budget Special
Insurance sector: FDI up from 49% to 74% and allows for foreign ownership and control.
Budget proposes BAD BANK to which a big chunk of Rs 899, 803 crores (as on March 2020) of NPA is supposed to be transferred. NPA is supposed to spike to 13.5% of advances by September 2021 from 7.5% in September 2020.
A glide path to fiscal deficit to 4.5% of GDP by 2025-26. It is estimated at 6.8% of GDP in 2021-22 (for 2020-21 it shot up to 9.5% of GDP from budget estimate of 3.5%).
Accepted the 15th Finance Commission recommendation of transfer of 41% net Union tax to the states and 1% to the UT of J&K and Ladakh.
Gross tax revenue to rise by 16.7% on the back of rise in direct taxes (22%). Income tax return filing saw increase to 6.48 crore from 3.31 crore in 2014.
Net borrowing to come down: From 12.73 lakh crores to 9.77 lakh crores. Fiscal deficit to be financed from higher market borrowings, disinvestments, indirect taxes receipts.
The food subsidy for this fiscal was budgeted at Rs 1,15,569.68 crore, which has now been pegged at a massive Rs 4,22,618.14 crore in the revised estimate (RE). Likewise, the RE of the fertiliser subsidy for 2020-21, at Rs 133,947.30 crore, is much higher than the BE of Rs 71,309 crore. (Combined together they account for 35% jump in fiscal deficit this fiscal.). One of the reasons is the government clearing dues of fertiliser industry in one shot.
Promoting digital transactions: Exemption from tax audit limit doubled to Rs 10 crore turnover for firms doing most of their business through digital modes
18% higher allocation to MGNREGA.
Total education budget has been slashed by 6% in this budget.
Defence capital outlay up by 19% to promote indigenisation.
Disinvestment target of Rs 1.75 lakh this fiscal.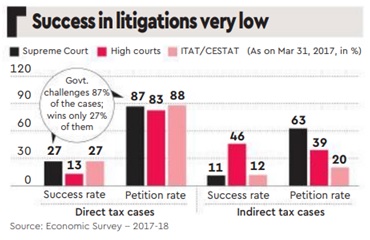 Daily Mapping
Daily Mains Mantra
NEWSPAPER
GS 1: Society
GS 2: Geography
GS 2: IR
WTO-led multilateral trading system has been a catalyst not only to the growth and expansion of global trade but it has significantly contributed to global prosperity, peace, and stability. Discuss the challenges faced by the WTO and analyze India's engagement with the body. [Reference: Business Line]
GS 3: Economy
GS 3: Science
Daily Ethics:
What do you understand by whistleblowing? How does it help in preventing and catching insider trading in companies?