Daily Practice Sheet 3 June 2021
June 3, 2021

Posted by:

admin1

Category:

DPS

Daily Practice Sheet
3 June 2021
Daily Prelims Topic
Palestine questions India's silence at UNHRC/Human rights:
Zero hour
Restricts on the government servants before and after retirement:
Pandav Leni or Trirashmi Buddhist Cave
Justice (Retd) Arun Kumar Mishra as new NHRC President
Gross value added at basic prices
What is circular economy system?
LEO technology: Internet from sky
Rising oil prices and OPEC+
China's 'artificial sun' experimental fusion reactor
H10N3 bird flu detected in human
New gold spot exchange proposed by SEBI
SCO
SDG India Index
Xraysetu
Model tenancy act
Daily Mapping
Gaza and Palestine territories
The Foreign minister of the Palestinian National Authority has complained that New Delhi's abstention "stifles the important work of… advancing human rights for all peoples, including those of the Palestinian people
Cauvery River and tributaries
Luni River
Daily data
Rural development as driver of growth
In the worst-ever contraction in 2020-21, the farm sector actually grew by 3.6%.
During the period real gross value added at basic prices (previously known as GDP at factor cost) was at minus 6.2%.
There have been four instances of negative GDP growth earlier: 1979-80, 1972-73, 1965-66 and 1957-58. All four were drought years, with agricultural de-growth surpassing that of overall GDP in each of them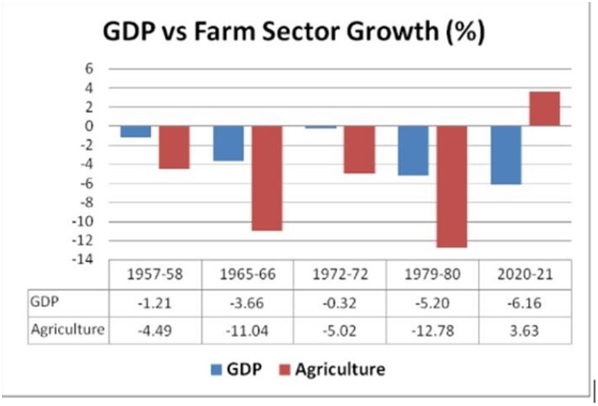 Waste
Around 12.3 billion sanitary napkins, amounting to 113,000 tonnes of waste, reached India's landfills every year, according to a new study.
Daily Mains Mantra
Mains 2021
Daily Mini Practice – 30 Minutes
Topic: Economic growth and economic development, Indian Economy, planning in India
Why was Planning Commission abolished? Has NITI Aayog been successful in meeting this shortcoming of Planning Commission?
According to Economic Survey 2019 Private investment is the key driver for growth. Examine the reasons for low private investment. Also discuss the strategy to boost private investment.
Mains 2022 (as per LAQSHYA 2022 timetable)
The Mughal style evolved as a result of a happy synthesis of the indigenous Indian style of painting and the Safavid school of Persian painting. Discuss
NEWSPAPER
GS2: Polity
Fundamental Rights seek to prevent arbitrary and irrational action of the states. In the context examine the role of the SC as the protector of the FRs. [Reference: MSN]
The degree of federalism in India has depended largely on two variables: the nature of political coalitions at the Centre and role of States in such coalitions (the period 1996 to 2014 for example), and the cultural diversity of regions. [Reference: The Hindu]
GS2: International Relations
How far foreign policy of a nation combination of continuity and change? In this context evaluate the changes in India's foreign policy in recent times. [Reference: Indian Express]
GS3: Economy
Rural growth was the sweet spot amidst gloom of economy contraction due to Covid crisis. In this context discuss how rural growth is still far from its potential and how it can become a major driver of growth. Also, discuss challenges facing rural growth in current times. [Reference: Indian Express]
There has been growing trend of increasing gap between the "Income" and "wealth". In this context critically examine the role of Central banks policy around the world in this increased gap. [Reference: Financial Express]