Daily Practice Sheet 4 March 2021
March 4, 2021

Posted by:

OptimizeIAS Team

Category:

DPS

Daily Practice Sheet
4 March 2021
By
Santosh Sir
All 6 Prelims qualified
4 CSE Mains qualified
If I can do it, you can too
Daily Prelims Topic
FREEDOM IN THE WORLD 2021
Dhrupad
Outcome Budgeting
Gaphaz or the Glacier and Permafrost Hazards in Mountains
Complete blood count (CBC), C-reactive protein (CRP), or Immunoglobulin-E (IgE) levels
Adjusted Gross Revenue (AGR)
Epigrap
30-Share Index (BSE Sensex)
International energy Agency
Daily Mapping
Algeria
Iraq
Fiji (Indi-Fiji signed agreement for agri sector cooperation)
Daily Data
UNICEF report on education during Covid-19
More than 888 million children worldwide continue to face disruptions to their education due to full and partial school closures.
As many as 1.5 million schools remained shut during 2020 due to the pandemic and lockdowns, impacting 247 million children enrolled in elementary and secondary schools in India, according to data released by UNICEF Wednesday.
Online education is not an option for all as only one in four children has access to digital devices and Internet connectivity.
Pre-COVID-19, only a quarter of households (24 per cent) in India had access to the Internet and there is a large rural-urban and gender divide.
14 countries worldwide have remained largely closed since March 2020 to February 2021. Two-thirds of those countries are in Latin America and the Caribbean, affecting nearly 98 million schoolchildren.
Covaxin efficacy
Bharat Biotech, through its phase 3 clinical trials has reported 81% efficacy.
Vaccines in India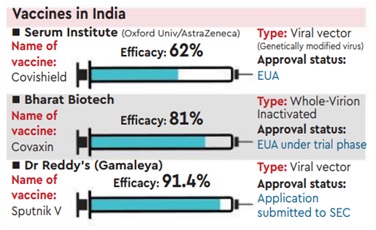 Spectrum Auction
Since 2012 around 44% of the spectrum has remained unsold.
E-Waste
While the world generated close to 20 million tonnes of e-waste in 2000, this has increased to 50 million tonnes now.
A report by United Nations University suggests that by 2050, the world will generate 111 million tonnes of e-waste per year
Daily Mains Mantra
GS1: World History
GS1: Society
GS1: Governance
The woes of telecom sector as a whole needs a revamp of revamp in its regulatory structure. Comment. [Reference: Financial Express]
GS3: Environment
GS4: Ethics