Daily Prelims Notes 11 June 2022
June 11, 2022

Posted by:

admin1

Category:

DPN

Daily Prelims Notes
11 June 2022
Table Of Contents
1. WHO report on Covid-19 origins
Subject: Science and Technology
Section:
Context: A panel of experts drafted by the World Health Organization (WHO) to investigate the origins of the Covid-19 pandemic and prepare a framework to investigate future outbreaks has published its first report.
The panel, set up in October, comprises 26 experts from around the world and is called the Scientific Advisory Group for the Origins of Novel Pathogens (SAGO).
Its work follows a previous WHO-China report on COVID-19, and a US intelligence inquiry, both of which pointed towards a natural origin for the pandemic, likely from bats, rather than a lab leak.
However, it says that neither the original animal source, the intermediate host, nor the moment the virus crossed over into humans, has been identified.
Why has the origin not been identified?
That is chiefly because a lot of data is missing, particularly from China.
Chinese scientists have provided more information, including on blood samples from 40,000 Chinese donors in Wuhan from September to December 2019 when the pandemic emerged.
Of these, more than 200 samples initially tested positive for Sars-CoV-2 antibodies, the virus causing COVID-19, but confirmatory tests were negative.
Can the lab leak theory be true?
The panel also said that no further information has been provided on whether the coronavirus may have reached humans via a laboratory incident, meaning more data and investigations remained important.
What is the next step?
The panel called for a number of studies to be carried out both in China and globally to shed further light on the pandemic's origins.
These include additional studies on the first human cases in China, as well as efforts to trace whether the virus was circulating in China – and elsewhere – before the first cases were found.
Subject: History
Section: Personalities
Sant Tukaram Maharaj was a 17th-century Marathi poet, Hindu sant (saint), popularly known as Tuka, Tukobaraya, Tukoba in Maharashtra.
He was a Sant of Varkari sampradaya – that venerates the god Vithoba – in Maharashtra, India.
He was part of the egalitarian, personalized Varkari devotionalism tradition.
Tukaram is best known for his devotional poetry called Abhanga and community-oriented worship with spiritual songs known as kirtans.
His guru was bhakti movement Saint Chaitanya Mahaprabhu.
Tukaram pointed out the evil of wrongdoings of society, social system and Maharajs by his kirtans and abhangs.
Tukaram Gatha is a Marathi language compilation of his works, likely composed between 1632 and 1650.
Also called Abhanga Gatha, the Indian tradition believes it includes some 4,500 abhangs.
Social reforms
Tukaram accepted disciples and devotees without discriminating gender.
Tukaram taught that "pride of caste never made any man holy", "the Vedas and Shastras have said that for the service of God, castes do not matter", "castes do not matter, it is God's name that matters".
The Varkari sect
Sant Tukaram and his work are central to the Varkari sect spread across Maharashtra.
His message about a casteless society and his denial of rituals had led to a social movement.
Sant Tukaram is credited with starting the Wari pilgrimage.
The Wari sees lakhs of devotees congregating in the temple towns of Dehu and Alandi to accompany the padukas of Sant Tukaram and Sant Dyaneshwar respectively as they start for Pandharpur.
Subject: Economy
Section: External Sector
Context: 
UNCTAD's latest World Investment Report suggests a different narrative on foreign direct investment inflows into India in sharp contrast to optimistic official statements of record FDI inflows in 2021-22.
The publication shows inflows dropping by 30% to $45 billion in 2021.
A proximate cause is that big-ticket mergers and acquisitions (M&As) which boosted FDI flows in the recent past were not repeated.
In 2020, for instance, cross-border M&As surged 83% to $27 billion in ICT, health, infrastructure and energy to boost overall FDI to $64 billion.
During the following year, cross-border M&As were down by a massive 70% to $8 billion, which impacted overall flows to the country.
Nevertheless, India remains among the top 10 global FDI recipients.
Statistics
According to official FDI statistics which rose by 2% to $84 billion in 2021-22 — is not very different from the WIR 2022 numbers.
This is largely because they include equity inflows, reinvested earnings — which are largely responsible for the record numbers — and other capital.
If like-to-like comparisons are restricted to equity inflows, official statistics show a decline of 1.4% to $58.8 billion last fiscal.
However, gross FDI inflows also must factor in the record amount of repatriation and disinvestments by foreign investors, which surged to $27 billion in 2020-21 and $28.6 billion in 2021-22.
Deducting these from gross inflows constitute direct investments which were similar at $54.9 billion in both these years and lower than $56 billion registered in 2019-20.
Reasons for the decline
Rapidly waning foreign investor sentiment on green-field investments. 

From $54 billion in 2018, they plunged to $30 billion in 2019, $24 billion in 2020 and $15.7 billion in 2021.

Difficulties in doing business on the ground especially in the various states, regulatory uncertainty and land acquisition problems.
Foreign companies closing down offices or subsidiaries in India.

Between 2014 and November 2021, as many as 2,783 foreign companies closed down operations out of a total of 12,458 active foreign subsidiaries operating in the country.
This was due to completion of business objectives and projects, restructuring by parent company, amalgamation, and other management decisions.
But the reasons also include uncertainties over the policy environment or regulatory hassles.
Way forward
If foreign capital is to contribute to the India growth story, it is necessary to incentivise a much larger proportion of FDI inflows towards the building of green-field factories, industrial parks, and other infrastructure.
Such investments depend on a more stable policy and regulatory framework than the streamlining of procedures and digitisation of paperwork that have improved India's ranking in World Bank's Doing Business indicators.
Reform to free up the land and labour markets and improving the environment to do business in the states is imperative.
It is interesting that WIR 2022 mentions that project finance deals under execution in India include the construction of a steel and cement plant worth $13.5 billion by ArcelorMittal Nippon Steel.
Such plans cannot fructify unless forest, environment and other clearances are speedily provided.
4. Russia delivers more efficient nuclear fuel for Kudankulam
Subject: Science and Technology
Section: Nuclear energy
Context:
Rosatom State Corporation of Russia has supplied the first batches of more reliable and cost-efficient nuclear fuel over the existing one, the TVS-2M nuclear fuel, for VVER-1000 reactors in Kudankulam Nuclear Power Plant (KNPP).
After the next refueling, the reactor will start operations in an 18-month fuel cycle, which was 12 month earlier.
Compared to the current fuel model, the TVS-2M fuel assemblies have a number of advantages making them more reliable and cost-efficient.

Firstly, it is the rigidity of a bundle, as it has a welded frame and the additional spacer grid makes the fuel assemblies more vibration-resistant.
Secondly, the new fuel has increased uranium capacity — one TVS-2M assembly contains 7.6% more fuel material as compared to the earlier fuel bundles.
Also, Kudankulam fuel in particular is the new generation anti-debris filter protecting bundles from debris damage.

Russia is building the KNPP under an Inter-Governmental Agreement (IGA) of 1988 and follow-on agreements in 1998 and 2008.
Subject: Economy
Section:
Diamonds are believed to have been recognized and mined in India first, at the spots where considerably alluvial stone deposits could be found many centuries ago along the rivers Penner, Godavari and Krishna.
However, the diamond industry started  when a local businessman in Surat had brought a boat full of diamond cutters from East Africa to commence the city's diamond polishing industry in 1901.
The diamond cutting and polishing industry started way back in the 1960s when some entrepreneurs belonging to the Patel community of Saurashtra started importing rough diamonds and exporting polished diamonds.
This industry grew gradually until the 1980s after which there was rapid growth.
Also the Patels from Saurashtra and the Jains from north Gujarat venturing together helped the diamond industry of Surat prosper.
The economic reforms in 1991 added to the enlargement of this industry.
Statistics of Surat Diamond Industry
In  2005, Surat was reported to have cut 92% of the entire world's diamond pieces and earned India $15 billion in exports.
India imports for polishing about $11 billion worth of rough diamonds annually, with 80% coming from diamond mining companies and the rest from Antwerp.
The city contributes to more than 80% of the Indian annual export amounting to Rs 70,000 crore.
Every 9 out of 10 diamonds you get to see in the stores in the big cities all over the world are cut and polished in India and 75 % of the credit for the diamonds' shine goes to the Surat Diamond industry.
Over 1.5 million people are engaged in the diamond jewelry industry of Surat and they have made the city, the heart of the nation's diamond polishing industry.
Diamonds account for 54% of the total gem and jewelry export basket of the industry and India is world's leading exporter of Cut and Polished Diamonds.
Surat and many other cities and towns like Navsari, Amreli, Bhavnagar are popular worldwide as big diamond manufacturing/processing centers whereas Mumbai serves as the diamond trading hub.
Future of Diamond Industry
The industry surely had to face problems like lack of technical expertise in the manpower but with improving skills of the laborers, the Surat diamond jewelry industry is now getting orders of larger and pricier stones.
Arrangements are being made by the state and Surat Diamond Association  for training, research, marketing and recognizing new potentials for the diamond industry.
Also, the jewelry park of Surat is trying to bring down major diamond manufacturers of Surat under a single roof.
Most of the work has now become computerized. The number of diamond consumers are increasing day by day and so is the demand.
There is an upcoming Jewelry Park for the Gem &Jewelry entrepreneurs which has all  state-of-the-art facilities providing international level infrastructure of highest quality standards.
Diamantaires is the world's biggest diamond cutting and polishing center in Surat which has been giving sleepless nights to the diamond manufacturers in Israel and Antwerp.
6. CCI penalizes 7 companies for cartelisation in Railways tender
Subject: Economy
Section: Indian economy
Context:
The case was initiated on the basis of a lesser penalty application filed by one of the cartelising entities.
Under Section 46 of the Competition Act, a cartel member may approach the Commission by way of filing an application seeking a lesser penalty, in return for providing full, true and vital disclosures in respect of the alleged cartel to the Commission. The cartelisation was related to the supply of protective tubes to the Indian Railways by means of directly or indirectly determining prices, allocating tenders, controlling supply and market, co-ordinating bid prices and manipulating the bidding process. The evidence in the matter included regular e-mail communications between the parties and filing of bids from same IP addresses by certain parties.
Competition Commission of India
Competition Commission of India (CCI) is a statutory body of the Government of India responsible for enforcing the Competition Act, 2002, it was duly constituted in March 2009.
The Monopolies and Restrictive Trade Practices Act, 1969 (MRTP Act) was repealed and replaced by the Competition Act, 2002, on the recommendations of the Raghavan committee.
Competition Commission of India aims to establish a robust competitive environment.

Through proactive engagement with all stakeholders, including consumers, industry, government and international jurisdictions.
By being a knowledge intensive organization with a high competence level.
Through professionalism, transparency, resolve and wisdom in enforcement.
Competition Act, 2002
The Competition Act was passed in 2002 and has been amended by the Competition (Amendment) Act, 2007. It follows the philosophy of modern competition laws.
The Act prohibits anti-competitive agreements, abuse of dominant position by enterprises and regulates combinations (acquisition, acquiring of control and M&A), which causes or likely to cause an appreciable adverse effect on competition within India.
In accordance with the provisions of the Amendment Act, the Competition Commission of India and the Competition Appellate Tribunal have been established.
Government replaced the Competition Appellate Tribunal (COMPAT) with the National Company Law Appellate Tribunal (NCLAT) in 2017.
Composition of CCI
The Commission consists of one Chairperson and six Members as per the Competition Act who shall be appointed by the Central Government.
The commission is a quasi-judicial body which gives opinions to statutory authorities and also deals with other cases. The Chairperson and other Members shall be whole-time Members.
Eligibility of members: The Chairperson and every other Member shall be a person of ability, integrity and standing and who, has been, or is qualified to be a judge of a High Court, or, has special knowledge of, and professional experience of not less than fifteen years in international trade, economics, business, commerce, law, finance, accountancy, management, industry, public affairs, administration or in any other matter which, in the opinion of the Central Government, may be useful to the Commission.
Functions and Role of CCI
To eliminate practices having adverse effect on competition, promote and sustain competition, protect the interests of consumers and ensure freedom of trade in the markets of India.
To give opinion on competition issues on a reference received from a statutory authority established under any law and to undertake competition advocacy, create public awareness and impart training on competition issues.
The Competition Commission of India takes the following measures to achieve its objectives:

Consumer welfare: To make the markets work for the benefit and welfare of consumers.
Ensure fair and healthy competition in economic activities in the country for faster and inclusive growth and development of the economy.
Implement competition policies with an aim to effectuate the most efficient utilization of economic resources.
Develop and nurture effective relations and interactions with sectoral regulators to ensure smooth alignment of sectoral regulatory laws in tandem with the competition law.
Effectively carry out competition advocacy and spread the information on benefits of competition among all stakeholders to establish and nurture competition culture in Indian economy.

The Competition Commission is India's competition regulator, and an antitrust watchdog for smaller organizations that are unable to defend themselves against large corporations.
CCI has the authority to notify organizations that sell to India if it feels they may be negatively influencing competition in India's domestic market.
The Competition Act guarantees that no enterprise abuses their 'dominant position' in a market through the control of supply, manipulating purchase prices, or adopting practices that deny market access to other competing firms.
A foreign company seeking entry into India through an acquisition or merger will have to abide by the country's competition laws.

Assets and turnover above a certain monetary value will bring the group under the purview of the Competition Commission of India (CCI).
What is a Cartel?
A cartel is defined as a group of firms that gets together to make output and price decisions. The conditions that give rise to an oligopolistic market are also conducive to the formation of a cartel. In particular, cartels tend to arise in markets where there are few firms and each firm has a significant share of the market. In the U.S., cartels are illegal; however, internationally, there are no restrictions on cartel formation. The Organisation of Petroleum Exporting Countries (OPEC) is perhaps the best known example of an international cartel. OPEC members meet regularly to decide how much oil each member of the cartel will be allowed to produce.
A cartel is an organization created from a formal agreement between a group of producers of a good or service to regulate supply in order to regulate or manipulate prices.
According to Competition Commission of India, a "Cartel includes an association of producers, sellers, distributors, traders or service providers who, by agreement amongst themselves, limit, control or attempt to control the production, distribution, sale or price of, or, trade in goods or provision of services".
Oligopolistic firms join a cartel to increase their market power. Members of the cartel work together to determine jointly the level of output that each member will produce and/or the price that each member will charge. By working together, the cartel members are able to behave like a monopolist. For example, if each firm in an oligopoly sells an undifferentiated product like oil, the demand curve that each firm faces will be horizontal at the market price. If, however, the oil producing firms form a cartel like OPEC to determine their output and price, they will jointly face a downward sloping market demand curve, just like a monopolist. In fact, the cartel's profit maximising decision is the same as that of a monopolist.
Once established, cartels are difficult to maintain. The problem is that cartel members will be tempted to cheat on their agreement to limit production. By producing more output than it has agreed to produce, a cartel member can increase its share of profits. Hence, there is a built in incentive for each cartel member to cheat. Of course, if all members cheated, the cartel would cease to Oligopoly: Price and Output Decisions 271 earn monopoly profits, and there would no longer be any incentive for firms to remain in the cartel. The cheating problem has plagued the OPEC cartel as well as other cartels and perhaps explains why so few cartels exist
The International Competition Network, which is a global body dedicated to enforcing competition law, has a simpler definition. The three common components of a cartel are:

an agreement;
between competitors;
to restrict competition.

The agreement that forms a cartel need not be formal or written. Cartels almost invariably involve secret conspiracies.
Cartels are competitors in the same industry and seek to reduce that competition by controlling the price in agreement with one another.
Tactics used by cartels include reduction of supply, price-fixing, collusive bidding, and market carving.
According to ICN, four categories of conduct are commonly identified across jurisdictions (countries). These are:

price-fixing;
output restrictions;
market allocation and
bid-rigging

By artificially holding back the supply or raising prices in a coordinated manner, companies either force some consumers out of the market by making the commodity (say, beer) more scarce or by earning profits that free competition would not have allowed.
Why cartels can be even worse than monopolies?
It is generally well understood that monopolies are bad for both individual consumer interest as well as the society at large. That's because a monopolist completely dominates the concerned market and, more often than not, abuses this dominance either in the form of charging higher than warranted prices or by providing lower than the warranted quality of the good or service in question.
Unlike a monopolist, who may be forced to undertake product innovation — lest some new firm figures out a more efficient way of providing the good/service — members of a cartel sit pretty because they know that while none of them may be individually dominant in the market, by synching their pricing or productive actions they not only act as a monopolist but also rule out the possibility of allowing some new firm from upstaging the whole arrangement.
Apart from the whole issue of charging higher prices, cartels (as against monopolists) neither have any incentive to invest in research aimed at improving their product nor do they see any reason why they should boost investments towards making the methods of production more efficient.
The end result is that both the individual consumer as well as the society at large suffers.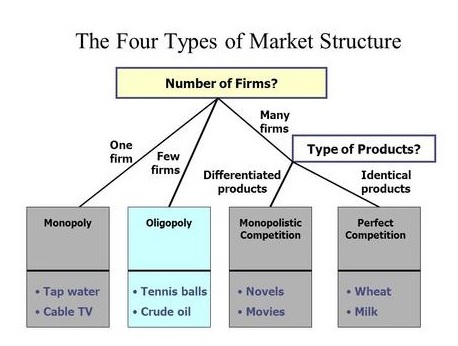 Perfect Competition
In a perfect competition market structure, there are a large number of buyers and sellers.
All the sellers of the market are small sellers in competition with each other.
There is no one big seller with any significant influence on the market. So all the firms in such a market are price takers.
Monopolistic Competition
This is a more realistic scenario that actually occurs in the real world.
In monopolistic competition, there are still a large number of buyers as well as sellers. But they all do not sell homogeneous products. The products are similar but all sellers sell slightly differentiated products.
Now the consumers have the preference of choosing one product over another.
The sellers can also charge a marginally higher price since they may enjoy some market power. So the sellers become the price setters to a certain extent.
Oligopoly
In an oligopoly, there are only a few firms in the market. While there is no clarity about the number of firms, 3-5 dominant firms are considered the norm.
So in the case of an oligopoly, the buyers are far greater than the sellers.
The firms in this case either compete with another to collaborate together. They use their market influence to set the prices and in turn maximize their profits.
So the consumers become the price takers.
In an oligopoly, there are various barriers to entry in the market, and new firms find it difficult to establish themselves.
Monopoly
In a monopoly type of market structure, there is only one seller, so a single firm will control the entire market. It can set any price it wishes since it has all the market power. Consumers do not have any alternative and must pay the price set by the seller.
Monopolies are extremely undesirable. Here the consumer loose all their power and market forces become irrelevant. However, a pure monopoly is very rare in reality.
7. India, SA, Indonesia want focus on e-commerce developmental aspects
Subject: Economy
Section: Indian economy
Call for discussions on redressing inequitable gains, uneven spread.
This is for consideration at the 12th Ministerial Conference in Geneva beginning on June 12.
The submission by the three is also important in the light of attempts made by a group of countries, led by several developed nations, to push a plurilateral agreement (under the so-called joint sector initiative) on framing e-commerce rules.
Joint Initiative on E-commerce
A group of 71 WTO members agreed at the 11th Ministerial Conference in December 2017 to initiate exploratory work towards future WTO negotiations on trade-related aspects of e-commerce.
The negotiations are based on members' textual proposals made available to the whole WTO membership.
The issues raised in members' submissions are discussed under six main themes: enabling electronic commerce, openness and electronic commerce, trust and digital trade, cross-cutting issues, telecommunications, and market access.
Throughout the negotiations, participants have been encouraged by the co-conveners to consider the opportunities and challenges faced by members, including developing and least-developed countries, as well as by small businesses.
India's take on E-commerce at WTO
India at the World Trade Organization (WTO) held that it will not join the negotiations to develop trade rules on e-commerce, as India felt these negotiations are against India's interests.
Despite protests from major economies like India, 76 mostly developed nations agreed to initiate talks on e-commerce.
It has raised concerns and anxiety amongst industry and policymakers in India.
Why is India not joining e-commerce negotiations?
Data is the new oil of the 21st century. Data is the heart of the digital revolution,
It is the key resource which can make or break a country in the digital era as all digital technologies like Big data analytics, artificial intelligence, IoT, Robotics, etc need data for them to become more efficient and intelligent.

The larger the population of a country, the larger will be the amount of data generated, and younger the population the more will be the data generated.
India's 1.3-billion population is bigger than the population of OECD members (36 countries) taken together, with 66% of its population falling in the age group of 15-64 years, which is around 18 percent of the world's young population.
This amounts to huge data being generated every second in India, which is extremely valuable for the developed world for making efficient digital products and services in the future.
This is the root cause for the pressure being applied on India to join the plurilateral e-commerce negotiations.

During the first industrial revolution,the countries which processed oil were developed, not the ones who produced it.

Similarly, today countries which process data are/will be developed rather than those generating huge data.

In this scenario, where data is the new currency of the 21st century, the term 'e-commerce rules' is misleading because:

The rules that are being negotiated go much beyond e-commerce and encompass all digital rules which are required by the developed world to make sure that they have free access to data of the world in future as well.
This accounts for India's reluctance over the negotiations on e-commerce as India still doesn't have any comprehensive law on data protection and data ownership nor an e-commerce law, subject to changing dynamics of the digital revolution.
India fears that new rules could provide the pretext for unfair mandatory market access to foreign companies. This will hurt the rapidly growing domestic e-commerce sector, which is still developing in India.
8. April IIP sizzles, hits 8 month high of 7.1% led by power, mining
India's industrial growth, as per the Index of Industrial Production (IIP), quickened to 7.1 percent in April from 2.2 percent in March, data released on June 10 by the Ministry of Statistics and Programme Implementation showed.
At 7.1 percent, the April industrial growth rate is the highest in eight months, although it has been aided by a favourable base effect.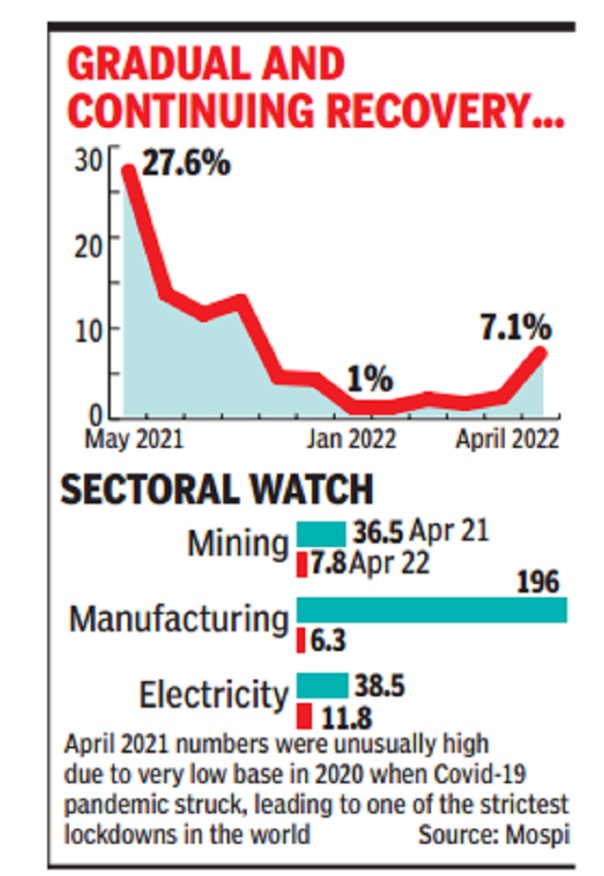 Base Effect
The base effect refers to the impact of the rise in price level (i.e. last year's inflation) in the previous year over the corresponding rise in price levels in the current year (i.e., current inflation)
If the price index had risen at a high rate in the corresponding period of the previous year leading to a high inflation rate, some of the potential rise is already factored in, therefore a similar absolute increase in the Price index in the current year will lead to a relatively lower inflation rates.