Daily Prelims Notes 18 November 2022
November 18, 2022

Posted by:

OptimizeIAS Team

Category:

DPN

Daily Prelims Notes
18 November 2022
Table Of Contents
Subject : Art and Culture
Context :During the G20 Summit, PM Modi mentioned Baliyatra, literally 'voyage to Bali', one of the country's largest open-air fairs that commemorates the 2,000-year-old maritime and cultural links between ancient Kalinga and Southeast Asia.
Concept :
Baliyatra, literally 'voyage to Bali', is one of the country's largest open-air fairs, which is organised every year to commemorate the 2,000-year-old maritime and cultural links between ancient Kalinga (today's Odisha) and Bali and other South and Southeast Asian regions like Java, Sumatra, Borneo, Burma (Myanmar) and Ceylon (Sri Lanka).
The popular items of trade between Kalinga and Southeast Asia were pepper, cinnamon, cardamom, silk, camphor, gold, and jewellery.
This year's Baliyatra also found a place in the Guinness World Records for achieving an impressive feat of origami, the creation of beautiful paper sculptures.
About Baliyatra Festival
Bali Jatra is also known as Bali Yatra and BoitaBandaṇa which means 'A Voyage to Bali'.
This festival is held in Odisha, in the city of Cuttack at GadagadiaGhata of the Mahanadi river. 
The festival is celebrated every yearfrom the day of Kartika Purnima according to the Odia Calendar, which comes around the end of October and November.
It is celebrated to mark the day when ancient Sadhabas (Odia mariners) would set sail to distant lands of Bali, as well as Java , Sumatra and Sri Lanka for trade and cultural expansion.
People of Odisha gather near banks of Mahanadi, Brahmani river, other river banks, ponds to float miniature toy boats, made of colored paper as a symbolic gesture of their ancestors' voyage.
In Cuttack, Bali Jatra is celebrated annually as a large open fair near the Barabati Fort area with several cultural programs, toy stalls, different games and food stalls selling Odia delicacies.
2. Ancient link between Kashi and Tami Nadu
Subject : Ancient History / Culture
Concept :
Linkages between Kashi and Kanchi
The connection between the two centers of knowledge (Kashi and Kanchi) is evident in the similar themes in literature, and the presence of the name Kashi in every village in Tamil Nadu.
Since ancient times, higher education in Southern India was not considered complete without a visit by the scholar to Kashi.
Besides the Kasi Viswanathar temple in Tenkasi, there are hundreds of Shiva temples in Tamil Nadu that bear the name of Kashi — there are some 18 of them in the area around Chennai alone.
People from Rameswaram would take a dip in the Kotiteertha (in the temple) before visiting Kashi for darshan; and they would bring back (Ganga) water from Kashi for abhiseka at the temple in Rameswaram.
History of ties between Kashi and Tamil Nadu
King Parakrama Pandya:
He ruled over the region around Madurai in the 15th century
Legend has it that he wanted to build a temple to Lord Shiva, and traveled to Kashi to bring back a lingam.
While returning, the king stopped to rest under a tree — but when he tried to continue his journey, the cow carrying the lingam refused to move.
Then he installed the lingam there, a place that came to be known as Sivakasi.
For devotees who could not visit Kashi, the Pandyas had built the Kasi Viswanathar Temple in what is today Tenkasi in southwestern Tamil Nadu.
Adhivir Ram Pandyan:
Much later, another king, Adhivir Ram Pandyan, after returning from a pilgrimage to Kashi, constructed another Shiva temple in Tenkasi in the 19th century
Sant Kumara Gurupara:
He was from Thoothukudi district and had negotiated with the princely state of Kashi to get a place for the consecration of Kedarghat and Vishvesvaralingam in Varanasi.
He also composed Kashi Kalambagam, a collection of grammar poems on Kashi.
Subject: Economy
Context:
Global India must maintain the sanctity of international arbitral proceedings–CJI said with respect to the Amazon arbitration case.
Concept:
International arbitration is arbitration between companies or individuals in different states, usually by including a provision for future disputes in a contract.
International arbitration allows the parties to avoid local court procedures.
Arbitration agreements and arbitral awards are enforced under the United Nations Convention on the Recognition and Enforcement of Foreign Arbitral Awards of 1958 (the "New York Convention").

The New York Convention-provides for court recognition and enforcement of foreign arbitration decisions.
In contrast, there is no equivalent treaty for the international recognition of court decisions with a large membership and no equivalent treaty exists so far for the international recognition of settlements achieved in mediation or conciliation.
Article III requires courts in contracting states to recognize international arbitral awards as binding and enforce them.
Article V provides for seven reasons that a court can use to refuse to enforce the award.

The International Centre for the Settlement of Investment Disputes (ICSID) also handles arbitration, but it is limited to investor-state dispute settlement.
Several major international institutions and rule making bodies set out rules and appoint arbitrators:

International Court of Arbitration
London Court of International Arbitration
Singapore International Arbitration Centre
Hong Kong International Arbitration Centre
Arbitration Institute of the Stockholm Chamber of Commerce
International Centre for Settlement of Investment Disputes
American Arbitration Association (International Center for Dispute Resolution)
Center for Arbitration and Mediation of the Chamber of Commerce Brazil-Canada

Specialist ADR bodies also exist, such as the World Intellectual Property Organisation (WIPO), which has an arbitration and mediation center and a panel of international neutrals specialising in intellectual property and technology related disputes.
Subject :Science and Technology
Context:
In over 100 bilateral investment treaties that the US signed, all of them have TRIPS-plus provisions which has caused problems across the globe.
Concept:
"TRIPS-plus" is an informal term for protection of intellectual property rights that goes beyond the requirements in the TRIPS Agreement.
These are higher levels of protection norms demanded by the developed countries that are not prescribed by the WTO's TRIPs regime.
Although they are named as 'TRIPS-Plus,' they are not formally related to TRIPs. 
Rather, the term is used to indicate that these requirements go beyond the minimum standards imposed by TRIPs.
Many developing countries who are members of FTAs are under pressure to enact these tougher conditions in their patent laws.
An example for advanced norms under TRIPs Plus is the protection demanded by developed countries for data exclusivity.

 Data exclusivity is the protection of clinical test data submitted to a regulatory agency to prove safety, quality and efficacy of a new drug, and preventing the generic drug manufacturers from relying on this data in their own applications. Such data exclusivity will stop generic drug manufacturers of developing countries from using these data while applying for licenses.
Subject: Science and Technology
Context:
The US says India's non-GMO certificate requirement hurt its apple, rice exports.
Concept:
Legal Position of GM crops in India:
In India, the Genetic Engineering Appraisal Committee (GEAC) is the apex body that allows for commercial release of GM crops.
Use of the unapproved GM variant can attract a jail term of 5 years and fine of Rs. 1 lakh under the Environment Protection Act, 1986.
The task of regulating GMO levels in imported consumables was initially with the Genetic Engineering Appraisal Committee (GEAC).
Its role was diluted with the enactment of the Food Safety and Standards Act, 2006 and FSSAI was asked to take over approvals of imported goods.
In August 2020, FSSAI had issued the order that 24 food crops the country imports would need a 'non-GM-origin-cum-GM-free certificate' issued by a Competent National Authority of the exporting country.

The items include pineapples, apples, wheat, rice, tomato, potato, maize, melon, plum, papaya, potato, egg plant, bean, among others.
The  requirement of a non-GM certificate is on  consignment basis.
The authority defined the GMO threshold of 1% on these crops for certification.
Laboratories in India can detect as little as 0.01 per cent presence of GMO in foods, the letter pointed out. So, the country must aim to accept imported consignments only when there is no trace of GMO in the products, especially processed food, and they come with a GMO-free certificate.
Genetically Modified Organisms (GMOs)-
They  are living organisms whose genetic material has been artificially manipulated in a laboratory through genetic engineering in order to favour the expression of desired physiological traits or the generation of desired biological products
This creates combinations of plant, animal, bacteria, and virus genes that do not occur in nature or through traditional crossbreeding methods.
Most GMOs have been engineered to withstand the direct application of herbicide and/or to produce an insecticide.
However, new technologies are now being used to artificially develop other traits in plants, such as a resistance to browning in apples, and to create new organisms using synthetic biology.
Genetically Modified( GM ) Crops
They are that type of plants whose DNA has been modified through genetic engineering for embedding a new trait to the plant which does not occur naturally in the species.
Genetic engineering aims to transcend the genus barrier by introducing an alien gene in the seeds to get the desired effects and the alien gene could be from a plant, an animal or even a soil bacterium.
Across the world, GM variants of maize, canola and soybean etc , are available.
GM crops in India:
Bt cotton, the only GM crop that is allowed in India since  2002, has two alien genes from the soil bacterium Bacillus thuringiensis (Bt) that allows the crop to develop a protein toxic to the common pest pink bollworm and the other is HtBt cotton which is derived with the insertion of an additional gene, from another soil bacterium, which allows the plant to resist the common herbicide glyphosate.
In Bt brinjal, a gene permits the plant to resist attacks of fruit and shoot borers.
Previously, the government has put on hold the commercial release of genetically modified (GM) mustard due to stiff opposition from anti-GM activists and NGOs.
6. Registered Investment Advisor
Subject :Economy
Context: SEBI will soon come out with guidelines for financial influencers, usually referred to as fin-fluencers–who give stock advice on social media platforms.
Details:
SEBI will make it mandatory for social media influencers to register and make them follow most of the other norms that are applicable to the registered financial advisors.
Concept:
In India, the Securities and Exchange Board of India (SEBI) is a financial services regulator and market regulator.
Investment advisors who are registered with SEBI can only provide financial advice to investors and clients with respect to various financial products.
Who needs to register as an Investment Advisor?
Any individual, sole proprietor, partnership firm, company or body corporate can apply to be a Registered Investment Advisor (RIA) in India.
If the number of clients exceeds 150 members, then it is mandatory for an advisor to register with SEBI. However, the following are exempted from SEBI registration:

Insurance agents or brokers registered with IRDAI
Pension advisors registered with PFRDA
Mutual fund distributors registered with AMFI who can provide basic advice to clients incidental to distribution activity
Members of Institute of Company Secretaries of India, Institute of Cost and Works Accountants of India, and Institute of Chartered Accountants of India who can provide advice to clients incidental to their services.

SEBI Investment Advisers Regulation, 2013 regulates investment advisors in India.
Eligibility criteria
For individual RIAs, partnership firms, companies and LLPs to be eligible to be an investment advisor, they need to meet the net worth requirements. 

For an individual, the net worth requirement is INR 5 lakhs. Before the amendment, the net worth requirements were INR 1 lakh.

A partnership firm has a net worth requirement of INR 50 lakhs. Prior to the amendment, the net worth requirements were INR 1 lakh.
For companies, body corporate and LLPs, the net worth requirement is INR 50 lakhs. Before the amendment, it was INR 25 lakhs.
Qualification
Professional qualification or postgraduate degree or postgraduate diploma in finance, business management, banking, capital market, accountancy, commerce, economics, or insurance with five years of experience.
Have a NISM level 2 certification.
What is the difference between an RIA and a financial advisor?
An RIA or Registered Investment Advisor advises and manages the portfolio of high net worth individuals.

RIAs are required to be registered with SEBI.

Financial advisors are individuals who offer guidance for investment, tax planning, insurance and retirement planning to investors for a fee.

They aren't different from RIAs. However, they offer broader services than RIAs.
 Stockbrokers, insurance agents, financial planners all can be considered as financial advisors. They do not have a fiduciary obligation, but they are expected to serve the client's best interest and make decisions that will benefit their client
Subject: Economy
Context:
The central government has sanctioned ₹60,000 crore of long-term capital expenditure funds to states.
Concept:
Scheme Special Assistance to States for Capital Investment
Under this Scheme, financial assistance is provided to the States Governments in the form of 50-year interest free loan for capital investment projects.
For the 2022-23 Financial Year (FY) a total financial assistance of Rs 1 lakh crore would be given to states.
The loan under the scheme would be over and above the normal borrowing ceiling allowed to states for FY 2022-23 and should be spent in the same year.
This allocation will be used for PM Gati Shakti related and other productive capital investment of the States including components for:

Supplemental funding for priority segments of PM Gram Sadak Yojana, including support for the States' share,
Digitization of the economy, including digital payments and completion of OFC network, and
Reforms related to building bye laws, town planning schemes, transit-oriented development, and transferable development rights.

The scheme entails ₹80,000 crore to be given based on the Fifteenth Finance Commission (FFC) formula and ₹20,000 crore, which is linked to reforms.

The FFC's formula for the devolution of funds is based on principles of need, equity and performance and takes into account factors like population, area and gap in per capita income compared to that of the richest state.
15th Finance Commission on Fiscal roadmap
Fiscal deficit and debt levels:

The Centre brings down the fiscal deficit to 4% of GDP by 2025-26.
For states-(i) 4% in 2021-22, (ii) 3.5% in 2022-23, and (iii) 3% during 2023-26.

 If a state is unable to fully utilise the sanctioned borrowing limit as specified above during the first four years (2021-25), it can avail the unutilised borrowing amount (calculated in rupees) in subsequent years (within the 2021-26 period).
Extra annual borrowing worth 0.5% of GSDP will be allowed to states during first four years (2021-25) upon undertaking power sector reforms including: (i) reduction in operational losses, (ii) reduction in revenue gap, (iii) reduction in payment of cash subsidy by adopting direct benefit transfer, and (iv) reduction in tariff subsidy as a percentage of revenue.
The Commission observed that the recommended path for fiscal deficit for the centre and states will result in a reduction of total liabilities of: (i) the centre from 62.9% of GDP in 2020-21 to 56.6% in 2025-26, and (ii) the states on aggregate from 33.1% of GDP in 2020-21 to 32.5% by 2025-26.
It recommended forming a high-powered inter-governmental group to: (i) review the Fiscal Responsibility and Budget Management Act (FRBM), (ii) recommend a new FRBM framework for centre as well as states, and oversee its implementation.
Revenue mobilisation:  Income and asset-based taxation should be strengthened.  To reduce excessive dependence on income tax on salaried incomes, the coverage of provisions related to tax deduction and collection at source (TDS/TCS) should be expanded.  Stamp duty and registration fees at the state level have large untapped potential.  Computerised property records should be integrated with the registration of transactions, and the market value of properties should be captured.  State governments should streamline the methodology of property valuation.
GST: The inverted duty structure between intermediate inputs and final outputs present in GST needs to be resolved.  Revenue neutrality of GST rate should be restored which has been compromised by multiple rate structures and several downward adjustments.  Rate structure should be rationalised by merging the rates of 12% and 18%.  States need to step up field efforts for expanding the GST base and for ensuring compliance.
Financial management practices: 

A comprehensive framework for public financial management should be developed.
An independent Fiscal Council should be established with powers to assess records from the centre as well as states.
A time-bound plan for phased adoption of standard-based accounting and financial reporting for both centre and states and eventual adoption of accrual-based accounting.
The centre as well as states should not resort to off-budget financing or any other non-transparent means of financing for any expenditure.
A standardised framework for reporting of contingent liabilities should be devised.
Both centre and states should strive to improve the accuracy and consistency of macroeconomic and fiscal forecasting.
States should amend their fiscal responsibility legislation to ensure consistency with the centre's legislation, in particular, with the definition of debt.
8. Plea for Collegium system review
Subject : Polity
Context: The Supreme Court has agreed to hear a plea challenging the collegium system of appointing judges to the Supreme Court and the high courts.
Concept : 
The petitioner contended that the Supreme Court's 2015 judgment had thwarted the will of the people by striking down the99th constitution amendment act which introduced the National Judicial Appointment Commission for the appointment of judges in higher courts.
The petition also said that the 2015 judgment be rendered void ab initio as it had revived the collegium system.
Void ab initio :
Void ab initio means that a legal document, contract, agreement, or transaction is legally void from the start or beginning.
"Void" means something that does not produce any legal effect or has any legal value.
"Ab initio" is a Latin phrase meaning "from the start" or "from the beginning".
About National Judicial Appointment Commission
The NJAC was established by amending the Constitution [Constitution (Ninety-Ninth Amendment) Act, 2014] passed by the parliament.
NJAC is a body responsible for the appointment and transfer of judges to the higher judiciary in India.
NJAC act sought to replace the collegium system of appointing the judges of Supreme Court and High Courts.
Through judicial appointments commission, the executive will have a say in appointing the judges.
A new article, Article 124A, (which provides for the composition of the NJAC) was to be inserted into the Constitution.
The act provided for the procedure to be followed by the NJAC for recommending persons for appointment as Chief Justice of India and other Judges of the Supreme Court (SC), and Chief Justice and other Judges of High Courts (HC).
According to the act  the commission will consist of the following members:
Chief Justice of India (Chairperson, ex officio)
Two other senior judges of the Supreme Court next to the Chief Justice of India – ex officio
The Union Minister of Law and Justice, ex-officio
Two 'eminent persons'. These eminent persons are to be nominated for a three-year term by a committee consisting of the Chief Justice, the Prime Minister, and the Leader of the Opposition in the Lok Sabha, and are not eligible for re-nomination.
9. What is carbon border tax, which India opposed at COP27
Subject: Environment
Context-
A group of countries including India has opposed the carbon border taxes policy at the COP27 in Sharm El Sheikh, saying it could "result in market distortion".
Carbon Border Adjustment mechanism (CBAM)-
The Carbon Border Adjustment Mechanism is a plan from the European Union (EU) to tax carbon-intensive products, such as iron and steel, cement, fertiliser, aluminium and electricity generation, from 2026.
The CBAM will equalise the price of carbon between domestic products and imports and ensure that the EU's climate objectives are not undermined by production relocating to countries with less ambitious policies.
What are carbon border taxes-
The carbon border tax involves imposing an import duty on a product manufactured in a country with more lax climate rules than the one buying it.
'Carbon leakage': Why need for tax was felt
Some developed nations, in efforts to cut emissions, impose high costs on carbon-intensive businesses in their own countries.
Businesses can potentially sidestep this simply by moving production to a country with less stringent rules, a practice called carbon leakage.
Companies based in the EU could move carbon-intensive production abroad to take advantage of lax standards, or EU products could be replaced by more carbon-intensive imports.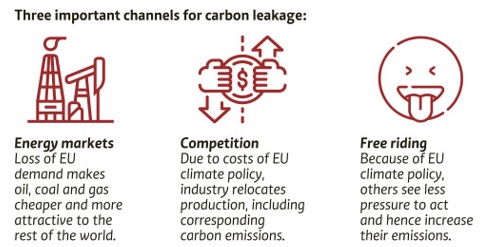 10. Smugglers trafficking rhino horns with impunity: report
Subject : Environment
Context-
The seizure of rhino horns by weight has increased after 2017 despite a reduction in poaching, a global threat assessment report presented at a convention of the conservation agencies in Panama City, said.
Report on Rhino trafficking-
Wildlife Justice Commisssion (WJC) has prepared the document titled ''Executive Summary of the Rhino Horn Trafficking as a Form of Transnational Organised Crime (2012-2021): 2022 Global Threat Assessment' with the support of 'World Wildlife Fund for Nature (WWF)' and presented the report at the Conference of Parties organised by the Convention on International Trade in Endangered Species of Wild Fauna and Flora (CITES).
The threat assessment was compiled from the analysis of 674 rhino horn seizure incidents that had occurred globally during this decade, in addition to seven years of criminal intelligence and findings from the WJC investigations into the rhino horn trafficking, conducted since 2015.
Major findings of the report-
The report said six countries and territories have dominated the rhino horn trafficking routes from the source to the destination locations although more than 50 countries and territories were implicated in the transnational crime.
These countries were South Africa, Mozambique, Malaysia, Hong Kong Special Administrative Region, Vietnam, and China.
The investigation has led to the "prolific" Vietnamese and Chinese criminal networks driving the trafficking of the horns throughout the supply chain.
The use of online trade, social media platforms, and instant messaging apps has increased substantially to become the most important channel through which rhino horn is distributed in the illegal trade.
11. COP27: Experts flag proposals to include carbon removals in UN trading mechanism
Subject : Environment
Context-
Many concerns have been raised over recommendations to include carbon removals for carbon-trading mechanisms under the United Nations. Civil society groups said carbon removals do not align with the 1.5-degree goal of the Paris Agreement.
Carbon removal-
'Carbon removal' means removing carbon dioxide from the atmosphere.

It can be land-based–
afforestation or reforestation,
direct air capture (where big machines suck CO2),
soil carbon sequestration using no-till agriculture and other practices,
sequestering carbon from biofuel.
Ocean-based removals–
pumping CO2 into the ocean by spreading iron (ocean fertilisation)
pumping nutrient-rich waters from the depths to the surface and pumping surface waters downward to transport carbon to the ocean depths.
Carbon removal under Paris Climate deal 2015-
Article 2.1 of the 2015 Paris Agreement aims to hold increasing temperatures to "well below 2°C above pre-industrial levels" while "pursuing efforts" towards the more ambitious limit of 1.5°C.
Article 6.4establishes a mechanism under the United Nations to allow countries to voluntarily cooperate to meet their climate targets.
The supervisory body is responsible for framing recommendations around the types of activities (methodologies) allowed under 6.4 and how they should be verified.
It is also tasked with making recommendations on carbon removals, including reporting, monitoring and addressing concerns over the technology and social impacts.
These recommendations will be approved by the Conference of the Parties serving as the meeting of the Parties to the Paris Agreement (CMA).
Once approved, a developer (a country, a business, or an individual) can start issuing the UN-recognised credits for a project only after getting approval from the host country and the supervisory body.
Oceans as Carbon sinks-
Oceans have a vast potential for storing carbon dioxide naturally.
Nutrients like iron can increase photosynthesis among phytoplankton, which then incorporate carbon into their system.
The remaining uneaten planktons sink to the bottom and lock up the carbon.
Risk involved-

Ocean acidification
Human Rights violation due to poor afforestation implementation practices.
Threat to the livelihood of the coastal communities
12. Equity, unabated coal phasedown in first draft of COP27 'Cover Decision'; other elements missing
Subject : Environment
Context-
The Presidency of the 27th Conference of Parties (COP27) to the United Nations Framework Convention on Climate Change (UNFCCC) produced a 'non-paper'  on the morning of November 17, 2022. It did so by compiling inputs from various countries, with the intent of producing a cover decision.
About the document-
The document has extensive sections on the energy crisis, Intergovernmental Panel on Climate Change report findings and multilateral development banks (MDBs).
The document reiterates the equity principles of the UNFCCC and the 2015 Paris Agreement despite resistance from many countries such as the United States, Switzerland and Australia.
It calls for the establishment of a new work programme on just transition.
On the UN's REDD+ programme, it supports offering more finance for REDD+ results assessed and verified under Article 5.2 of the Paris Agreement, to help countries meet their nationally determined contributions (NDC) and net zero goals.
Article 5.2 of the Paris Climate Agreement- 

Parties are encouraged to take action to implement and support, including through results-based payments, the existing framework as set out in related guidance and decisions already agreed under the Convention for: policy approaches and positive incentives for activities relating to reducing emissions from deforestation and forest degradation, and the role of conservation, sustainable management of forests and enhancement of forest carbon stocks in developing countries; and alternative policy approaches, such as joint mitigation and adaptation approaches for the integral and sustainable management of forests, while reaffirming the importance of incentivizing, as appropriate, non-carbon benefits associated with such approaches.

On finance, it "expresses grave concern" that the $100 billion climate finance goal has not been met by developed countries.
Subject :Environment
It is a non-profit organisation that works with business and government leaders around the world to solve the issue of climate change. The group has programmes aims at renewable energy and lowering greenhouse gas emissions. Launched in 2004, the organisation operates internationally with offices in the UK (headquarters), the United States, and India.
It acts as the secretariat for the Under2 Coalition
The organisation's business endeavors "RE100", "EP100" and "EV100", which are run as part of the We Mean Business coalition, seek to grow corporate demand for renewable energy, energy productivity, and electric transport, revving the transition to a zero-emissions economy while supporting leading businesses to lower carbon emissions, be more resilient and increase returns.
Subject : Environment
The Under2 Coalition is a coalition of subnational governments that aims to achieve greenhouse gases emissions mitigation.
The memorandum was developed just before the 2015 United Nations Climate Change Conference also known as COP 21 or Paris Agreement.
It was signed by twelve founding jurisdictions on May 19, 2015 in Sacramento, California.
Originally called the Under2 MOU, it became known as the Under2 Coalition in 2017.
As of October 2022, the list of signatories had grown to 270 governments which represented over 1.75 billion people and 50% of the world economy.
The Under2 MOU was conceived through a partnership between the governments of California and Baden-Wurttemberg.
The Climate Group acting as secretariat.
Purpose-

The intent of the memorandum signatories is for each to achieve Greenhouse gasemissionreductions consistent with a trajectory of 80 to 95 percent below 1990 levels by 2050 and/or achieving a per capita annual emission goal of less than 2 metric tons by 2050.

The Under2 MOU allows subnational governments such as cities, counties and states to highlight their work to reduce greenhouse gas emissions.
Subject : Environment
Race To Zero is a global campaign to rally leadership and support from businesses, cities, regions, investors for a healthy, resilient, zero carbon recovery that prevents future threats, creates decent jobs, and unlocks inclusive, sustainable growth.
It mobilises a coalition of leading net-zero initiatives, representing 11,309 non-State actors including 8,307 companies, 595 financial institutions, 1,136 cities, 52 states and regions, 1,125 educational institutions and 65 healthcare institutions (as of September 2022).
The objective is to build momentum around the shift to a decarbonized economy ahead of COP26, where governments must strengthen their contributions to the Paris Agreement.
This will send governments a resounding signal that business, cities, regions and investors are united in meeting the Paris goals and creating a more inclusive and resilient economy.
Subject : Environment
RE100 is the global corporate renewable energy initiative bringing together hundreds of large and ambitious businesses committed to 100% renewable electricity.
Launched at Climate Week NYC 2014 and now with 73 members,RE100 believes that switching the private sector's energy demand, which accounts for about half of the world's electricity consumption, to renewables will accelerate the transformation of the global energy market and aid the transition to a low carbon economy.
Recently, Apple INc. has joined the RE100.
Infosys became the first Indian Company to Join RE100 Renewable Energy Campaign.
Infosys joined some of the world's most influential companies such as IKEA, Swiss Re, BT, Formula E, H&M, KPN, Mars, Nestlé, Philips, among others, which are taking bold steps to create transformative change needed to drive a clean energy revolution.
Subject : Environment
EP100 is a global initiative started in 2016, led by the international non-profit Climate Group, bringing together over 120 energy smart businesses committed to measuring and reporting on energy efficiency improvements.
Energy efficiency is essential as it can deliver over 40% of the reduction in energy related emissions needed to achieve global climate goals.
Purpose:

The Climate Group's global EP100 initiative in partnership with the Alliance to Save Energy brings together a growing group of energy-smart companies committed to using energy more productively, to lower greenhouse gas emissions and accelerate a clean economy.
EV100 campaign:
The EV100 campaign is an initiative of Climate Group, an international non-profit organization.
The campaign aims to make electric transport the new normal by 2030.
For that, it will encourage companies to switch from vehicles running on fossil fuels to EVs and install charging infrastructure.
Maharashtra is the first state in the country to join this campaign.
18. Center to Supreme Court to review order freeing Rajiv Gandhi Convicts
Subject : Polity
Context:
Recently Center had filed the review petition in Supreme Court in order of freeing Rajiv Gandhi convicts.
What is the issue:
The Supreme Court has set free the remaining six convicts in the Rajiv Gandhi assassination case, extending to them the benefit of its order releasing their co-convict A G Perarivalan.
What is the background of the case:
In 2014, the Supreme Court had commuted the death sentence of AG Perarivalan, one of the convicts in the Rajiv Gandhi assassination case, to life imprisonment on account of the undue and unexplained delay in deciding his mercy plea.
Subsequently in 2018, Perarivalan submitted an early release application to the Governor of Tamil Nadu under Article 161 of the Constitution.
The then Governor of Tamil Nadu decided to refer the plea to the President of India.
The Tamil Nadu government objected to such 'reference', which has no statutory or constitutional validity.
Both Perarivalan and the Tamil Nadu government, in 2018, approached the Supreme Court due to the delay in his release, despite a recommendation given by the then Tamil Nadu government to remit his sentence.
What is Supreme Court Judgement of May 2022:
In May 2022, the Supreme Court ordered the release of AG Perarivalan, invoking powers under Article 142 of the Constitution.
The court was of the view that the inordinate delay in deciding Perarivalan's early release plea by the Governor under Article 161 warranted his release.
The court observed that the inordinate delay by the Tamil Nadu Governor in exercising his powers under Article 161 can be subject to judicial review.
The court opined that the state government is well-within its authority to aid and advise the Governor in pardon and remission pleas pertaining to cases of murder
What center said in its review petition:
In its review petition, the Centre said that the order was passed without affording it an adequate opportunity of hearing,
Moreover, the order suffers from errors apparent on the face of record and falls foul of principles of natural justice.
The convicts who approached the court seeking remission had not made the Union of India a respondent in their plea despite it being a necessary and proper party to the issue.
This procedural lapse on the part of the petitioners resulted in non-participation of the Unionof India in subsequent hearings of the case.
What is Miscarriage of justice:
A miscarriage of justice occurs when a grossly unfair outcome occurs in a criminal or civil proceeding, such as the conviction and punishment of a person for a crime they did not commit.
Miscarriages are also known as wrongful convictions.
Subject : Polity
Context:
The Appointment Committee of the Cabinet has approved appointments to fill 23 vacancies, including 11 as judicial members and 12 as administrative members, in the Armed Forces Tribunal
What is Armed Force Tribunal:
It is a military tribunal with the power of adjudication or trial of disputes and complaints related to commission, appointments, enrolments and conditions of service.
It was established in August 2009 by the Armed Forces Tribunal Act 2007.
Besides the Principal Bench in New Delhi, the Armed Force Tribunal has 10 Regional Benches i.e Regional Benches at Chandigarh, Lucknow, Kolkata, Guwahati, Chennai, Kochi, Mumbai, Jabalpur, Srinagar and Jaipur
What is the composition of Armed Force Tribunal:
The Tribunal is composed of Judicial Members as well as Administrative Members.
The Judicial Members are retired High Court Judges.
Administrative Members are retired Members of the Armed Forces who have held the rank of Major General/ equivalent or above for a period of three years or more or the Judge Advocate General who have experience in the post for at least one year.
The person holding the office of chairperson of the Armed Force Tribunal must have been either a retired judge of the Supreme Court or a Retired chief justice of the high court.
What are the Power and Jurisdiction of theArmed Force Tribunal:
The Tribunal is empowered to adjudicate appeals against any order, decision, finding or sentence passed by a court-martial or any related matter.
It is also empowered to grant bail to an accused who is in military custody.
The Tribunal may have the powers to substitute for the findings of the court martial. It may:
Remit the whole or any part of the sentence, with or without conditions;
Mitigate the punishment awarded
Commute such punishment to any lesser punishment or enhance the sentence awarded by a court martial.
Armed Forces Tribunal has both Original and Appellate Jurisdiction
The Tribunal functions according to the Armed Forces Tribunal (Procedure) rules, 2008.
All proceedings of the tribunal are in the English language.
The Tribunal normally follows the procedure practiced in High Courts.
What is the exceptions with respect to Armed Forces Tribunal:
Paramilitary forces including the Assam Rifles and Coast Guard are outside the tribunal's purview.
Armed Forces Tribunal is considered to be a criminal court with respect to Indian Penal Code and Code of Criminal Procedure.
Appeals against the decision of the  Armed Forces Tribunal can be taken only in the Supreme Court.
High Courts are not allowed to entertain such appeals.
20. Sabarimala Pilgrimage begins
Subject : Polity
Context:
Handbook for cops was withdrawn by the LDF government after rule on women devotees sparks row
More about Sabarimala Temple:
The Sabarimala Temple is a temple complex located at Sabarimala hill inside the Periyar Tiger Reserve in the Perinad Village, Pathanamthitta district, Kerala, India.
It is one of the largest annual pilgrimage sites in the world with an estimate of over 10 to 15 million devotees visiting every year.
The temple is dedicated to a Hindu Brahmachari (Celibate) deity Ayyappan also known as Dharma Shasta, who according to belief is the son of Shiva and Mohini, the feminine incarnation of Vishnu.
The traditions of Sabarimala are a confluence of Shaivism, Vaishnavism, and other Śramaṇa traditions.
The temple is situated on a hilltop amidst eighteen hills at an altitude of 1260 m above sea level, and is surrounded by mountains and dense forests.
The dense forest, part of the Periyar Tiger Reserve, around the temple is known as
Temples exist in each of the hills surrounding Sabarimala.
While functional and intact temples exist at many places in the surrounding areas like Nilakkal, Kalaketty, and Karimala, remnants of old temples survive to this day on remaining hills.
What was Supreme Court order in Sabrimala Temple issue:
In a 4:1 judgment, the 5-membered constitution bench of the Supreme Court, in Indian Young Lawyers Association vs. the State of Kerala, has allowed women of all ages to worship in Sabarimala Temple.
In its judgment, SC stated that 'devotion cannot be subjected to gender discrimination'.
Chief Justice Dipak Misra, Justice RF Nariman, Justice AM Khanwilkar and Justice DY Chandrachud constituted the majority, while the lone woman judge on the Bench, Justice Indu Malhotra dissented.
What was the petition all about:
The petitions had challenged the Constitutional validity of Rule 3(b) of the Kerala Hindu Places of Public Worship (Authorisation of Entry) Rules, 1965, which restricts the entry of women into the Sabarimala Temple as being ultra-vires Section 3 of the Kerala Hindu Places of Public Worship (Authorisation of Entry) Act, 1965 which states that places of public worship are to be open to all sections and classes of Hindus.