Daily Prelims Notes 20 April 2022
April 20, 2022

Posted by:

OptimizeIAS Team

Category:

DPN

Daily Prelims Notes
20 April 2022
Table Of Contents
1. NPPA fixes price of 15 key drug formulations
Subject: Science & Tech
Context- The National Pharmaceutical Pricing Authority (NPPA), under the Ministry of Chemicals and Fertilizers, has fixed the price of 15 key drug formulations, used to treat diseases, including diabetes.
Concept-
How does the pricing mechanism work?
Prices of Scheduled Drugs are allowed an increase each year by the drug regulator in line with the WPI.
All medicines under the NLEM are under price regulation.
As per the Drugs (Prices) Control Order 2013, scheduled drugs, about 15% of the pharma market, are allowed an increase by the government as per the WPI while the rest 85% are allowed an automatic increase of 10% every year.
The Drugs (Price Control) Order, 2013:
Drug Price Control Orders (DPCO) are issued by the Government in exercise of the powers conferred under the Essential Commodities Act, 1955,for enabling the Government to declare a ceiling price for lifesaving medicines to ensure that these medicines are available at a reasonable price to the general public.
Price controls are applicable to "Scheduled drugs" or "Scheduled formulations" e. those medicines which are listed out in the Schedule I of DPCO, also referred to as National List of Essential Medicines (NLEM).
As per the price control order, the NPPA is empowered to fix the ceiling price of essential medicines and medical devices — 886 in number currently.
The order also provides for a WPI-based price change every year that pharmaceutical companies are allowed to implement.
NPPA not only fixes the prices of Essential Medicines, but it also ensures that the prices of the non-scheduled drugs do not increase by more than 10% every year
Which medicines and devices are included in the NLEM?
Some of the most common drugs and medical devices, including paracetamol tablets, azithromycin tablets, oral rehydration salts, glucose injections, contraceptives like copper IUDs, condoms, insulin injections, Vitamin C tablets, and multivitamin tablets, are in the NLEM.
These drugs constitute around 18% of India's aggregate domestic pharmaceutical retail market of approximately Rs 1.5 lakh crore.
How are the Prices of Essential medicines fixed?
The prices of the medicines are fixed based on Market pricing model.
The ceiling price of the Essential drugs is the fixed by calculating the simple average price of all the brands having at least 1% of the market share.
Further, under DPCO, the NPPA has been given the following exceptional powers:

Fix the prices of even those drugs that are not listed under NLEM. Example: In pursuance of these powers, the NPPA has fixed the ceiling prices of Cardiac Stents and Knee implants.
Increase or decrease the prices of the drugs listed under NLEM. In pursuance of these powers, the NPPA has recently increased the prices of the 21 essential medicines by almost 50%.
About NPPA:
The NPPA was set up in 1997 to fix/revise prices of controlled bulk drugs and formulations and to enforce price and availability of the medicines in the country, under the Drugs (Prices Control) Order, 1995-2013.
Its mandate is to implement and enforce the provisions of the Drugs (Prices Control) Order in accordance with the powers delegated to it, to deal with all legal matters arising out of the decisions of the NPPA and to monitor the availability of drugs, identify shortages and to take remedial steps.
The ceiling price fixed/revised by the NPPA is notified in the Gazette of India (Extraordinary) from time to time.
Functions of NPPA:
To implement and enforce the provisions of the Drugs Price Control Order (DPCO), 1995/2013 in accordance with the powers delegated to it.
To undertake and/or sponsor relevant studies in respect of pricing of drugs/formulations.
To monitor the availability of drugs, identify shortages, if any, and to take remedial steps.
To collect/maintain data on production, exports and imports, market share of individual companies, the profitability of companies etc. for bulk drugs and formulations.
To deal with all legal matters arising out of the decisions of the Authority
To render advice to the Central Government on changes/revisions in the drug policy.
To render assistance to the Central Government in parliamentary matters relating to drug pricing.
2. Demolition drives violate international law
Subject: Polity
Context- Communal clashes broke out during Ram Navami processions in several parts of the country including at Khargone in Madhya Pradesh. Subsequently, the Madhya Pradesh government bulldozed the houses of those who were allegedly involved in rioting.
Concept-
The State government claims that these demolitions are in response to illegal encroachments.
This idea of serving 'justice', quick and cold, through bulldozers emanated in Uttar Pradesh.
In the wake of protests against the Citizenship (Amendment) Act, 2019 the Uttar Pradesh government passed orders to recover damages from those who were allegedly involved in destroying public property.
This process has been further institutionalised through the enactment of the Uttar Pradesh Recovery of Damages to Public and Private Property Act, 2020.
Right to adequate housing:
The right to housing is not only a fundamental right recognised under Article 21 of the Indian Constitution, it is also a well-documented right under the international human rights law framework, which is binding on India.
For instance, Article 25 of the Universal Declaration of Human Rights (UDHR) states that "everyone has the right to a standard of living adequate for the health and well-being of himself and of his family, including food, clothing, housing and medical care…".
Likewise, Article 11.1 of the International Covenant on Economic, Social and Cultural Rights (ICESCR) recognises "the right of everyone to an adequate standard of living for himself and his family, including adequate food, clothing and housing, and to the continuous improvement of living conditions". Furthermore, under Article 11.1, countries are under an obligation to take "appropriate steps" to ensure the realisation of these rights such as the right to adequate housing.
The rights recognised under ICESCR, according to Article 4, can be restricted by States only if the limitations are determined by law in a manner compatible with the nature of these rights and solely to promote society's general welfare.
However, any limitation imposed on the rights given in the Covenant such as the right to adequate housing cannot lead to the destruction of these rights. This is categorically recognised in Article 5 of ICESCR.
Besides, international law also prohibits arbitrary interference in an individual's right to property. For instance, Article 12 of the UDHR states that "no one shall be subjected to arbitrary interference with his privacy, family, home or correspondence, nor to attacks upon his honour and reputation".
Article 12 also stipulates that "everyone has the right to the protec- tion of the law against such interference or attacks".
This same right is also provided under Article 17 of the International Covenant on Civil and Political Rights (ICCPR).
Forced evictions:
According to the UN Human Rights Office, an integral element of the right to adequate housing is 'protection against forced evictions'.
The bulldozing of the houses by the Madhya Pradesh government of the alleged rioters amounts to forced eviction and arbitrary interference with an individual's home, thus a breach of Article 11.1 of the ICESCR.
This action can be defended under international law only if it can be shown that the forced eviction is as per the law and in conformity with the provisions of the human rights covenants.
Also, other requirements such as whether the state action was necessary and proportionate will have to be examined.
If these demolitions were against illegal encroachments, then did the authorities get the eviction order on the day of the riots, or did they have an eviction order earlier, but decided to act only after the riots?
Judicial incorporation
The Supreme court in cases like Bachan Singh vs State of Punjab, Vishaka vs State of Rajasthan, and recently in the famous Puttaswamy vs Union of India has laid down the principle that the fundamental rights guaranteed under the Constitution must be read and interpreted in a manner which would enhance their conformity with international human rights law.
3. India's Crude Oil Imports from OPEC
Subject: IR
Context- OPEC's share of India's oil imports for the FY22 financial year remained almost steady year-on-year, arresting sharp declines over the past six years, as refiners prefer crude from West Asia to counter rising global prices.
Concept-
India's crude oil imports from OPEC:
OPEC oil accounted for about 88% of India's crude imports in FY08.
Its share of India's overall imports could decline because refiners in Asia's third-largest economy are buying cheaper Russian oil.
However, Russian oil continued to account for less than 1% of India's crude imports in FY22.
What is OPEC?
OPEC stands for Organization of the Petroleum Exporting Countries.
It is a permanent, intergovernmental organization, created at the Baghdad Conference in 1960, by Iran, Iraq, Kuwait, Saudi Arabia, and Venezuela.
It aims to manage the supply of oil in an effort to set the price of oil in the world market, in order to avoid fluctuations that might affect the economies of both producing and purchasing countries.
It is headquartered in Vienna, Austria.
OPEC membership is open to any country that is a substantial exporter of oil and which shares the ideals of the organization.
Today OPEC is a cartel that includes 14 nations, predominantly from the middle east whose sole responsibility is to control prices and moderate supply.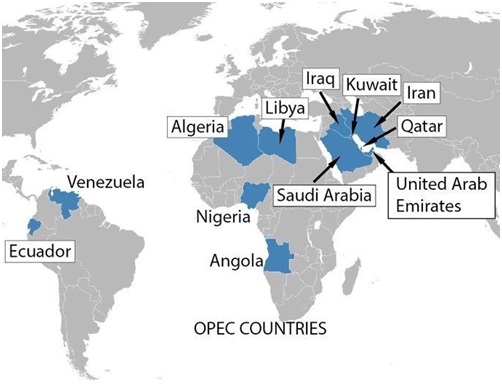 What is OPEC+?
The non-OPEC countries which export crude oil along with the 14 OPECs are termed as OPEC plus countries.
OPEC plus countries include Azerbaijan, Bahrain, Brunei, Kazakhstan, Malaysia, Mexico, Oman, Russia, South Sudan and Sudan.
Saudi Arabia and Russia, both have been at the heart of a three-year alliance of oil producers known as OPEC Plus — which now includes 11 OPEC members and 10 non-OPEC nations — that aims to shore up oil prices with production cuts.
4. Ukraine war has hit India's bid to move away from coal: FM
Subject: Environment
Context- According to Finance Minister Nirmala Sitharaman, India's transition away from coal as a fuel will be hampered by the Russia-Ukraine war.
Concept-
Panchamrit: India's 5 Commitments On Climate Action
At the CoP 26, India presented five nectar elements, Panchamrit, to deal with the issue of climate change. These are:

India also raised India's Nationally Determined Contributions (NDCs) of achieving 450 giga watt non-fossil energy capacity to 500 giga watt by 2030.
India will meet 50% of its energy requirements from renewable energy by 2030.
India will reduce the total projected carbon emissions by one billion tonnes from now onwards till 2030.
By 2030, India will reduce the carbon intensity of its economy by 45%.

Under Paris Agreement, India promised to reduce its emissions intensity (emissions per unit of GDP), by 33 to 35% by 2030 compared to 2005 levels.

By the year 2070, India will achieve the target of Net Zero.
India's effort on the issue of climate mitigation:
India has reduced emissions intensity of GDP by 21% and is on track to achieve the goal of 35% emissions reduction as promised in Paris agreement.
India, along with UK, launched 'Infrastructure for Resilient Island States' (IRIS) on the side-lines of the COP 26 climate summit in Glasgow.

IRIS is a part of the Coalition for Disaster Resilient Infrastructure (CDRI).

India has leapfrogged from BS IV to BS VI for vehicle emission norms.
India has promised creation of additional carbon sinks of 2.5 to 3 billion tons of carbon equivalent through increasing green cover. In last 5 years, India's green cover has increased by 15,000 sq. km.
India has taken up a target for restoration of 26 million of degraded land by 2030 during the 14th COP of UN Convention to Combat Desertification in Delhi
India launched National Action Plan on Climate Change (NAPCC) in 2008 outlining eight National Missions on climate change. These include:

National Solar Mission
National Mission for Enhanced Energy Efficiency
National Mission on Sustainable Habitat
National Water Mission
National Mission for Sustaining the Himalayan Eco-system
National Mission for a Green India
National Mission for Sustainable Agriculture
National Mission on Strategic Knowledge for Climate Change

Indian Railways, the world's largest passenger carrier serving an average of 8 billion passengers every year, has set a 'Net Zero by 2030'

With this decision, the Indian Railways will mitigate 60 million tonnes of carbon emission per year.

India is working on the target of 20% ethanol blending in petrol by 2025.
Today India is one of the top five countries in the world in terms of renewable energy capacity.
Challenges Ahead to Meet COP 26 Goals
Paris agreement targets still unachieved

Although 151 states have indicated that they will submit stronger targets before December 31, only 13 of them, covering 2.4% of global emissions, have submitted such targets.
For many there is a mismatch between short-term actions and long-term commitments.

States are not obliged to achieve their self-selected targets and there is no mechanism to review the adequacy of individual contributions.
No rules have yet been set for carbon credits & developing countries has several millions of them unsold
Climate finance
A NITI Aayog report estimates that the sector requires $4.5 trillion to meet the infrastructure gap and increase the share of renewable energy to 50% by 2030.
Way Forward:
Achieving these targets will require focus on three important areas:

Increasing renewable energy capacity,
decarbonising emission intensive sectors and
creating more carbon sinks.

Policies and investments shift from the grey to green economy: It would require India to give up fossil fuel and making societies and people more resilient to climate shocks.
5. China Solomon Islands sign landmark security agreement
Subject: IR
Context- China has announced the signing of a security pact with the Solomon Islands.
Concept-
About The Agreement:
Chinese Foreign Minister and Minister of Foreign Affairs of the Solomon Islands signed an intergovernmental framework agreement on security cooperation.
It is a first-of-its-kind arrangement that could pave the way for further Chinese security deals overseas.
Key highlights of the framework agreement
Under the agreement, the two sides will conduct cooperation in various areas such as:

These two countries will cooperate in an effort to help Solomon Islands strengthen capacity building in safeguarding its own security.
The Solomon Islands explained that there was no agreement for a Chinese military base.
Concerns raised by western countries:
Officials from the United States, Australia, Japan and New Zealand expressed concerns about the proposed security framework.
They fear that the agreement could open the door to a Chinese naval base in the country and hence pose serious risks to a free and open Indo-Pacific.
Experts believe that signing such an agreement could actually increase destabilisation within the Solomon Islands.
Also, it could set a concerning precedent for the wider Pacific Island region.
About Soloman Islands:
Solomon Islands is a country in the southwestern Pacific Ocean.
Once a British protectorate, Solomon Islands achieved independence as a republic in 1978.
Honiara, on the north coast of Guadalcanal Island, is Solomon Islands' capital and largest city.
There are six big islands – the largest is Guadalcanal.
The others are New Georgia, Santa Isabel, Choiseul, Malaita, and San Cristobal.
Solomon Island in particular has significant reserves of timber and mineral resources, along with fisheries.
These Pacific island states have disproportionately large maritime Exclusive Economic Zones when compared to their small sizes.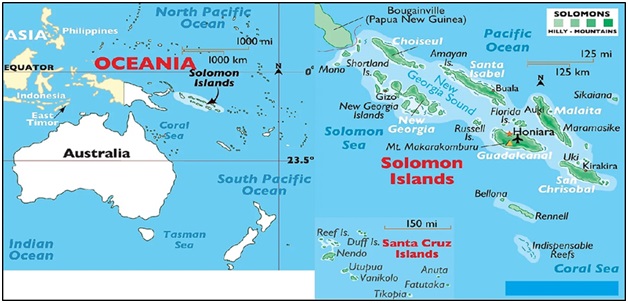 Great geo-strategic significance:
The Solomon Islands has great strategic significance as was evident during the World War II (WW II).
During the WW II, it served as a bulwark for Australia against the advancing Japanese.
The Solomon Islands also sits on critical shipping routes, meaning China could potentially control maritime traffic in and around the region.
Role of Taiwan: Competition for diplomatic recognition
Any country which has to officially establish relations with China will have to break diplomatic ties with Taiwan.
The Solomon Islands was one among the six Pacific island states which had official bilateral relations with Taiwan.
However, in 2019, the Solomon Islands, along with Kiribati, switched allegiance to China. Now, only four regional countries backing Taiwan, mostly belonging to the Micronesian group of islands which are under the control of the US.
Impact on India:
The China-Solomon Islands pact does not directly affect India.
The islands are at significant distance from mainland India and even the Andaman and Nicobar Islands.
China's advances in the region, however, will be a cause for concern even in Delhi.
Subject: Economy
Why in the news?
Deputy Governor of the RBI called cryptos worse than a Ponzi scheme and argued against "legitimizing" them. Yet, the RBI announced that it will float a Central Bank Digital Currency (CBDC).
Differences:
Basis
Cryptocurrency
Central Bank Digital Currency
Meaning
Digital token issued  by a private institution or firm.
Central bank digital currencies are digital tokens, similar to cryptocurrency but issued by a central bank.
Legality
Not a fiat currency as not backed by the government.
A central bank digital currency is the digital form of a country's fiat currency.
Technology
Based on cryptography and blockchain technology i.e a public ledger needs every user consent for transaction.
Central bank digital currencies are designed to be similar to cryptocurrencies, but they may not require blockchain technology or consensus mechanisms.
Intrinsic value
No intrinsic value but used for transaction due to acceptability, scarcity and anonymity.
They are pegged to the value of that country's fiat currency.
Regulation
Cryptocurrencies are unregulated and decentralized thus, involving anonymous transactions.
As a centralized form of currency, they may not anonymize transactions as some cryptocurrencies do.
Effect on monetary policy
Complicates monetary policy transmission for being a parallel unregulated currency
CBDCs promote financial inclusion and simplify the implementation of monetary and fiscal policy.
Value
Cryptocurrencies are highly volatile, with their value constantly fluctuating.
CBDCs, backed by a government and controlled by a central bank, would provide households, consumers, and businesses with a stable means of exchanging digital currency.
Acceptability
Their value is dictated by investor sentiments, usage, and user interest.
Legal backing
Spending
Double spending as software on a computer

can be used repeatedly.

Fiat currency has the property that once spent, it cannot be spent again except through forgery, be-

cause it is no more with the spender.
Fiat Currency-Fiat money is a government-issued currency that is not backed by a physical commodity like gold or silver. It is considered a form of legal tender that can be used to exchange goods and services.
Subject: economy
The Reserve Bank of India (RBI) laid down a set of rules for non-bank financiers on large exposures, lending to directors and sought additional disclosures in their notes to accounts.
Details:
Aggregate exposure of an upper layer NBFC to any entity must not be higher than 20% of its capital base, although the board can approve an additional 5% to take it to 25%, except for infrastructure finance companies, the aggregate limit will be 30% to a single entity.
To a group of connected entities, aggregate exposure will be limited to 25% of the capital base for all upper layer NBFCs apart from infrastructure finance companies where it will be 35%.
Unless sanctioned by the board of directors, NBFCs in the middle and upper layer should not grant loans of Rs 5 crore and above to their directors or relatives of directors.
Loan proposals for less Rs 5 crore to directors may be sanctioned by the appropriate authority in the NBFC, but the matter should be reported to the board.
Loans sanctioned to senior officers of NBFCs should be reported to the board.
These, however, would exclude loans against government securities, life insurance policies, fixed deposits, stocks and shares; housing loans and car loans granted to an employee of the NBFC under any scheme applicable generally to employees will also be exempt from these guidelines.
Non-bank lenders will have to ensure that potential real estate borrowers have obtained prior permission from the government for the project, wherever required.
The base layer of non-banks must have a board-approved policy on grant of loans to directors, senior officers and relatives of directors and to entities where directors or their relatives have major shareholding.
All non-bank lenders will have to disclose their exposure to real estate sector, capital market, intra-group entities, and unhedged foreign currency exposure. They must also make adequate related-party disclosures, and provide a summary information on complaints received by the NBFCs.
Exposure norms:
Credit exposure is a measurement of the maximum potential loss to a lender if the borrower defaults on payment. It is a calculated risk to doing business as a bank. "Credit exposure" shall include funded and non-funded credit limits, underwriting and other similar commitments.
Exposure limit determines the maximum amount a bank can lend to one business house. This is done to prevent the troubles at entities having a spillover effect on the bank which could lead to a systemic risk.
The Reserve Bank of India has mandated the banks to fix limits on their exposure to specific industry or sectors and has prescribed regulatory limits on banks' exposure to single and group borrowers in India. This measure of RBI is aimed at better risk management and avoidance of credit risks. In addition to credit exposure banks are required to observe certain statutory and regulatory exposure limits in respect of advances against / investments in shares, convertible debentures /bonds, units of equity-oriented mutual funds and all exposures to Venture Capital Funds (VCFs) as prudential norms.
Regulatory Structure for NBFCs:
NBFCs shall comprise four layers based on their size, activity, and perceived riskiness.
NBFCs in the lowest layer – Base Layer (NBFC-BL).
NBFCs in the middle layer –Middle Layer (NBFC-ML)
NBFC in the Upper level – Upper Layer (NBFC-UL)
The Top Layer is ideally expected to be empty and will be known as NBFC – Top Layer (NBFC-TL).
Base Layer
The Base Layer shall comprise of
(a) non-deposit taking NBFCs below the asset size of ₹1000 crore and
(b) NBFCs undertaking the following activities- (i) NBFC-Peer to Peer Lending Platform (NBFC-P2P), (ii) NBFC-Account Aggregator (NBFC-AA), (iii) Non-Operative Financial Holding Company (NOFHC) and (iv) NBFCs not availing public funds and not having any customer interface1
Middle Layer
The Middle Layer shall consist of
(a) all deposit taking NBFCs (NBFC-Ds), irrespective of asset size,
(b) non-deposit taking NBFCs with asset size of Rs 1000 crore and above and
(c) NBFCs undertaking the following activities (i) Standalone Primary Dealers (SPDs), (ii) Infrastructure Debt Fund – Non-Banking Financial Companies (IDF-NBFCs), (iii) Core Investment Companies (CICs), (iv) Housing Finance Companies (HFCs) and (v) Infrastructure Finance Companies (NBFC-IFCs).
Upper Layer
The Upper Layer shall comprise of those NBFCs which are specifically identified by the Reserve Bank as warranting enhanced regulatory requirement based on a set of parameters and scoring methodology.
Top Layer
The Top Layer will ideally remain empty. This layer can get populated if the Reserve Bank is of the opinion that there is a substantial increase in the potential systemic risk from specific NBFCs in the Upper Layer. Such NBFCs shall move to the Top Layer from the Upper Layer.
Subject: Economy
Why in the news?
The Company Law Committee has made a host of recommendations for stricter regulation of Nidhi companies.
Details:
The committee suggested that the Centre should prescribe rules and only companies that fulfil the prescribed financial and non-financial criteria should be declared as Nidhis.
The declaration notification for each Nidhi may also specify additional restrictions or conditions, as deemed necessary and reasonable by the Central Government, and the
Government should have the power to revoke the declaration in the event of non-compliance.
Grant Nidhi status for a specified period (approximately five years), after which the Nidhis may apply for renewal, subject to compliance with the Companies Act (CA) 2013.
Central Government should have the power to formulate schemes for restructuring (merger, amalgamation or takeover) of Nidhis that are sick, financially weak or mismanaged.
Nidhis which are not financially viable should be liquidated.
Concept:
Under Nidhi Rules, 2014, Nidhi is a company which has been incorporated as a Nidhi with the object of cultivating the habit of thrift and saving amongst its members, receiving deposits from, and lending to, its members only, for their mutual benefit.
It is a company registered under the Companies Act, 2013.It works on the principle of mutual benefits that are regulated by the Ministry of Corporate Affairs.
Nidhi Company is a class of Non-Banking Financial Company(NBFC) and Reserve Bank of India(RBI) has powers to issue directives for them related to their deposit acceptance activities. However, since these Nidhis deal with their shareholder-members only, RBI has exempted them from the core provisions of the RBI Act and other directions applicable to NBFCs.
The Nidhi Companies have to abide by certain prohibitions which are imposed on them in terms of their activities:
Nidhi Companies cannot deal with chit funds.
Nidhi Companies cannot deal with hire-purchase finance.
Nidhi Companies cannot deal with leasing of finances.
Nidhi Companies cannot deal with insurance business.
Nidhi Companies cannot deal with securities business.
Nidhi Companies cannot accept deposits from any other person except members.
Nidhi Companies cannot lend funds to any other person except members.
There are certain requirements which are to be fulfilled by a company in order to to be registered as a Nidhi Company:
The company must be incorporated as a Public Limited Company under the Companies Act.
The company should have a minimum of 7 shareholders.
The company should have a minimum of 3 directors.
The company should have a minimum of Rs.5 lakh of equity capital.
The company should have a minimum of 200 members.
The company should have Net Owned Funds worth Rs.10 lakh or more.
The name of the company should end with 'Nidhi Limited'.
The objective of the company should be lending and borrowing of funds among the members only.
The company must have unencumbered term deposits of 10% or more of the outstanding deposits.
The company should have a Net Owned Funds to deposits ratio of 1:20 or less.
The Director Identification Number (DIN) of all the directors has to be provided.
9. The National Pharmaceutical Pricing Authority
Subject: Economy
Why in the news?
The National Pharmaceutical Pricing Authority (NPPA), under the Ministry of Chemicals and Fertilizers, has fixed the price of 15 key drug formulations, used to treat diseases, including diabetes.
Concept:
NPPA was constituted by the Government of India in 1997 as an attached office of the Department of Pharmaceuticals (DoP), Ministry of Chemicals & Fertilizers as an independent Regulator for pricing of drugs and to ensure availability and accessibility of medicines at affordable prices.
It was made to fix/revise prices of controlled bulk drugs and formulations and to enforce price and availability of the medicines in the country, under the Drugs (Prices Control) Order, 1995-2013 (DPCO).
Function of National Pharmaceutical Pricing Authority
To implement and enforce the provisions of the Drugs (Prices Control) Order in according to the powers delegated to it.
To deal with all legal matters arising out of the decisions of the Authority.
To monitor the availability of drugs, identify shortages, if any, and to take remedial steps.
To collect/ maintain data on production, exports and imports, market share of individual companies, profitability of companies etc., for bulk drugs and formulations.
To undertake and/ or sponsor relevant studies in respect of pricing of drugs/ pharmaceuticals.
To recruit/ appoint the officers and other staff members of the Authority, as per rules and procedures laid down by the Government.
To render advice to the Central Government on changes/ revisions in the drug policy.
To render assistance to the Central Government in the parliamentary matters relating to the drug pricing