Daily Prelims Notes 7 July 2022
July 7, 2022

Posted by:

OptimizeIAS Team

Category:

DPN

Daily prelims Notes
7 July 2022
Table Of Contents
1. ED seeks to declare Devas Multimedia CEO fugitive economic offender in PMLA case
Subject: Economy
Context: The Enforcement Directorate (ED) has sought permission from a special court in Bengaluru to declare the US-based founder and CEO of the now liquidated start-up firm Devas Multimedia Private Limited a fugitive economic offender.
Concept:
Fugitive Economic Offenders Act, 2018 seeks to confiscate properties of economic offenders who have left the country to avoid facing criminal prosecution or refuse to return to the country to face prosecution.
Fugitive economic offender:
A person against whom an arrest warrant has been issued for committing an offence listed in the Act and the value of the offence is at least Rs. 100 crore.
Some of the offences listed in the act are:
Counterfeiting government stamps or currency.
Cheque dishonour
Money laundering.
Transactions defrauding creditors.
Declaration of a Fugitive Economic Offender:
After hearing the application, a special court (designated under the PMLA, 2002) may declare an individual as a fugitive economic offender.
It may confiscate properties which are proceeds of crime, Benami properties and any other property, in India or abroad.
Upon confiscation, all rights and titles of the property will vest in the central government, free from encumbrances (such as any charges on the property).
The central government may appoint an administrator to manage and dispose of these properties.
Bar on Filing or Defending Civil Claims:
The Act allows any civil court or tribunal to prohibit a declared fugitive economic offender, from filing or defending any civil claim.
Further, any company or limited liability partnership where such a person is a majority shareholder, promoter, or a key managerial person, may also be barred from filing or defending civil claims.
The authorities may provisionally attach properties of an accused, while the application is pending before the Special Court.
Powers:
The authorities under the PMLA, 2002 will exercise powers given to them under the Fugitive Economic Offenders Act.
These powers will be similar to those of a civil court, including the search of persons in possession of records or proceeds of crime, the search of premises on the belief that a person is an FEO and seizure of documents.
2. Why are temperatures within a city's neighbourhoods different?
Urban heat islands or UHIs are metropolitan areas that are significantly warmer than the surrounding rural areas.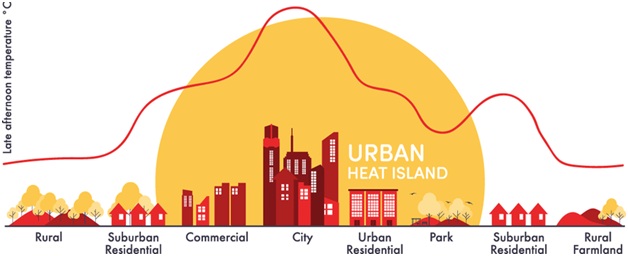 Causes of Urban Heat Island Effect
Disappearing green and blue spaces ( Vegetation and water bodies):the loss of tree cover in cities allows much less cooling of the area through evapotranspiration – a combination of evaporation (movement of water to air from surfaces such as soil, water bodies, etc.) and transpiration (movement of water through plant roots into the air via tiny pores in leaves called stomata).
Urban Canyon/  geometric effects :buildings, especially tall ones, provide multiple surfaces that reflect and absorb heat from sunlight. In addition, multiple tall buildings in close proximity to each other also act as barriers to air flow and wind, which block cooling by convection. These two factors together lead to the urban canyon or street canyon effect.
Construction: the dark surfaces and thermal bulk properties of the most abundant materials in cities – asphalt (roads) and concrete (most buildings) – makes them absorb much more heat than surrounding rural areas
Anthropogenic heat generation and air pollution: Anthropogenic heat is produced by vehicles and buildings (through electric devices like fans, computers, refrigerators, and air conditioners), although this is considered to be almost negligible in commercial and residential areas as compared to the other three factors. The high levels of air pollutants in cities, however, especially carbon dioxide and ozone, both of which are greenhouse gases, are thought to contribute significantly to the UHI effect.
3. EU's sustainable finance taxonomy to brand gas and nuclear plants as 'green'
Context:
EU has recently agreed to label investments in some gas and nuclear power plants as environment-friendly.
What is EU taxonomy?
It is a classification system, establishing a list of environmentally sustainable economic activities.
It could play an important role helping the EU scale up sustainable investment and implement the European green deal
The EU taxonomy would provide companies, investors and policymakers with appropriate definitions for which economic activities can be considered environmentally sustainable.
In this way, it should create security for investors, protect private investors from green washing, help companies to become more climate-friendly, mitigate market fragmentation and help shift investments where they are most needed.
The Taxonomy Regulation establishes six environmental objectives:
Climate change mitigation
Climate change adaptation
The sustainable use and protection of water and marine resources
The transition to a circular economy
Pollution prevention and control
The protection and restoration of biodiversity and ecosystems
What makes a "green" investment?
The rules classify three types of green investments
Those that substantially contribute to green goals, for example, wind power farms.
Those that enable other green activities, for example, facilities that can store renewable electricity or hydrogen
Transitional activities that cannot be made fully sustainable, but which have emissions below industry average and do not lock in polluting assets or crowd out greener alternatives
Green washing
It is his practice of making unwarranted or overblown claims of sustainability or environmental friendliness in an attempt to gain market share.
Background:
EU Greed Deal:
To raise the EU's ambition on reducing greenhouse gas emissions to at least 55% below 1990 levels by 2030.
To achieve climate neutrality in the EU by 2050.
India's Climate target:
India will get its non-fossil energy capacity to 500 gigawatt (GW) by 2030
India will meet 50 per cent of its energy requirements from renewable energy by 2030
India will reduce the total projected carbon emissions by one billion tonnes from now onwards till 2030
By 2030, India will reduce the carbon intensity of its economy by less than 45 per cent
So, by the year 2070, India will achieve the target of Net Zero
4. A short history of the demand for 'Dravida Nadu', its evolution
Context: DMK MP A Raja recently brought back into focus 'Dravida Nadu' or the idea of a separate Tamil Nadu, in the presence of CM MK Stalin
The demand for Dravida Nadu
The early 20th century agitations against the colonial government of Madras state (of which, along with Tamil Nadu, portions of modern-day Andhra Pradesh, Karnataka, and Kerala were part) often included expressions of regional aspirations
The South Indian Liberal Federation, popularly known as Justice Party, which was founded in 1917 by Sir PittiTheagaraya Chetty, Dr T M Nair, and Dr C NatesaMudaliar, was the first to raise the flag of anti-Brahminism, and oppose the caste system that put Brahmins at the top of the social hierarchy
In 1920, the Justice Party won the first legislative council elections held under the Government of India Act, 1919, and formed the government
Periyar, the founder of the Self-Respect Movement (1925), was both anti-caste and anti-religion.
He envisaged an independent Dravida homeland of Dravida Nadu, comprising Tamil, Malayalam, Telugu and Kannada speakers, and launched a political party, DravidarKazhagam (DK), to pursue this goal
He advocated major social reforms, including equality for women in society, and supporting birth control for women for their health and well-being.
He also opposed the domination of Hindi and emphasised the distinct cultural identity of the Tamil nation.
In 1938, the Justice Party and Self-Respect Movement came together, representing the merger of the party and the movement
In 1944, the new outfit was named DravidarKazhagam. DK was anti-Brahmin, anti-Congress, and anti-Aryan and launched a movement for an independent Dravida nation.
DK continued to demand Dravida Nadu and Periyar refused to contest elections. In 1949, Annadurai split from Periyar due to ideological differences, and his DMK joined the electoral process. The DMK's platforms were social democracy and Tamil cultural nationalism.
Linguistic nationalism
The Linguistic Provinces Commission (or S K Dhar Commission) set up in 1948 argued against a linguistic basis of reorganisation of states, reasoning it could lead to further division
In 1952, the freedom fighter Potti Sriramulu died at the end of a 56-day hunger strike undertaken to demand a separate Telugu state.
In1953, the States Reorganisation Commission (SRC) was constituted under Justice Fazl Ali, historian K M Panikkar, and parliamentarian H N Kunzru.
The report of the commission was in favour of a linguistic division of states; however, it cautioned that "It is neither possible nor desirable to reorganise the State on the basis of a single test of either language or culture
The States Reorganization Act, 1956, which incorporated some of the suggestions of the SRC, redrew the boundaries of states along linguistic lines, and created the states of Tamil Nadu, Andhra Pradesh, Mysore and Kerala in southern India
5. How Omicron evades antibodies in vaccinated and unvaccinated people
Context: The current wave of Covid-19 highlights a high risk of reinfection by the Omicron variant of SARS-CoV-2.
Omicron Variant:
The Omicron variant(B.1.1.529) is a variant of SARS-CoV-2 (the virus that causes COVID-19) that was first reported to the World Health Organization (WHO) from South Africa
Omicron multiplies around 70 times faster than the Delta variant in the bronchi (lung airways) but evidence suggests it is less severe than previous strains, especially compared to the Delta variant
Viruses like SARS-CoV-2 continuously evolve as changes in the genetic code (caused by genetic mutations or viral recombination) occur during replication of the genome
What is variant?
A variant has one or more mutations that differentiate it from other variants of the SARS-CoV-2 viruses.
Different classes of SARS-CoV-2 variants:
Alpha (B.1.1.7 and Q lineages)
Beta (B.1.351 and descendent lineages)
Gamma (P.1 and descendent lineages)
Delta (B.1.617.2 and AY lineages)
Epsilon (B.1.427 and B.1.429)
Eta (B.1.525)
Iota (B.1.526)
Kappa (B.1.617.1)
1.617.3
Mu (B.1.621, B.1.621.1)
Zeta (P.2)
Omicron (B.1.1.529, BA.1, BA.1.1, BA.2, BA.3, BA.4 and BA.5 lineages)
The BA.5 sub-variant has the most transmissibility and immune escape potential of any variant since the COVID-19 pandemic began
Both BA.4 and BA.5 have their own unique mutations, including changes in the receptor-binding domain of the spike protein
Cell culture experiments revealed that BA.4 and BA.5 replicate more efficiently in human alveolar epithelial cells than BA.2
Both BA.4 and BA.5 have their own unique mutations, including changes in the receptor-binding domain of the spike protein
Concept:
Antibody:
An antibody is a protein component of the immune system that circulates in the blood, recognizes foreign substances like bacteria and viruses, and neutralizes them.
After exposure to a foreign substance, called an antigen, antibodies continue to circulate in the blood, providing protection against future exposures to that antigen
Antibody is a part of the host cell's defense. It's made by a certain type of white blood cell that's called a B cell
Subject: Environment
It is an initiative by 9 philanthropic organizations who have collectively pledged $5 billion over ten years in support of the creation, expansion, management, and monitoring of protected and conserved areas of land, inland water, and sea.
It will fund High Ambition Coalition for Nature and People (HAC) 30x30 goal to protect 30 percent of land and sea by 2030.
The founding organizations of Protecting Our Planet — Arcadia – a charitable fund of LisbetRausing and Peter Baldwin; Bezos Earth Fund; Bloomberg Philanthropies; Gordon and Betty Moore Foundation; Nia Tero; Rainforest Trust; Re:wild; Wyss Foundation; and the Rob and Melani Walton Foundation – are to be commended in their united effort to strengthen and expand protected areas across the globe while advancing the rights and guardianship of Indigenous Peoples and local communities.
Subject: Environment
Context: Unique way of protest
Just Stop Oil:
Launched earlier this year, Just Stop Oil describes itself as "a coalition of groups working together to ensure the government commits to halting new fossil fuel licensing and production".
Led by organisers from climate groups Extinction Rebellion and Insulate Britain and funded through donations, the group propagates "Non-Violent Direct Action" and asserts non-violent civil resistance as a way to "demand their rights, freedom and justice… use tactics such as strikes, boycotts, mass protests and disruption to withdraw their cooperation from the state".
8. RBI measures to increase forex
Subject: Economy
Context:
In the backdrop of global uncertainty and the continuing weakness of the rupee against the US dollar, the Reserve Bank of India on Wednesday unleashed a slew of measures to boost forex inflows.
Details:
The measures aimed at capital inflows and thus, increasing the forex reserves of India.
Various measures:

RBI has allowed banks temporarily till October 2022 to raise fresh Foreign Currency Non-Resident Bank-FCNR(B) and Non-Resident External (NRE) deposits without reference to the current regulations on interest rates.

Currently, interest rates on FCNR(B) deposits are subject to ceilings of overnight Alternative Reference Rate (ARR).In the case of NRE deposits, interest rates should not be higher than those offered by the banks on comparable domestic rupee term deposits.

FPIs in government securities and corporate debt made till October 31, 2022, will be exempted from the short-term limit. Currently, not more than 30 percent of investments each in government securities and corporate bonds can have a residual maturity of less than one year.
FPIs can invest in corporate money market instruments like commercial paper and non-convertible debentures with an original maturity of up to one year till October 2022.
FPIs can invest in all-new issuances of G-Secs of 7-year and 14-year tenors, including the current issuances of 7.10 per cent GS 2029 and 7.54 per cent GS 2036. Presently, they can invest in government securities (G-Secs) with 5-year, 10-year and 30-year tenors only.
The RBI has doubled the limit under the automatic route for External Commercial Borrowings ECBs from $750 million per financial year to $1.5 billion.
RBI has decided that category one banks can utilise overseas foreign currency borrowing (OFCBs) for lending in foreign currency to entities for a wider set of end-use purposes, subject to the negative list set out for external commercial borrowings (ECBs).
RBI has exempted banks from Cash Reserve Ratio and Statutory Liquidity Ratio on all Foreign Currency Non-Resident (Bank) and Non-Resident (External) Rupee term deposits.
Concept:
RBI Forex management:
The Reserve Bank of India, is the custodian of the country's foreign exchange reserves and is vested with the responsibility of managing their investment.
The legal provisions governing management of foreign exchange reserves are laid down in the Reserve Bank of India Act, 1934.
The basic parameters of the Reserve Bank's policies for foreign exchange reserves management are safety, liquidity and returns. 
The Reserve Bank of India Act permits the Reserve Bank to invest the reserves in the following types of instruments:

Deposits with Bank for International Settlements and other central banks
Deposits with foreign commercial banks
Debt instruments representing sovereign or sovereign-guaranteed liability of not more than 10 years of residual maturity
Other instruments and institutions as approved by the Central Board of the Reserve Bank in accordance with the provisions of the Act
Certain types of derivatives
External Commercial Borrowings (ECB)
It refers to the borrowing by an eligible resident entity from outside India in accordance with the framework decided by the Reserve Bank of India in consultation with the Government of India.
External Commercial Borrowings can be availed through:
 Automatic Route-Through Authorized Dealers, AD Category -I banks;
Approval Route-Perspective borrower should send its proposal for ECB to RBI through AD-Category-I bank for examination.
NRI deposits in India – covered in previous month
Non-Resident External (NRE) scheme–

NRE account is a rupee account, offering complete security
These accounts can be in the form of savings, current, recurring, or fixed deposits.
The currency risk is on the depositor.
It is  financed from abroad income through inward remittances
Money can be fully repatriated (sent back) abroad without restrictions,
Given the attractive post-tax return, NRE temporary deposits are very popular with non-residents.

Non-Resident Ordinary (NRO) scheme–

The NRO account is also a rupee account,
This account allows NRIs to receive funds in either Indian or foreign currency. However, only Indian currency can be withdrawn as NRO Accounts are kept in Indian currency
It is generally financed by income earned in India or from Indian assets
There are restrictions on repatriation i.e. remittances outside India are allowed only up to $1 million under the automatic route, while higher remittances require RBI approval.
Unlike the NRE account, interest accrued on NRO account are taxable, this is not preferred by most NRIs.

FCNR (foreign currency) scheme

These accept any permitted foreign currency.
FCNR Accounts are Term Deposit Accounts and not Saving Accounts.
The currency risk (change in price of one currency in relation to another) is borne by the bank.
They are fully repatriable (ability to move money abroad).
NRI investments on a repatriation basis in Indian companies are considered as FDIs, and are subject to regulations and caps.
9. Dollar Appreciation and India
Subject: Economy
Context:
The US Dollar Index, which measures the greenback's exchange rate against six major global currencies, recently surpassed its 20-year high and is currently trading at over 105.
Causes:
Rise in Federal rate of interest-When inflation rises, interest rates in an economy generally catch up leading to large scale capital inflows and increase demand of currency.
Higher bond yield-The yield on the 10-year US government bond has doubled from 1.4 per cent to 2.8 percent in a year. This makes bond investments in the country more attractive, leading to higher demand for the currency.
Decline investment in bitcoins and other risky assets-withdraw from risky assets and repatriate their money back home, dollar demand increased, further strengthening the Dollar Index.
What does this mean for the Indian rupee?
Flight of dollar and Depreciation of rupee–

India relies on dollar-denominated imports for over 85 percent of its crude oil requirements and imports more goods than it exports.
Therefore, India's import bill usually shoots up when the dollar strengthens, increasing the local demand for dollars leading to rupee depreciation.
Indians who remit money in dollars to support relatives will need more dollars as the exchange rate depreciates.

Capital outflows–

Foreign Portfolio Investor (FPI) pullouts worsen the situation because this further increases the domestic demand for dollars.
Outflow of foreign investors leads to a fall in local stock and bond prices thus, increasing bond yield and cost of borrowing.

Balance of payments deficit and imported inflation-

A stronger dollar tends to increase India's import bill and widen the deficit between its imports and exports.
Many essential commodities and intermediate goods that India imports also get costlier, thus feeding into domestic inflation.
How is the RBI handling this situation?
The RBI has two main weapons to stem the slide:
It can increase the interest rate to make domestic bonds and gilts more attractive to foreign investors, so that they rethink their pullouts.
It can use its large foreign exchange reserves to intervene directly in the currency market by selling dollars in return of rupee thereby, increasing the supply of dollars relative to the demand.
10. SC refuses to interfere with HC order on holding Goa panchayat polls
Subject: Polity
High Court of Bombay  in its June 28 order quashed the state's decision to postpone the polls.
This is the fourth instance in the last two decades when the state government and the SEC (State Election Commission) have avoided or failed to comply with the constitutional mandate in Article 243E. The delay and consequent defiance of the constitutional mandate have become a regular feature," the court said.
SC refuses to interfere with HC order on holding Goa panchayat polls
High Court of Bombay  in its June 28 order quashed the state's decision to postpone the polls.
This is the fourth instance in the last two decades when the state government and the SEC (State Election Commission) have avoided or failed to comply with the constitutional mandate in Article 243E. The delay and consequent defiance of the constitutional mandate have become a regular feature," the court said.
Salient Features of the Constitution 73rd and 74th Amendments

These amendments added two new parts to the Constitution, namely, added Part IX titled "The Panchayats" (added by 73rd Amendment) and Part IXA titled "The Municipalities" (added by 74th Amendment).
Basic units of democratic system-Gram Sabhas (villages) and Ward Committees (Municipalities) comprising all the adult members registered as voters.
Three-tier system of panchayats at village, intermediate block / taluk / mandal and district levels except in States with population is below 20 lakhs (Article 243B).
Seats at all levels to be filled by direct elections Article 243C (2).
Seats reserved for Scheduled Castes (SCs) and Scheduled Tribes (STs) and the chairpersons of the Panchayats at all levels also shall be reserved for SCs and STs in proportion to their population.
One-third of the total number of seats to be reserved for women.
One third of the seats reserved for SCs and STs also reserved for women.
One-third offices of chairpersons at all levels reserved for women (Article 243D).
Uniform five year term and elections to constitute new bodies to be completed before the expiry of the term.
In the event of dissolution, elections compulsorily within six months (Article 243E).
Independent Election Commission in each State for superintendence, direction and control of the electoral rolls (Article 243K).
Panchayats to prepare plans for economic development and social justice in respect of subjects as devolved by law to the various levels of Panchayats including the subjects as illustrated in Eleventh Schedule (Article 243G).
74th Amendment provides for a District Planning Committee to consolidate the plans prepared by Panchayats and Municipalities (Article 243ZD).
Budgetary allocation from State Governments, share of revenue of certain taxes, collection and retention of the revenue it raises, Central Government programmes and grants, Union Finance Commission grants (Article 243H).
Establish a Finance Commission in each State to determine the principles on the basis of which adequate financial resources would be ensured for panchayats and municipalities (Article 243I).
The Eleventh Scheduled of the Constitution places as many as 29 functions within the purview of the Panchayati Raj bodies.

The following areas have been exempted from the operation of the Act because of the socio-cultural and administrative considerations:

Scheduled areas listed under the V Schedule in the states of Andhra Pradesh, Telangana,Bihar, Jharkhand,Gujarat, Himachal Pradesh, Madhya Pradesh, Maharashtra, Orissa and Rajasthan.
The states of Nagaland, Meghalaya and Mizoram.
The hill areas of district of Darjeeling in the state of West Bengal for which Darjeeling Gorkha Hill Council exists.
In conformity with provisions in the Constitution Amendment Act, an Act called the Provisions of Panchayats (Extension to the Scheduled Areas) Act, 1996 passed by the Government of India.
State Election Commissions (SECs)

The State Election Commission has been entrusted with the function of conducting free, fair and impartial elections to the local bodies in the state.
Article 243K(1): It states that the superintendence, direction and control of the preparation of electoral rolls for, and the conduct of, all elections to the Panchayats (Municipalities under Article 243ZA) shall be vested in a State Election Commission consisting of a State Election Commissioner to be appointed by the Governor.
Article 243K(2): It states that the tenure and appointment will be directed as per the law made by the state legislature. However, State Election Commissioner shall not be removed from his/her office except in like manner and on the like grounds as a Judge of a High Court.
11. Scientists strive to restore world's embattled kelp forests
Subject: Environment
Context: Disappearing Kelp forest
What are kelp forests?
Kelp forests grow along more than one-quarter of the world's coastlines, and are among the planet's most biodiverse ecosystems.
But these critical habitats are disappearing due to warming oceans and other human impacts.
Kelp forests are often regarded as "underwater rainforests". Formed by the dense growth of several kelp species, they produce a three-dimensional habitat and a highly productive system.
Usually found in water temperatures below 20 °C, kelps are large brown algae that attach to the seafloor ('benthic').
Not only can kelps grow amazingly fast in the right conditions – up to 30 cm per day – they can also reach 45 m long for the giant kelp.
Sudden recent wipeouts of vast kelp forests along the coastlines of Tasmania and California highlighted how little was known about protecting or restoring these vital marine ecosystems.
Losing wild kelp forests reduces protection of coastal communities from storm surges and removes an important carbon sink.
Worldwide, more than one million tons of wild kelp are harvested each year, according to 2019 data from the United Nation's Food and Agriculture Organization. Much of that, about 40%, is collected off the coast of Chile, with wild brown seaweeds sold to commercial markets for diverse purposes, including food production, pharmaceuticals, textiles, and biotechnology.
Kelp  substance is widely used in pharmaceutical products, like pill coatings or toothpaste, and food production, including ice cream or beer.
Fishing through kelp forests using destructive methods like bottom trawling has also been implicated in dramatic declines of kelps, Being a cold-water species, kelp forests are sensitive to elevated temperatures. As ocean temperatures increase as a result of greenhouse gas emissions, massive kelp forest die-offs are increasingly likely, with their return questionable.
One major difference between wild and farmed kelp, for example, is where it grows in the water column, Wild kelp is attached to the seafloor, while farmed kelp is suspended above it on lines or platforms.
although giant kelp is a perennial, bull kelp dies off in winter and reappears in summer, making detection tricky.
kelp can be a moving target: Severe storms can uproot entire forests overnight.
Green Gravel Action Group.

This international group of researchers will trial Green Gravel restoration in different regions for kelp seaweed restoration
12. Can planting trees mitigate climate change?
Subject: Environment
While trees are important carbon sinks, there is significant data that shows that the global potential for trees to mitigate climate change is grossly overestimated.
Low survival of saplings, unsuitable planting sites, lack of good quality seeds, wrong trees planted in the wrong places and large-scale planting without a plan are some of the reasons that tree plantation drives are not always successful in the long term.
Planting trees can be beneficial in many ways. However, the focus needs to move away from afforestation (planting new forests) to reforestation (restoring forests).
According to studies in the Central Himalayas and the Coromandel coast (southeastern coast of India), planted trees showed hugely variable survival rates over 5-10 years.
Sholas are patches of stunted tropical montane forest found in valleys amid rolling grassland in the higher montane regions of South India; this ecosystem is now getting damaged due to invasive trees.

Due to high isolation and unique climatic conditions, the Shola forests are characterised by high endemism. The species of plants and animals found here are native to this region and such species cannot be found anywhere else in the world. For example – NilgiriTahr. (Iucn status endangered )
They are found only in South India in the Southern Western Ghats high altitude mountains in the states Karnataka, Kerala and Tamil Nadu. Nowhere else in the world exists such a kind of forests.
Shola tree species have one of the lowest regeneration rates. They do not get established very soon and are very sensitive to climatic changes
shola forests have high water retention capacity than any other soil.
They are the source of water in rivers live Cauvery, Thamirabarani, Vaiga.
They are the reason for moderate climates for several cities along their foothills. For example – Coimbatore.
They are part of world's Biodiversity Hotspot.

Intergovernmental Panel on Climate Change

It is the international body for assessing the science related to climate change. It was set up in 1988 by the World Meteorological Organisation (WMO) and United Nations Environment Programme (UNEP) to provide policymakers with regular assessments of the scientific basis of climate change, its impacts and future risks, and options for adaptation and mitigation.
IPCC assessments provide a scientific basis for governments at all levels to develop climate related policies, and they underlie negotiations at the UN Climate Conference – the United Nations Framework Convention on Climate Change (UNFCCC).

The Trillion Tree Campaign is a project which aims to plant one trillion trees worldwide.

It seeks to repopulate the world's trees and combat climate change as a nature-based solution. The project was launched at PlantAhead 2018 in Monaco by an NGO Plant-for-the-Planet.

The 2020 World Economic Forum, held in Davos, announced the creation of the One Trillion Tree initiative platform for governments, businesses, and civil society to provide support to the UN Decade on Ecosystem Restoration (2020–2030), led by UNEP and FAO.
13. Nigeria's latest lithium find: some key questions answered
Subject: Geography
The Geological Agency described the lithium as high grade because what's been found has between 1-13 per cent oxide content. Normally exploration begins at levels as low as 0.4 percent.
Grade (in per cent) is a measure of concentration of the lithium in the minerals and or rocks that contains it. Therefore, the higher the grade the more the economic viability.
Higher grades are very rare for metals like lithium.Lithium is a metallic mineral in very high demand by manufacturing industries.
Seven years ago the bulk of demand for lithium was split between ceramics and glasses (35 per cent) and greases, metallurgical powders, polymers, and other industrial uses (over 35 per cent). Less than 30 per cent was for batteries. But by 2030, batteries are expected to account for 95 per cent of demand.
Lithium-ion batteries are generally more expensive but have better performance and are becoming the preferred technology. The different types are:

Lithium-cobalt oxide battery. It is used in consumer electronics and is finding application in electric vehicles. It is relatively cheap.
Lithium-nickel-manganese-cobalt is a newer, higher performing range of battery chemistry. It is mainly developed for the electronic vehicle market but is finding a wider use because of its increasing cost effectiveness.
Lithium iron phosphate, the safest technology with relatively high performance but relatively expensive. It is very popular in China but is likely to become overtaken by Lithium-nickel-manganese-cobalt over the longer term; and
Lithium-nickel-cobalt-aluminium oxide developed to reduce cobalt consumption and is known as a solid performer and of reasonable cost. It is also becoming popular outside China.

Green bushes mine in Western Australia is the largest hard-rock lithium mine in the world.
Lithium and most lithium minerals are mined along with other high-value metallic minerals such as tin, niobium-tantalum (columbite-tantalite) and uranium (in pyrochlore).
In Nigeria, lithium minerals (spodumene and lepidolite) are known to be associated with cassiterite, columbite-tantalite (coltan) and others in the extensive belt of rare metal-bearing rock types called pegmatite.
14. Assam cabinet approves 5 Muslim communities as 'Indigenous'
Subject: Polity
Five Assamese Muslim sub-groups are Gorias, Moriyas, Jolhas, Deshis and Syeds
The 'indigenous' status to Assamese-speaking Muslim communities will distinguish them from Bengali-speaking Muslims, who migrated from East Pakistan (now Bangladesh) to Assam.