Declining State Financial Health
August 23, 2022

Posted by:

OptimizeIAS Team

Category:

DPN Topics

Declining State Financial Health
Subject :Economy
Section : Fiscal Policy
Chief Ministers expressed their concern about dwindling State revenues in a NITI Aayog meeting chaired by the Prime Minister.
Causes of worsening financial health of States:
Schemes and exigency-implementation of the Ujwal DISCOM Assurance Yojana, farm loan waivers, the pandemic
Revenue- expenditure mismatch-

The Constitution grants the Union government more revenue-raising powers while the States are tasked to undertake most of the development and welfare-related responsibilities.
| | | |
| --- | --- | --- |
| | Aggregate Revenue raised | Aggregste Expenditure made |
| Centre | 62.7% | 37.3% |
| State | 37.6% | 62.4% |
Decline in devolution-

Although the 14th and 15th FC raised the share of States in gross taxes to over 40%, the actual share never reached this mandated level.
After reaching a peak of 36.6% in FY19, States' share fell and has since stagnated at around 29%.

Rising gap in tax devolution-

The gap between the share recommended by the FC and the actual devolution has widened to the highest in at least two decades.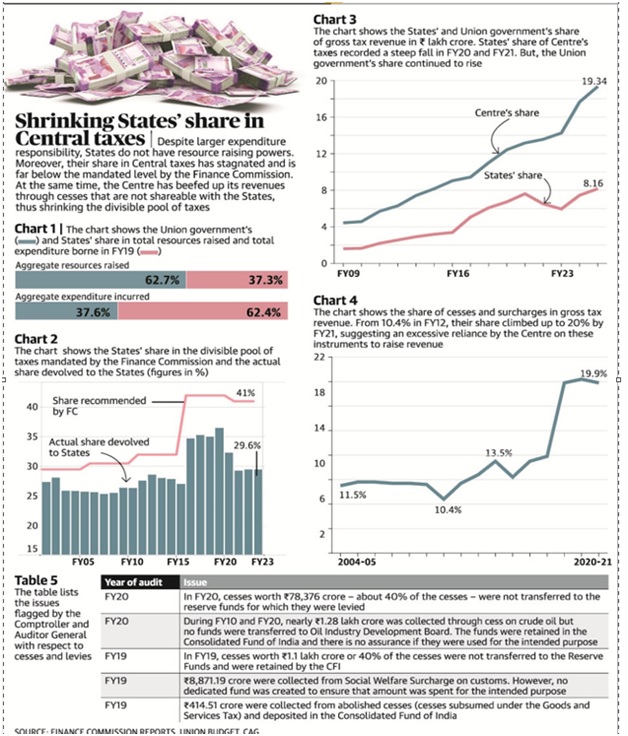 Mismatch in revenue shares-State's share declining while Centre's share rising
The share of cesses and surcharges in gross tax revenue has risen from 10.4% in FY12 to 20% by FY21 which is not shared with States.

In FY19 and FY20, about 40% of the cesses levied were not transferred to the Reserve Funds.
Between FY10 and FY20, not a single rupee of oil cess was transferred to the Oil Industry Development Board (OIDB).