East Timor
April 19, 2022

Posted by:

OptimizeIAS Team

Category:

DPN Topics

East Timor
Subject: Geography
Context- East Timor, also known as Timor Leste, holds the second and final round of its presidential election on Tuesday, with frontrunner and Nobel laureate Jose Ramos-Horta running against incumbent leader Francisco "Lu Olo" Guterres.
Concept-
History:
The territory was colonised by Portugal in the 18th century and remained under is control until 1975.
When the Portuguese withdrew, troops from Indonesia invaded and annexed East Timor as its 27th province.
The East Timorese voted for independence in a 1999 UN-supervised referendum, but that unleashed even more violence until peace-keeping forces were allowed to enter.
The country was officially recognised by the United Nations in 2002.
East Timor has applied to be a member of the Association of Southeast Asian Nations (ASEAN). It currently holds observer status.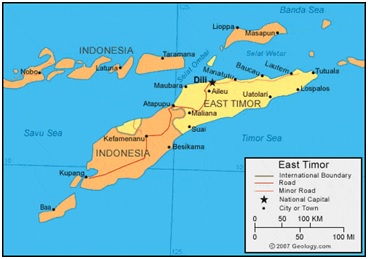 Geography:
East Timor comprises the eastern half of Timor island, the western half of which is part of Indonesia.
It spans a 15,000 square km (5,792 square mile) land area – slightly smaller than Israel – and it's 1.3 million people are predominantly Roman Catholic.
Located in between Southeast Asia and Oceania, the island of Timor is part of Maritime Southeast Asia, and is the largest and easternmost of the Lesser Sunda Islands.
To the north of the island are the Ombai Strait, Wetar Strait, and the greater Banda Sea.
The Timor Sea separates the island from Australia to the south.