Euro- Dollar Parity
July 15, 2022

Posted by:

OptimizeIAS Team

Category:

DPN Topics

Euro- Dollar Parity
Subject: Economy
Why in the news?
The rupee reached a new low –79.88 against the US dollar with the steep rise in US inflation.
Details:
US annual consumer prices were 9.1 per cent in June, the highest in four decades, leading to the  speculation that the US Federal Reserve will hike interest rates causing further capital flight from other markets.
With the rise in the dollar index, Europe's single currency – euro has dropped below parity against the dollar for the first time in almost 20 years.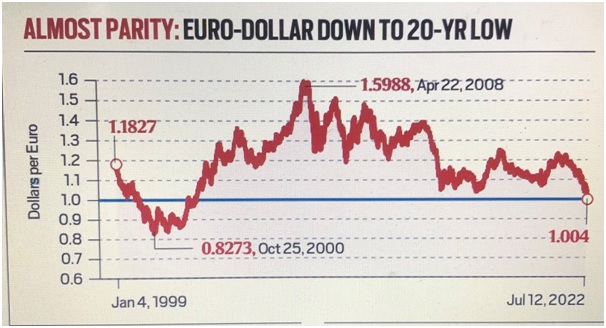 Concept:
Parity:
Parity refers to the condition where two items (or more) are equal.
It can be found in the foreign exchange markets where currencies that are at parity have an exchange rate relationship of one-to-one.
In the foreign exchange (forex) markets, currencies are at parity when there is a 1:1 relationship for the exchange rate.
Assume a situation where the exchange rate is $1 to €1. Then, the currencies are considered to be at parity.
The Euro- Dollar parity:
In terms of the exchange rate, one euro became equal to one US dollar.
It slumped to as low as $0.9998 and is down almost 12% so far this year.
However, a drop below the $1 level is rare. This is only the second time since 2002 that the euro has fallen this low to a dollar.
The weakening in the euro against the dollar shows that investors are pulling out money from the Eurozone and into the US.
Cause:
Beginning since 2008, the decline has been steep  since 2021
Weakness of the Eurozone Economy

Covid pandemic and fiscal stimulus-led weak economy facing high  inflation
Energy crisis in the wake of Russia's war against Ukraine-Europe is completely dependent on Russian oil and gas and the unprecedented spike in energy prices has led to a rise in cost of living and investment vulnerabilities leading capital flight.
Monetary policy differential of the US and the European Central Banks

With relative hikes in the US rate of interest money is flowing out to the US because it offers better returns for investments.
Impact:
Since becoming available freely in 1999, the single currency has spent very little time below parity.
Fall in forex assets thus fall in value of forex of other countries-The euro is the second most sought after currency in global foreign exchange reserves and daily turnover in the euro/dollar is the highest among currencies in the global market.
Stagflation risk-Allowing the currency to fall only fuels the record-high inflation. But trying to shore it up with higher interest rates could exacerbate recession risks.
Capital flight-The weakening in the euro against the dollar shows that investors are pulling out money from the Eurozone and putting it into the US.