Fisher Friend Mobile Application
October 31, 2021

Posted by:

OptimizeIAS Team

Category:

DPN Topics

Fisher Friend Mobile Application
Subject – Environment
Context –App to give no­-fishing zone alerts
Concept –
With the mass nesting season of the endangered Olive Ridley sea turtles approaching, the Odisha Government, in collaboration with the M.S. Swaminathan Research Foundation (MSSRF), has come up with a customised mobile application to alert fishermen to no-fishing zones in the Bay of Bengal.
Fishermen and boat crew members can download the offline Fisher Friend Mobile Application (FFMA) free to know the GPS locations and the boundaries of the zones.
The app also has additional features for providing fishing boats with near real-time information regarding weather, potential fishing zones, ocean state forecasts, disaster alerts and other information provided by the Indian National Centre for Ocean Information System, which will further strengthen the safety and security of the fishermen.
The Gahirmatha Marine Sanctuary, located off the Odisha coast, has been declared a no-fishing zone.
Each year, the turtles congregate near the Dhamara, the Devi, and the Rushikulya river mouths and along the sanctuary for mass nesting.
Olive Ridley –
The Olive ridley turtles are the smallest and most abundant of all sea turtles found in the world.
These turtles are carnivores and get their name from their olive colored carapace.
Wildlife Protection Act, 1972: Scheduled 1
IUCN Red List: Vulnerable
CITES: Appendix I
They are found in warm waters of the Pacific, Atlantic and Indian oceans.
The males and females olive ridley turtles grow the same in size
The Odisha's Gahirmatha Marine Sanctuary is known as the world's largest rookery (colony of breeding animals) of sea turtles, followed by the coasts of Mexico and Costa Rica.
They are best known for their unique mass nesting called Arribada, where thousands of females come together on the same beach to lay eggs.

They lay their eggs over a period of five to seven days in conical nests about one and a half feet deep which they dig with their hind flippers.
They hatch in 45 to 60 days, depending on the temperature of the sand and atmosphere during the incubation period.

Three river mouths where the turtles come together for mass nesting:

Dhamra River
Rushikulya River
Devi River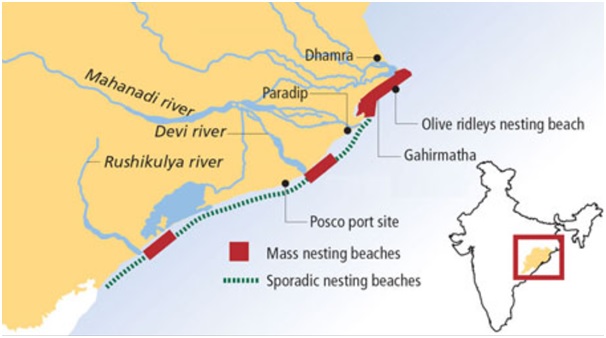 Gahirmatha Marine Sanctuary
Gahirmatha is the mass nesting spot in Indian Ocean region and the only turtle sanctuary in Odisha.
It is the world's largest nesting beach of Olive Ridley Sea Turtles.
Gahirmatha was declared a turtle sanctuary in 1997 by the Odisha government after considering its ecological importance and as part of efforts to save the sea turtles.
Gahirmatha Marine Sanctuary is one of the three parts of the Bhitarkanika National Park. The other two includes the area of Bhitarkanika National Park and the Bhitarkanika Wildlife Sanctuary.