French shipping major resumes service for cashew export from Guinea-Bissau to India and Vietnam
June 26, 2023

Posted by:

OptimizeIAS Team

Category:

DPN Topics

French shipping major resumes service for cashew export from Guinea-Bissau to India and Vietnam
Subject: Geography
Section: Economic geography
Context:
Every June, French shipping major CMA CGM resumes its fortnightly Bijagos Shuttle container service (for three to four months), connecting by sea the small West African tropical country of Guinea-Bissau with Spain's Algeciras (about 3,500 km).
Details:
This dedicated sea container service exports huge quantities of cashew from Guinea-Bissau to India and Vietnam.
In 2022, Guinea-Bissau exported 2,31,000 tonnes of raw cashew nuts.
The line said it has dedicated hubs in Mundra, Port Klang and Singapore.
Other major shipping lines like Maersk and MSC also provide various transportation modes, including multimodal, to export cashew from Guinea-Bissau to India.
Cashew production and export:
Cashew is by far the most important cash crop in Guinea-Bissau, representing 60 per cent of the country's exports.
It is the main source of income in rural areas.
The estimated area under cashew cultivation is 223,000 hectares with an annual production of 230,000 tonnes, making Guinea-Bissau the fifth largest producer in the world.
Almost all (98%) of the cashew nuts produced in Guinea-Bissau are exported to India for processing.
Beta Group, the Kerala-based food company, which owns the Nut King brand, will set up an industrial unit in the West African country of Guinea-Bissau for the cashew business.
Cashew production in India:
India is the second-largest cashew producer in the world after Vietnam.
Cashew cultivation is undertaken in India in around 10.11 lakh hectares, the highest among all the cashew-growing countries.
Maharastra is India's largest Cashew nut-producing state.
Cashew requires an average temperature of 16-25OC and rainfall of 50-400 cm.
It flourishes well on poor and rocky soils.
Besides the vast scale of cashew production, India is also known for pioneering cashew processing and exporting cashew kernels across the globe.

The cashew processing industry was earlier concentrated in Kollam (Kerala), Mangalore (Karnataka), Goa, and Vettapalam (Andhra Pradesh), but now it is spread across many states of India.
Over the years, India has emerged as the global processing hub for the cashew industry.

India is the largest cashew exporter, with more than 15% of the world's export share.

India exports cashews to over 60 countries spread across different parts of the world. The key export destinations for India are UAE (the largest imported from India), Japan, Netherlands, Saudi Arabia, the USA, the UK, Canada, France, Israel, and Italy.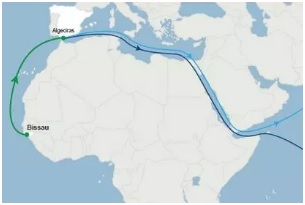 The Cashew Export Promotion Council of India (CEPCI):
The Government of India established the CEPCI in 1955 with the objective of promoting cashew kernels and cashew nut shell liquid in India.
The council provides trade information and statistics to its members and is operating the government's five-year plan scheme for providing financial assistance to the member exporters.