Friday Factly 8 January 2021
January 22, 2021

Posted by:

OptimizeIAS Team

Category:

Friday Factly

General Studies-1
Gender Gap
NFHS 2015-2016 data indicate that as many as 23 per cent Indian women have a lower-than-normal BMI whereas only 63 per cent have some say in decisions regarding their healthcare.
Women make up only 12 per cent of management boards in Germany, behind countries such as the US (28.6 per cent), UK (24.5 per cent) and France (22.2 per cent).
Women empowerment
Germany agrees at least one women member in larger listed companies.
General Studies –3
Climate change impact
Since 1980, the volume of Arctic sea ice has declined by as much as 75 per cent.
Global Warming
2020 WAS the eighth warmest year India recorded in the last 121 years (IMD).
GST
GST tax collection at 1, 15,174crore –HIGHEST SINCEROLLOUT IN2017
Flood
The C40 Cities report of 2018notes that by 2050, over 570 low-lying coastal cities will face projected sea level rise by at least 0.5 meters, putting over 800 million people at risk from the impacts of rising seas and storm surges
Banking
As per RBI 2020­21 saw greater improvements in banks' vital statistics, with non­performing assets (NPAs) falling to 7.5% of outstanding loans by September 2020
Bharat Biotech has earlier developed vaccines for H1N1, Rotavirus, Japanese Encephalitis, Rabies, Chikungunya, Zika and the world's first tetanus-toxoid conjugated vaccine for Typhoid.
Investments vs Subsidy debate: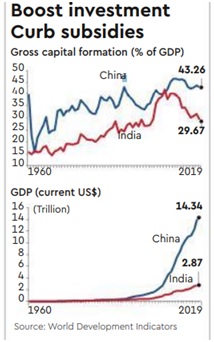 Power losses
There is loss of Rs 0.72 per unit of power sold in the country, resulting in bankrupt power distribution companies.
Investments/PPPs
According to the Private Participation in Infrastructure database of the World Bank, India is second in the developing world both by the number of public-private partnership (PPP) contracts as well as the associated investments
Irrigation
India receives around 4,000 billion cubic meters (bcm) of rainfall, but a large part of it falls in the east.
Moreover, most of the rain is received within 100 hours of torrential downpour, making water storage and irrigation critical for agriculture.
India has one of the highest water usages for agriculture in the world — of the total 761 bcm withdrawals of water, 688 bcm (90.5 per cent) goes into agriculture leaving 17 bcm (1.2 per cent) for industry and 56 bcm for municipal use. (China uses 385.2 bcm (64.4 per cent) out of the total withdrawals of 598.1 bcm for agriculture)
The total estimated groundwater depletion in India is in the range of 122-199 bcm as calculated from the observation wells (1996-2016) and satellite data (2002-2016)
R&D
Over the last 20 years, India has been spending between 0.7 to 0.8 per cent of its GDP on R&D
Internet Shutdowns
INDIA suffered the biggest economic impact in the world in 2020 due to Internet shutdowns, adding up to 8,927 hours and $2.8 billion losses.
The economic impact seen in India was more than double the combined cost for the next 20 countries in the list.
(UK-based privacy and security research firm Top10VPN)
Job crisis (Covid impact)
4 lakh migrants back in Kerala from abroad, 5.5 lakh lost their jobs
Air pollution/health
Meeting air quality guidelines could prevent 7% of pregnancy losses in South Asia, study finds (Lancet)
Robots and AI
India did not even rank among the top 10 countries in the world when it came to robots just a few years ago. In 2018, there were under 5,000 industrial robot installations in India. Compare this with the 154,000 industrial robots which China installed that same year, over three times the number managed by the runner-up country, Japan. South Korea, an early frontrunner in adoption of robotics, was number three but was well ahead by another parameter — robot density. According to an International Federation of Robotics report, South Korea has 8,555 robots per 10,000 human workers, eight times the world average. World leader Singapore has a staggering 918/10,000 ratio!
Source: The Hindu
Credit growth
Credit growth on a year-on-year basis was 6.1 per cent in 2020, as against 7.1 per cent in 2019 while deposit growth was higher at 11.3 per cent and 10.1 per cent, respectively. (RBI)
Concern: A higher credit flow from banks doesn't mean higher investment by India Inc. Instead, companies are using credit lines to finance their current liabilities while investments take the back seat. (RBI)