Fuel and Food Prices
November 8, 2021

Posted by:

OptimizeIAS Team

Category:

DPN Topics

Fuel and Food Prices
Subject – Economy
Context – Last week, the UN Food and Agriculture Organisation released data showing its world Food Price Index (FPI) averaging 133.2 points in October, the highest since July 2011.
Concept –
One reason why petroleum and agri-commodity prices move in tandem is the bio-fuels link.
When crude prices rise, blending ethanol from sugarcane and corn (maize) with petrol or diverting palm and soyabean oil for biodiesel production becomes that much more attractive.
Cotton, likewise, turns relatively affordable vis-à-vis petrochemicals-based synthetic fibres.
Also, since corn is primarily an animal feed, its diversion to ethanol leads to substitution by other grains, including wheat, for livestock use. That, then, pushes up prices of food grains as well.
The same happens to sugar, as mills step up the proportion of cane crushed for fermenting into alcohol.
Food Price Index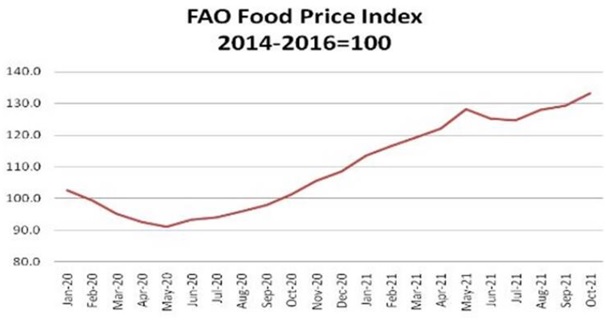 But it isn't the bio-fuels effect alone: Large price increases also tend to rub off on other farm produce through creation of positive "sentiment".

International coffee prices have nearly doubled in the last one year and, like most other agri-commodities, also strengthened along with crude oil in the last three months.