Government to enumerate people who clean sewers
August 13, 2022

Posted by:

OptimizeIAS Team

Category:

DPN Topics

Government to enumerate people who clean sewers
Subject: Government Scheme
Section : Modern India
Context:
The Ministry of Social Justice and Empowerment (MoSJ&E) is now preparing to undertake a nationwide survey to enumerate all people engaged in hazardous cleaning of sewers and septic tanks, an activity that has led to at least 351 deaths since 2017.
Drawing a distinction between this work and manual scavenging, the Ministry insisted that the practice of manual scavenging no longer takes place in the country as all manual scavengers had been accounted for and enrolled into the rehabilitation scheme.
India banned the practice under the Prohibition of Employment as Manual Scavengers and their Rehabilitation Act, 2013 (PEMSR).
Rashtriya Garima Abhiyan: It started national wide march "Maila Mukti Yatra" for total eradication of manual scavenging from 30th November 2012 from Bhopal.
Ministry officials said that the enumeration exercise, soon to be conducted across 500 AMRUT (Atal Mission for Rejuvenation and Urban Transformation) cities, is part of the Union government's National Action Plan for Mechanised Sanitation Ecosystem (NAMASTE), which will streamline the process of rehabilitating sanitation workers and eventually merge with and replace the Self-Employment Scheme for the Rehabilitation of Manual Scavengers (SRMS), which was started in 2007.
NAMASTE scheme
The NAMASTE scheme is being undertaken jointly by the Ministry of Housing and Urban Affairs and the MoSJ&E and aims to eradicate unsafe sewer and septic tank cleaning practices
The Ministry's Standing Finance Committee has already cleared ₹360 crore for this project — to be spent over the next four years.
Parts of this project, already in the works for the past two years, have led to municipal commissioners being declared as the Responsible Sanitation Authorities (RSAs) and Sanitation Response Units (SRUs) being set up in 200 cities, where the national helpline for addressing sanitation needs (14420) has also been operationalised.
Ultimate aim of the scheme is to link these sanitation workers to the SwachhtaUdyami Yojana, through which the workers will be able to own sanitation machines themselves and the government will ensure that at the municipality level, the work keeps coming in
Other benefits under the scheme will include capital subsidies of up to Rs 5 lakh on sanitation machinery costing up to Rs 15 lakh and interest subsidies on loans, where interest rates will be capped between 4-6% for the beneficiaries, with the government taking care of the rest of the interest.
In addition, the scheme also provides for training the workers in the use of these machines, during which time a stipend of up to Rs 3,000 per month will be provided. The scheme will also provide for sanitation workers to train for and go into any of the approved list of alternative occupations in sectors like agriculture, services, electronics assembling, handicrafts and so on.
SwachhtaUdyami Yojana
National SafaiKaramcharis Finance and Development Corporation (NSKFDC), an Apex Corporation of the Ministry of Social Justice and Empowerment, has launched "SwachhtaUdyami Yojana" on 2.10.2014.
The objective of the Scheme is to provide concessional loan for viable community toilet projects and sanitation related vehicles to collect the garbage, to consolidate the ongoing efforts for realising the objectives of the 'Swachh Bharat Abhiyan' launched by Prime Minister on 2nd October, 2014.
Under the Scheme, entrepreneurs among safaikarmacharis and identified manual scavengers can avail loan upto defined ceiling at concessional rate of interest @ 4% per annum. In case of women beneficiaries, there is a rebate of 1% in the rate of interest charged.
No State/ Union Territory wise budget allocations are made under the Scheme as funds are to be provide to the channelizing agencies on the basis of the proposals received from them.
AMRUT
Atal Mission for Rejuvenation and Urban Transformation (AMRUT) is the new avatar of the Jawaharlal Nehru National Urban Renewal Mission (JNNURM). But, in a significant departure from the earlier mission, the Centre will not appraise individual projects.
Five hundred cities have been selected under AMRUT. The category of cities that have been selected under AMRUT is given below:
All Cities and Towns with a population of over one lakh with notified Municipalities as per Census 2011, including Cantonment Boards (Civilian areas).
All Capital Cities/Towns of States/ UTs, not covered in above.
All Cities/ Towns classified as Heritage Cities by MoHUA under the HRIDAY Scheme.
Thirteen Cities and Towns on the stem of the main rivers with a population above 75,000 and less than 1 lakh.
Ten Cities from hill states, islands and tourist destinations (not more than one from each State).
Implementation:
AMRUT adopts a project approach to ensure basic infrastructure services relating to water supply, sewerage, storm-water drains, transportation and development of green spaces and parks with special provision for meeting the needs of children.
Under this mission, 10% of the budget allocation will be given to states and union territories as incentive based on the achievement of reforms during the previous year.
States will only submit state annual action Plans to the centre for broad concurrence based on which funds will be released.
Central assistance will be to the extent of 50% of project cost for cities and towns with a population of up to 10 lakhs and one-third of the project cost for those with a population of above 10 lakhs.
Under the mission, states will transfer funds to urban local bodies within 7 days of transfer by central governmentand no diversion of funds to be made failing which penal interest would be charged besides taking other adverse action by the centre.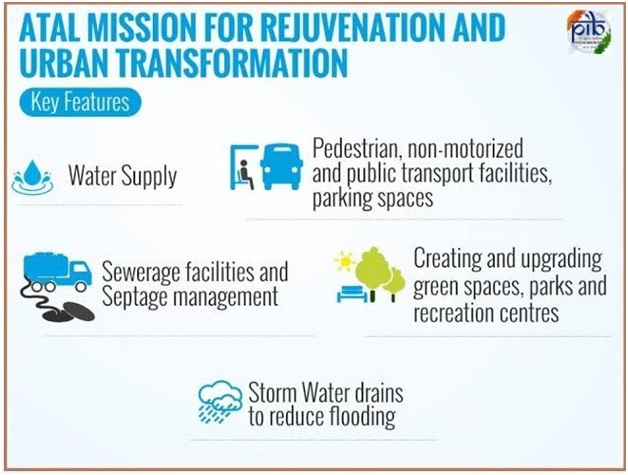 AMRUT 2.0:
100% coverage of water supply to all households in around 4,700 urban local bodies by providing about 68 crore tap connections.
100% coverage of sewerage and septage in 500 AMRUT cities by providing around 64 crore sewers/ septage connections.
Adopt the principles of Circular Economy (Generating wealth from waste using 3Rs)
Promote conservation and rejuvenation of surface and groundwater bodies.
Data led governance in water management
Technology Sub-Mission to leverage latest global technologies and skills.
'Pey Jal Survekshan': To promote competition among cities.